If you get a chicken as a pet, you need a name to initiate them into your family.
Luckily, there are countless chicken names to consider whether you are naming a male chicken, female chicken, funny chicken, cute chicken, or whatever other reason you have for naming.
Chicken can even be named based on chicken breeds, other famous chickens, pop culture, and more.
We've made this ultimate name guide for chickens to make your work easier.
Below are numerous name categories to consider from the best names to cool names and names based on Disney characters.
Let's dive in.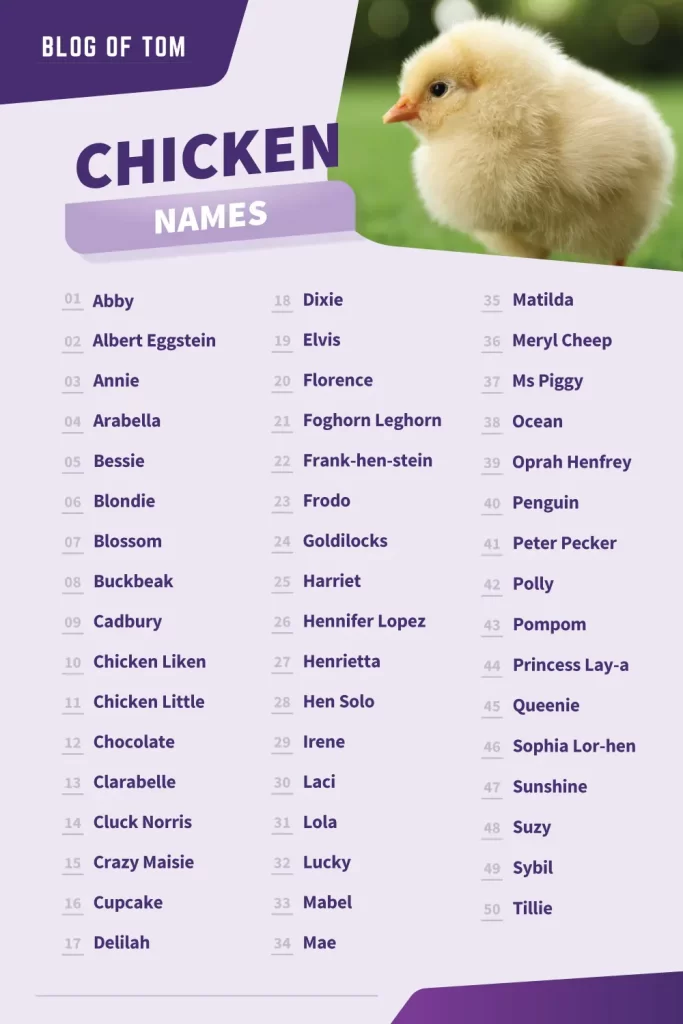 Best Chicken Names
If you wish to name your pet chicken after the best-of-the-best names or after popular names, consider the names below;
Abby
Albert Eggstein
Annie
Arabella
Bessie
Blondie
Blossom
Buckbeak
Cadbury
Chicken Liken
Chicken Little
Chocolate
Clarabelle
Cluck Norris
Crazy Maisie
Cupcake
Delilah
Dixie
Elvis
Florence
Foghorn Leghorn
Frank-hen-stein
Frodo
Goldilocks
Harriet
Hennifer Lopez
Henrietta
Hen Solo
Irene
Laci
Lola
Lucky
Mabel
Mae
Matilda
Meryl Cheep
Ms Piggy
Ocean
Oprah Henfrey
Penguin
Peter Pecker
Polly
Pompom
Princess Lay-a
Queenie
Sophia Lor-hen
Sunshine
Suzy
Sybil
Tillie
Names For Female Chickens
If you have a hen as a pet, there are countless female names to choose from.
We've compiled a list of female names for chickens alphabetically below;
Abby
Alaska
Andalusia
Annie
Ariel
Bella
Bianca
Callie
Chloe
Daisy
Edelweiss
Ella
Ellie
Emily
Emma
Eva
Fiona
Flannery
Flora
Fluffy
Frida
Ginger
Gypsy
Hannah
Heidi
Honey
Ivy
Jasmine
Justice
Kira
Kit Kat
Lady
Leonie
Lilly
Lily
Lizzy
Lola
Lucy
Lulu
Luna
Maggie
Magnolia
Mama
Martha
Matilda
Matisse
Maya
Mia
Missy
Misty
Mocha
Molly
Moxie
Muffin
Nora
Nutella
Panda
Pandora
Paris
Peanut
Pearl
Phoebe
Princess
Pumpkin
Queenie
Snickers
Sophie
Stella
Strawberry
Sugar
Sweetie
Tiffany
Tinkerbel
Vera
Violet
Winnie
Names For Male Chickens
If you have a rooster as a pet, you need a masculine name for him.
Here are some good names you can choose or use for inspiration;
Apollo
Ash
Bear
Bentley
Big Bird
Biscuit
Blue
Boo
Brewster the Rooster
Buckbeak
Candy
Charlie
Chico
Chilli
Chocolate
Cleo
Cookie
Dallas
Diesel
Dusty
Egypt
Felix
Fluffy
George
Georgie
Gizmo
Godzilla
Gus
Ham
Harry
Harvey
Hercules
Houston
Hugo
Iggy
Jack
Jaws
Jet
Jj
Joey
Julius
Julius Caesar
Junior
Justice
Kobe
Leo
Leonard
Lucky
Magic
Mango
Max
Maximus
Milo
Monkey
Mr Woo
Muggle
Nacho
Nemo
Oliver
Oreo
Oscar
Paco
Panda
Peanut
Pepper
Pepsi
Pluto
Prince
Pumpkin
Rambo
Rocky
Rory
Sam
Scooter
Sebastian
Shadow
Simba
Smokey
Spartacus
Starbuck
Sven
Sydney
Sylvester
Teddy
Theo
Thomas
Thor
Thunderbird
Tiger
Tramp
Zaphod Beeblebrocks
Zeus
Unisex Names For Chickens
If you have a baby chick and can't quite figure out if it's a male or female, here are some names for hens and roosters to consider;
Alaska
Almond
Basil
Beans
Barbeque
Birch
Birdzilla
Blackbird
Blizzard
Bon Bon
Buckeye
Bug Eater
Burrito
Caramel
Cashew
Cheese Puff
Chick-Fil-a
Chili
Chocolate
Cinnamon
Clucky
Cocoa Puff
Coffee
Cosmo
Cotton
Cream Puff
Crispy
Curry
Custard
Dill
Doodle
Drumstick
Dumplings
Egg Nog
Emerald
Fiesta
Flash
Frosty
Fudge
Ghost
Hot wings
Jessie
Jude
Kentucky
KFC
Kiev
Lemon
Lightning
Lucky
Marmalade
Marsala
Mayonnaise
Midnight
Mocha
Moon
Moonshine
Muffin
Nuggets
Nutmeg
Omelette
Onyx
Oregano
Paprika
Parsley
Pebble
Peep
Peppers
Phantom
Pollo
Popcorn
Pot Pie
Puddle
Puff daddy
Quiche
Rainbow
Riley
Ripple
Sage
Scratcher
Sesame
Shade
Smokey
Snickers
Snowflake
Socks
Spots
Squeak
Stir Fry
Taco
Tandoori
Tender
Teriyaki
Twigs
Waddles
Cute Chicken Names
Cute pet names are ideal if you feel warm and fuzzy about your pet. Cute names are also perfect for great-looking pets.
If your pet chicken qualifies as adorable, lovable, or sweet, here are some names to consider;
Angel
Angie
Apple Bloom
Applejack
Baby
Baby Yoda
Bambi
Bananas
Bashful
Beauty
Biggie
Blossom
Bluebell
Boc-boc
Bubbles
Candyfloss
Carina
Cheerio
Chick-fee-lay
Chicken Nugget – cute and popular chicken moniker
Chickie
Chirpy
Cinderella
Coco
Cupcake
Custard
Debbie
Delta Dawn
DJ Suki
Dopey
Dottie
Drumstick
Dumpling
Eclair
Egg Nog
Fleur
Fluttershy
Freckles
Fuzzbert
Goldie
Grumpy
Happy Doc
Henny Penny
Hickory
Jalfrezi
Jewel
King Peppy
King Quincy
Lacey
Legsly
Marshmallow
Meatloaf
Molly
Moon
Moppy
Moxie Dewdrop
Muffin
Nala
Omelette
Opal
Parfait
Pascal – name from Tangled
Peanut
Peep
Pennywhistle
Pikachu
Pinkie Pie
Pixie
Pompom
Poppy
PotPie
Princess
Princess Cadance
Princess Fluffybutt
Princess Luna
Pumpkin
Queen Essence
Rafiki
Rainbow
Rainbow Dash
Rarity
Riff
Scootaloo
Simba
Sleepy
Smidge – a name from Trolls
Sneezy
Snow White
Snowball
Socks
Sparkle
Sparkles
Speckles
Stitch
Sugarplum
Sweetie Belle
Thumbelina
Thumper
Timon
Tinkerbell
Tiny Diamond
Trixie
Turkey Lurkey
Tweety
Twilight Sparkle
Wiggles
Zazu
Good Names For Chickens
Sometimes you just need a name that is satisfactory. If you don't want popular names or names from a movie, you can find the perfect good name for your lovely chicken below;
Alan-a-dale – a name from Robin Hood
Angelica
Annie Yoak-ley
Bernadette the Chicken – a name from Donald Duck
Big Red
Big Stuff
Blossom
Bonnie
Boom Chick-a
Broody Biddy
Bruce
Chick Jagger – name after Mick Jagger
Chick-ira – name after Shakira
Chick-ovsky – name after Chaikovsky
Chubby Chicken
Cocos – Romanian meaning of rooster
Colton
Cora
Cornelius the Rooster
Cosmo
Edward Scissor-beak
Edwina
Egg-dar Allen Poe
Egg-sy
Ernie the Giant Chicken – a name from Family Guy cartoon
Feather Locklear
Floyd
Frango – Portuguese for chicken
Gabby
Galo – Portuguese for rooster
General Tsao
Going Quackers – a name from Donald Duck
Haan – Dutch for rooster
Hane – Danish for rooster
Hank
Happy Feet – a name from Happy Feet
Hartley
Hei Hei – name from Moana
Hen-ifer Aniston – after famous actor Jennifer Aniston
Hillary Fluff – name after Hillary Duff
Jagger
Jeepers Cheepers
Kahan – Finnish for chicken
Kip – Dutch for chicken
Kukko – Finnish for rooster
Kylling – Danish for chicken
Lady Kluck – name from Robin Hood
LaRue
Laying Matilda
Lil' Layin
Little Red
Mary Poop-ins
Mohawk
Mrs. Doubt-fryer
Napoleon
Panchito Pistolles – name from The Three Caballeros
Phoenix
Pui – Romanian for chicken
Rocky Rhode – name after Chicken Run
Rosemary
Ruby
Ruff Cluck
Rusty
Sanders
Scarlet
Soft Boiled
Tammy Wyandotte
The Egg-scorcist
Vinny
Winston
Funny Chicken Names (Including Punny Chicken Monikers)
If you want a name that makes you laugh, we have some great suggestions below;
Alfredo
Amilia Egghart
Attila the Hen
Baby
Barbie Que
Birdzilla
Bubbles
Cadbury
Candy Pop
Cheese Nip
Cheese Puff
Chick Flick
Chick-Fil-A
Chicken Cacciatore – Catchi for short
Chicken Florentine – Florence or Flo
Chicken Francois – Franny
Chicken Paprikash – Pappi or Poppi
Chicken Piccata – Picca
Chicken Tikka Marsala – Marcie
Chickovsky
Chickpea
Choco Latte
Cluck Kent
Cluckles
Clucky Cheese
Colonella Sanders
Crock-Pot
Curious Georgia
Daffodil
Doodles
Easter eggers
Egg Nog
Eggsorcist
Eggsta – named like Gangsta
Eggwina
Flower
Fluffy Tail
Gary Layer – name for golf fans
Generalla Tso
ggspresso
Grace Shelley
Hennifer
Henrietta
Jelly Bean
Kentucky Frieda Chicken
Kiev
Kung Pao
Lady Cluckington
Lady Clucks
Laur-hen
Lay Zee
Lemon Drop
Lily
Lollipop
Mary Poopins
Meryl Cheep
Mother Clucker
Nugget
Omletta
Pattie
Peep Show
Pot Pie
Pox
Princess Layer
Purple
Quiche
Rain Drop
Repecka
Roast
Rooster Cogburn
Salmon Ella
Scrabble Eggs
Scramble
Sesame
Sophia Lor-hen
Sparkle Pop
Sprinkles
Squawk Box
Sugar Cakes
Sugar Kiss
Sunshine
Taco
Tender
Teriyaki
Twinkle Butt
Tyra Nosaurus Pecks
Tyrannosaurus Pecks
What The Cluck
Whisper
Wyatt Chirp
Yolko Ono
Your Eggcelency
Badass Names For a Pet Chicken
While chickens are known to be timid, you may land on a tough and uncompromising pet.
Your chicken could also be intimidating. If that's the case, choose any name below;
Asher
Black Mirror
Buddy
Cheetah
Darth Vader
Freda
Gothic
Grinder
Knight Rider
Mustang
Nebula
Nightshade
Obama
Panda
Phantom
Shady Lady
Sweeper
Thunder
Tundra
Cool Names For Chickens
If your chicken acts "cool" he/she deserves a cool name preferably from known/famous chicken.
Here are some cool names to consider for your chicken from popular movies, films, etc.
Babs – name from Chicken Run
Bernadette – a name from Donald Duck
Billina – name from "Return to Oz"
Camilla the Chicken – a name from The Muppets
Chickaletta – a name from Paw Patrol
Clara Cluck – a name from Mickey Mouse
Ginger – a name from Chicken Run
Goldie – name from Rock-A-Doodle
Lady Kluck – name from RobinHood
Miss Prissy – name from Foghorn Leghorn
Unique Names For Chickens
We have some foreign names to consider if you are searching for very unique names for your pet chicken;
Ayam – Indonesian and Malay meaning
Csirke – Hungarian name for chicken
Cuece – Azerbaijani for chicken
Cyw iar – Welsh for chicken
Digaag – Somali for chicken
Frango – Portuguese name for chicken
Ga – Vietnamese for chicken
Gaddina – Corsican for chicken
Haehnchen – German for chicken
Hayam – Sundanese for chicken
Heihei – Maori for chicken
Hin – Frisian for chicken
Hoender – Afrikaans for chicken
Huku – Shona name for chicken
Injama yenkukhu – chicken in Zulu
Inkukhu – Xhosa word for chicken
Kana – Finnish for chicken
Kanaliha – Estonian for chicken
Khoho – Sesotho
Kip – Dutch for chicken
Kjuklingur – Icelandic for chicken
Kokidon – Esperanto for chicken
Kotopoulo – Greek for chicken
Kuku – Swahili name for chicken
Kura – Slovak meaning for chicken
Kurczak – Polish for chicken
Kuritsa – chicken in Russian
Kyckling – Swedish for chicken
Kylling – Danish and Norwegian for chicken
Manok – Filipino and Cebuano for chicken
Moa – Hawaiian and Samoan for chicken
NgaQ – Klingon for chicken
Oilasko – Basque for chicken
Piletina – Serbian, Bosnian, Croatian for chicken
Piscanec – Slovenian for chicken
Pitik – Javanese for chicken
Pollastre – Catalan for chicken
Pollo – Italian and Spanish meaning for chicken
Porokelle – Elvish for chicken
Poulet – French for chicken
Pui – Romanian for chicken
Pullum – Latin for chicken
Sicin – Irish for chicken
Tavuk – Turkish for chicken
Tigieg – Maltese for chicken
Vistiena – Lithuanian for chicken
Names For Black And White Chickens
If you are naming chicken according to color (black and white), here are some names to consider;
Ace
Alfie
Arrow
Aurora
Bandit
Bean
Blot
Boots
Bulls-Eye
Captain
Cece
Chester
Clarity
Cloudy
Cookies N Cream
Crossword
Diamond
Domino
Dottie
Eight Ball
Flyer
Freisian
Galaxy
George
Greta
Gypsum
Half Moon
Inky
Inky – a cute name fit for a chick
Junior Mint
Juno
Keys – named after piano keys
Maddox
Magpie
Mittens – perfect name for black and white birds near the feet
Moo
Moo – after a black and white cow
Noir
Olive
Onyx
Ozzy
Paris
Patches
Pepe
Raven
Raven
Roscoe
Sadie
Sage
Skunk
Snoopy
Snoopy
Stella
Tux
Venus
Zara
Zeb – named after shortform for zebra
Names For A Black Chicken
If your pet chicken is black in color, you can name him/her any of the following;
Bessy
Black Key
BlackBerry
Blackjack
Boots
Carbon
Charcoal
Elsa
Freda
Godiva
Grinder
Honey
Lady
Nightshade
Panther
Penny
Stormy
Twilight
Names For A White Chicken
White chickens should get names that match their color before considering other chicken naming preferences.
Here are great names four your white chicken to consider;
Bear
Blanche
Bristly
Cashmere
Cloud
Coconut
Coconut (or Coco)
Cotton
Cotton
Cozy
Crystal
Diamond
Fozzy
Frosty
Furbaby
Harry
Marshmallow
Moon
Pearl
Porcelain
Scruffy
Shaggy
Simba
Snow White
Snowflake
Taz
Ziggy
Names For A Brown Chicken
Brown or earthy chicken should have names that correspond to their color if every other naming preference fails.
Some good examples include;
Amber
Amethyst
Arun – Arun means red and brown
Aruna – means earthy, reddish-brown color
Ash
Aspen
Autumn
Beryl
Birch
Bird
Birdie
Blackbird
Blossom
Bluebell
Bo
Branch
Breezy
Brooks
Buckeye
Bunni
Bunny
Canela – named after Cinnamon in Spanish
Cedar
Chickadee
Clay
Cliff
Cloud
Clover
Coral
Crystal
Cypress
Daffodil
Dahlia
Daisy
Dandelion
Daphne
Dawn
Dew
Diamond
Dove
Eagle
Eclipse
Emerald
Eve
Fern
Finch
Forest
Frost(y)
Garnet
Harbor
Hawk
Holly
Ice
Iris
Ivory
Jade
Juniper
Laguna
Lavender
Lightning
Lily
Magnolia
Maple
Marble
Marlin
Marron – brown in German
Meadow
Midnight
Misty
Moonlight
Moonshine
Mountain
Oceana
Onyx
Opal
Owl
Pansy
Pearl
Pebbles
Penguin
Petunia
Rain
Rainbow
Raven
Rio
Ripple
River
Robin
Rocky
Rose
Ruby
Rue
Sage
Sandy
Sapphire
Sky
Snowflake
Snowy
Solstice
Sparrow
Spring
Spruce
Stony
Storm(y)
Stream
Summer
Sunny
Sunrise
Sunshine
Swan
Sweetpea
Topaz
Twigs
Twilight
Willow
Windy
Winter
Anime, Cartoon, And Disney Chicken Names
If you love Disney characters or even cartoon characters, here are some great names to consider;
Alan-A-Dale – a name from Robin Hood
Babs– name from Chicken Run
Blaziken – a name from Pokémon
Buck Cluck – a name from Chicken Little
Bunty – name from Chicken Run
Camilla the Chicken – a name from The Muppets
Chickaletta – a name from Paw Patrol
Chicken Boo
Chicken Little
Chicken Run
Chloe Cluck
Clara Cluck
Combusken – a name from Pokémon
Donald Duck
Ernie – Giant Chicken from Family Guy
Feathers McGraw – a name from Wallace & Grommit
Foghorn Leghorn
Fowler – a name from Chicken Run
Ginger – a name from Chicken Run
Goosey Loosey
Heihei – name from Moana
Kirby
Lady Kluck
Lugia – name from Pokémon
Major Turkey Lurkey
Miss Prissy
Panchito Pistoles – name from Three Caballeros
Rocky – a name from Chicken Run
Roy Rooster – a name from Garfield
Sheldon – name from Garfield
Tapu Koko – a name from Pokémon
Torchic – a name from Pokémon
Tortellini
Famous Chicken Names
Amilia Egghart
Angelina Jopeep
Annie Yolkley
Birdzilla
Chick-eel O'neil
Chickira
Cluck Norris
Dixie Chick
Eggatha christie
Goldie Hen
Gwyneth Poultry
Heidi Plume
Hen Solo
Henifer Aniston
Henneth Paltrow
Hennifer Garner
Hennifer Lopez
Hillary Fluff
Kim Kardashihen
Lady Gaga
Layla (Laila) Ali
Lindsey LoHen
Liza Henelli
Mary Poopins
Meg Ryhen
Meryl Cheep
Obi Wan Henobi
Oprah Henfrey
Princess Lay-a
Reese Featherspoon
Stevie Chicks
Yolkahontas
Yolko Ono
Help Choosing the Right Name
The above naming guide offers unmatched inspiration for a pet chicken.
You can name your chicken based on gender, color, famous Disney characters, your favorite movie star, mood, attributes, and more.
If you don't get a suitable name from above, use the guide as inspiration to find the perfect name.
There's no limit to what you can call your chicken. It could even be a combination of names if you have two or more chicken pets.
You can also turn to the internet, ask for suggestions from friends/family members, search on books, online naming directories, or other resources like blogoftom.
Ultimately, you should settle with a name that feels right. Your pet should also respond well to the name.
Conclusion
Our first category of names in this guide lists the best-of-the-best names. There are many other categories based on gender and color to badass names from films and cartoons.
If you don't get a suitable name, you can consider human names. Pets can be named after people. You can name your chicken after its favorite food.
The process doesn't have to be challenging. You can choose a fun approach to the process and consider your own unique preferences. Chicken keepers or chicken pet owners have every right to name their pets as they wish.
The guide below offers limitless inspiration to broaden your options should you fail to secure a name you like. We've made it easier by listing the names alphabetically.
If you have a letter preference, this guide will be incredibly easy to use.
Before you call your pet feathers or beak (which aren't bad names), you can explore every category above, surf the internet and consult widely.
For more naming inspiration, visit www.blogoftom.com.
Related Posts