Do you have a special beach home or vacation home but find yourself lacking a good name for it?
Great beach house names rely on beach house name puns, wordplay, and words from foreign languages to make the homes stand out on social media and among neighboring structures.
The following 44 beach house name ideas draw on various languages and environmental inspirations to make them unique.
By choosing your favorite one, you can give your beach home a proper beach blessing.
Best Names For Your Beach House
1. The Cozy Cove
A cove is a narrow, sheltered bay commonly found on coastlines. This would be an ideal name if the home is situated near a beach that is characterized by these beautiful, circular recesses.
2. Maison de la Mer
In French, this name literally translates to "house by the sea" or "home by the sea".
It's an accurate descriptive name for your shoreline home, as well as a pretty-sounding name if you're a French-fanatic.
3. Casa Vista Mare
If you're more of a fan of the Spanish language than the French, you might consider this name.
It translates to "sea view house" in English and could work for a beach house situated on a cliff or hillside above the shoreline that offers a great horizon view.
4. After-Dune Delight
It's not quite a pun, but this play on words will likely provide at least a laugh or two to the guests in your beachside vacation rental.
It replaces the last syllable in the euphemistic saying "afternoon delight" with "dune", which is an apt name for a sea home near sand dunes.
5. Vista del Mare
Translating from Spanish to English, this house name means "view of the sea".
While it's a pretty obvious name for a beach house, it could be a good choice if your home already exhibits grand Spanish-inspired architecture, like terra cotta tiles and wooden doors.
6. Grand Seaview House
Perhaps you're not a fan of minimal styles and much prefer the grandiosities of chandeliers, large tables, and other embellishments.
With a good view of the ocean and an imposing design, your beach home could benefit from this name.
7. The Overlook
If your beach house is elevated enough to accommodate a special view of the shoreline, cliffs, and surrounding area, you might opt for this name.
It's especially beneficial if you rent it out via Airbnb, as the name tells guests exactly what they can look forward to.
8. Serenity Cove
This name is great for beach houses that get lapped by the water of sandy coves.
With a calming vibe that inspires peace, quiet, and sanctuary, Serenity Cove will tell your guests exactly what type of home they're stepping into.
9. The Black Pearl
Fans of all things pirates – especially the Pirates of the Caribbean franchise – can have fun with this home name.
It's also a good choice if you intend to decorate your beach house's interior with nautical-themed elements.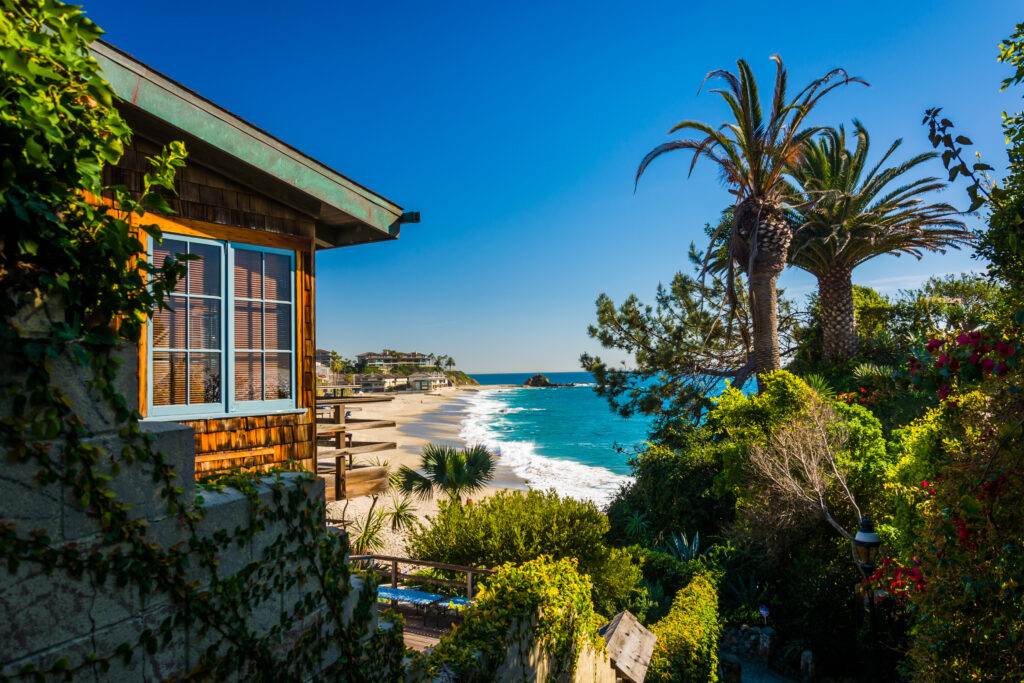 10. Captain Hook's Cottage
Another pirate-themed beach house name, this one pulls inspiration from the more child-friendly Peter Pan. This home name could even be a good way to include your children in the house-naming process.
11. Casa Playa
This one's good for beach houses set in Spanish-speaking countries and California homes with Spanish architecture.
Translating from Spanish to English, this name literally means "beach house", and you can't get much more simple or accurate than that.
12. The Porpoise of Life
If you believe in purpose, destiny, and other similar concepts, then you might like this pun-focused name for a beach house.
It takes the common phrase "purpose of life" and shifts it towards those lovable aquatic mammals.
13. The Splash Zone
Although it's not a very sophisticated name, it could work if you lead a laid-back beach lifestyle.
Surfers, paddle-boarders, and those who frequent the waters for sport will relate to this residence title that implies lots of water activity opportunities.
14. Monde de L'eau
For those beachgoers who love all things French, you might select this house name that means "water world" in English.
It's perfect for a beach house within reach of white, sandy shorelines and crystal-clear blue waters that are an attraction in and of themselves.
15. The Whale Watcher's Hideaway
This name could work if your house with a seaview is set in a New England beach town like Cape Cod.
If the home has an adequate view of the creatures' migrations, you could even draw in potential rental guests with this house name.
16. The Mother of Pearl
Mother of pearl is a notable shell that many people find pieces of scattered along certain beaches.
The name could work for a beach house where these shell findings are common, but it's also just a fun name for a beach house with a strong feminine vibe.
17. Bikini Bottom
Most people are familiar with the underwater setting of the children's cartoon SpongeBob SquarePants.
A beach house with this name would likely be decorated with nautical art, whimsical colors, and quirky or childlike designs to make it stand out.
18. Happy Horizons
Beach townhomes with wide and expansive views of the horizon would fit this name well.
It inspires visions of evenings spent watching the sunset against the ocean and scouting for dolphin sightings.
19. The Chill Shell
Yogis and mediation fanatics may be looking to create an inner sanctuary in their beachside home.
To add to this theme, you need an equally "chill" beach house name, such as "The Chill Shell", which also has a fun rhyming quality to it.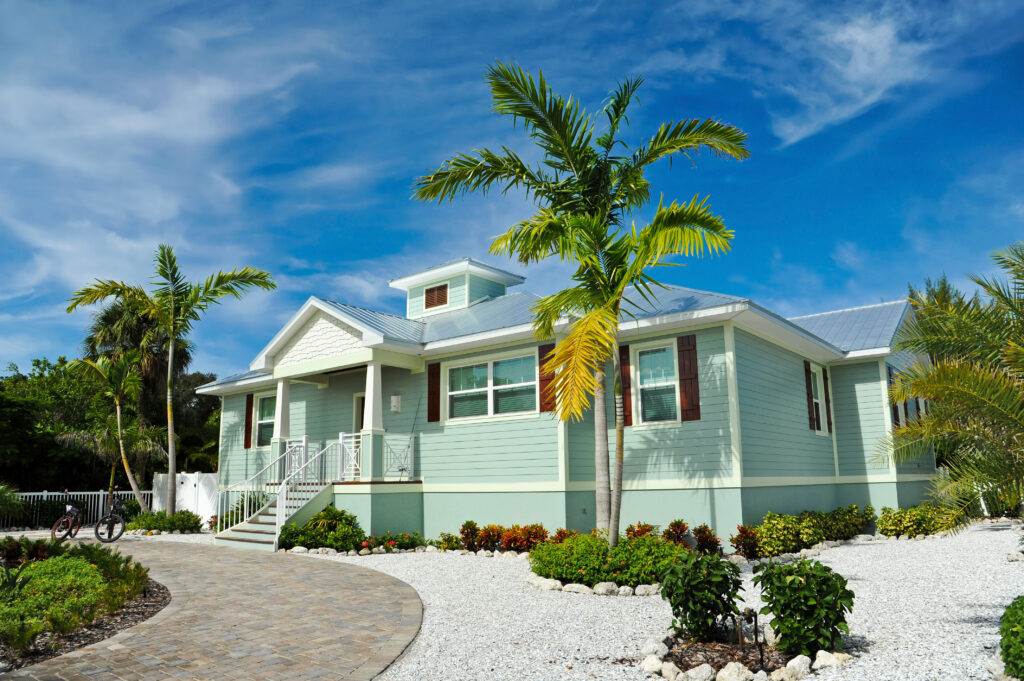 20. The 5 O'Clock Cottage
If your idea of a great beach day involves cranking Jimmy Buffet and sipping fruity cocktails out of straws, then you need a house name like this.
Friends and guests will automatically know to BYOB and pack a reclining chair to plop down against the shoreline.
21. The Aquatic Spot
With a little bit of rhyme, The Aquatic Spot implies a laid-back beach house setting where visitors can enjoy the blues of the great wide ocean.
It's also a suitable name for a beach house painted blue – on the inside or outside.
22. Sea la Vie
If you pride yourself on making your beach house chic and inspired by French design, this play on words makes a good house name.
It replaces the saying "C'est la Vie", which is a whimsical and carefree way of saying "that's life".
23. The Coastal Cabin
The alliteration in this name makes it catchy. But The Coastal Cabin is also a great way of making a vacation rental house stand out on listing sites like Airbnb, where viewers know that they'll be renting a place by the ocean.
24. The Surfer's Hub
Whether your beach house is in Hawai'i or California, The Surfer's Hub would make sense for a house full of surfing teens.
It implies a laid-back beach house where guests aren't afraid to get a little sand on the floor and kick their feet up after walking home from the water.
25. Moonlight Cottage
Although this name doesn't directly mention the sea, it implies great moonlit views of the sea on especially clear nights spent outside.
It would also be a good name for a beach house where parties are frequently entertained at nighttime.
26. The Cove House
This is simply another option you might pick if your beach house is surrounded by circular ocean coves.
Whether it's up on a cliff above the water or down by the shoreline, it could be fitting.
27. The Pescador
In Spanish, "pescador" means "fisherman", so if your beach house is where you go to cast out a line, you might choose this house name.
It could also be a good Airbnb name to attract fellow fishermen who want to fish that stretch of the beach.
28. La Petite Crevette
This name is more on the humorous side, as it's a French phrase that translates to "the little shrimp".
It's definitely beach-themed with the crustacean in the name, but it also implies a very modestly sized beach house.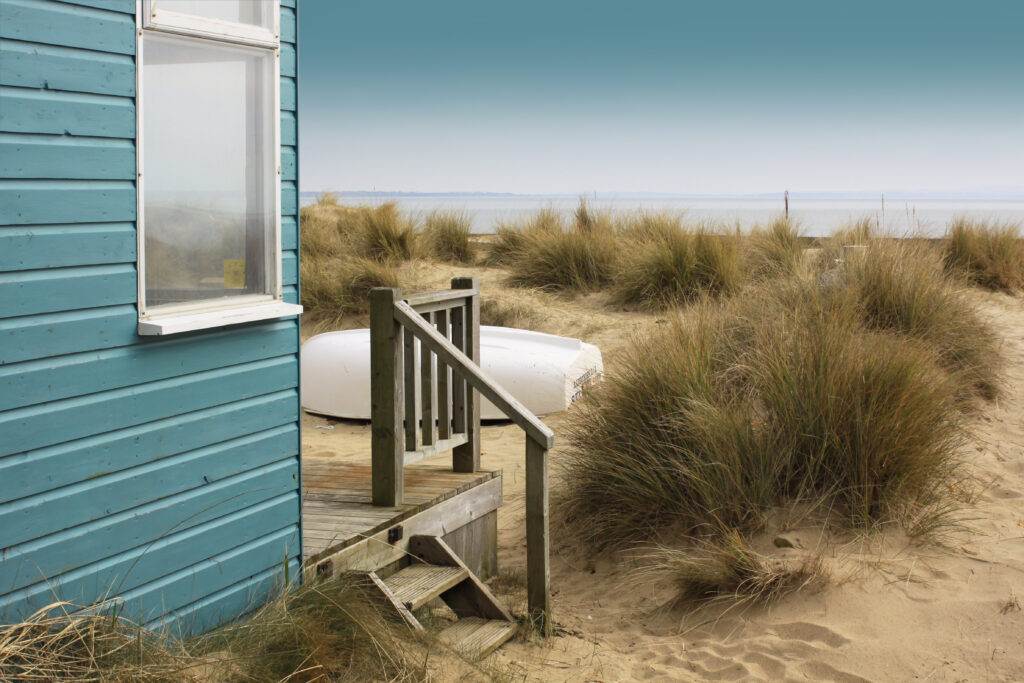 29. La Petite Coquille
Piggybacking off of the previous name, this one means "the little shell".
It's a good name for a cozy little cabin or even a camper home situated by the ocean.
30. The Beach Barn
When you choose this beach house name, you are letting visitors know right off the bat that you have a rustic home.
Barns aren't commonly associated with the ocean, so using this name works if your beach house is wooden and simple, for example.
31. Sandy Toes Retreat
This is a good name if your beach house is a cozy escape from the outside world where you can relax and dig your toes into the sand while reading.
And if it's a rental home, guests can infer from the name that they will feel at home there.
32. Sea Star Mansion
Not everyone can afford a mansion, but if you can and it's oceanside, then this would be a good name for it.
It's especially fitting if you decorate your home with sea stars or commonly find them in the tide pools below your abode.
33. Dunes Dwelling
Beach houses scattered along the Outer Banks of North Carolina are good candidates for this name.
It references the impressive sand dunes you'll find in that environment.
34. The Hermit Homestead
This name implies an isolated spot to enjoy staying in and going out only as much as you want to.
It would fit well for beach houses with few other homes on the surrounding shoreline property.
35. The Oceanic Escape
This name is ideal for condos, cottages, and other residences that people go to in order to relax.
It sets the vibe for a calming vacation setting, where nothing is set on a daily agenda.
36. Bahama Bungalow
If your beach house is located in the Bahamas, this name would be perfect for it.
Bungalow-style homes typically have large front porches to lounge on, so the name is even better if your home meets that design specification.
37. The Lobster Lodge
Is your beach house set in a small oceanside town in Maine? If so, this residence name could be indicative of the great New England lobster dining options conveniently located just down the road in town.
38. The Crab Cove
Again, this would be a good name option for a beach house in an area known for its oceanic cove features.
It's also a good name for a house where you can walk to the ocean and view crabs and other little creatures in the tide pools.
39. The Blue Lagoon
You may be a big fan of the movie with the same name, or perhaps you just like the way the phrase sounds.
The Blue Lagoon is particularly fitting for a beach house in an ultra-tropical location like Hawai'i or Australia, where lagoons and their beautiful blue waters are common.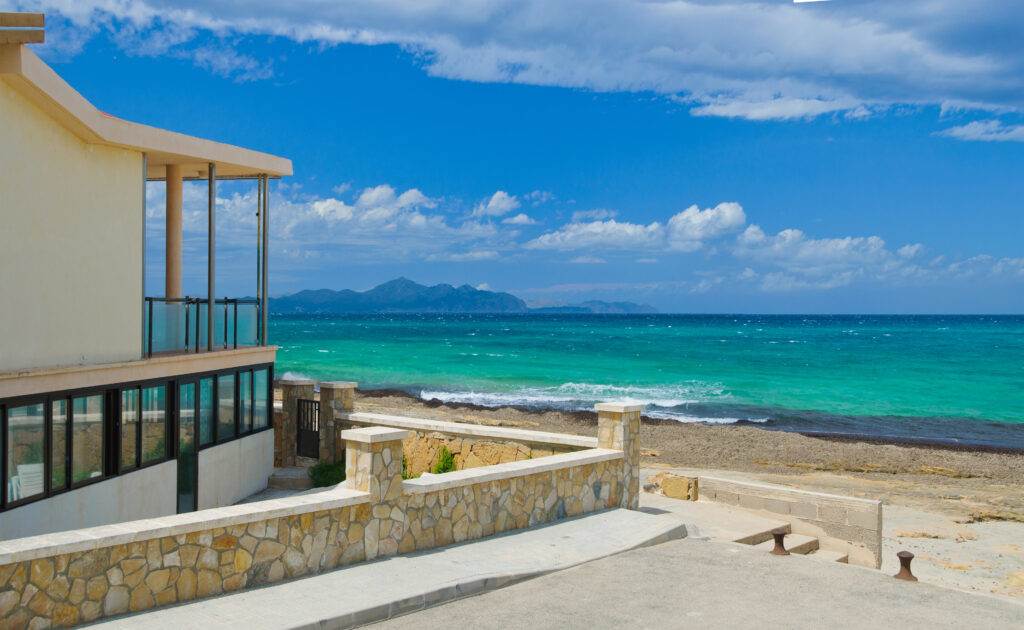 40. Paradise Palms
Many beach towns are scattered with palm trees and similar flora. These paradise-like settings may inspire you to name your beach house Paradise Palms, especially if you decorate it with palm tree-themed artworks.
41. The Coconut Cabana
Although your beach house is likely not designed the way that a real cabana is, this is a common name for a beach home.
For example, in a Caribbean beach town where palm trees and coconuts can be found just down the road, it's especially fitting.
42. The Krusty Krab
If you have a family and your beach house is frequently filled with children who love to play, then you might opt for this name.
It's one of the less-serious beach house names, inspired by the restaurant of the same name in the SpongeBob SquarePants children's cartoon.
43. The Coral Cottage
Is your beach house located nearby any notable coral reefs or special marine life? If so, you might opt for this name, which references the beauty of the nearby ocean.
44. Turtle Cove
If you're lucky enough to have your beach house on an island where the wildlife is protected, you might bear witness to baby turtles hatching on the shoreline. If so, Turtle Cove would be a great home name.
Related Posts