Are you a boat owner looking for the perfect name for your party boat? Look no further!
Choosing a name for your boat is an important decision. It represents you and your boat, and it's the first thing people will hear when you invite them onboard.
A great party boat name can set the tone for a fun and memorable experience.
We've compiled a list of 129+ party boat names to inspire your creativity.
From funny to classy to outrageous, we've got you covered.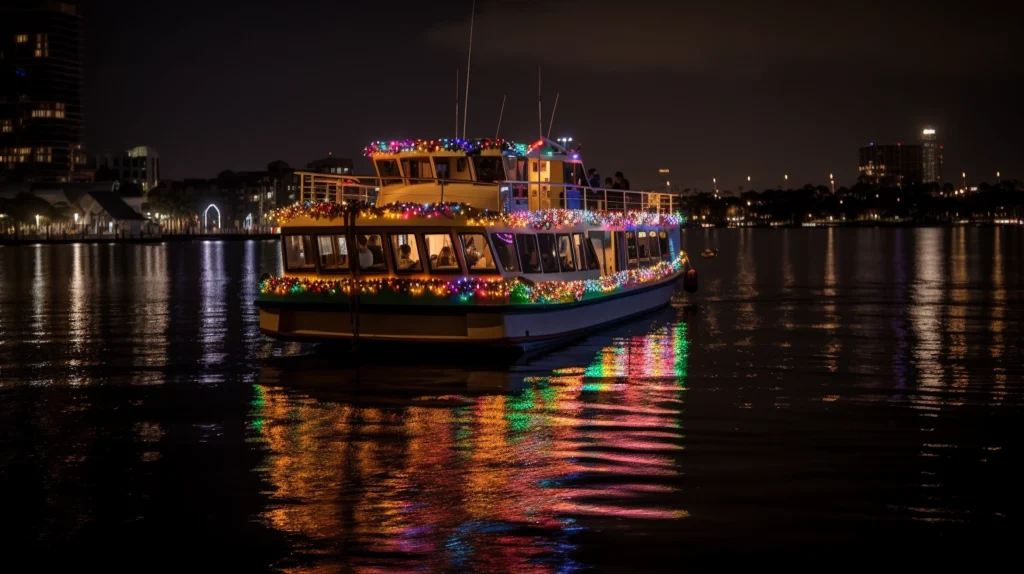 Best Party Boat Names
Booze Cruise
Party Barge
The Tipsy Gypsy
Rum Runner
Sea-n-Sip
The Flamingo
The Booze Bus
The Drunken Sailor
The Tipsy Tiki
The Happy Hour
Goodbye Stress
Rum Runner
Sea Spree
High Seas
Splash Dance
Cruise Control
Under the Big Top
Keep Calm and Sail On
Lucky Duck
Wave Runner
Sail Ahoy
Captain Quackers
Sand Bar Hopper
Captain Morgan
Yachtanic
Captured By The Sea
Parting Waves
Thirsty Whale
The Smooth Sailer
Wild Waves
High Tide
Island Hopper
Final Reckoning
Waves of Fun
Cruise The Coast
Good Names For A Party Boat
Aqua-Holic
Bay Dreaming
High Tide
Knot Working
Nauti Buoy
Sea La Vie
Seaclusion
Seaduction
Shaken Not Stirred
Waverunner
Shipwreck Fiesta
The Sea-Quilizer
Perpetual Summer
Tipsy Tugboat
Rolling with the Waves
Major Booty
High Seas Party
Splish Splashin'
Liquid Lunch
BYOB (Bring your own boat)
Last Straw
Life of the Party
Get Real Cranky
Captain Ragers
Tropical Paradise
Holiday Seamancer
Calypso Cruisin'
Midnight Sun
Captain's Orders
Kicking it Seaside
Yacht Clubbin'
Life's a Beach
Booze Cruise Cruise
Boat Me Outta Here
Swagger on the Sea
Cool Names For A Party Boat
Black Pearl
Blue Horizon
High Seas
Island Hopper
Liquid Asset
Ocean Avenue
Ocean Breeze
Saltwater Therapy
The Castaway
The Voyager
Badass Names For A Party Boat
Blood, Sweat, and Beers
Dead Calm
Deep Sea Diva
Hell's Bay
Iron Maiden
Jolly Roger
Liquid Courage
No Quarter
The Kraken
The Undertaker
Unique Party Boat Names
Aqua Therapy
Barefoot Contessa
Cool Change
Endless Summer
Island Time
Liquid Bliss
Mermaid's Kiss
Ocean Motion
Sea Salt
The Salty Dog
Catchy Names For A Party Boat
Aqua-Licious
Boaty McBoatface
Captain's Quarters
Castaway Dreams
Dock Holiday
Fish Tales
Knot on Call
Ocean's Eleven
Rock the Boat
Ship Happens
Classy Names For A Party Boat
Belle of the Bay
Champagne Lady
Diamond Seas
Lady Luck
Mermaid's Dream
Pleasure Seeker
Sea Diamond
Sea Pearl
The Odyssey
The Yacht Club
Outrageous Names For A Party Boat
Aquaholics Anonymous
Beer Can Island
Booze Runner
Captain and Coke
Drunk on a Boat
Rum & Coke-a-Cabana
Sea-n-Dirty
The Party Pirate
The Rum Diaries
The Salty Seaman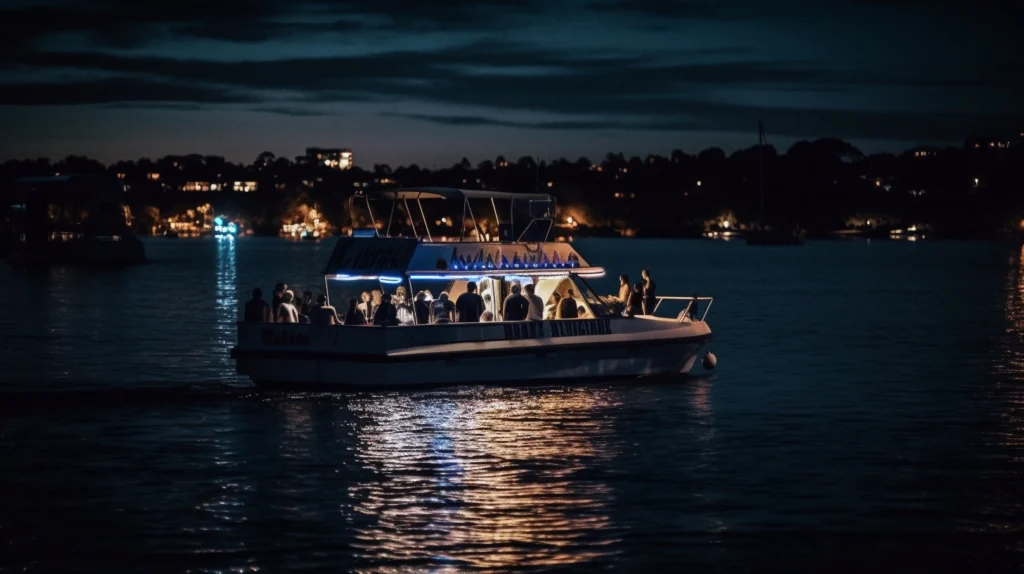 Creative Party Boat Names
Blue Lagoon
Dream Weaver
Floating Paradise
Island Hopper
Knot So Fast
Liquid Diet
Ocean's 11
Sea Breeze
Sea Doo
The Dreamboat
Clever Names For A Party Boat
Boatylicious
Captain's Choice
Happy Ours
Knot for Sail
Off the Hook
Sea Esta
Sea Nymph
Ship Faced
The Captain's Lady
The Salty Sailor
Funny Party Boat Monikers
Here are some party themed funny boat names:
A Boat Time
Aquaholic Anonymous
Boaty McBoatface
Gilligan's Island
Knot on Duty
Seas the Day
Ship Happens
The Codfather
The Love Boat
The Wet Dream
Unusual Names For A Party Boat
Blue Grotto
Cool Breeze
Endless Wave
Island Vibe
Ocean Song
Sea Spray
Sea Worthy
The Abyss
The Big Blue
The Oceanic
Quirky Party Boat Monikers
Aqua Vida
Boatyard Bandit
Knot for Everyone
Liquid Asset
Ocean's 7
Sea Biscuit
Sea Ya Later
Ship Out of Luck
The Driftwood
The Sea Witch
Off-the-Wall Names For A Party Boat
Aye Aye Captain
Black Magic
Boatylicious
Knot on My Watch
Ocean's Eleven
Sea Change
Sea-ing Stars
Ship of Fools
The Big Kahuna
The Salty Dawg
Themed Party Boat Monikers
Anchor Management
Bay Watch
Bikini Bottom
Gilligan's Island
Jaws
Pirates of the Caribbean
Sunken Treasure
The Love Boat
The Titanic
The Yellow Submarine
Nature-Inspired Party Boat Monikers
Blue Horizon
Coral Reef
Deep Blue
Dolphin Dreams
Ocean Breeze
Sea Siren
Seashell
The Blue Whale
The Great Barrier Reef
The Sea Turtle
Nautical-Themed Party Boat Monikers
Anchors Aweigh
Buoy Oh Buoy
Captain's Lady
Maiden Voyage
Nautical Dreams
Sail Away
Seafarer
The Admiral
The Mariner
The Siren's Song
Pop Culture-Inspired Party Boat Monikers
Breaking Waves
Game of Boats
Ghost Ship
Life of Pi
Miami Vice
Poseidon
The Black Pearl
The Last Ship
The Poseidon Adventure
The Perfect Storm
Name Inspiration
When it comes to naming your party boat, there are countless sources of inspiration.
You can start by considering the boat's physical attributes such as its color, shape, or size. Perhaps the color of the boat reminds you of a certain gemstone, and you can name your boat after it. Or maybe your boat's unique shape inspires a creative name that reflects its personality.
Another source of inspiration can be your favorite movies, books, or songs. If you're a fan of a particular movie or book, you can draw inspiration from its characters, settings, or themes.
You can also consider music genres, band names, or song titles that resonate with you.
Help Choosing the Perfect Name
Choosing the perfect name for your party boat can be a daunting task, but you don't have to do it alone.
Brainstorming with friends or family can be a fun and creative way to come up with a name that reflects your boat's personality. You can also use online name generators that provide a wide range of options based on your preferences.
If you want a more professional approach, you can consult with a naming service that specializes in naming boats. These services can provide you with a list of unique and creative names that fit your boat's personality and style. They can also help you with the legal process of registering your boat's name.
In conclusion, there are many sources of inspiration when it comes to naming your party boat, and getting help from friends, family, or professionals can make the process easier and more fun.
Conclusion
Choosing a name for your party boat is a fun and creative process. Whether you want something funny, classy, or outrageous, there's a name out there for you. Use our list for inspiration, and don't be afraid to get creative. Happy boating!
Related Posts