Looking for a few cute names for pet rocks? It can be a challenge to find the most suitable things to call your pet, even if it is a simple rock!
Take on this responsibility with our list of diverse and inspiring pet rock names!
Let's dive in.
Best Pet Rock Names
These names for your pet rock are the best of the best! If you're looking for a rock name that will stand out, stick in the memories of your friends and family, and perfectly fit any flinty friend, this is the list for you.
Flint
Slab Jr.
Bedrock Boy
Earth-Earthy
Lava Rock
Gravel Kid
Metal McGee
Boulder Buddy
Cobble Stone
Dr. Crag
Lil Lodge
Pebble Pebble
Mini Mineral
O Ore
Laggin Slag
Ol Crusty
Rock Out
Rock Star
Birth Stone
Bob the Bobble
Crowning Jewel
Jimmy Gemstone
Rocko Balboa
Rocky Rocks
Senor Zircon
Jenny Jewel
Tiny Trinket
Mr. Teardrop
Scinty Scarab
Mrs. Gray
Stonhenge Jr.
Grave Stone
Tip Top
Build a Bridge
Grit McSpit
Stone Faced
Ground Down
Boulder Boy
Crystal Chrissy
Rolling Stone
Crumble Rumble
Hard Head
Mr. Unmovable
Steady Jr.
Brock McBrick
Cement Clement
Age Stone
Mood Ring
Coarse O'Corse
Rough O'RoundEdges
Spot Rock
Female Pet Rock Names
Maybe your pet rock is a girl. Take some inspiration from the feminine names below!
Lady Halle
Lady Alaina
Mrs. Ashma
Miss Chantal
Lady Eterna
Lady Cybele
Jenny Jewelry
Mrs. Iolite
Ms. Lapis Lazuli
Lady Pearl
Mrs. Lorelai
Lady Meena
Nelka the She-Rock
Pinky the Rock
Diamond in the Rough
Mrs. Pedra
Lady Parnel
Pretty Plaster
Lady Shila
Sharon the Stone
Miss Sela
Lady Seneca
Dove Stone
Golden Taniksha
Precious Stone
Princess Vala
Tin Tinna
Lady Terra
Pretty Penny
Mrs. Lashes
Glitter Stone
Mrs. McRocko
Governess Pebble
Pink Pebble
Lovely Lady
Rock-Hard Resolve
Glitz the Gemstone
Diamond Dear
Lady Love
Prettiest of Pebbles
The Lady Brick
Glam O'Stone
Rose Quartz
Purple Quartz
Smoky Quartz
Lady Amethyst
Holly Blue Agate
Lady Diamond
Mrs. Cragg
Dazzle the Diamond-to-Be
Male Pet Rock Names
Need a pet rock name that works for a gentleman? Try out a few of the more masculine rock names below!
Tyler
Maximus
Bogey
Blue
Stanley
Bradley
Snoopy
Wyatt
Zeke
Koty
Rover
Kipper
Pooch
Sly
Buddy Boy
Bj
Kid
Blast
Blackie
Yogi
Sterling
Bubba
Black-Jack
Poochie
Katz
Tyson
Bootie
Bruno
Lincoln
Booker
Bob
Bobo
Yogi-bear
Braggs
Boone
Boozer
Woody
Spud
Wizard
Bruiser
Bits
Wolfie
Stink
Karma
Little-rascal
Kane
Kobe
Bo
Scooby
Kona
Latte
Wrigley
Maverick
Linus
Lucifer
Kurly
Wrinkles
Boy
Yoda
Mercle
Kismet
Spanky
Ty
Koko
Buckeye
Spunky
Bodie
Bitsy
Squeeky
Boss
Bubbles
Bucky
Zack
Squirt
Lassie
Little-one
Bones
Willie
Vinnie
Sox
King
Koba
Bucko
Kujo
Boomer
Little Bit
Bosley
Little-guy
Scoobie
Smarty
Bizzy
Booster
Slinky
Abel
Wolfgang
Kosmo
Kirby
Buddie
Yin
Boots
Max
Kramer
Kato
Bobbie
Yukon
Bo
Buddy
Bud
Blaze
Buck
Killian
Boo-boo
Klaus
Stich
Bosco
Boo
Boris
Bozley
Scooby-doo
Woofie
Kibbles
Slick
Koda
Lucky
Brando
Merlin
Vinny
Budda
Brady
Bobby
Bongo
Brutus
Baby Pet Rock Names
Nothing says adorable like this list of pet rock monikers for infants!
Little Bubbles
Tiny Garnet
Lil Jasper
Lil Opal
Lil Roxie
Infant Amber
Pewee Pebbles
Tiny Pearl
Tiny Sandy
Tiny Heliodor
Teeny Turquoise
Baby Clif
Baby Jade
Little Topaz
Small Sapphire
Lil Amethyst
Infant Emerald
Baby Onyx
Baby Ruby
Baby Agate
Baby Zircon
Baby Rocky
Baby Diamond
Lil Flintstone
Baby Shimmer
Sparkles Jr.
Little Stony
Small Squirt
Small Fry
Teensy Weensy
Pebble Boy
Flake O'Stone
Teeny Freckles
Lil Bit
Squirt the Rock
Flake of Micah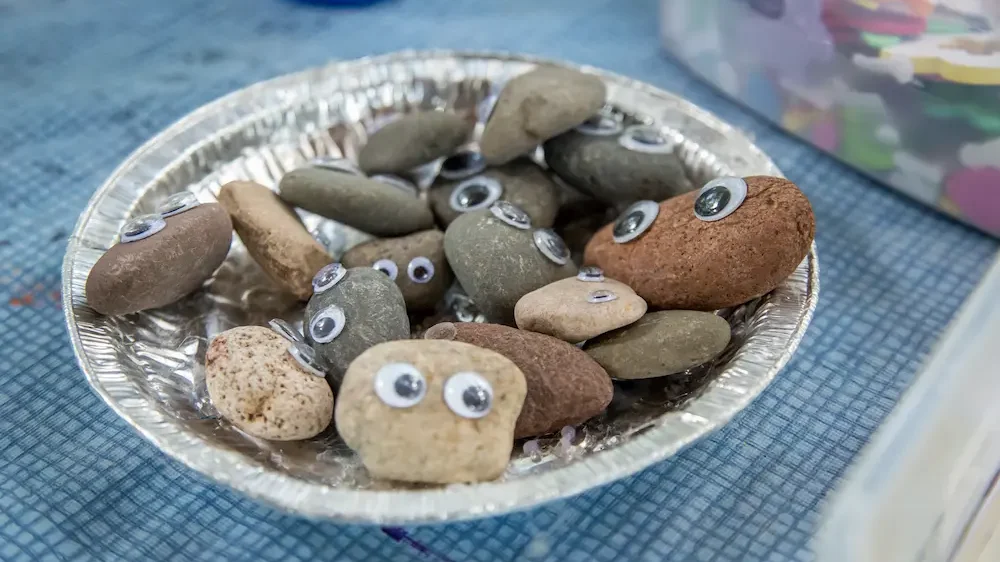 Unisex Names For Pet Rock
These names can be for either a male or a female pet rock: it's up to what you like best!
Marley
Koda
Fang
Whitey
Diego
Hank
Artemis
Frankie
Coco
Babe
Spot
Morgan
Dusty
Snickers
Mr. Stonno
Roxy
Sassy
Lily
Toby
Puffy
Sam
Simba
Jet
Cooper
Hank
Kona
Mac
Ash
Sam
Willow
Duke
Bentley
Beau
Theo
Patches
Mason
Oakley
Biscuit
Rosie
Scrappy
Marley
Reggie
Ciao
Jesse
Sam
Harper
Fletch
Kobe
Hunter
Barney
Jupiter
Cash
Gus
Jordy/Jordi
Henley
Pooch
Shadow
Buddy
Fury
Fuzzy
Gray
Jasper
Rebel
Ginger
Frankie
Parker
Jake
Whiskey
Ella
Hornet
Pepper
Remy
Hammer
Buck
Pebbles
George
Gracie
Twilight
Zeus
Gracious Granite
Gray
Bear
Ash
Lulu
Kip
Snoopy
Captain
Jax
Ciao
Foxy
Maverick
Ollie
Dot
Murphy
Oliver
Sophie
Buster
Piper
Harlow
Scout
Emery
Bear
Maple
Pookie
Remi
Elf
Leo
Lulu
Doc
Buster
Rex
Spike
Adrian
Onyx
Gunner
Athena
Scout
Roxy
Alaska
Barkley
Cash
Wags
Reese
Gracie
Odin
Diesel
Jules
Ivory
Chloe
Gus
Zuri
Parker
Teddy
Brownie
Lacy
Judge
Avery
Pippa
Taylor
Sven
Muffin
Bandit
Corky
Vesper
Oscar
Barkley
Shudder Shint
Ozzie
Lennox
Millie
Snowball
Rowne
Aspen
Hux
Ghost
Shadow
Jessie
Corky
Pepper
Duke
Tank
Riley
Frisky
Bo
Harley
Robin
Dewey
Penny
Kit
Thor
Quinn
Bowi
Peanut
Rocky Rollo
Dash
Penny
Junior
Rascal
Boomer
Shadow
Paisley
Otis
Abby
Honey
Oliver
Nova
Remy
Dallas
Nellie
Emma
Ruby
Ollie
Pistol
Baxter
Chocolate
Sam
Jude
Charlie
Biscuit
Jojo
Cuddles
Blue
Bentley
Wren
Joey
Luke
Blue
Danger
Genesis
Chewy
Puffin
Dozer
Buddy
Rascal
Blue
Abby
Sandy
Riley
Woof
Charlie
Cute Pet Rock Names
Here are some pet rock monikers that will simply make you and your friends go, "awww!"
Hot Wheels
Tiger Lily
Wave Rock
Swedish Stone
Cement Jack Sparrow
Pirate Pebble
Finneus Stone
Iris Rocko
Cod Cement
Snap Dragon Cliff
Sardine Diamond
Koosh Ball Block
Larry Stone
Fritillary Flake
Gudetama Cobble Stone
Clover Rock
Tamagotchi Stone
Pusheen Boulder
Apple Jack Cement
Bubba Gump Pebble
Daisy Clout
Finley Pebble
Apple Blossom Agate
Dahlia Rock
Miso Mica
Rose Malachite
Salmon Lava Rock
Toothless the Dragon Stone
Sonic Stone
Otto Rock
Popple Pebble
Floater Flakes
Ducky Rock Rock
Monchichi Malachite
Buttercup Boulder
Primrose Pebble
Chips Clay
Flotsam Flakes
Long John Silverstone
Luigi Stone
Bob Boulder
Puffalump Rock
Daffodil Stone
Polly Pocket Pebble
Petunia Pebble
Sea Beast Quartz
Puff Daddy Pebbles
Teddy Ruxpin Topaz
Thistle Emerald
Bear Rock-Rock
Magnolia Boulder
McFish Malachite
Poppy Pearl
Marigold Malachite
Koopa Pebbles
Protea Pyrite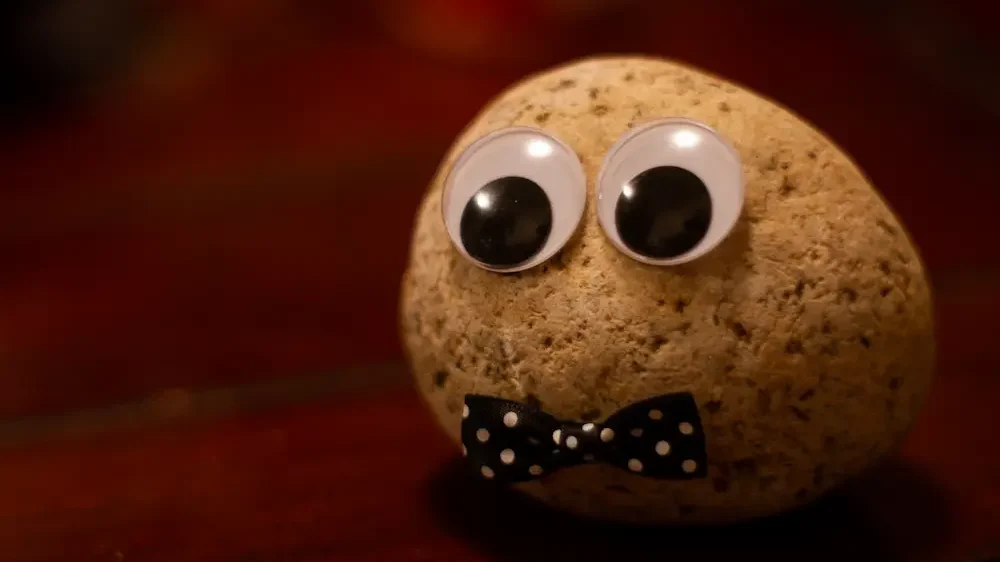 Good Names For a Pet Rock
They may not be the cream of the crop, but the list below still features really good names for a pet rock!
Darth Mall
Gunder Son
Sand Man
Wall E. Rock
Bat Man Rockin
Peanut Butter
Mottled Crew
Sticken Stone
Bear
Jasmine
Bacchus
Hank
Jamie
Atlas
Alfie
Gus
Aj
April
Big Foot Brick
Johnny Stone
Barclay Boulder
Archie Emerald
Jelly Stone
Barley Brick
Beauty Cement
Aires Gem
Nemo Diamond
June Emerald
Hardy Rock
Ben Stone
Jackpot Brick
Beetle Granite
Jett Clay
Joey Rock
Bebe Stone
Jake Brick
Hallie boulder
Sassie Cliff
Bella Boulder
Aries Agate
Banjo Boulder
Abigail Agate
Peanuts Pebble
Nana Brick
Josie Stone
Babe Brick
Harry Boulder
Benson Stone
Mitzy Rock
Mona Pebble
Nena Boulder
Penny Pebble
Hamlet Cement
Baby Boulder
Joker Rock
Andy Roll Rock
Beaux Stone
Jet Brick
Misty Rock
Indy Rockin
Beanie
Ajax
Jenny
Benji
Aggie
Jethro
Armanti
Billie
Hoover
Natasha
Bessie
Amos
Julius
Hershey
Jasper
Holly
Arrow
Bibbles
Jelly-bean
Aldo
Bart
Sasha
Ashes
Hannah
Beans
Astro
Bambi
Itsy
Jade
Athena
Bentley
Jessie
Phoebe
Hudson
Barnaby
Annie
Harpo
Mitzi
Hunter
Arnie
Big Boy
Itsy-bitsy
Jenna
Jaguar
Guy
Bb
Barbie
Belle
Henry
Hammer
Babykins
Ivory
Bingo
Biscuit
Howie
Homer
Augie
Biablo
Jesse
Jaxson
Jersey
Judy
Honey
Sarah
Iris
Isabella
Amy
Jack
Allie
Baby-doll
Honey-Bear
Baxter
Haley
Gypsy
Isabelle
India
Aussie
Jetta
Harley
Houdini
Pearl
Ivy
Bernie
Baron
Jazmie
Nala
Babbles
Ashley
Jolly
Axle
Benny
Alexus
Nakita
Amber
Mollie
Angus
Barkley
Bailey
Austin
Nellie
Adam
Jagger
Hope
Jerry
Joe
Bandit
Audi
Ace
Jojo
Billy
Ally
Happy
Angel
Hailey
Barker
Basil
Jewel
Jester
Jingles
Hobbes
Peanut
Hugo
Jolie
Hercules
Binky
Jesse James
Humphrey
Bam-bam
Addie
Phoenix
JJ
Argus
Harvey
Jess
Amie
Beamer
Higgins
Barney
Hanna
Jewels
Alf
Hugh
Izzy
Huey
Autumn
Joy
Amigo
Birdy
Jags
Jackson
Hooch
Harrison
Heather
Mocha
Pebbles
Jackie
Sara
Jordan
Biggie
Molly
Admiral
Alex
Hans
Bishop
Jazz
Muffy
Jimmy
Mitch
Axel
Birdie
Mittens
Mo
Beau
Heidi
JR
Apollo
Funny Pet Rock Names
Having a pet rock that brings you joy is most satisfactory when its name makes you laugh, like the names found in the list below!
Nugget
Goon
Rapunzel
Kiddo
Teacup
Punk
Giggles
Ace
Rambo
Scout
Oldie
Smarty
Gump
Smiley
Shortie
Speedy
Ms. Congeniality
Squirt
Teeny
Boomer
Bond
Cool Names For a Pet Rock
What's cooler than rock and roll? These are some of the coolest names for your very own pet rock!
Beastie
Basil Boulder
Tim Titanic
Barbie Rock
Billie Jean Stone
Bender Boulder
Behemoth McRock
Big Boy Blues
Belladonna Brittle
Back Country Brittle
Black Knight Bo
Better Red Rocko
Batista Boulder
Beijing Mount
Bison Boulder
Black Eagle
Bad Intentions Titanium
Bella Bricksby
Batmobile Brick
Bada-bing Rocko
Beast Stone
Bandit Rock
Badass Pet Rock Names
Take your cool pet rock monikers a step further with these sources of inspiration:
Drama Queen
Cavalry
Demeter
Decibels
Calypso
Diablo
Chardonnay
Chainsmoker
Catapult
Chaparral
Dementor
Car Crusher
Dolphin
Doomsday
Dirty Harry
Calamity
Cavalier
Cassidy
Caernarvon
Deviant
Capone
Dredd
Demon
Devastation
Domino
Desert Eagle
Cash
Cantwell
Dragon
Dominatrix
Cadillac
Chaffee
Carzilla
Deranged
Disenchanted
Camel
Drifter
Centurion
Unique Pet Rock Names
Looking for names for a pet rock that will put your pet ahead above everybody else?
Check out the list below!
Buddy
Bubby
Sweet potato
Good-lookin' Agate
Handsome Hunk O'Rock
Baby
Babe
Sunshine Sapphire
Stud muffin Stone
Sexy Stone
McDreamy Diamond
Boo Boo
Bae Bauble
Bub Boulder
Cutie Coal
Stud Stone
Pumpkin Pebble
Honey Holly
Sweetie Stone
Casanova Carnelian
Name Inspiration
Looking for some more inspiration when you choose a name?
Try thinking through the list below:
Gemstone Names – Gems come in many different colors and types, and some are used to signify birth months or even metaphysical energies!
Colors of Rocks – You can always choose to select a name that is inspired by the color of the rock you have. This doesn't always have to be an exact match: for example, if your rock is purplish in color, Amethyst might be a good name!
Regular Pet Names – Nothing is funnier or more endearing than taking a pet name you might assign to a cat, like "Whiskers," or a dog, like "Spot," and giving it to your beloved pet rock instead!
Human Names – One of the funniest things to do when naming your adorable pet rock is to simply give it a regular old human name. When you introduce your pet rock by saying something like, "Oh, that's Bob. He's my pet rock!" You're sure to get a chuckle and a lasting memory in return!
Help Choosing the Perfect Name
If you need help choosing the perfect name, consider the tips below!
Family Name – Sometimes one of the most stand-out decisions you can make is simply to name your pet rock after yourself! This can be your first name or your last name, or it can even be "Junior." This not only makes your pet rock personal to you but adds a touch of humor to anyone asking about your pet rock.
Type of Rock – Sometimes the perfect inspiration for a name can be found in what your pet rock actually is. If the pet rock is made out of granite, for example, you might decide to name it "Gran" for short!
Advice From Friends – Your pet rock can double as a reminder of the good friends you have around you. You could name your pet rock after a buddy, or simply get feedback from your own inner circle. This would make the pet rock an even more special memento through the years of which friends have accompanied you through life.
Adjectives – Adjectives are words that describe a noun. Sometimes mashing up an adjective with a standard name can come off as clever, funny, or simply memorable. Try names like "Big Bob" for larger pet rocks or "Pious Pebble" for some of the smaller types. The wackier the adjective, the more likely everyone is to remember the name!
In Conclusion
In conclusion, your pet rock is a convenient, easy-to-care-for, but multi-faceted friend! It definitely deserves a proper name. Adding the best name to your pet rock can enhance your sense of its personality and bring joy not only to you but to anyone you show your pet rock off to!