Sure, you don't need to get creative with your album names. We are sure that naming a photo album nothing more than "photo album" should be fine for most of you. After all, it is still going to be jam-packed with memories.
But, why not spice things up a little bit? Giving your album an album title not only makes it easier to categorize your albums but gives you the opportunity to get a bit creative.
On this page, we are going to go through the absolute best album ideas. We actually have a few of them for you.
So, if you are looking for a catchy album title for a photo album or something else, we have you covered!
Best Album Names
Let's kickstart this list with the best album name idea options, shall we? You don't need to whip out an album name generator here.
We are going to give you a list of the best album titles we have ever seen. We are even going to give you an idea of which type of album they would work best for. (aren't we kind?).
Better Together – great for a family, but equally good for a relationship.
Generations – one of the best names for including all members of your family.
This is Us – use this to show off beautiful photos of your family members.
(Year) With (Family Name) – all of your photos from one year can be loaded into this.
You and I – one of the best names for wedding photos.
When We Met You – a common name for photo albums about a newborn.
Lessons From a Passport – a great album name for all your travel photos.
My Cooking Adventures – take great photos of your food? Add them to this photo album.
Adventure, Found – your travel adventures.
Cheers To Another Year – yearly photo album.
Good Album Names
Didn't catch an album name idea in the last section that you are enamored with? Don't worry. We are going to really start ramping things up from here on out. Let's jump in, shall we?
Again, we have a mishmash of different name ideas here for you. There is a little something for everybody!
So, if you need some good album names we, once again, have you covered.
Here ; There
The Next Step
A New Chapter
Chapter 1 – an awesome name for baby-focused photo albums, or even a new romance.
Soulmates
Love Story
A Year of Love
Time Flies When You're Having Fun
Here's To The Good Times
Family Ties
Modern Family – love the TV show? Show off your family with this awesome name!
Without a Map
Adventures With (Your Name)
Our Magical Adventures
Are We There Yet?
We Said Yes – ideal for wedding day photos
Our Story Begins
Sweet Memories
Our Family
My Friends
The Best Memories Ever
Cute Album Names
Next up, we have some cute names for you.
These are the ones that will put a smile on somebody's face, or perhaps make them say 'aww'.
The Rest of Our Lives
A Love Like Ours
Our Story So Far
Our Love Story
The Greatest Family
Moments With Mom/Dad
Celebrating The Everyday
My Love
The Ones I Hold Dear
I Miss You – sometimes, you need a name to remember the departed who were nearest and dearest.
Worth The Wait
Our Bundle of Joy
P.S. I Love You
The Reason I Smile
When I'm 64 – a funny, but a cute name that follows the Beatle's song. Shows you will be with somebody forever.
Our Magical Love
Beginning Our Forever
Funny Album Names
Photo albums are all about putting a smile on your face. Hopefully, those photo albums are going to be loaded with all sorts of happy photos that you can look back on for years and years to come.
So, why not get your photo albums off to a good start? Give them a catchy and fun title.
Here are a couple of funny names for an album that you can use. Don't be afraid to experiment with these.
We are sure that you can come up with some crackin' ideas yourself.
A Year in Laughter – A generic name that can be used for family photos or photos with friends.
Don't I Look Good? – a great title for those albums jam-packed with pictures only of yourself.
Silly Stories and Silly Photos – good name for photos of the funniest moments in life. Used often with kids.
Photos To Make You Laugh – got some awesome funny photos? Add this name to them.
The World Is Your Oyster – a funny name for a travel photo album.
All Work, No Play – good for when you have pictures of you looking a bit tired, perhaps with kids.
The Zoo – family photo album time!
My Bragging Album – Got some things you are proud of? Look good yourself? Use this name.
Pretending I Don't Know You – funny photos of people in positions where you would pretend you didn't know them.
Food Is Life – food album. Good for cooking or restaurant snapshots.
Barely Functional – a party album. Tired children. You name it.
Sloppy Kisser – funny romantic shots.
Chicken Soup For The Soul – those pictures that never fail to put a smile on your face.
Crazy cat Lady – got cats? bet you have a ton of photos.
Crazy dog Lady – for dog lovers!
Grins ; Giggles
A Hairy Situation
Mommy's Lil Stinker – children's photos (or perhaps a stinky husband!)
Prince/Princess Potty – is your child finally potty trained? Document it!
One Is Not Enough! – great as a baby album for a new addition to the family.
This Is Why I'm Hot
The Hoots – all the family fun can go here.
Keeping Up With The (Your Family's Name) – a twist on the reality TV show name.
A Not-So-Candid Moment – for those photos that are so clearly posed.
Truth Is Stranger Than Fiction
The Wonder Years
A Photo a Day Keeps The Bad Memories Away
A Year in Laughter
As Perfect as Pizza – pizza is delicious no matter what. Your family is just as good!
My Silly Family
Cool Album Names
Looking for names that are going to have people thinking that you are so incredibly cool? Don't want something too sappy?
This section is for you.
Too Cool For School
Two Peas in a Pod
Suave
Jetting Off
Good To Go
Hittin' The Road
Hit The Road Jack
Highway to Hell – is one of the coolest songs of all time. Great travel name too.
Sweet Child 'o Mine – a rock-inspired name from Guns 'n Roses for your romantic partner.
Our Little Monster
Ticket To Ride
Double Trouble
Our Life in Pictures
Sweet 16
Say Hello To The Rest Of Your Life
Say Hello To Your 20s/30s/40s – great for whenever somebody hits an age milestone in their life.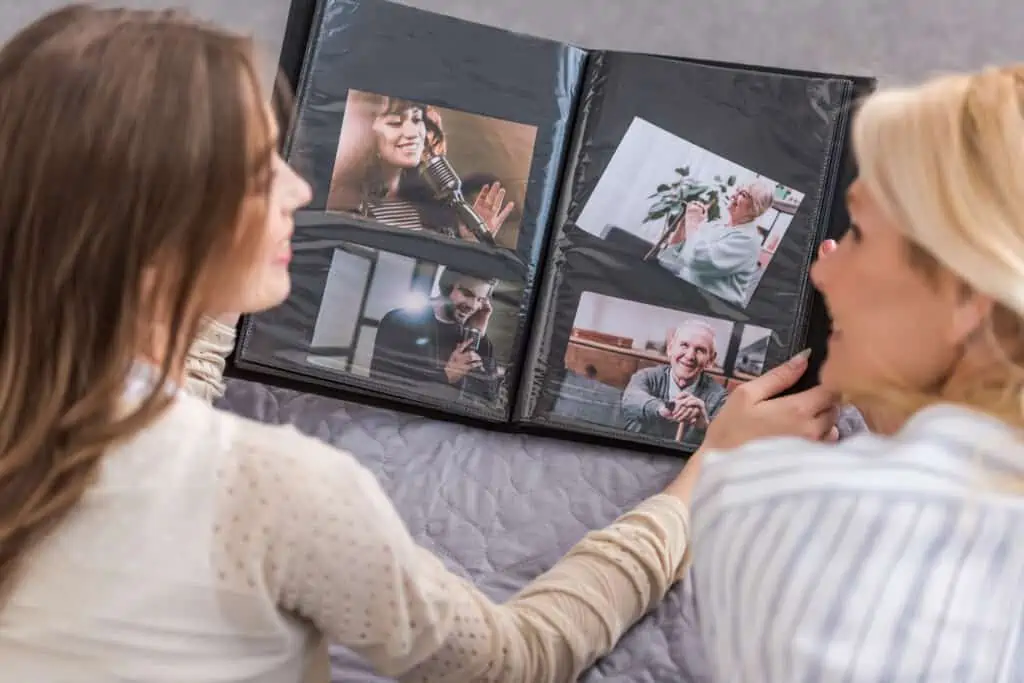 Album Naming Tips
We have shared with you a ton of different album names that you can use for your photo albums. But, how do you choose between them? What makes one name better than another? Let's give you a few tips.
Remember, at the end of the day, an album name is going to be personal to you. It is something that will resonate with you.
A name that we pluck from an album name generator, for instance, may be awesome for us and not a great name for you.
So, try a couple of different names on for size. Don't be afraid to switch them up, if needed.
1. What Is In The Album?
The best photo albums will have a single category of photos. For example, all family photos. All baby photos. All photos of your romance, etc.
So, the first thing that you want to think about is what is actually in that photo album. This will help a lot when it comes to choosing a photo album name.
For example, a travel photo album would be called something different from one that chronicles your marriage.
2. What Type of Image Do You Want To Convey?
A good album title will conjure up images of what may be in that album.
For example, a photo album with a funny name is telling you that the images will be hilarious.
A photo album with a cute name may be a bit more romantic in nature.
Think about what you want to run through people's minds when they see that album name. Once you have a name in mind, consider whether it matches the content.
3. How Specific Do You Want The Name To Be?
Do you want the name to be general, or do you want it to be specific?
For example, if you are charting the first year of a baby's life, then you may want the name "My First Year" rather than "My Little Monster", or something.
If you are going on a vacation, a cruise may work well with a title like "Bon Voyage", a road trip could work with "Highway to Hell", and a general album title could be "Our Vacation Adventures".
Again, you will need to consider what is in the album here.
We promise you that with these three tips, you can come up with some incredibly creative album titles.
Conclusion
There you have it. Some pretty awesome names, don't you think?
Hopefully, we have given you a bit of inspiration so you can start putting together some awesome photo albums.
Like more than a couple of names? That's cool. Take tons more photos and have a lot of photo albums. You will love collecting memories.
Related Posts