Are you looking for a fun and creative name for your backyard bar?
Whether you're planning an outdoor gathering with friends or want to make your backyard hangout spot more inviting, we have some great ideas.
From puns to plays on words, here are the top backyard bar names that will have your guests laughing and clinking glasses in no time!
Let's dive in.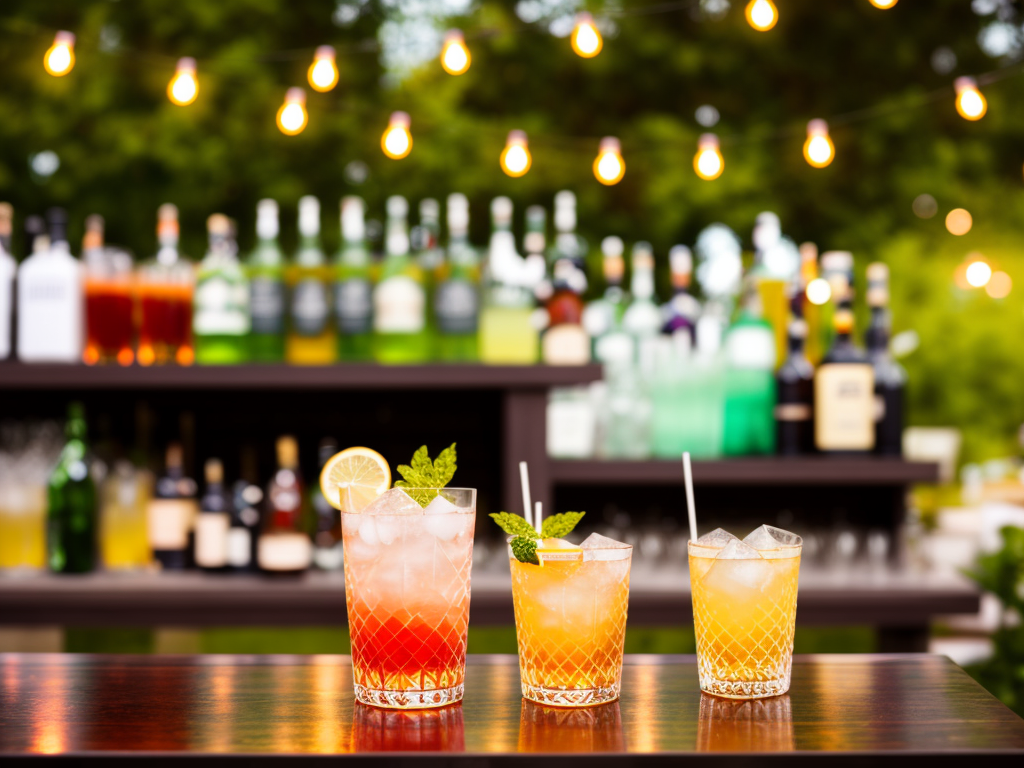 Best Backyard Bar Names
Angels Trumpet Ale House – A cozy and inviting backyard bar with a heavenly atmosphere.
Atomic Bar – A modern and futuristic bar that serves up unique cocktails.
The Backyard Bash – An outdoor paradise boasting an array of food and drinks served in a vibrant atmosphere.
The Pinnacle – An elevated bar experience that offers delicious drinks and fantastic views.
Otto's Shrunken Head – A quirky and humorous name for a backyard bar that's sure to draw plenty of attention.
La Merde – A French-inspired name for a backyard bar that pays homage to the country's food and drinks culture.
The Red, White & Booze – A patriotic-themed bar name that celebrates America's love of libations.
Shuck n' Curl – A fun, beach-themed name for any coastal backyard bar that serves seafood and drinks under the stars.
Fig & Thistle Wine Bar – A sophisticated and romantic bar name perfect for a romantic evening under the stars with a glass of wine in hand.
Festive Flair – An upbeat, celebratory name for any backyard bash with festive décor, food, drinks, and music playing all night long.
Beer Paradise – A paradise-themed backyard bar where guests can relax with an ice-cold beer in hand as they enjoy the warm summer night air.
Serving Spirits – A spooky yet playful name for any Halloween or horror-themed backyard bash, complete with special drinks inspired by the holiday season.
Wine Hub – An apt title for a vineyard or winery-inspired backyard bash complete with a selection of fine wines for guests to enjoy.
Brews & Breezes – A name that evokes the cool breeze of a summer evening and the refreshing taste of cold beer.
Chillax – A laid-back name for a backyard bar where guests can relax and unwind.
Shady Lane – A backyard bar that offers a respite from the sun and heat.
Aroma – A sensory name for a backyard bar that offers a wide variety of aromas from food and drink.
Fireside – A name that conjures up images of roasting marshmallows and warm drinks around a crackling fire.
The Grove – A name that speaks to the natural beauty of a backyard setting, with a nod to the groves of trees that provide shade.
Liquid Sunshine – A name that brings to mind the joy and happiness that can come from enjoying a cold drink on a sunny day.
Sip & Savor – A name that emphasizes the importance of taking one's time to truly enjoy the flavors of the drinks and food being served.
Zen Garden – A backyard bar with a calm and peaceful atmosphere, perfect for sipping a cocktail while enjoying the tranquility of a well-manicured garden.
The Tipsy Gnome – A whimsical name that conjures up images of a backyard bar where mischievous gnomes may be lurking about.
Campfire Cove – A name that evokes the rustic charm of a backyard bar built around a roaring campfire.
Booze Garden – A playful name that emphasizes the fun and laid-back atmosphere of a backyard bar.
Coastal Cocktails – A name that highlights the fresh seafood and beachy vibes of a backyard bar near the coast.
Starry Night – A name that calls to mind the beauty of a backyard bar lit up by the stars on a clear night.
The Mad Hatter – A name that conjures up images of a quirky and eclectic backyard bar with plenty of personality.
Good Names For A Backyard Bar
The Clubhouse: Perfect for a cozy gathering spot with friends.
Bumblebee's Bar: A fun and friendly backyard bar name that's sure to put a smile on everyone's face.
The Backyard Oasis: A perfect name for a backyard bar that provides an escape from the worries of the world.
The Porch Party: An ideal pick for hosting regular summer soirees in your backyard space.
The Tiki Hut: Create a tropical paradise in your own backyard with this fun, lighthearted bar name.
The Grillmaster's Grill: Perfect for any grill enthusiast looking to host a summer BBQ in the backyard.
The Garden Party: Get your guests excited for a night of outdoor fun with this cheerful bar name!
The Patio Pub: An excellent choice for those who prefer to keep their outdoor entertaining simple and cozy.
The Treehouse Tavern: Bring out your inner child and take your guests on an imaginary journey with this whimsical bar name!
The Beach Bar: Bring the beach vibes to your backyard with this perfect summertime bar name!
The Backyard Cantina: Make it feel like you're south of the border with this Mexican-inspired bar name!
The Outdoor Kitchen: Perfect for any aspiring home chef who wants to show off their skills in the great outdoors!
The Hot Tub Hideaway: Not only is this an ideal spot for relaxing, but it's also a great way to keep your guests cool during hot summer days!
The Fire Pit Pub: Keep your guests warm and cozy while you share stories around the fire pit with this clever bar name!
The Backyard Bar & Grill: Perfect for hosting a variety of backyard events, including BBQs, birthday parties, and other outdoor gatherings.
Cute Backyard Bar Names
The Thirsty Frog: Perfect for the backyard bar that loves a bit of whimsy.
The Charming Chameleon: A great name for a bar with a personality that changes with the crowd.
The Tipsy Turtle: For the bar that takes its time to get going – but once it does, look out!
The Happy Hedgehog: A cozy and inviting name for a backyard bar with a warm and inviting atmosphere.
The Jolly Jellyfish: A great name for a backyard bar that's always looking to have some fun!
The Bashful Bunny: A perfect fit for the backyard bar that has a laid-back, low-key atmosphere.
The Cheerful Chipmunk: For the bar that's always bubbling with good vibes and laughter.
The Jolly Giraffe: A name for the backyard bar that loves to be the life of the party!
The Lazy Lamb: Perfect for a backyard bar that loves to take things slow and enjoy every moment of it!
The Chipper Chicken: A great name for a backyard bar that always has something new and exciting to offer its guests!
The Silly Seal: For a backyard bar where you can let your hair down and have some fun without worrying about what anyone else thinks!
The Bubbly Beaver: A great name for a backyard bar that loves to make its guests smile and laugh all night long!
The Wily Walrus: Perfect for an outdoor bar with an air of mystery and intrigue about it!
The Giddy Gecko: For a backyard bar that is known for its wild nights of dancing and partying!
The Playful Panda: Perfect for an outdoor bar with a playful and fun-loving atmosphere that's sure to bring a smile to everyone's face.
Cool Names For A Backyard Bar
The Backyard Bash
Backyard Barbecue Bonanza
The Patio Pub
The Oasis Bar & Grill
Tropical Tiki Tavern
Sippin' in the Sun
Garden Party Bar & Grill
The Grillin' Grove
The Open Air Saloon
The Outdoor Inn
Cheers in the Yard
Backyard Booze Nook
High Spirits Shindig Spot
Garden of Eatin' & Drinking
Margaritaville Outback
Hangin' Out at the Hideaway
Suds & Sunsets Saloon
Relaxin' Retreat Bar & Grill
All-American Backyard BBQ
Outdoor Oasis Pub
Garden Getaway
Yard Yacht Club
The Back Forty Bar & Grill
Deck Den
Al Fresco Lounge
Retreat Restaurant & Bar
Lawn Lounge
Terrace Tavern
Courtyard Cantina
Hideaway Hut
Garden Grove Grille & Bar
Beach Shack Bar & Grill
Greenhouse Grub & Brews
Beer Garden Bistro
Tiki Turf Tavern
Porch Party Place
Pallet Patio Pub
The Cheers Spot
The Lazy Lawn
Hideaway Haven
Patio Party
Tipsy Tavern
A Yard Above the Rest
Liquid Lawn Lounge
Happy Hour Hideout
Backyard Buzzin'
Patio Paradise
Little Bit of Heaven Hideaway
The Breezy Backyard Bar & Grill
Summer Social Spot
Secret Garden Pub & Grill
Badass Names For A Backyard Bar
If you're looking for a badass name for your backyard bar, look no further.
Whether you want to go with something funny or something more edgy and cool, here are 100 badass names for your backyard bar.
The Hangar
The Den
The Speakeasy
The Dive
The Outpost
The Hideaway
The Pit Stop
High Noon Saloon
Moonshine Mayhem
Wild West Saloon
Bootleggers Bar & Grill
Badlands Pub & Grill
Rattlesnake Saloon
Whiskey River Bar & Grill
Bourbon Street Bar & Grill
Last Chance Saloon
The Rusty Nail
Moonshiner's Tavern
Six Shooter Tavern
Maverick's Pub & Grill
Copperhead Saloon
Rattlesnake Roadhouse
High Noon Cantina
The Trailhead
Outlaw's Hideout
Rustic Roadhouse
Howlin' Wolf Saloon
Silver Dollar Saloon
Boot Hill Bar & Grill
Devil's Den Pub & Grill
Dusty Trail Saloon
Sagebrush Cantina
Hangman's Hideaway
Cactus Jack's Bar & Grill
Whiskey Barrel Tavern
The Showdown Saloon
Longhorn Steakhouse
Cowboy Corral
Old West Lodge
Shootout Saloon
Lone Star Cantina
Hangman's Bar & Grill
Rusty Spur Steakhouse
Unique Backyard Bar Names
Rise and Shine – This name is perfect for those who want to enjoy their backyard bar at the crack of dawn. If you're an early riser, this one's for you.
The Hangover – For those who like to let loose and have a few drinks with friends, this one might be for you.
The Tiki Bar – Bring some island vibes with this classic backyard bar name.
The Par-Tee – For those who like to party and enjoy their outdoor space, this one's perfect.
High Noon – A great option for those who want to enjoy their outdoor bar during the day.
No Pressure – Perfect for a laidback atmosphere where no one has to be a certain way or do anything special.
The Oasis – Escape from the hustle and bustle of everyday life with this name for your backyard bar.
The Hideaway – Another great option for those looking to escape the world outside their backyard oasis.
Cheers! – Perfect for those who want to enjoy some drinks with friends in their backyard bar.
The Sandbox – For those who want to bring out their inner child while enjoying some adult beverages in the comfort of their own space.
Backyard Bash – For those who are always up for a good time, this name is perfect!
Island Time – If you're looking to bring an island vibe to your backyard bar, this might be the right choice for you!
Off the Grid – Bringing a bit of adventure and mystery to your outdoor space? This one could be it!
The Pinnacle – A great choice if you want something that will make people take notice of your backyard bar!
Tips For Naming A Backyard Bar
When it comes to naming your backyard bar, you'll want to come up with something fitting, memorable, and unique.
To help you get started, here are some tips for naming a backyard bar:
1. Brainstorm Ideas: Before coming up with a name, take some time to brainstorm ideas. This can be done by looking at a list of existing bar names, thinking of words that have a special meaning for you, or even looking at a thesaurus for inspiration.
2. Consider Your Audience: Think about who will be visiting your backyard bar. Is it going to be a place for friends and family to hang out? Is it going to be a place for business networking? Is it going to be a place where people go to listen to live music? Take all this into consideration when choosing your bar's name.
3. Keep It Short and Sweet: The shorter the name is, the easier it is to remember! Aim for something that is easy to say and spell, as this will make it easier for people to find your bar online and in person.
4. Have Fun With It: Last but not least, have some fun when choosing a name for your backyard bar! You can play around with puns, alliterations, or even a cultural reference if you're feeling bold.
By keeping these tips in mind, you'll be able to come up with the perfect name for your backyard bar in no time at all!
Conclusion
Finding the perfect backyard bar name can be daunting, but with a bit of creativity and research, you can come up with a unique and memorable name.
Whether you're looking for something funny, cool, cute, or badass, there's a backyard bar name for everyone.
Consider the kind of atmosphere you want to create and the kind of people you want to attract to your bar.
Don't forget to check online databases to make sure that your chosen name isn't taken. With a little effort, you can find the perfect backyard bar name that will make your business stand out from the rest.
Related Posts