Whether you're looking at a bull plush doll or the real deal, standing a few feet away, casually chewing its way through some cud, coming up with a name is surprisingly complicated.
Fortunately, you're not alone and over the centuries, people have come up with some fantastic names for bulls. Bulls are powerful animals but that doesn't mean you're limited to overly masculine names.
For instance, the 2007 PBR World Champion Bull title belongs to none other than "Chicken on a Chain," a powerful bucking bull who became a legend. "Little Yellow Jacket" and "Panhandle Slim" are two more prime examples.
While 425 might sound like a lot, you have to remember the number of bull types and species out there. Our list will cover white bulls, Spanish bulls, famous bulls (like those above), male bull names, and even female bull monikers applied to male bulls.
Let's dive in.
Female Bull Names
Of course, there is no such thing as a female bull. However, that doesn't mean a bull can't have a female name at the end of the day.
For the most part, females are known as cows, just like they are for alligators and rhinoceros. But it's ok to "buck" the trend every now and then.
Darcy
Maxi
Jasper
Ashley
Alexandria
Valiente
Silver
Babe
Muffin
Maple
Fluff
Misty
Twitch
Ezra
Jill
Phoenix
Margie
Bella
Darla
Lois
Esmerelda
Shelly
Sweetie
Bovina
Annie
Male Bull Names
Male bull monikers are quite obvious because, well, bulls are males. Unfortunately, that also means they can be quite ordinary.
A good male name that doesn't steal from one of the other categories (below) isn't the easiest task.
Arnold
Dozer
Boris
Ethan
Henry
Jacob
Matthew
Michael
Noah
William
Lynn
White:
Billy
Ray
Max
Brave
Sam
Bob
Hank
Daniel
Thomas
Adam
Will
Trevor
Cody
Baby Bull Names
Bull calves are cute, whether you want to admit it or not. So it's really easy to come up with a cutesy name right off the bat.
However, if there is one thing about cuteness, it also opens the door for some pretty unique names.
Muffin
Nemo
Speedy
Arthur
Caleb
Clover
Bob
Honeybun
Sunshine
Sugar
Booboo
Cupcake
Cocoa
Cookie
Brown cow
Lovabull
Earl
Duke
Midnight
Pinky
Moo
Alan
Joe
Mark
Reilly
Unisex Names for Bulls
Some names transcend masculinity and femininity and cover both sides of the aisle.
Unfortunately, unisex names are more troublesome to come up with, especially since people don't apply unisex names to anything very often, much less bulls.
Avery
Evelyn
Ashley
Jayden
Madison
Riley
Lindsey
Lennox
Arden
Dakota
Sloan
Gaelic
Chandler
Adair
Brooklyn
Bronte
Sinclair
Kelsey
Angel
Madhu
River
Marley
Taylor
Indigo
Arlie
Cute Bull Names
Cute names for bulls often run hand in hand with bull calf names.
A full-grown bull is undoubtedly nowhere near as cute as a newborn calf.
Romeo
Herbie
Candie
Dahlia
Hydro
Moon
Bell
Spot
Ella
Coffee
Bessie
Sunny
Blue
Baby
Prince
Sunshine
Waffles
Candy Cane
Rex
Noah
Luke
Marvin
Mooney
Muse
Spice
Good Names for a Bull
While it's always good to have titles and associate bulls with gods, thunderstorms, cartoons, and video game characters, sometimes a good name is just a good name.
A good name for a popular bull is representative of its strength, power, will, determination, and stubbornness. All are strong traits, even if some are difficult to deal with.
Horns
Midnight
Smalls
Hydra
Diesel
Solomon
Crank
Tank
Duke
Red
Toro
Bovine
Moscow
Vanilla
Spark
Thunder
Armor
Kristof
Earl
Nitro
Seth
Mateo
Bones
Titanium
Mars
Funny Bull Names
If you stop and think about it, there are some pretty hilarious association-type names you can come up with for a bull.
Some of the best names come from naming them after their own fate or aspects that people often associate with food, milk, and the process of raising cattle in general.
Angus
Hammy
Hamburger
Big Mac
Beef Stew
Moohammad
Sir Loin
T-Bone
MooMoo
Mooney
Shrimp
Mouse
Buns
Heifer
Woody
Bob
Bully
Cowlick
Spicey
Pat
Speedy
Herbie
Gangsta
Trevor
Kevin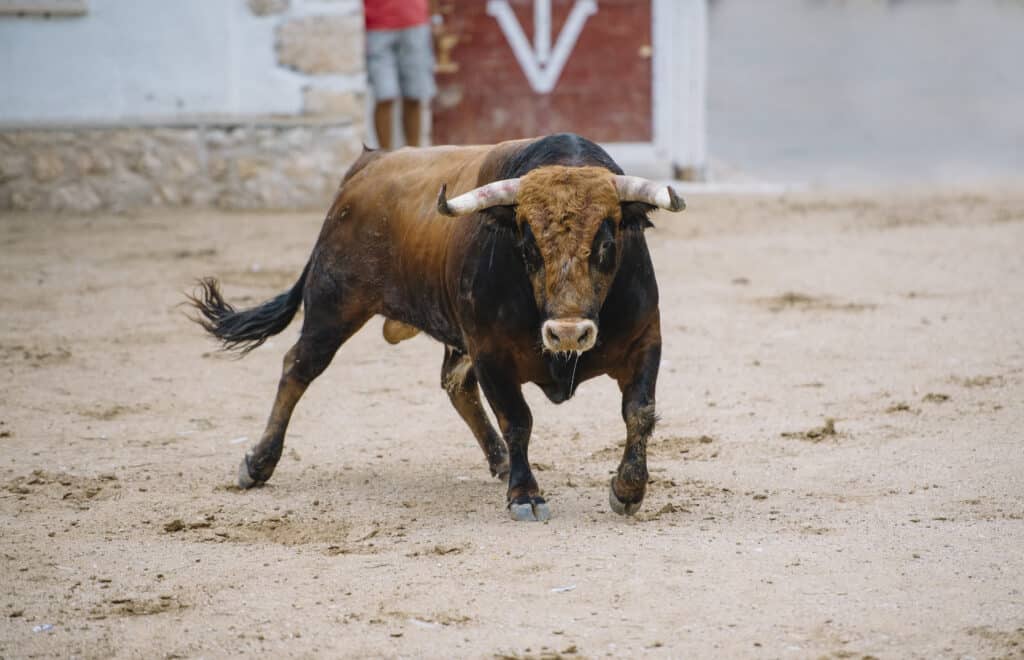 Cool Names for Bulls
Bulls are already pretty cool animals, especially Texas Longhorns. They're giant in stature, viciously quick, and have huge, deadly-looking horns.
You don't have to wander deep into your creative thoughts to come up with a cool name.
Troy
Kratos
Titan
Zeus
Sampson
Tornado
Dominic
Colossus
Loki
Cobra
Xavier
Stealthy
Viking
Storm
Chopper
Lightning
Psycho
Ares
Titus
Boss
Indigo
Goliath
Tsunami
Hercules
Hurricane
Unique Names For A Bull
With all of the names out there, it's often difficult to sift through all of it and come up with something truly unique.
This is especially true today, where there is a run on unique names since everyone is tired of the same old, same old.
Oz
Ferris
Kilian
Tiernan
Dirk
Fenway
Guy
Cerulean
Rumi
Lucius
Conan
Poe
Raven
Mishka
Lysander
Kazumi
Falcon
Hammet
Lynx
Teo
Taj
Boaz
Knight
Bard
Rye
Strong Bull Names
The easiest way to come up with strong names is to associate them with words that imply strength or defy strength.
Or, you can look at strong people throughout history and steal their names.
Last but not least, there are strong materials, in terms of durability, such as steel and diamond.
Titanium
Arnold
Sampson
Hulk
Rhino
Odin
Hercules
Mighty Mouse
Rhonda Rousey
Maximus
Uni
Diamond
Amaterasu
Veles
Morrigan
Yahweh
Ra
Anu
Nyx
Columbo
Spitz
Bolt
Bull
Dynamo
Shazam
Names For A Black Bull
How many different terms are there for the word "black?" The fact is, there are quite a few and several of them make for some pretty good names.
The rest are as closely associated with the anti-color as you can get.
Midnight
Onyx
Anubis
Ebony
Obsidian
Raven
Inky
Charcoal
Jet
Coal
Blackie
Blackish
Saturnine
Gloom
Dark
Sunless
Night
Ink
Sombre
Cloudy
Sullen
Morbid
Chill
Gray
Murky
Names For A Red Bull
If you happen to have a bull that's decidedly reddish, there are a lot of name association games you can play before settling on a good name.
There are a good number of words for red that could easily apply to a bull, despite their long association with that color.
Rosy
Scarlet
Crimson
Bleed
Glow
Pinky
Red
Rust
Florid
Bloomy
Flush
Blush
Garnet
Ruby
Cherubic
Molten
Lava
Flame
Fire
Burn
Scorch
Scald
Toasty
Steamy
Redhead
Names For A White Bull
Since white is a reflection of all colors, you could honestly come up with just about anything for a white bull and share an association with white.
You can even associate light, electricity, the sun, or anything that is considered holy in various religions.
Snow
Innocent
Pure
Lily
Alabaster
Angel
Sallow
Pale
Dough
Pasty
Sun
Sunlight
Sunshine
Sunny
Pearl
Waxy
Milky
Ivory
Snowy
Wan
Ashen
Pallid
Chalky
Frosty
Icy
Spanish Bull Names
What better names to find for a bull than ones from a country that helped permanently embed bulls within the public consciousness?
The only other sport in the world that comes close is bull riding, which takes place mostly in the American Midwest and isn't as popular outside of those areas.
Mura
Nunez
Fuente
Miguel
Toro
Feria
Juan
Victorino
Saltillo
Adolfo
Santa
Salvador
Albaserrada
Charco Blanco
La Vega
Picavea
Arias
Eduardo
Vda
Barbero
Moreno
Silva
Fernando
Pesadilla
Enorme
Famous Bull Names
There are a ton of famous bulls out there, both alive and historically.
Most of the famous bulls come from either record-setting breeding stock, bull riding, or bull running in countries like Spain.
Diablo
Imperator
Malone
Elijah
Godfather
Pecos
Thor
Sambo
Yetistone
Raider
Patron
Ice Man
Doc Holiday
Ambassador
Captain
Aggie
Maximus
Country Boy
Barrett
Mojo
Big Red
Secret's Back
Winchester Magnum
Rio King
Noble
Disney Bull Names
Most of the names attributed to the bovine species from Disney circles are focused on cows. Fortunately, some of those names are interchangeable as well.
Plus, who says no Disney names attributed to non-bull characters can't be used for real-life bulls, anyway?
El Toro
Otis
Moolan
Bob
MooMoo
Minos
Manotaur
Dorkifier
Abby
Moola
Ella
Appa
Yakkity Yak
Heffer Wolfe
Mooana
Heinz Doofenshmirtz
Rocky
Apis
Diddle Diddle
Barry
Grace
Taurus Bulba
Benny
Ferdinand
Chewcudda
Cartoon Bull Names
It might surprise you how often, over the last century, cows and bulls have been portrayed in cartoons.
Whether it's Looney Tunes or Walt Disney, the names and the bulls themselves are pretty extensive.
Clack
The Laughing Bull
Elmer
Heffer Wolfe
Moo Tan
Ben
Valiente
Click
Mr Udderly
Milky White
Rocky the Bull
Laughing Cow Cheese
Appa
Bob
Bones
Cow
Fleetwood Yak
Kazar
Little Strongheart
Toro
Yax
Yakkity Yak
Ferdinand
Guapo
Juan
There You Have It
That's a lot of bull monikers but 425 is only the very tip of the iceberg. There are a lot more names out there as well, especially since people often use human names for bulls.
Bulls are a symbol of strength and indomitable ferocity but they can also be quite gentle, especially when they're lazing in the sun, chewing cud.
Either way, come up with a good enough name for it, and it's bound to stick for a lifetime.
Related Posts