Those looking for some creative inspiration for online world-building, creating new games, writing a story, or other endeavors may want some creepy town names for their creative work.
There are plenty to choose from and some have interesting history or meanings.
Finding the right one to suit the mood of your fictional spooky and creepy town can be slightly overwhelming.
There are subtle differences between creepy, spooky, and haunted.
Many names have a physical, historical connection to a real place in the United States that people already know and are genuinely creeped out by.
Below are some of the best spooky and creepy town names that stem from the bizarre and make your hair stand up.
Let's dive in.
Best Creepy Town Names
The creepiness comes when there is a sense of danger to a name.
That can come from a prevailing legend, a gruesome event, or just overall edginess.
Here are some names that fit that category:
1. Red Devil – an old Alaskan town with a small population.
2. Bad Axe – a thriving, small town near woods and water. The actual town is in Michigan.
3. Gnaw Bone – this would be a mid-western to western town settled by early pioneers who are tough and feisty. It is in Indiana.
4. Dead Women Crossing – this would suit a place where people had to travel to get to an important destination. While Oklahoma served as part of the western trail, the town got its name from a grisly murder of a school teacher occurring in 1905.
5. Kill Devil Hills – the actual North Carolina town is a mid-size beach town with plentiful nightlife so it would be a good setting for an unsuspecting town where strange things happen.
Other Creepy Names
Other runner-ups on creepy town names include places like Casper, Wyoming, and Scarville, Iowa.
Michigan has a town called Hell while North Carolina gives more than one place to the devil because it also has a town named Seven Devils.
South Carolina has its weird town name with a place called Deadwood.
Creepiness seems to habitat towns in the West and one place that exemplifies that is Skull Valley, Arizona.
Colorado also has some interesting names with one town called Devil's Thumb.
Delaware probably has a town with one of the creepiest names ever with Slaughter Beach.
Best Spooky Town Names
Spooky town names are a little different from creepy because you may not be sure why they are named that in the first place.
There must be a story behind the name, right?
Here are some names that will make you ponder.
Choccolocco – A name like this works well for a nearly-deserted Indian town. The name is Creek Indian for "big house" and the town is found in Alabama. There aren't many big houses there.
Nameless – this is a great spooky name because it's a wonder it's a name at all. It's from Tennessee but would make someone feel like they would fall off the planet and never be found if they went there.
Peculiar – Although this is a Missouri town, this name could be for any town that hosts older homes, strange people, and odd things that happen regularly.
Random Lake – This Wisconsin town was named by surveyors but the name sets a tone for an out-of-the-way resort town where people don't always live.
Dead horse – This is a crossing town in Alaska but could be set anywhere in the United States where paths cross and maps are not readily available.
Other Spooky Names
There are many more than five spooky town names across the United States and the world.
One of the more famous ones is Eerie, Pennsylvania which was made popular as a setting for a television show, movies, and books.
Some aren't as well known as Bangs, Texas, or Dinosaur, Colorado.
Some may have heard of Truth or Consequences, New Mexico but maybe have never been through Last Chance, Iowa.
Last Chance is incredibly small and, while its name history isn't official, one would guess that the town was the last bit of civilization before people headed to the vastness of the wild west.
There's Frog Eye, Alabama, and Booger Hollow, Arkansas.
One of the more spooky towns for a name in Satan's Kingdom, Massachusetts.
Big Bottom, Washington, could be an interesting setting for a camping game or story.
Some spooky names are about things people find risky like Castle Danger, Minnesota.
Others include words people find gross like Worms, Nebraska, or Mosquitoville, Vermont.
For the record, Vermont doesn't have many mosquitos as those bugs like the South better.
Best Haunted Town Names
Haunted town names typically have sorcery or supernational component to it as well as a legend or perhaps a story of some poor person's bad luck.
Some of the best names for haunted places are in the United Kingdom.
Pratt's Bottom – This type of name suggests land once was owned by a recluse and would be good for a soggy march or swamp area.
Rotten End – This could be a section of a run-down town where no one wants to go.
Broomstick – Much like other witchery names, this name is perfect for a town where there are spells and magic.
Fright Wood – This is an old Cantebury town and would suit an area with a deep history, surrounding woods, and lots of legends.
Scary Cleugh – This Northumberland town could be the polar opposite of Santa Claus. It would have centuries-old buildings, and an old legend to go with it.
Other Haunted Names
The United Kingdom doesn't have a lock on haunted town names.
However, in the United States, haunted town names are generally associated with an event, a story, or a book.
Amityville and Salem come to mind.
Point Pleasant, West Virginia, is another town that has been connected with the supernatural based on a series of strange events that happened in the 1960s.
Those events became the basis for the movie "The Mothman Prophesies."
There is also Hazard and a place called Oddville. Both are in Kentucky.
The northeast has Mistake Island in Maine.
Eek, Alaska may not be haunted but the name makes you wonder what was found there.
Fictional names from horror movies stay with us and still give us the willies even though they aren't real.
Haddonfield, Illinois in the movie Halloween is one such town as Crystal Lake in New Jersey where the murderous Jason lives on Friday the 13th fame.
That just goes to show that you don't have to have a seriously scary name to create a frightening setting. You can go the other way for effect.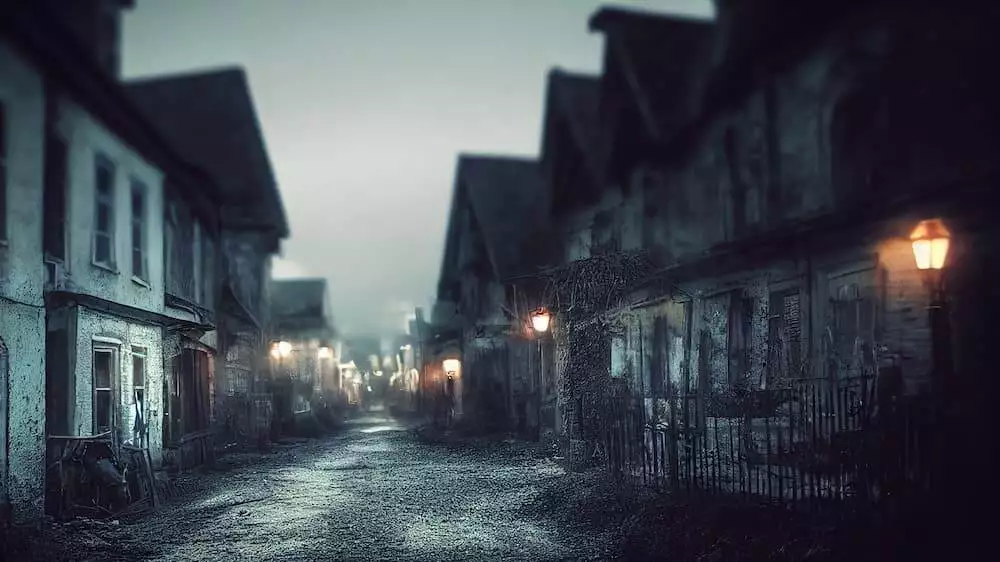 Best Ghost Town Names
A ghost town is an empty space that once was thriving with merchants, homes, a blacksmith, and even a post office.
That is slightly creepy in itself but the name should tell some type of historical story.
These are some of the most famous towns that were once booming in the United States.
South Pass City – this Wyoming town suggests a place that was once a mega traveling spot for those seeking land.
Centralia – A town, similar to the one in Pennsylvania, that was supposed to be the center of several towns around but they never manifested.
Cahawba – Another Native American-centered town that was also a prosperous one in Alabama, boasting the state's first capital. A town like this would be a transitioning one mixing old cultures with new residents. The name means "water above" or is referencing the native cane that grew in the area, depending on who you ask.
Terlingua – This ghost town would make a perfect dessert border town as it is in Texas. The name means "three tongues" but its message is debatable.
Goldfield – Some ghost towns were named based on the minerals or wealth of the area, such as this Arizona town.
Other Ghost Towns Beyond the West
There are a wealth of old ghost towns to draw from and they aren't all out west.
The Northeast has numerous ghost towns destroyed by hurricanes.
Remnants remain of several Connecticut towns like Little Danbury, Dudleytown, and Johnsonville Village.
Some of those towns are said to be haunted because of what their citizens went through during the destruction.
Dudleytown is one of those that abound in ghost stories.
The 18th-century town was abandoned in the 19th century with those leaving the Cornwall area. The land now operates as a private trust.
The South has long had a mysterious, unknown quality about it so ghost towns like Blue Heron, Kentucky; No Business, Tennesee; Lost Cove, North Carolina; and Thurmond, West Virginia are pieces of time captured in a century-old settlement.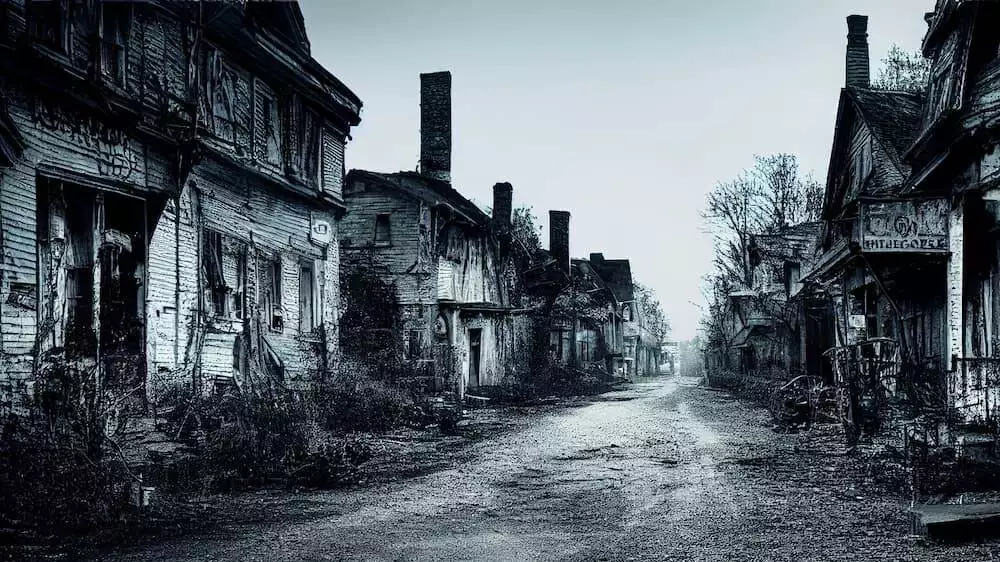 Town Name Inspiration
The inspiration for your fictional name can come from many places, including a place that already exists.
It can also come from the feeling you want to emit or you can pick a name that intertwines with the characters' stories.
For instance, the ghost town of Blowville, Florida, was created after a wealthy merchant named Major Charles Wilhelm Bulow who settled the area.
His wealth didn't last and neither did the town.
It's always good to have a backstory behind a town name when you are creating a piece of creative work.
People will always wonder where it came from and may ask. It may figure into your overall efforts too.
Those who delve into history are better prepared to pick great names.
There are vivid stories of towns in local history and some of those may inspire you to name your creepy town after a character or story you find in history books.
Two things need to happen with a town name you pick.
It needs to be unique enough that it's memorable.
It needs to also impact the story or the characters in some way.
For instance, there are town names after famous characters like Blackbeard.
Something else to remember is to pick a name that everyone can pronounce unless you want the difficulty in pronouncing it to be part of the story or game.
People will want to talk about a town from a story or game and they will need to be able to pronounce it.
This is where you need to be careful when dealing with Native American or tribal names, as well as names of foreign locales.
You may want your creepy town's name to sound exotic but it's easy to go overboard in trying to be different.
One way to start some name brainstorming for scary settings is to take ominous that people are generally afraid of and turn them into a town name by adding words like "village," "point" "harbor" "land" or even "town."
Ominous words are things like "shadow" as in Shadowland, "dark" as in Dark Harbor, or "Satan" as in Satan's Point or Satan's Corner.
Another technique to pick a creepy town name is to add alliteration, like Perception Peak or Vanquished Village. The alliteration can add its own fear factor.
Picking a unique name is probably the hardest part of creativity.
There are so many good names already out there that you may think all the great creepy names have been taken. There are plenty more to be created.
Help Choosing The Perfect Name
It's not always easy to choose the perfect creepy or spooky town name.
That is why you should go to a name generator to help you.
It can help get past any creative blocks so you can have the perfect scary name for your work.
It's easy to use a name generator. You just plug in your information and it will push out a list of names for whatever it is that you want.
The best ones are where new ideas are put in regularly so you always have fresh resources.
Conclusion
Creepy, scary, haunted, and ghost town names are fun.
They make for great settings for stories and always stir up interest in gaming and other enterprises.
Picking a name with the right vibe is an important beginning for a story or an adventure so be sure to pick one consistent with your ideas.
Related Posts