Whether for an imaginary dinosaur friend, a toy, or a favorite fossil, you'll want the perfect name for a pet dinosaur.
Below we've got some great choices for your pet dinosaur names!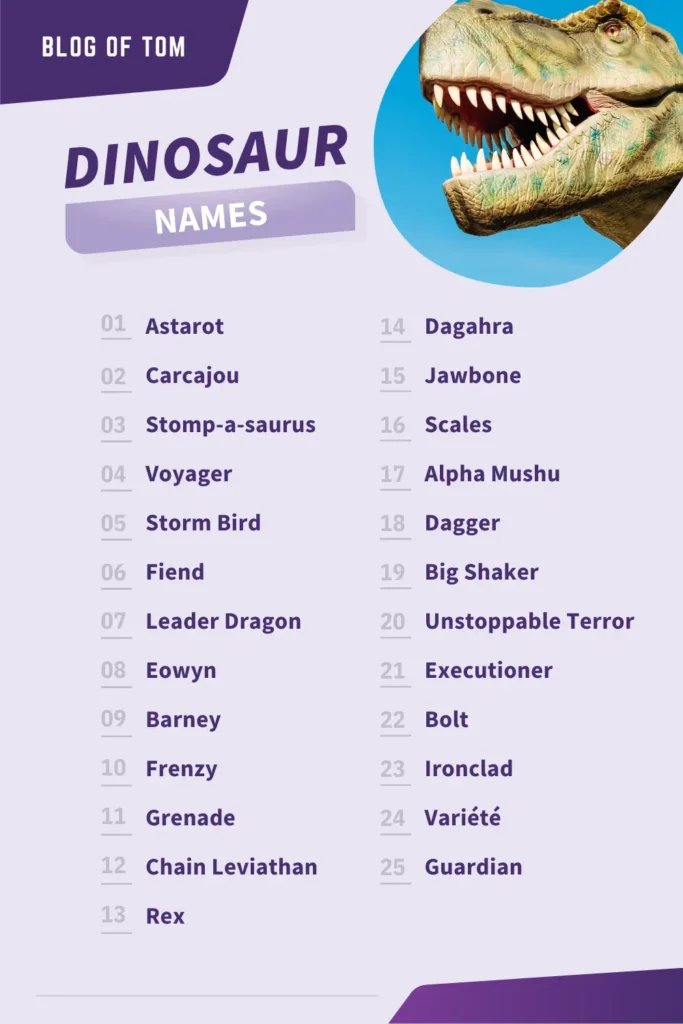 Best Pet Dinosaur Names
These fifty names are a cut above the rest when it comes to the best names for dinosaurs!
Check out the top-of-the-line names for a dinosaur pet below:
Alarming Adam
Bad Buster
Ugly Una
Nogo Dino
Risky Roamer
Shaky Sheen
Thorny Thomas
Treacherous Saur
Fatal Philip
Spiky Rex
Rex Tex
Lizard Lumber
Jumbo Jumbo
The Suarus
Stompin Robin
Big Liz
Lila Lumber
Stomp-o-Saurus
Shrieky Sam
Shrieky Scarlett
Mr. Scales
Mrs. Spiky
Thump Thump
Princess AuROARa
Mr. Meteor
Growling Gus
Snarling Steve
Anky Saur
Dragon Wish
Lord Stretch a Lot
Dino Mite
Toenail Sal
Leaf Breath
King Fearsome
Lord Fright
Roaren Robert
Morta Lee
Death Reptile
Lucks CouldKill
Menace Matt
Thuds McGee
Terror of Tyrants
Lady Scales
General Tower
Flightless Fear
Mr. Scraper
Classy Spike
Thunder Liz
Lightning Lizard
Crater Collins
Female Pet Dinosaur Names
Lady dinosaurs need the perfect name, too! Get ready to find the best pet dinosaur monikers with a feminine touch in the list found below:
Cleopatra
Athena
Honey
Jen
Keva
Anita
Fiona
Bella
Kehlani
Izzy
Daphne
Belva
Angel
Lani
Ghidora
Cleo
Isabela
Acacia
Cali
Kora
Layla
Lila
Gigi
Liz
Adia
Ivory
Elora
Donatella
Minilla
Khaleesi
Maz
Liza
Elsy
Aurora
Maleficent
Akira
Madam Mim
Medusa
Dandy
Lucinda
Kira
Della
Jasmine
Karma
Jade
Grace
Kabira
Delia
Abbie
Coralia
Bonnie
Annie
Hallie
Lilo
Dana
Fabrizia
Coco
Joanna
Bonita
Fergie
Isa
Isadora
Harpie
Goanna
Meg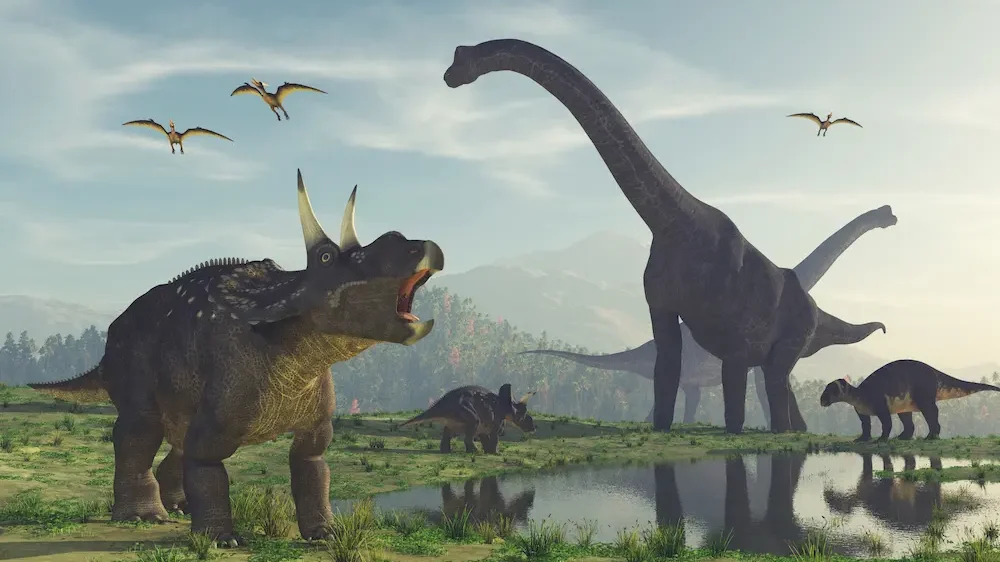 Male Pet Dinosaur Names
Dinosaurs are definitely a favorite of boys all around the world: catch their attention with these masculine names for pet dinosaurs!
Leonardo
Iggy
Arnie
Hook
Randall
Cornelius
Barney
Abe
Chuck
Pascal
Bodhi
Gustav
Aiden
Darwin
Gideon
Jax
Dexter
Antonio
Buzz
Ozzy
Orion
Earl
Cecil
Fabio
Kobe
Houdini
Eddy
Merlin
Archie
Jayden
Oli
Garrett
Eugene
Nicolas
Axel
Kade
Curt
Amos
Monzo
Bernie
Hank
Igor
Cal
Monty
Clint
Nile
Noah
Prince
Nigel
Maximus
Chance
Felix
Lenny
Fernando
Elliot
Natsu
Enzo
Clyde
Lee
Randy
Baby Pet Dinosaur Names
When they're first hatched from the egg, baby dinosaurs are super cute and in desperate need of the perfect dinosaur pet name! Check out the list of baby pet dinosaur monikers below:
Hun
Maturin
Minn
Michelangelo
Kamoebas
Howard
Koopa Troopa
Grotle
Lemmy
Koopaling
Lenny Turteltaub
Mack
Kamek
Kooper
Lightning
Ghido
Lion Turtle
Koopa
Ludwig von Koopa
Morton Koopa Jr.
Grandpa
Lakitu
Lapras
Motu
Gerson
Leatherback
Koops
Great A'Tuin
Larry Koopa
Mudface
Mickael the Turtle
Iggy Koopa
Grandmaster Oogway
Leonardo
Gamera
Mock Turtle
Gramps
Morla
Unisex Names For Pet Dinosaur
Below are some names that can be for either boy or girl pet dinosaurs!
Caesar
Quil
Skull Crusher
Alpha
Axel
Balerion
Claws
Raptor
Dragon
Lazer/Razor
Falcor
Godzilla
Cobra
Blackbeard
Baragon
Jagger
Hydra
Horntail
Destroyah
Abraxas
Anguirus
Cute Pet Dinosaur Names
Dinosaurs may not make you think of cuteness right off the bat, thanks to their huge size and terrible abilities.
However, don't sell your dinosaur short of a cute name! Terrible lizards can be cute, too.
Check out the list below for inspiration.
Barney
Turtle
Makena
Gracious
Neli
Pokey
Salomi
Custanzu
Tortoise
Jayleen
Constantina
Costas
Konnie
Placida
Costin
Good Names For A Pet Dinosaur
They may not be the cream of the crop, but the names below still make good choices for your pet dinosaur!
Tyran – A shortened name for tyrannosaurus.
Charlie Chews
Tongues Eye
Scratch Scales
Cameron Saur
Sweetums Saurus
Speedy Saurus
Little BigFoot
Toothless Daydream
Tiny Thunder
Leap Lizard
Aiden Argyle
Rainbow Rumbler
Remi Reptile
Cammy Chomp
Vega
Stickypad
Peanut
Cleo
Stormfly
Spot
Flick
Jo Jo
Indigo
Twitch
Puff
Claws
Freckles
Funny Pet Dinosaur Names
These hysterical dinosaur names might make you, and anyone you share your pet dinosaur with, laugh out loud!
PufnStuf
Clapper Claw
Lizardardo Da Vinci
Geico
Eggsy
Rap-tile
The Lizard of Oz
Chet Gecko
Lizzie
Nessie
Gaspara Le'Gecko
Napoleon Dinomite
Pendragon
Sal Manders
Bill the Lizard
Dragaunus
Draconian
Queen Elizardbeth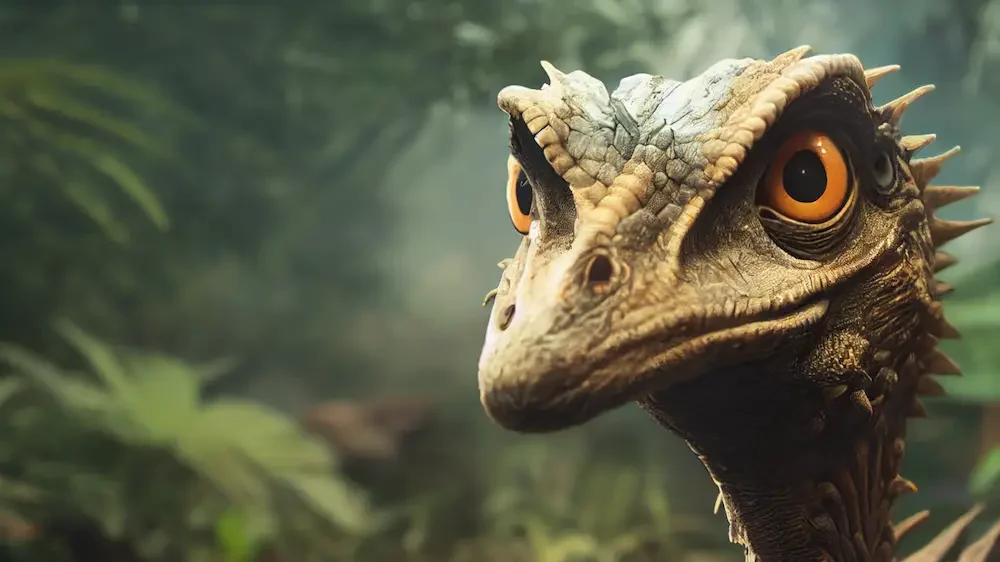 Cool Names For A Pet Dinosaur
These majestic names for pet dinosaurs will bring out the things that make dinosaurs just plain cool!
Rex
Stego
Falkor
Arman
Dagahra
Dark Smoke
Sphira
Drago Night
Guardian Mushu
Alpha Dragon
Draco Blud
Smaug the Terrible
Eborsisk
Diavil Raven
Eustace Clarence Scrubb
Firnen
King Ghidorah
Apalala of Water
Sir Katla
Haku
Apep the Slitherer
Askook the Snake
Leader Astarot
Leviathan
Attor
Lady Maleficent
Lockheed
Chua
Snarloff
Oz the Powerful
Cage Breaker
Unstoppable Terror
Chain Shaker
Lord Nitro
Badass Dinosaur Names
Below is a list of dinosaur names that are totally badass:
Dagger
Transformer
Butch
Dihya
Frenzy
Infinity
Executioner
Fiend
Intruder Suzuki
Starlight
Animal
Eliminator
Vagabond
Ink
Ironclad
Kahina
Vespa Primal
Breaker
Viper
Jawbone
Panthère
Storm
Illusion
Bandit (Suzuki)
Moto Guzzi
DERBI
Bolt
Cipher
Angon
Handlebar
Aprilia Tuono
Grenade
Ironside
Liberté Jaws
Bear
Cyrus
Gauntlet
Indominus Bowser
Infuseur
Variété
Inspiration
Immortal
Kiki
Keeway
Carcajou
Hashtag
Voyager
Firebringer
United
Voyage
Fire Lance
Supersonic
Memory
Fougue
Hero
Benelli
Smolderer
Chercheur
Vespa
Evolution
Diablo
Goblin
Lord Grimace
Pursuer
Herzogin
Dementor
Eowyn
Unique Pet Dinosaur Names
Sometimes you just want a pet dinosaur name that will stand out in a crowd…or herd, or flock, depending on what species of dino you have!
The names below will provide you with inspiration for unique pet dinosaur monikers:
Apollo
Orion
Khaleesi
Biollante
Gollum
Anguirus
Ao Kuang
Varan
Gargoyle
Odysseus
Drake
Godzilla
Jabberwock
Abraxas
Merlin
Dagon
Dragon
Viserion
Aeneas
Vishnu
Smaug
Hydra
Athena
Harpy
Famous Dinosaur Names From Movies
Dinosaurs in movies are often seen as scary and intimidating, but sometimes those are the best names for pets! Check out the list of star dinosaurs for name inspiration below:
T-Rex – Jurassic Park's main villain is the huge T-Rex. Though she doesn't technically have a name of her own from the movie, fans have been affectionately calling her "Rexy" since her thrilling appearance as a giant animatronic in the 1980s.
Blue – Another Jurassic Park fan-favorite is Blue, a velociraptor. She made her debut as the smartest leader of the velociraptor pack in Jurassic Park's reboot sequel, Jurassic World. Unlike most of the dinosaurs in the films before her, Blue turns out to be loyal and doesn't hurt the main characters.
Rudy – Rudy is a huge, white dinosaur of indeterminate species that hunts the fun-loving prehistoric weasel, Buck, in Ice Age: Dawn of the Dinosaurs. He's rarely seen for most of the movie, but when he finally appears, he sure leaves an impression!
Arlo – Pixar's film The Good Dinosaur stars Arlo, a non-threatening brontosaurus living with his family on a farm and befriending a prehistoric human named Spot.
Aladar – In Disney's 2000 CGI film, Dinosaur, one egg gets separated from it's mother and raised by a family of kindly monkeys. This egg turns out to be Aladar, a brave and inspiring Iguanadon voiced by D.B. Sweeny.
Cartoon Dinosaur Names
Sometimes the best bet for a dinosaur name that is really satisfying is to just name your pet dinosaur after a famous cartoon!
If your memory is a little foggy, not to worry: we've prepared a list of cartoon dinosaur names for you below!
Rex – Rex is the green toy tyrannosaurus from Pixar's critically-acclaimed Toy Story movie! He has a nervous voice, cute but useless tiny arms, and a sweet, timid spirit. He's often insecure and afraid that his kid owner, Andy, will buy a dinosaur toy that is scarier than him, so he can be found practicing his fearsome roar!
Dino – Ready for a throwback? Dino is a bright purple, spotted dino owned by Barney and Fred from the retro cartoon, The Flintstones! He acts as the family pet in the "modern-stone-age family!" Dino is adorable, mostly because he doesn't act like a fearsome predator, but a slobbery pet puppy!
Barney – He's a friend to you and me: who could forget the big, talking purple dinosaur from the children's cartoon, Barney! Barney sings, dances, and teaches kids to be kind and share and love one another. If your pet dinosaur looks scary, naming it "Barney" could be an ironic twist.
Yoshi – Anyone who's played Nintendo's Mario video games knows about Yoshi. Though his dinosaur species is never really confirmed, Yoshi is one of the few turtle-like reptiles that don't attack Mario and Luigi in their video games and instead works as their friend. Plus he has cute little sneakers!
Littlefoot – One of the most iconic 80s cartoons is The Land Before Time, which stars Littlefoot, a baby brontosaurus. His story of losing his mother and making friends with dinosaurs of other species was so inspiring that it spawned a franchise of more than 15 movies and a television show!
Big Bird – You may not have known this, but the big yellow bird that has been delighting Sesame Street fans is actually a dinosaur! This is revealed in the four-thousand, six-hundred and eighth episode of Sesame Street. If the main character of such a long-running TV show doesn't deserve a namesake in your pet dino, who does?
Spike – Spike is a stegosaurus who joins Littlefoot's group of friends in the original Land Before Time and stays on as part of the main cast in every sequel. Spike is known for being the only member of the group that can't talk, and he loves to eat!
Name Inspiration
Name inspiration can come from the unlikeliest of sources.
Below we've listed a few of the most inspiring things you can draw from daily life to help you select the best pet dinosaur name.
Pet Names – Naming a pet dinosaur after the animals that you or your friends already have as part of the family can be a great way to not only honor the pet, but solve your naming block!
Film Scenes – Some of the dinosaurs in the most famous films can be great inspirations, but don't have actual names provided in their film. You can still take a memorable scene and inspire your dinosaur's name on it, though: for example, you could call your pet dino "Goatmunch," based on the T-Rex eating a goat in Jurassic Park!
Latin Names – Dinosaurs usually get the shortened version of their scientific species name from longer Latin names. You can use these as inspiration, too: simply name your dinosaur after a part of the long words, like "Anky," short for an ankylosaurus!
Geographical Locations – One of the coolest things about the world of dinosaurs is learning where their fossils were found and imagining the great lizards stomping around the same places in life! Try naming your pet dino after the land where it used to roam: something like "Goli," short for the raptor skeleton found in the Mongolian Desert!
Try adding "osaurus" to the end of short words – E.g. Tomosaurus, Deathosaurus, Jackosaurus, and Amyosaurus.
Help Choosing The Perfect Name
When picking out the name that best suits your pet dinosaur, you might feel pulled in several different directions. After all, should you pick something cute, ironic, silly, or cool? Hopefully, the tips listed below will be helpful!
Understand Your Audience – If you're picking out a pet dinosaur name just for your own pleasure, your job may be easy! Simply pick the first name that makes you happy. However, if you're making up a character name or showing your pet dino to others, you'll want to appeal to what they like most instead.
Give It a Fun Spin – Whether you've chosen a pop culture name or a word that sounds cool, a pet dinosaur name's whole appeal could easily come from a twist. For example, if you want to name your dinosaur after the famous Gilmore Girls character, Rory Gilmore, spin the name by spelling it "Roary," like the sound a dinosaur makes.
Use Its Looks – One of the best ways to name something is to use the way it looks, especially for pets. After all, that's where we got the classic, "Spot!" If your dinosaur is a triceratops, consider naming it something like "Poka," a pun on the word "poke," or "Triple," thanks to it's three defining horns!
Conclusion
When it comes to picking out the perfect name, choices can be difficult. Deciding between your favorite pop culture reference, a meaningful family name, and simple words that sound funny, cute, or cool can make your head spin.
Hopefully, the lists above have given you some great ideas for pet dinosaur monikers of your own!
Related Posts