A sloth is a mammal that lives in the rainforest and hangs from the trees. They are very slow-moving animals and can sleep up to 20 hours per day! Sloths make great companions because they are so gentle and calm.
If you're looking for a super cute and funny name for your new pet sloth or toy sloth, then you've come to the right place!
Here are 170 super sloth names that will help you choose the perfect one for your little friend.
Best Sloth Names
Maria – One of the most popular Brazillian baby names. As sloths are very common in Brazil!
Ana
Francisca
Antonia
Adriana
Juliana
Marcia
Fernanda
Patricia – The female version of Patrick.
Aline
Jose
Joao
Antonio
Francisco – The male version of Francisca.
Carlos
Paulo
Pedro
Lucas
Luiz
Marcos – The last of the most popular Brazilian baby names.
Sebastian
Stellar
Serena
Soup
Sausage-Roll
Samuel – Probably the best name ever for a sloth.
Samantha
Samara
Slovenia – The ancestral homeland of all sloths. Not really. But how cool would that be?
Slovakia
Sage – An underrated herb and an underrated name.
Sorrow
Silly Bear
Summer – Sloths hate winter so this is more than fine as a name for them.
Sienna
Sierra
Sara
Sahara – Sloths would not do well in the desert.
Savannah
Sullivan – Is Sully actually called Sullivan (Monsters Inc)?
Stetson
Sergio
Serena
Salem – Sabrina the teenage witch's cat.
Sabrina – Salem the cat's owner.
Solumbum
Stevie
Sydney – The sloth's dream destination for a holiday/vacation.
Silly String – Are all sloths slightly silly?
Sterling – Like silver.
Names For Female Sloths
Analu – Meaning a famous warrior.
Aurea – A Brazillian name meaning woman of gold.
Dulce – Meaning lovely or kind. Maybe both!
Elsa
Erica
Bruna – Meaning tanned and brown. Do sloths like to have a tan?
Flavia
Fatima
Felicia
Lara
Claudia – Meaning slow and lame. Sloths are slow but they are certainly not lame!
Izabel
Giselle
Elana
Graciano
Names For Male Sloths
Afonso – A Brazilian name meaning noble.
Arthur – Meaning big bear.
Bernardo – Another Brazilian name meaning as strong as a bear.
Cesar – The king with long hair!
Carlos – Warrior of the people.
Gustavo – Meaning protected by God.
Jorge – A nice name that means farmer.
Kleber
Juan – Graced by God.
Neto
Davi – A Brazilian name meaning loved one.
Domingo – Meaning Sunday. The sloth's favorite day of the week.
Helio – Meaning of the Sun.
Inacio – Another Brazilian name meaning fiery one!
Flavio – Meaning golden and blonde.
Stuffed Animal Sloth Names
Teddy – Is this one a bit too on the nose?
Mr. Sloth – For a dignified stuffed sloth.
Mrs. Sloth – Mr. Sloths' wife.
Bongo
Slothy – It is obvious but it's good, so who cares?
Ribena
Stuffy
Huggles
Snuggles – Any huggle with a sloth is automatically a snuggle. By law.
Cuddles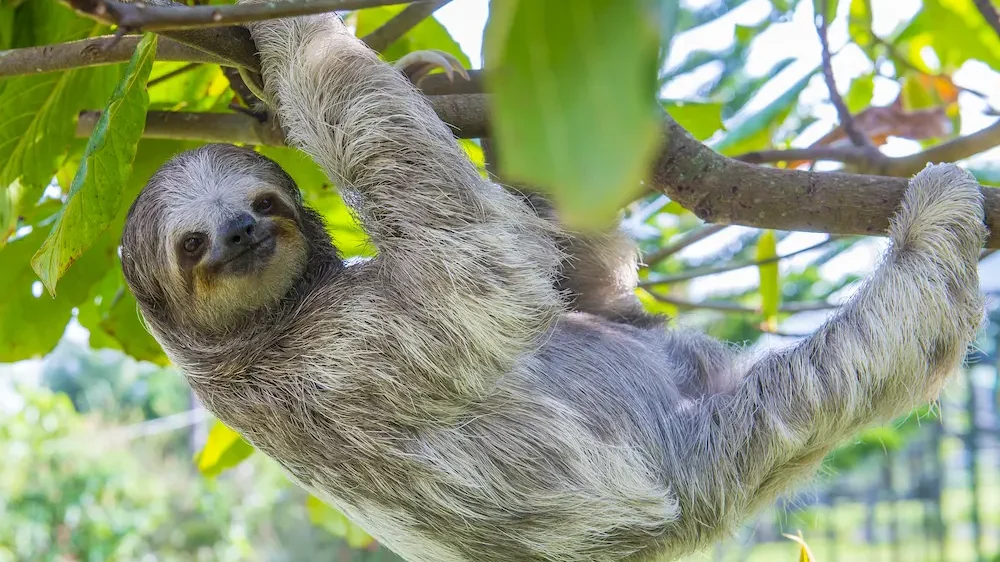 Unisex Names For Sloths
Cecropia – Sloths are famous for living in Cecropia trees for their shade and cover.
Willow – A good flexible tree for a flexible animal!
Birch – Sloths don't often live in birch trees (but they wish they could).
Beech – Sloths avoid beach holidays at all costs.
Hawthorn – There are hundreds of subspecies of the hawthorn family genus.
Palm – Most sloths live in some kind of tropical palm tree.
Oak – There are very few sloths living in oak trees. They have a severe phobia of conkers.
Mangrove – Mangroves are one of the 25 species of trees that sloths often choose to make their home in.
Redwood – Sloths avoid living in redwoods as they are too tall and scary to climb.
Cedar – Cedar trees are the perfect shape for sloths to live in, but, the wrong kind of environment.
Cute Sloth Names
Rudolph – The most overrated reindeer of all.
Dasher – The fastest of all the reindeer.
Prancer – The most loyal and energetic reindeer.
Vixen – The naughtiest of all the reindeer.
Comet – The most chill and easy-going reindeer. The kind of reindeer you would love to have a beer with.
Cupid – The romantic of the group. Naturally!
Donner – Vegetarian. Hates Kebabs.
Blitzen – The coolest name by far. It's Dutch for lightning.
Bubbles – The least known reindeer.
Hop-scotch – The youngest reindeer (too young to pull the sleigh, in fact).
Good Names For Sloths
Barney – Barney the purple dinosaur.
Jeremy – Named after Sir Jeremy Clarkson.
Hamster – Named after Sir Richard Hammond.
Captian Slow – Named after James May. The personification of sloths.
Cocoa – Do sloths enjoy hot cocoa?
Scooby – Named after Scooby Doo
Scrappy – Why was Scrappy Doo so absolutely infuriating?
Shaggy – Scooby's best friend.
Fred – The unofficial boss of the gang.
Velma – The actual boss of the gang.
Funny Sloth Names
Sonic – Named after sonic the hedgehog. The sloth's closest rival.
Lightning McQueen – The main character from Cars and Cars 2.
Turbo – Named after Turbo the snail from Turbo.
Flash – Named after the Flash.
Falcon – Named after the Millenium falcon. The fastest ship in the Galaxy.
Road Runner – Or, alternatively, Wildey Cayote.
Taz – After the Tazmanian devil. Which, incidentally, looks nothing like a real Tazmanian devil. Just saying.
Speedy Gonzales – In honor of Warner Bros' famous and beloved cartoon character.
Silver Surfer – Is the Silver Surfer just a guy or is he some kind of god? Is it ever explained?
Quicksilver – The anti-hero and longtime competitor of Captain America.
Cool Names For Sloths
Breezy – Because sloths are relaxed and chill.
Chiller – Sloths be chilling.
Tranquil – Are sloths considered tranquil?
Snooze – Sloths sleep for an absurd amount of time each day. Being lazy is hard work!
Ice-cube – Because Sloths are pretty darn cool.
Iceberg – What's cooler than an Iceberg? Also, while you're at it, can you explain what absolute zero is?
Avalanche – Very cold. Very scary.
Snow Cone – Would sloth's enjoy a refreshing snow cone from time to time?
Frosty – Frosty the snowman.
Cool Beans – Do sloths have toe beans? Do they have baked beans? What kind of beans do they have?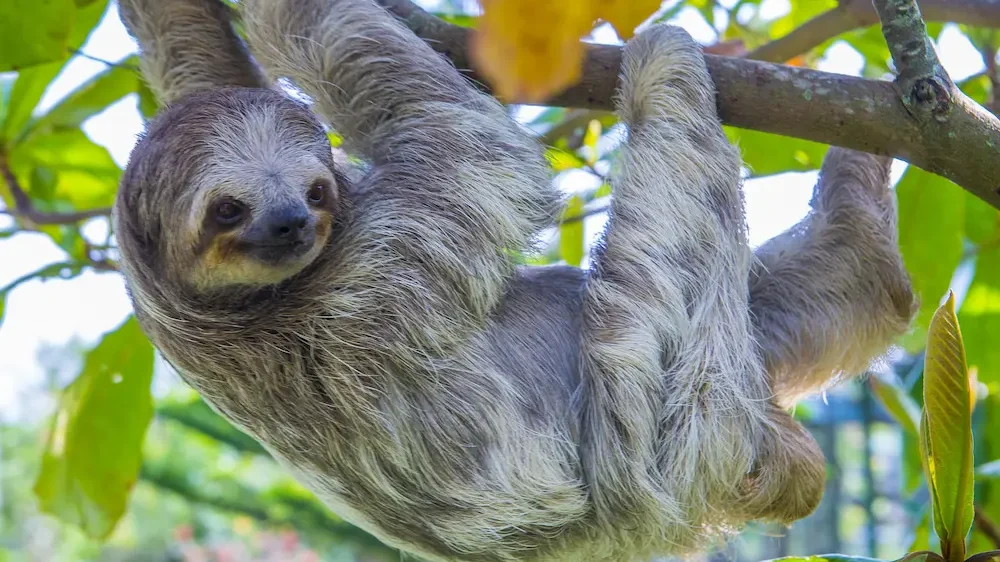 Unique Sloth Names
Aergia – The ancient greek goddess who is intended to be the personification of sloth. Lazy, selfish, idle, etc.
Behemoth – The primordial monster of chaos created by God.
Chimera – Known as the multi-animal-monster as it is a combination of many beasts. Potentially even sloths.
Kelpie – A shapeshifting spirit in Scottish folklore.
Manticore – The Persian version of a sphynx.
Mapainguari – The Brazillian monster of lore believed to be a giant human-sized sloth.
Bunyip – An Australian monster who lurks in billabongs.
Akhlut – The Inuit wolf-orca hybrid monster.
Roc – A bird of prey that could pick up and fly off with a human between its talons.
Hibagon – The Japanese equivalent of bigfoot.
Griffin – Griffins have the body of a lion with the wings and head of an eagle.
Nessy – After the loch ness monster.
Ziz – The Jewish version of a griffin.
Mugwump – A North American lake monster!
Salawa – The ancient Titan typhoon's animal of choice.
Gazeka – The Papa New Guinean devil pig.
Basan – A Japanese phoenix-like creature of lore.
Phoenix
Genbu – A mythical black tortoise.
Baku – A Japanese supernatural being. The embodiment of many animals.
Famous Sloth Names
Flash – Flash Slothmore from Zootopia.
Snook – Snook the sloth is another cartoon character from the creators of bear in the big blue house.
Priscilla – Priscilla Tripletoe works at the department of mammal vehicles in the Zooptopia universe.
Sid – Sid the Sloth is one of the main characters, and the comedic relief, in the Ice Age cinematic universe.
Jennifer – Jennifer is one of the female ground sloths from Ice Age one.
Rachel – Rachel is the other female ground sloth from Ice Age one.
Mini – Mini is a female mini-sloth from Ice Age: The Meltdown.
Uncle Fungus – Uncle Fungus is Sid's uncle in the Ice Age cinematic universe.
Granny – Granny is the elderly wisened sloth in the Ice Age universe.
Brooke – Brooke is a lady sloth who falls in love with Sid in Ice Age three.
Name Inspiration
As you will likely be able to tell, many of the names contained within this naming guide are based on the idea that sloths are slow. Or, in many cases, the names lean super far in the other way and are intentionally ironic.
There are also many references to old fairy tales and mythology as the sloth is considered to be quite a mysterious animal.
Sure, we know a fair bit about them, but their rhyme and reason for the behaviors are so alien to us as people that they may as well be from another planet!
Sloths are slow and steady, sure, but they are also inquisitive and quite logical and that is reflected in many of these names.
Help Choosing The Perfect Name
There are very few people that are able to go ahead and name their new pet, adoptee, or zoo-found-friend right off the bat.
If you can, fair play to you. If you can't, well, naming guides like these can be exceedingly helpful and almost a guaranteed necessity.
The perfect name is not easy to come by and often requires a good deal of scouring the internet for names, ideas, or concepts on which to base your ideas.
Luckily, with guides like this, all of the best names are contained in one easy-to-digest place.
Conclusion
So, you have all the names at your disposal and you should be well on your way to picking the right one for you and your sloth.
Giving an animal a well-thought-out, meaningful, name is such a good way of bringing the two of you closer together. For a new pet, it is an important part of their socialization and training process.
For the zoo's newest member, it is the first real connection an animal might have to its new home.
If you are still stuck for names, remember the above tips for inspiration. There is an endless supply of characters, stories, locations, jokes, etc that you can use as a basis for your name.
If you enjoyed this guide and would prefer to scour another for your answer there are plenty more available at Blog Of Tom for you to choose from.
FAQs
What is the sloth's name from Ice Age?
The sloth's name in Ice Age is Sid, and he is "believed to be the last of his kind. But, luckily, we later discover that is not the case.
What is the sloth's name in Zootopia?
There are a ton of sloths in Zooptopia who all work at the DMV. The most important sloth to the storyline, and to the DMV, is called Flash Slothmore.
Related Posts