Beautiful beaches, crystal clear water, and white sand beaches are among the many things that immediately come to mind whenever we think of a tropical island.
Let's get started on finding the best tropical island names. If you are a writer, storyteller, or gamer and are tired of using the same names for world-building, we have got you covered with an expansive list of new names for your tropical island.
When it comes to unique names, tropical islands deserve the best ones. Thus, we have combined a list that includes names that are very exciting and interesting for your readers, or viewers.
Let's dive in.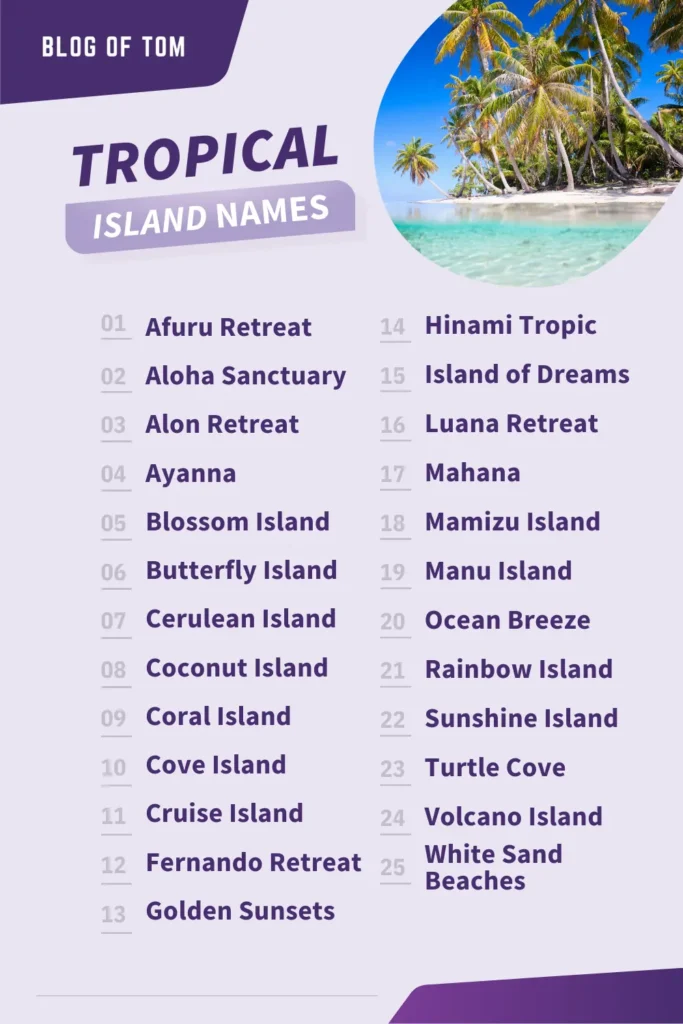 Best Tropical Island Names
Naming an island is the most essential part of the entire process. This is because it allows people to form an instant connection with the said place by opening numerous possibilities for imagination and creativity.
This may include what the island possibly looks like and what it has to offer.
Below is a list of the 50 best tropical island monikers:
Luana Retreat – a place full of enjoyment and happiness
Cerulean island – where the waters are a beautiful deep sky-blue color
Kauai – an island surrounded by serene and lush greenery
Mahana – a place with pleasant weather and temperature
Alon Retreat – an island with huge water waves that are best for surfing
Cove island – a relatively small and cozier place to rest and relax at
Coral island – a colorful name owing to an island with a diverse color palette
Fernando retreat – an island with adventurous and fulfilled activities
Blossom Island – where there is an abundance of natural flowers
Butterfly island – one with numerous species of colorful butterflies
Nani – beautiful scenic views
Dominica Retreat – a godly island/belonging to the Lord
Ayanna – an island that is known for its unique flowers
Cruise Island – one with lines of ships and boats to sail in
Kai Rock – an island with lined huge rocks
Aloha Sanctuary – an island best known for its welcoming nature and warmth
Kazemi Springs – one where water waves are mostly low tides
Hiroka Isles – an island surrounded by big trees
Spooky Island – a place that is known for being scary
Mamizu Island – one where the water is crystal clear
Shizumi Tropics – water that is calm and fresh
Rainbow Island – a perfect name for a place full of color
Sunshine Island – an island that is always bright and warm
Turtle Cove – where families of friendly turtles surround the island
Fairy Island – a place best known for being magical
Snow-peak Mountain – an island that is mostly cold and dry with frozen waters
Windy Island – with gushes of strong winds
Love Island – where people go in hopes of finding love
Reito Springs – an island where the moon always appears dark and full
Yasumi Sanctuary – a beautiful and symmetrical island of palm trees
Volcano Island – crystal clear waters surrounding a volcano
Takiko Haven – where the island offers a waterfall
Hinami Tropic – an island where the sun always shines
Treasure Island – a place is known for bringing treasures of happiness
Snowflake Shores – an island surrounded by snow-peaked mountains
Coconut Island – where there is an abundance of coconut trees
Paradise Falls – an island centered around high waterfalls
Island of Dreams – perfect for diving and snorkeling
Meteor Showers – an island with serene night skies
Howling Woods – a tropical island with woods in the middle
Golden Sunsets – beautiful beaches with gorgeous sunsets every day
Ocean Breeze – an island where light breezes always accompany people
White Sand Beaches – a place most known for its unique sand
Lakeside Retreat – where there is a small lake running through the island
Hidden Springs – an island that offers hiking to look for fresh waters
Blue Ridge – where waters are changing shades of deep blue
Hasumi Rock – an island is famously known for its lilies
Mihiro Tropic – where waters are very deep and scary
Afuru Retreat – an island once taken away by floods that has rebuilt itself breathtakingly
Manu Island – one legendarily known for its unique birds
Names Of Real Tropical Islands
Tropical Islands have proven to be the best gateway for thousands of people, providing an escape from the troubles and routines of their everyday lives.
When most people look for someplace to relax, their wishes are all answered by tropical islands spread across the world. Here, they get the chance to be at ease, be calm, and let go of their worldly responsibilities. Name a tropical island in the world, and we have got you covered.
Let's now talk about real tropical islands throughout the world:
The Maldives – this is a collection of over a thousand islands that provide the best chance for activities such as snorkeling and diving. These are mostly white sand beaches inhabited by welcoming locals and unique experiences.
Bali – the heart of the Indian Ocean, Bali in Indonesia has been a top-voted tourist destination for many years. It provides a one-in-all experience for visitors with scenic views, tasty cuisine, thrilling parties, and even a volcano climbing opportunity – perfect for any beach lover.
Seychelles – this list of islands is located off the west coast of Africa and has the most beautiful beaches. They offer you the perfect opportunity to take some time away from your norms, while also providing an entertaining experience.
Fiji – this is a popular destination among tourists with something for everyone to enjoy. The crystal clear waters provide the chance for diving, whale watching, and snorkeling, along with enjoying the enthusiastic local dances.
Big Island Hawaii – this is Hawaii's biggest island with its infamous Volcano National Park. It offers visitors the chance to climb through old lava tubes, look up at high waterfalls, and enjoy breathtaking views.
Ko Lipe – in the southern region of Thailand near the South Pacific, this island offers scenic views to enjoy. You might even be able to catch a glimpse of reef sharks!
Tahiti – this has long been regarded as a popular honeymoon destination with tropical bungalows in the water. Tahiti offers visitors the chance to enjoy their romance, while scuba diving, and feasting on seafood.
Barbados – this island has all the vibrant colors of the day to offer, with an even more beautiful nightlight. Its blue water beaches, caves, crystal clear waters, and cuisine make it one of the most popular islands in the world.
Saint Lucia – this island, with its stunning white sand beaches, lush greenery, and deep blue waters is among the most romantic places in the world. With all that the place has to offer, it will provide a fulfilling experience.
The Great Barrier Reef – being one of seven wonders of the natural world, this place has the largest coral reefs in the world. It is home to an abundance of marine life which is a mesmerizing view for visitors along with beautiful beaches.
The Caribbean Islands – among the Caribbean Islands are Antigua and Barbuda. These beautiful islands are best known for their crystal-clear waters, pink and white sandy beaches, and pleasant climates.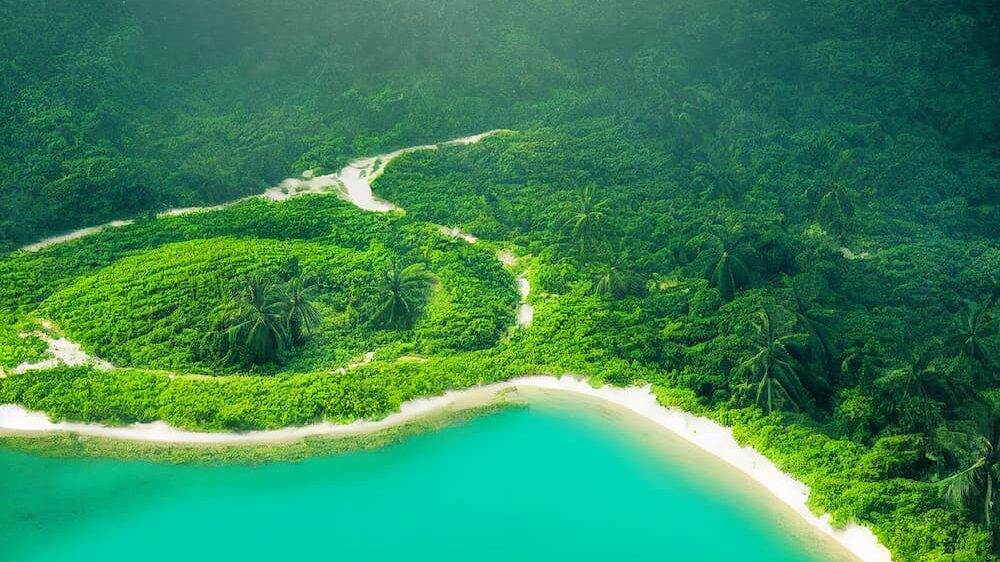 Imaginary/ Made Up Tropical Island Names
For some of our more creative readers, we have also compiled a list of imaginary/made-up names for tropical islands.
Below is a list of a few most innovative imaginary tropical island monikers that we have compiled:
Ariel's Tropic – for anyone who gushes over Ariel from The Little Mermaid, this is the perfect cherry-picked name for your tropical island
Sharkfin Sanctuary – an imaginative place where sharks swim very close to the shores at all times
Banana Island – for someone who enjoys bananas beyond measure, this is the perfect name for your island
Whale Tropic – a marine lover's tropical island where blue whales make an occasional appearance
Pure Heart Retreat – an island where there is no sadness, heartbreak, grief, or betrayal
Pink Turtle Rock – a place where every rock a turtle touch turns pink
White Tiger Haven – an island where it is normal for white tigers to roam around with locals and visitors
Jumping Frog Bay – where the unique species of jumping frogs is found
Doom Bay – an island where everyone who visits is doomed and are unable to leave the place forever
Gotham City – a tropical island that is themed around Batman's city, its decorations, skyline, and transport
Vampire Castle – a red water beach lined with families of vampires who inhabit the tropical island
Wuthering Heights – an island where any two people who love each other are doomed to be separated forever
Haunted Mansion – a place where the most infamous landmark is a huge and spooky house
Island in the Sun – an island found at the core of the Sun, where the day never ends, and everything is always bright and sunny
Island of Second Chances – a place where people come to repent their sins, and swimming in the shimmering white water erases all their bad deeds
One More Time Island – an island where people get to relive their favorite memory of the past
Windy Island – a place where the wind is the prime source of transport
Cool Names For A Tropical Island
In return for providing visitors and locals with an amazing experience, tropical islands do need cool names to attract more people.
Let's talk about cool names for a tropical island:
Thalassa – an island named after the great Greek sea goddess
Happiest Place on Earth – a place where all your sadness gets washed away by swimming in its water
Crystal Island – an island where water shines so bright as if it were a crystal
Winter Wonderland – a place where winter is the only season and it's always snowing
Peaceful Reef – where every second you spend brings you more peace and calmness
Sunny Sands – an island where beaches are shone upon by the sun so directly that their sand appears yellow
Driftwood Sound – a place where the sound of light breezes drifts you away to sleep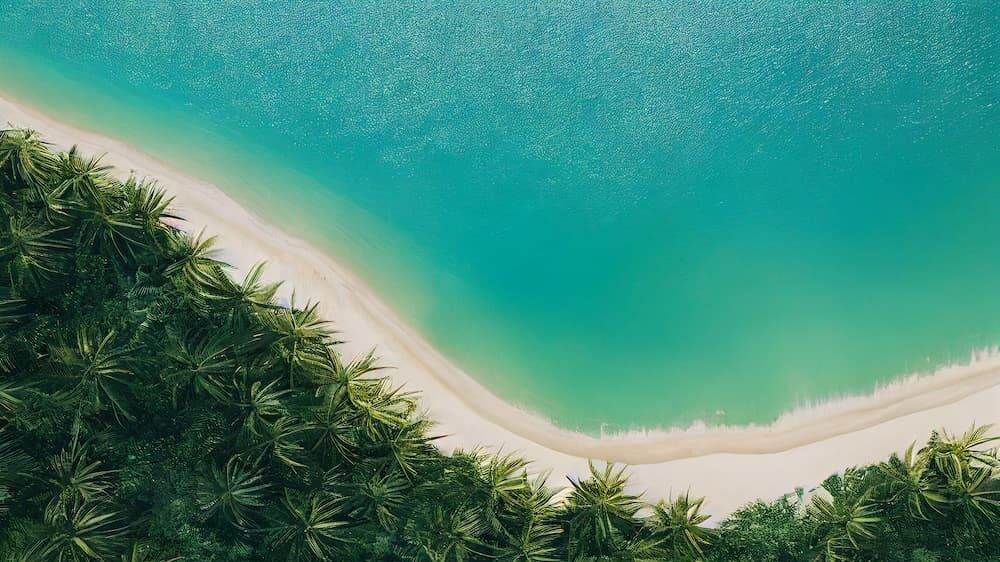 Island Name Inspiration
it is important to keep several things under consideration when making a final decision about naming your tropical island. This is because there are multiple tropical islands across the world, each with something unique to offer.
Therefore, when coming up with a new name, it is vital to be creative while also being realistic. Maybe you want a name that fits white sand beach with pleasant and warm weather. however, you may also want to name a deep blue water island where it is mostly cold.
Each name brings out unique characteristics of the tropical island. You must ensure to keep your imagination and creativity aligned with the tropical island at hand to give it the most suitable name.
Help Choosing the Perfect Name
If you are still struggling to find the perfect name for your tropical island, there are a few things to keep in mind. You may begin by outlining what it is you want from your tropical outline. Do you wish for it to be spooky, calm, or relaxing?
Additionally, you must keep the name simple, so it is catchy yet easy to remember. The tropical island's name should not be difficult to read when it appears on the map. This name should exclude any inside jokes that only a few certain people will understand.
Lastly, naming your tropical island should not stress you out too much. If the name makes you happy, you are good to go!
Conclusion
Although deciding on a name for your tropical island may seem only fun in the beginning, several factors go into making the final decision.
You must ensure that the final name correctly reflects what the island holds and your personal preferences. Be sure to use your creativity.
If you are still struggling, outside help from friends and advisors is always beneficial.
Related Posts