Are you looking for a realistic town name that pays homage to the Old West, like Cowboy Crossing, or something with a sci-fi bent, like Tinker's Gulch?
Perhaps you've thought up your perfect fantasy western town, and all you need is that perfect name to bring it all to life.
Or maybe your goal is to come up with the name first and let the inspiration flow from there.
Whether you are a writer, an artist, a gamer, or just looking for that perfect world-building western town name for a creative project, we've got the name for you!
Our ultimate western town naming guide includes entries ranging from the scary to the silly and everything in between.
In our list, you'll find real-life wild west town names, names of real and fictional ghost towns, Native American-inspired names, and much more.
Whatever your goal or project, we have the perfect western town name for you.
Best Western Town Names
Glitter Gulch – A sparkling name that brings to mind the reason prospecting was such an attractive profession during the Old West.
Wrathrun – This fictional name has a dystopian feel to it.
Grave Springs – A spooky name for a fictional ghost town.
Lawless River
Ruby Rise – This name could refer either to the fiery sunsets against the canyons, or the mineral-rich caves in which rubies and other precious stones were mined during the Old West.
Firecliff – A beautiful name for a town with canyons that catch the sun!
Lonely Bank
Grim Gulch – A straightforward name sure to conjure up images of haunted buildings.
Angel's Canyon
Stale Lake
Highbluff
Willow's Peak – Especially if those willows are desert willows, a beautiful tree native to the American west with soft purple blossoms and narrow green leaves.
Thorn's Gulch
Palomino Ridge – For those who don't know, a palomino is a kind of horse with a white or cream-colored mane and coat.
Lonely Widow Ridge – This sad name sounds like it has a story behind it.
Savage Gulch
Rattles Ridge
Cowboy Crossing – A great name for a town along a cattle trail.
Sourwater
Desert Water – Hopefully this town is built near an oasis!
Oxridge
Jackelope Bend – This name pays homage to the jack rabbit-antelope crossbreed of wild west legend.
Dust Dale
Hope's Chapel
Tinker's Gulch – This name has a bit of a dystopian feel, with the word "tinker" evoking images of rusty machine parts and metal junk against a desert backdrop.
Barren Canyon
Pride's Bend – A subtle hint that if you come to the wild west unprepared, it won't just be your pride that will suffer.
Snakeroot
Lost Hope Trail – This name serves as a grim warning for travelers!
Windy Hollow
Rattlesnake Ridge – This alliterative name honors one of the most notorious reptiles in the wild west.
White Canyon – A great name for a western town built on or near salt flats.
Fort Copper – Many towns in the old west were built to mine copper.
Iron Ridge
Broken Stone
Iron Gulch
Fort Broken Branch
Diamond Gulch – Another allusion to mining.
Copper's Hollow
Cattle Creek – This simple, straightforward name evokes images of cowboys driving herds of cattle across the desert plains.
Dread Chapel – A contradictory name that encompasses the savage nature of the wild west.
Stalepost
Diamond Hollow
Forsaken Flats – A name that brings to mind the emptiness of the old west desert soil, from which hope can be as difficult to cultivate as crops.
Bonetooth Bend – This alliterative name is perfect for a haunted ghost town.
Cripple Branch
Braveport – Named for the courageous few who dare to live here!
Lonely Lake
Colt's Crossing – This name works on two levels, with "colt" a reference to both a gunslinger's weapon of choice and the name of a young horse.
Coalpost
Old Western Town Names
Golden, New Mexico
Bodie, California – One of the best-preserved ghost towns in the country, Bodie, California was once home to a booming population during the Gold Rush. Now, it is a protected historical monument by the name of Bodie State Historic Park.
Rhyolite, Nevada
Calico, California
Goldfield, Arizona
Kennecott, Alaska – Founded as a copper mining town in 1903, Kennecott's residents left this place a ghost town in 1938 when natural resources dried up. Now a National Historic Landmark, tourists can visit Kennecott and imagine what life in the old Alaskan west was like.
Bannack, Montana
Grafton, Utah
Lake Valley, New Mexico
St. Elmo, Colorado
Cool Western Town Names
Bull's Creek
Boneyard Bend – A great name for a town on the edge of a haunted graveyard.
Fort Vicious – This straightforward name can serve as an ominous warning to travelers and locals alike.
Scorpion's Gulch – Named for one of the most notorious insects in the west!
Fort Abandon – A great name for a ghost town.
Talon's Pass – This name brings to mind the sharp talons of birds of prey, like hawks, crows, and eagles, that fly over the wild west.
Dead Man's Worth – This spooky western town name is great for a lawless society of bounty hunters!
Cemetery Creek
Rattlesnake Range
Gunslinger Gulch – An alliterative name that honors the cowboys of the old west.
Scorpion Flats
Tarantula Creek
Coyote's Hollow – This western town name honors a frequently seen canine in the wild west.
Lonesome Wolf
Raptor's Roost
Famous Western Town Names
Dodge City – This actual city in Kansas is responsible for giving us the well-known expression, "Gotta get the hell out outta Dodge."
Cody, Wyoming – Is it any surprise that the rodeo capital of the world was named for Buffalo Bill Cody?
Deadwood, South Dakota – An ominously-named ghost town. It is where Wild Bill Hickok passed away. There is also Deadwood, California which is also a ghost town.
Silverton, Colorado – Linked by the well-known Durango-Silverton Railroad, Silverton was founded as a mining town in 1874 and still maintains its cowboy culture today.
Oatman, Arizona – This town was named in honor of Olive Oatman, a settler's daughter who was kidnapped by Native Americans and sold into slavery.
Tombstone, Arizona – Despite it being a real-life wild west town, Tombstone, Arizona gained even more recognition after the release of the 1993 western film Tombstone, starring Sam Elliot, Kurt Russell, Bill Paxton, and Val Kilmer.
In fact, this town is most famous for the infamous gunfight at O.K. Corral, cementing its place in American history.
Virginia City, Nevada
Durango, Colorado
Cheyenne, Wyoming – This state capital was named for the Native American tribe who lived in the region, the Cheyenne.
Bandera, Texas – Considered by many to be the "cowboy capital of the world," you won't be disappointed when visiting Bandera. Gunfight reenactments, dude ranches, rodeos, and saloons will make you feel like you're living in the Old West.
Western Town Names in Movies
Green Hills, Montana – You might recognize this town from the Sonic: The Hedgehog film franchise. In the first movie, the titular Sonic lives here with his friend, Tom Wachowski.
Deer Meadow, Washington – This fictional small western town comes from the psychological horror film, Twin Peaks: Fire Walk with Me.
Radiator Springs – A fictional western town from the 2006 Pixar film Cars, this charming gem of a town lies along the historic Route 66.
Hill Valley, California – This fictional western town was the setting for all three of the Back to the Future films. However, it was in Back to the Future Part III when moviegoers see that the modern Hill Valley, CA had originated as a booming wild west town in the 1880s.
Westworld – From the 1973 film of the same name, Westworld is the name of a robotic wild west town where the protagonists find themselves trapped when the computer program controlling their vacation goes down.
Rock Ridge – The old western town that serves as the setting for the Mel Brooks western spoof, Blazing Saddles.
Yuma, Arizona – This real-life western town is the setting for the 2007 western film, 3:10 to Yuma.
Baker, Oregon – This real town makes an appearance in the 1969 western musical, Paint Your Wagon.
Sonoro, Mexico – This Mexican city is featured in the 1961 Marlon Brando film, One-Eyed Jacks.
Dirt – This lawless western outpost serves as the setting for the 2011 animated film Rango.
San Miguel, Mexico – The 1964 film A Fistful of Dollars takes place in this Mexican border town. While not technically a part of the American wild west, this western cowboy town definitely fits the bill alongside the other entries on our list.
Lordsburg, New Mexico – This real western New Mexico town is featured in the 1939 John Wayne western film, Stagecoach.
Clearwater, Texas – This western town is the setting for the 1965 John Wayne film, The Sons of Katie Elder.
White Sands National Monument, New Mexico – This unique national monument served as the film location for the 1973 western comedy film, My Name is Nobody.
Carson City, Nevada – This real city is the capital of Nevada as well as the setting for the 2000 Jackie Chan western, Shanghai Noon about a Chinese imperial guard coming to the American wild west to save a kidnapped princess.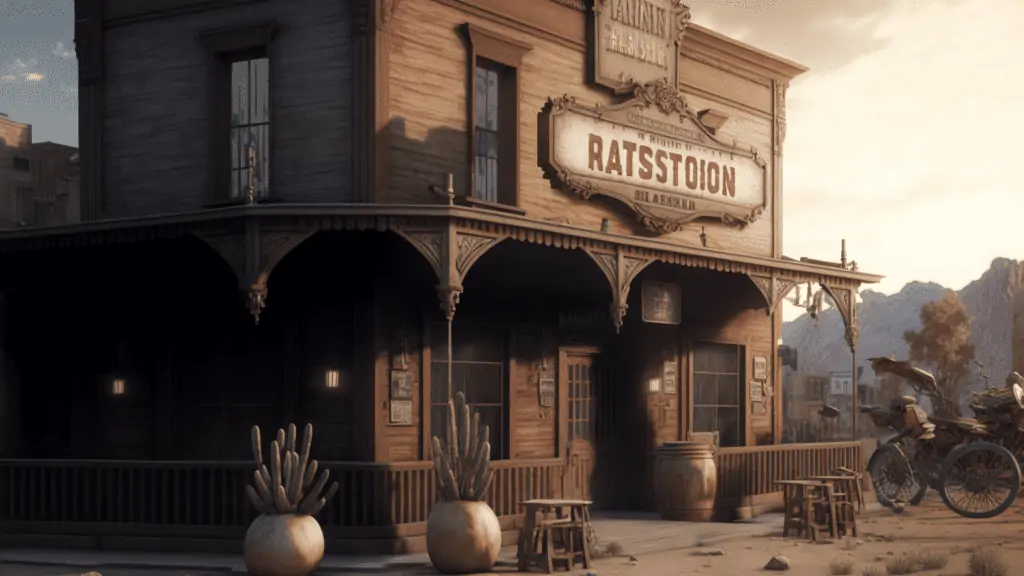 Fictional Western Town Names
Silverado – This town serves as the setting for the 1985 western film of the same name.
Hadleyville – This wild west town was the fictional setting of the 1952 Gary Cooper film, High Noon.
Bismuth – This town is the setting of the 2016 psychological horror film Brimstone, which takes place in the Old West.
Tonto, Arizona Territory – This fictional town makes an appearance in the 1939 John Wayne film, Stagecoach.
Sweetwater, Texas – A fictional western town featured in the 1961 John Wayne film, The Comancheros.
Fort Grant – A fictional western town appearing in the 1968 Clint Eastern western film, Hang 'Em High – a revenge tale of a group of bandits who tried to hang an innocent man.
Black Rock – This wild west town serves as the setting for the 1955 western, Bad Day at Black Rock.
Carbon Canyon, California – The 1985 Clint Eastwood film Pale Rider takes place in this old western mining town near the end of the California Gold Rush.
Redemption – The fictional dusty wild west town that serves as the setting for the 1995 western film, The Quick and the Dead.
Sumqua – The fictional western town appearing in the 1965 western film, cat Ballou, about a female gunslinger.
Green River – A wild west town that appears in the animated family film, An American Tail: Fievel Goes West. The protagonists, including young Fievel, seek opportunity out west to escape the dangers of New York City.
Wolf City, Wyoming – Wolf City, Wyoming is mentioned in the 1965 western Cat Ballou.
Jericho – This fictional western town is the setting of the 1967 Dean Martin western, Rough Night in Jericho.
Big Whiskey, Wyoming – This fictional western time is the setting of the 1992 Clint Eastwood western, Unforgiven.
Patch of Heaven, Nebraska – This fictional dairy farm is featured as the setting for the 2004 animated family film, Home on the Range, which depicts a family of farm animals – including three wise dairy cows – who team up to save their beloved farm from a greedy corporation.
Funny Western Town Names
Boring, Oregon – An unfortunate yet funny name for a western town where nothing happens.
Bummerville, Kansas – As the name suggests, a real bummer. Especially after a tornado.
Chickenfeather, Texas
Hungry horse, Montana – Depending on how unprepared you are for your journey, your horse may not be the only one going hungry out in the unforgiving west.
Burnt Ranch, Texas – A perfect name for the site of a recent fire. Or it could be a suggestion of the stifling Texas summer heat.
Wimp, California
Rough and Ready, California – Everything about this name evokes images of cowboy culture and the Old West.
Mule Lick, Nevada – A real name of a Nevada ghost town.
Truth or Consequences, New Mexico – This is a real town located in the center of New Mexico, famous for its luxurious hot springs.
Loco, Oklahoma – "Loco" is Spanish for "crazy."
Weeping Mary, Texas – There has to be a story behind this oddly named town.
Lost Cabin, Wyoming
No Name, Colorado
Wounded Knee, South Dakota
Sucker Flat, California – This funny name sounds like a town founded by snake oil salesmen.
Western Ghost Town Names
Bitter Creek, Texas
Vulture City, Arizona
Who'd Thought It, Texas – This unusual ghost town name raises more questions that answers. What caused such surprise? And even more pressing, is it good or bad surprise?
Poorman's Gulch, South Dakota
Total Wreck, Arizona – This hilarious name leaves little to the imagination.
Cyanide, South Dakota
Contention City, Arizona – The name of this town drops a big hint as to why it's now a ghost town. How can you get along with your neighbors in a place called Contention City?
Fort Phantom Hill, Texas
Lost Camp, South Dakota
Scratchout, Oklahoma
Horse Heaven, Oregon – It's unclear whether this town name is referring to a lush green valley or a horse cemetery.
Back City, Texas
Quicksand, Texas – We wonder if this ghost town's namesake has anything to do with its demise.
Last Chance, Colorado – An ominous warning to travelers before embarking from this town into the untamed wilderness.
Devil's River, Texas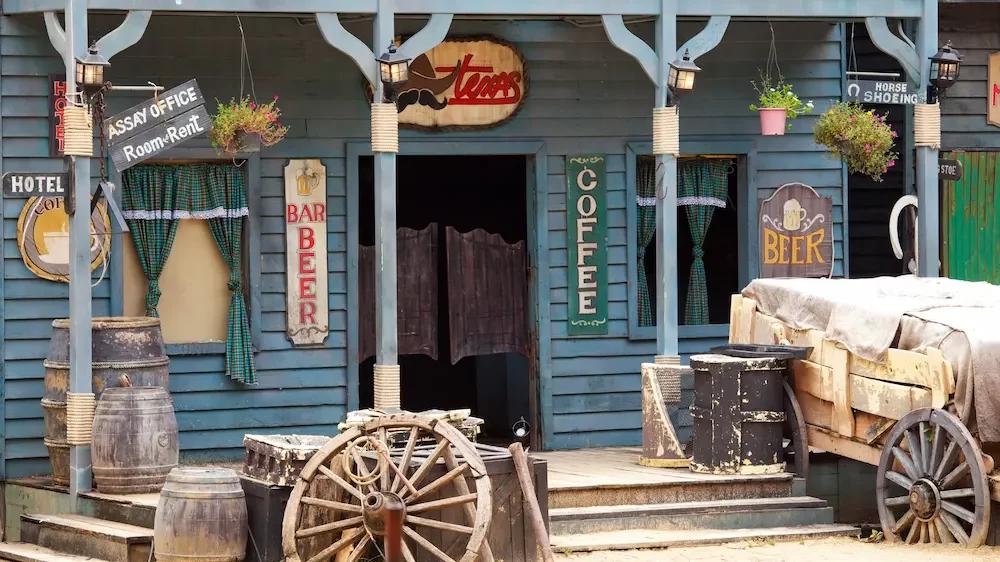 Town Name Inspiration
Inspiration comes from many sources when naming a western town.
Our list of wild west towns includes both real and fictional places, and you can always seek inspiration from real ghost towns – many of which have incredible and unique names.
Another source of inspiration is the wild flora and fauna in the area. Rattlesnakes, scorpions, tarantulas, wolves, and coyotes have all been mentioned in our list, but there are plenty more that can also be used.
Feelings are another great source.
Does your place make you feel hopeful? Lonely? Is there a story that has gone down in the town's history that lends to a unique name?
The choice is all yours!
Help Choosing the Perfect Name
When deciding on a name for your western town, what images do you want to evoke with it?
Is it a hopeful place where the people thrive despite the harsh surroundings, or is it a doomed town where a hungry, haunted look plagues each of the remaining townsfolk?
Depending on your genre, make sure to add a little more to it.
A dystopian sci-fi wild west town shouldn't sound like it would be a real name of a United States town.
Conclusion
Naming your western town is a fun and important task.
It's the first thing people will see when they enter your town, and it sets the tone for what to expect.
We've provided a list of real and fictional towns as well as some ideas for inspiration.
Whether you're looking for something unique or want to stay traditional, make sure the name suits the town.
And most importantly, have fun with it!
Related Posts