If you are starting a band or considering it, you're going to need to think of a great name that will fit your band and make it stand out.
Of course, the genre of music makes a massive difference to what you should call your band.
Some of the top band names include things like Epicenter, The Badlands, Goldmine, Chocolate Bunnies From Hell, and more.
Best Band Name Ideas
The best names for a band will vary depending on what you want your audience to think about you, but here are a few top choices you might want to use.
Think about how well the band name will fit on merchandise, as well as how it will look.
Figure Out
Naughty Nevada
Burden of Proof
Better Shot
Fallen Flame
Vermillion – simple, memorable, and descriptive, this is a great name
Epicenter
Meat Puppets
Crimson Crypt
Front Seven
Soul Fun
Dead Hands
Stumble
Giant Palms
Slug Go
Replacements
Loophole
The Badlands
Second Hour
Engine Creep
Half a Percent
Plasmatic
Poetry Falling
Wicked Lollipops – funny, cute, and intriguing, this would work for many band genre
Good Band Names
If none of those ones quite suit what you're looking for, there are plenty of other great names. Consider things like:
Midnight Buzz
The Wolves of Yesterday
Red Challenge
Cyber Patriots
Breaking News
Justice is Served
Top of the Hour
Awesome Angels
Strawberry Lumps – this is quirky and cute
New Rule
Payroll
Intrepid
Oxymoron
Scarlet Oblivion
Part Time
If And When
Vortex
Skinny Bundle
3 Day Rain
Rug Cutter
Bullish Change
Darwin's Best – do you want to imply you're the best that evolution has to offer? This is a clever name to do so!
Sideline
Goldmine
Cute Band Names
If you want your band to sound cute, you might want to try including an animal, as this is often an effective strategy.
While a lot of bad-boy bands focus on rats and other undesirable animals, there are plenty of cute options you can tap into too.
Monkey Business
Cool Capybaras
The Red Turtle
Green Beetles
The Stick Insects
The Kittens
Dog Day Dawn
Buttercup Kisses
White Lace Hearts – this is pure and pretty
Cupcake Dreams
Banana Gator
Sweet Stars
Lullaby Flutterfly
Strawberry Mushroom
The Teddy Bears' Picnic
Pine Tree
Candy Cane Clique
Spells Falling
Green Gems
Squirrel Darts
Castles in the Clouds
Lucky Cinders
The Pink Puppies
Angels and Apples
Rowan Tree Avenue
Funny Band Names
Some people want a name that will make the audience laugh every time it is announced. The key to a successful band name is that it's memorable, and funny names often are!
Chocolate Teapot – this is a traditionally useless name that is bound to make your listeners smile!
The Dead Plants
Black Moth Super Rainbow
Concrete Octopus
Afraid Of Figs
Baloney Pony
Concrete Grass
Beatnik Termites
Dracula's Milk Teeth – weird, funny, and unusual, this is great for a band
Angry Salad
Curl Up And Die
Chocolate Bunnies From Hell
Ball Point Banana
A Band Named Bob
Chia Pet
Crazy Taco Cafeteria
The Alien Puppets
A Box of Fish with Tartar Sauce
The Dairy Queens
Box Spring Bongo
Fabulous Amputators
The Arrogant Worms
Big Dead Fish
Dirt Clod Fight
The Band Formerly Known As Piglet
Armed and Hammered
BBQ Platypus
Unhappy Mushroom
Inflatable Dates
Rolling Donut
Hamster Sandwich
Halo of Flies
Individual Fruit Pie
The Most Sordid Pies
Mr. T-Rex
Iron Liver
Men Among Poodles
Waffles Against Apples – food items often make entertaining band monikers, and this creates a highly entertaining image
Unique Names For A Band
Having a unique name for your band is really important. Nobody wants their band to be confused with others that might be similar – so how can you make yours stand out?
Misplaced
South Street Irregulars
Benevolent Dreamers
Aerobarn
Screamer
Broadway Fevers
Going Minnesota
Isley Brothers
Uncertain Outcome
Fact Of The Matter
Customer Service
Red Alert
Astro Cat
Ready Made Success
Humble Love
Data Market
Million Dollar Daze – the alliteration makes this a great name that will stick in your fans' heads!
Bonesaw
Run First Wonders
Paddling Start
Savage Groove
Blood In The Water
Dubious Devils
Right Most Of The Time
Road to Nowhere
American Grit
Incendiary
Cool Band Name Ideas
What about some particularly cool name ideas? If you want your band to sound on-point and part of the action, consider some of these options.
Decades of Experience
Incite
Crazy Daze
High Frequency
No Explanation
Monarch
Random Sass – sass is often the best way to be cool, so why not stick it in your band name?
Red Square
Lucid Angels
Ratoon
Incredibly Upset
1-800-Wicked
Moxie
Dreamers Three
Eastern Sons
Fight or Kill
Galapagos
Techno Drone – it's hard to say what makes something cool, but there's no doubt that drones tick the box!
True Taffy
Bounceback
Wise Yanks
Low Level
One Party
The Other Fish
Justified
Clockwork
Old English
Red Bison
Way of the Pole
Mix Princess
Badass Names For A Band
What about names that sound totally badass, that the crowd will love screaming as you step onto the stage?
Wounded Robot
Roar
Thrill Ride
Ice Age
The Curve
Laces Out
Bleeding Stone
Smart Aces
Corruption Crackdown
Fang Domination
Fractured
Unlucky!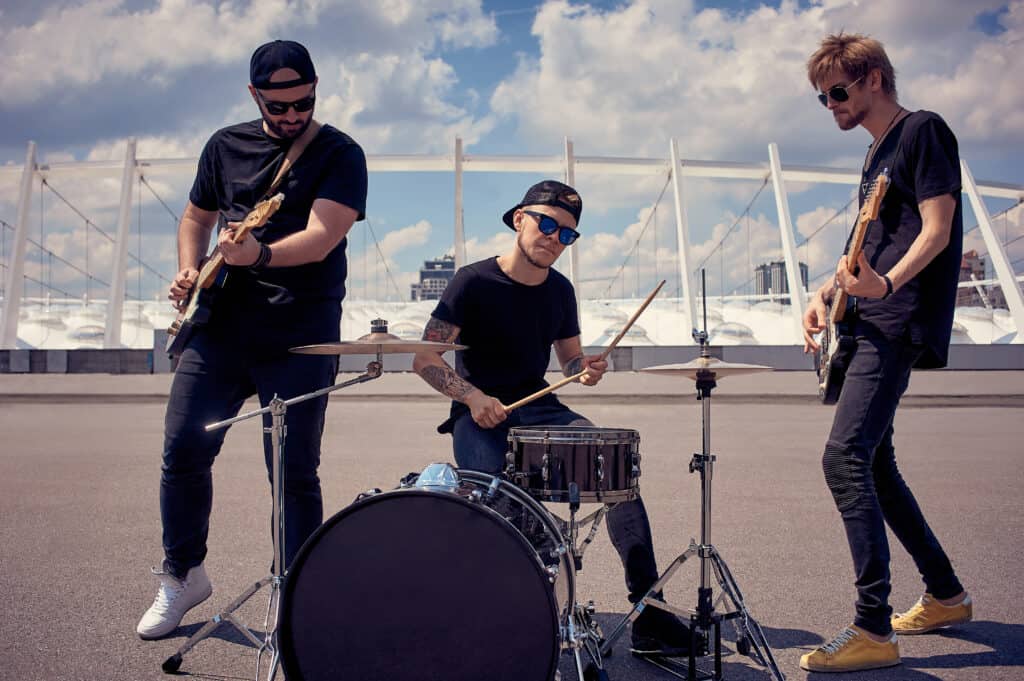 Rock Band Name Ideas
Rock bands need particularly striking names. Think about the lyrics you usually use in your songs, and decide whether these could inspire a great name!
Velvet Concord
Zombie Hoax
Elaborate Constellations
Stage Revolution
Ecstasy
Tokyo Lights
Boys of Creation
Titan Walk – this is a powerful name for a rock band
Afternoon Daydream
Double Helix
Lies and Lullabies
Greatest Day
Kinetic Street
Ghost Town
Pretty Ugly
Perpetual Sorrow
Armageddon Day
Turning Jane
Ultraviolet
Hero of Refusal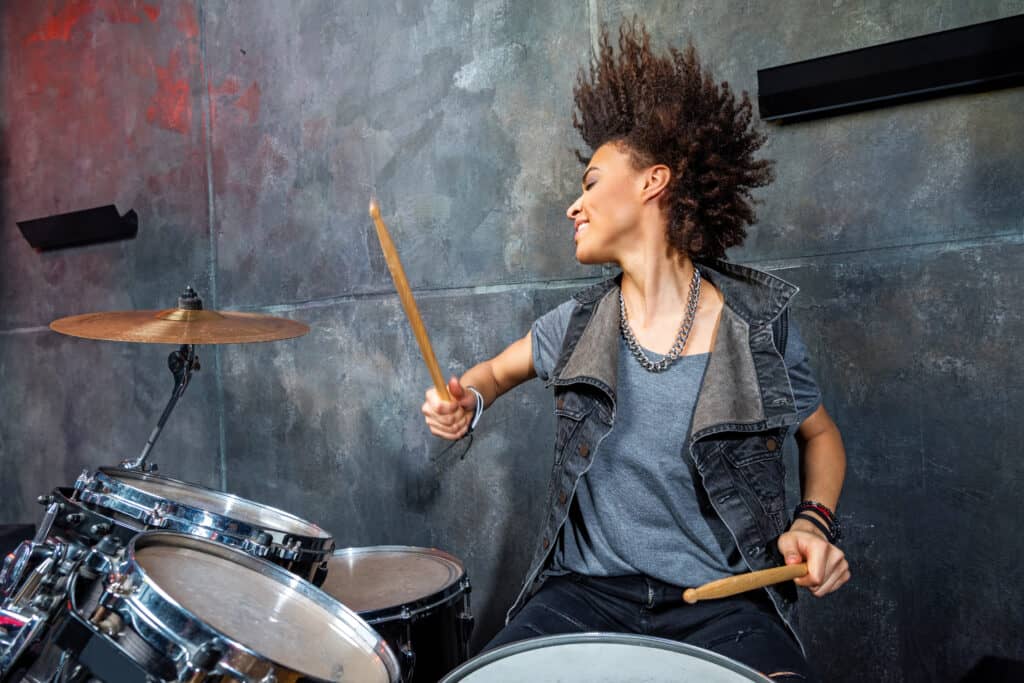 Alternative Rock Band Name Ideas
What about if you're forming an alternative rock band? You might be wondering how to set your band apart from the other music groups out there.
Big Science
Only Fools
Batman's Cousin
Big Asteroids
Black Wax
Real Life is No Life
Flumes
Dreamdances
Marino
Day Breakers
Bellion
Cantalope
Onslaught
The Left Hand
Destination Ecstacy
Disharmonica
Circus Fire
Frankenstoner
Danger Diabolik
Crawl from the Wreckage
Metal Band Name Ideas
A metal band needs a fantastic name to suit the intense, virtuosic music that this genre is known for!
Rivals of Tomorrow
Throne Crusher
Attica
Overdose
Rage Nation
Life Souls
Jupiter Moon
Phantom
Agents of Insanity
Drumstick Junkies
Ash of the Kings
Inside the Dying Warrior – what could be more metal than this image?
The Cold God
Silver Bullet
Radical Ideas
Name Ideas For A Goth Band
Gothic bands need to think carefully about their aesthetic, and if you are part of a goth band, choosing a great name is critical.
What are the best images out there to reflect your band?
Sixteenth Empty Door
Our Frozen Bones
Arcane Pretence
In the Empty Howl
This Bitter Wasteland
This Spider Club
Resist the Arcane Sigil
The Empty Church
Spoken Tale
The Mourned Curse
Empty Echoes
Velvet Illusion
First Bitter Sign
Darkest Den
Turn Back The Stars
Our Fallen Heart
Name Ideas For A Country Band
A country band also needs a great name to represent the genre. It should be fun, memorable, and unique – so here are some top ideas!
Ole Fiddler
Candy Corn
Better Than Us
Crimson Carnation
Equilibrium
Just Beautiful
Knight's Darkness
Sons of a Sinner
Small Town Heroes
Montana Sunrise
Bootleggers
Dirt Circles
Big Fish
Mustang Dreams
Two Bit Horse
The Good Ones
Hometown Halls
Tennesse Dreamin'
The Whiskey River Rats
Cowgirl Revolution
Crickets and Crawdads
Indie Band Name Ideas
A lot of Indie bands are popping up these days, but it can be really challenging to find a good name for your band. Here are a few excellent choices!
Electric Colors
Lighthouses
Rusty Trinkets
The Succulents – succulents are immensely popular right now, so why not use that imagery?
Woodsmoke
The Tumbleweeds
Pamplemousse
The Variables
Zodiac Groove
Dark Matter
Imminent Release
A Pumpkin Looming
The Hunter and His Arrow
Giving Sunday
The Finders
The Haunting
Plant Matter
The Monsteras
Coffee Stain
Brewing Backs
Pop Band Name Ideas
A pop band should have a fun, funky name that will get your fans excited to see it. Let's look at a few top favorites to consider!
Secret Keepers
Bubblicious
Sour Candy
Dreamers Beamers
Pipettes
Pink Slip
Golden Butterfly
Crystal Code – cute and alliterative, this should be easy to remember
Matriarchy
Flower Pot
Eden's Crush
Elemental
The Killed Magic
Uncanny Paradigm
Faster Faster
Over Top
Tornado Discharge
Later Daze
Ashen Eyes
Frisky Bears
Double Move
Laser Date
Fair Worry
Structural Remedy
Earthbound
Type 2
Subtle Notions
Rich Penny
Soft Skin
2 Much Fun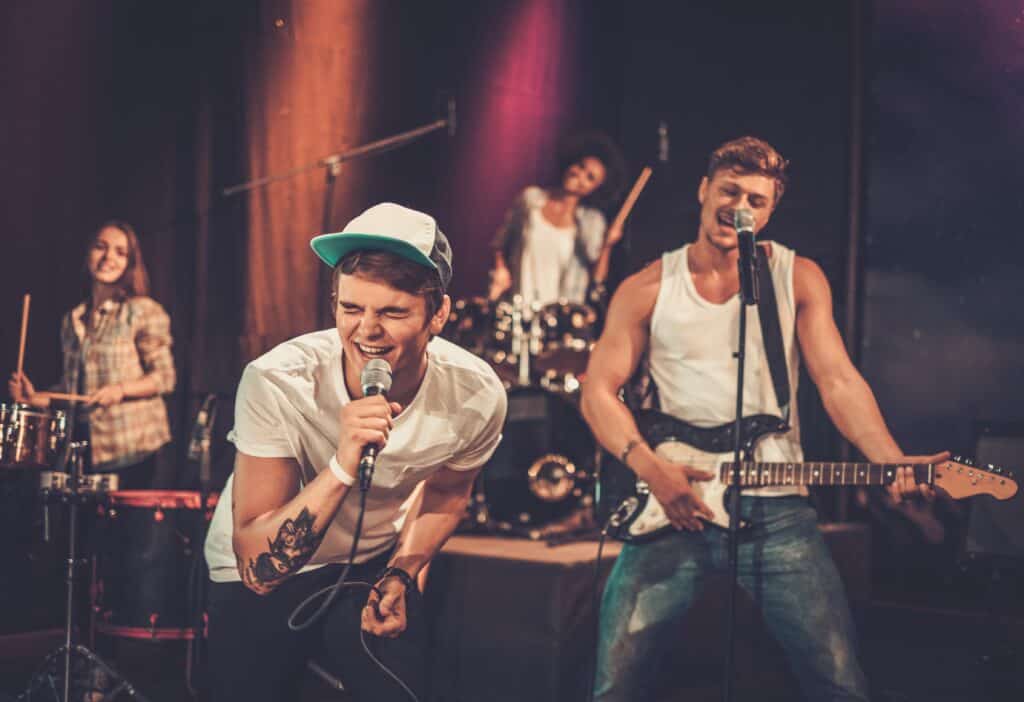 Pop Punk Band Name Ideas
With a genre like pop punk, it can be particularly tricky to figure out what you're going to call the band – but here are a few solid choices to consider.
Popunkers
My Friends Are My Friends
My Sophomore Year
Evasive Maneuvers
Gotham City Police Department – If you love Batman imagery, this would make a great name!
Pizza Platoon
Minor Inconvenience
Small Town Heroes
Silver Spoon
Fall in Line
The Sleep Overs
Burritos and Best Friends
How to Live
Tonight We Dance
Trophy Case Kids
Black Tie Optional
Left to Riot
Not to be Consumed
Fact or Fiction – Personally this was my personal favorite idea growing up. If you become famous please give me a shout-out! To go with it here's a track name that you may also like "Another Prediction". It rhymes with the band's moniker!
Punk Band Name Ideas
A punk band also needs an amazing name, but it's a popular genre and it can be pretty challenging to find one!
Here are some ideas to help you out.
Lawn Flamingos
Suddenly Found
Amusing Pattern
Mutiny of Myth
Drilled Spikes
Abacus
Basement Gig
London Jackets
Expired Days
Iron or Steel
Bad Decisions
Sequence of Grace
Hazard
Sequence of Grace
Rotten Lies
American Thieves
The Cold Wind
Wildly Baron
Rewind
R;B Band Name Ideas
If you have an R;B band, you probably want a name that is meaningful and deep, but how do you find the right one?
If you can't immediately think of anything meaningful yourself, check out some of the below ideas for inspiration.
Depressive Alpine
Hypnotic
Dipper Eightball
Smooth Neo Soul
Rainy Day
Faith of the Mill
Failing Stoked
Canary Jungle
Slum Room
Faith of the Mill
Glee Over Unity
Since Vigor
Lower Brew
Through Glazed Consent
Except by Invitation
Hyperactive Face
Meditation Creators
Hyacinth Dreams
Rocky Etchings
Christian Band Name Ideas
Christian bands, perhaps more than any others, need to make sure that their name reflects their ethos and faith.
How do you choose a name that will show this?
Zealous for Jesus
Be the Light
We Are One
The Collective
Always Steadfast
Finding Comfort
Faith Factor
A Place for Truth
Opening Belief
Shelter in the Storm
Regeneration
We Found Hope
Overcomers
We Are Changed
Flock of Believers
Pathfinders
Because of His Love
80s Band Name Ideas
If you'd like your band to have a retro vibe, that's something you'll want to convey straight away – so how do you go about doing that? An 80s name is the most important step!
Members Only
Spandex Antics
Bad Hair Night
The Fiesta's
The Thundercats
Viami Mice
Fill Callings
Rocket Science
Johnny 5
Preppies
Tubular Noids
Maverick Mondo
Bodacious Mr. Brownstone
Chunk Boys
Chill Pills
Wicked Skeezers
Freddy Gnarly
Magnum Mohawks
Famous Band Names
You might also want to check out some of the most famous names ever, so you can compare your potential ideas with bands that have hit the right note in the past.
The best names are often weird and wonderful.
Aerosmith
Def Leppard
Guns N' Roses
Green Day
Red Hot Chili Peppers
Jonas Brothers
Queen
Rascal Flatts
Led Zepplin
The Rolling Stones
The Monkees
The Police
Smashing Pumpkins
The Beatles
Mumford ; Sons
Nine Inch Nails
Pearl Jam
Pink Floyd
The Velvet Underground
U2
Coldplay
Spice Girls
The Sex Pistols
The Ramones
Pixies
ABBA
The Moody Blues
Metallica
The Eagles
One Word Band Name Ideas
Sometimes, you want a simple, snappy name that's just one word – that's all you need to express yourself.
One-word names for a band can be particularly memorable, as long as you choose the word with care!
Macro
Navarro
Showrunner
Soundbite
Zenith
Wonderland
Stitcher
Bumps
Analysis
Obelus
Baxter
Nomad
Obelisk
Decree
Bounceback
Honeydew
Mudslide
Ghost
Secrets
Ironbound
Pulse
Zion
Unmarked
Real Names Of Bands For Inspiration
You might find it helps to see some other real names that have been chosen, so let's have a look at a list of bands.
Remember, it doesn't have to belong to a famous band to be a fantastic name!
Blur
Joy Division
The Andrews Sisters
The Clash
Toots and the Maytals
The Weavers
Steely Dan
Sonic Youth
Smashing Pumpkins
Santana
Roxy Music
Rage Against the Machine
Puffy AmiYumi
Poco
The Platters
New Order
OutKast
The Mekons
Ladysmith Black Mambazo
The Kinks
The Judds
Genesis
The Ink Spots
Dire Straits
The Doors
Alice Cooper
Band Naming Tips
So, with all of that material in your back pocket, what are our top tips for naming your band?
The best way to find a great name for a band is to look for something that inspires you, whether that comes from the real world or from a film or another band that you love.
If you're struggling with this, remember that the famous band All Time Low took their name from the lyrics of a song made by New Found Glory. It comes from "Head on Collision."
This is a great example of how another song might give you just the image or phrase you need for your band.
The same is true of the band Bring Me the Horizon. This band paraphrased its name from the "bring me that horizon" line in Pirates of the Caribbean: The Curse of the Black Pearl.
Your band's name doesn't have to come from something very meaningful in your own life. Find a phrase or line that you love, and tweak it to fit exactly what you need.
Remember too that you can change a name even if you want to name your band after one of the members. Bob Dylan, for example, was originally called Robert Allen Zimmerman.
He began using "Dylan" instead, after the Welsh poet Dylan Thomas. This is a great example of how you can take inspiration from another artist and create your own persona.
Band name generators may also help if you're really struggling to come up with a name you like. There are plenty out there to check out!
Spend some time thinking about what your fan base would respond well to, as well as what you yourself love. Are there creatures, images, phrases, or concepts that are particularly associated with your genre and fans?
Once you've settled on a name you like, it's really important to find out if the name is legally available. The last thing you want to do is start building a following with a name, and then find out that another band already owns and uses it.
Always thoroughly check that a name is free, and then protect it once you've decided to use it. This might be a boring step, but it's key to making sure your band retains its identity, especially if you start to get famous!
Conclusion
Hopefully, you found that list helpful and you now know what to call your band! Good luck with the naming process, and remember to think about what kind of music you play so you can determine what word or phrase would best represent your band.
Related Posts