Welcome to our list of the best emo playlist names! We know how hard it can be to come up with the perfect name for your emo playlist, so we've put together this collection of clever, funny, silly, and creative name ideas for your inspiration.
Whether you're a fan of classic emo bands like Paramore, Panic! At The Disco, and My Chemical Romance or newer artists like Twenty-One Pilots, you're sure to find something here that will have you nodding in agreement.
So, let's get started!
Best Emo Playlist Names
Emo playlist names don't have to be all doom and gloom. Choosing a fun and creative name for your emo playlist can make all the difference.
Here are the 22 best names for an emo playlist you can use for your next mix.
From humorous takes on classic emo songs to unique takes on the genre, these names will help you create the perfect mood for your music.
'The Saddest Songs You'll Ever Hear'
'Screams of Agony and Despair'
'Crying in my Room'
'Misery Loves Company'
'My Heart Aches and Breaks'
'Brokenhearted Melodies'
'Songs of Loneliness and Loss'
'Mourning the Memories of Yesterday'
'A Playlist for the Painfully Emotional'
'Tears of Joy and Sorrow'
'The Best of Emo-Core Music'
'Angst-Filled Playlist of Emo Tunes'
'Heartache and Turmoil: An Emotional Journey Through Music'
'The Music That Makes You Cry'
'Emo Anthems for Broken Hearts'
'Songs to Make You Feel Better About Life's Challenges'
'A Playlist of Sadness, Regret, and Despair'
'Depression's Best Hits: An Emotional Journey Through Music'
'Heartache Hits: An Emotional Exploration Through Music'
'The Best of Crying Songs: For When You Need to Let It Out!'
'The Lullaby of Broken Dreams'
'When Words Fail, Music Speaks'
Good Names For An Emo Playlist
The best emo playlists capture the right mood and evoke emotion. Whether you're looking for a playlist for a road trip, a party, or to chill out, an emo playlist can do the trick.
To get you started, here are 40+ good names for an emo playlist that will help capture the perfect mood.
Sadness in the Air
Darkest Days
Emotional Rollercoaster
Unrequited Love
Heartache Highway
Painful Melodies
Awkward Silence
Emo Acoustics
Nostalgic Nights
Rainy Day Blues
Lonely Sing-alongs
Angsty Anthems
Sorrowful Symphonies
Bleak Ballads
Tears of Joy
Gloomy Grooves
Gloomy Goodness
Heartbroken Rhythms
Melancholy Moods
Wistful Whispers
Mournful Mixtapes
Sorrowful Strings
Emotional Escapes
Sad Soul Sounds
Desolate Dreams
Tragic Tunes
Woebegone Wonders
Misery Music
Heartfelt Harmony
Forlorn Flute Sounds
Shadowy Songs
Mourning Music
Hopeless Humming
Shaded Sounds
Sad Symphony
Emo Elegies
Dark Desires
Painful Pleasures
Anxious Ambiance
Earthy Echoes
Midnight Moods
Quiet
Cute Names For An Emo Playlist
As one of the most popular music genres in the world, emo playlists have been around for years.
From the early days of My Chemical Romance and Panic! At The Disco to the more recent hits from bands like All Time Low and Fall Out Boy, emo music continues to draw fans in with its emotional lyrics and powerful melodies.
When creating an emo playlist, nothing is more important than finding the perfect name.
Whether you're looking for something funny, cute, creative, or unique, here are 30+ cute names for your emo playlist:
Melancholy Melodies
Emotional Escape
Desire In Despair
Heartache Haven
Sad Songs Say So Much
Tears On The Turntable
Heartbroken Hits
Soulful Symphonies
Depressed Discs
Broken Beats
Bleeding Ballads
Sorrowful Symphony
Grief Grooves
Angsty Anthems
Tormented Tunes
Painful Playlist
Gloomy Garage
Woebegone Waves
Mournful Melodies
Sadness Selections
Wistful Whispers
Lachrymose Listening Lounge
Unhappiness Unlimited
Regret Radio
Sighing Sounds
Depressive Discography
Bleak Beats
Unhappy Jams
Lamented Library
Gloomy Grooves
Mood Music Mania
Woeful Wonders
Tears Through The Stereo
Cool Names For An Emo Playlist
Darkest Dreams – A hauntingly beautiful mix of tracks that will help you tap into your inner darkness.
Emo Nights – Curate an evening of music to reflect your moody, introspective state of mind.
Bleeding Heart – An emotional journey through heartache and pain.
Marching to My Own Beat – A unique collection of tracks that break away from the norm.
Cry Me A River – Sad songs that help you get those tears rolling.
Scream For Me – Songs that scream out your emotions when you can't find the words yourself.
Shattered Silence – Quiet, melancholic tunes that will give you peace and quiet in times of distress.
Mellow Melancholy – A gentle and calming mix of songs to take away the stress and anxiety of everyday life.
Longing for Love – A playlist to remind you that you're not alone in feeling lonely and searching for love.
Reckless Abandonment – High-energy songs to help you let loose and just enjoy life for what it is without worrying about tomorrow or the future.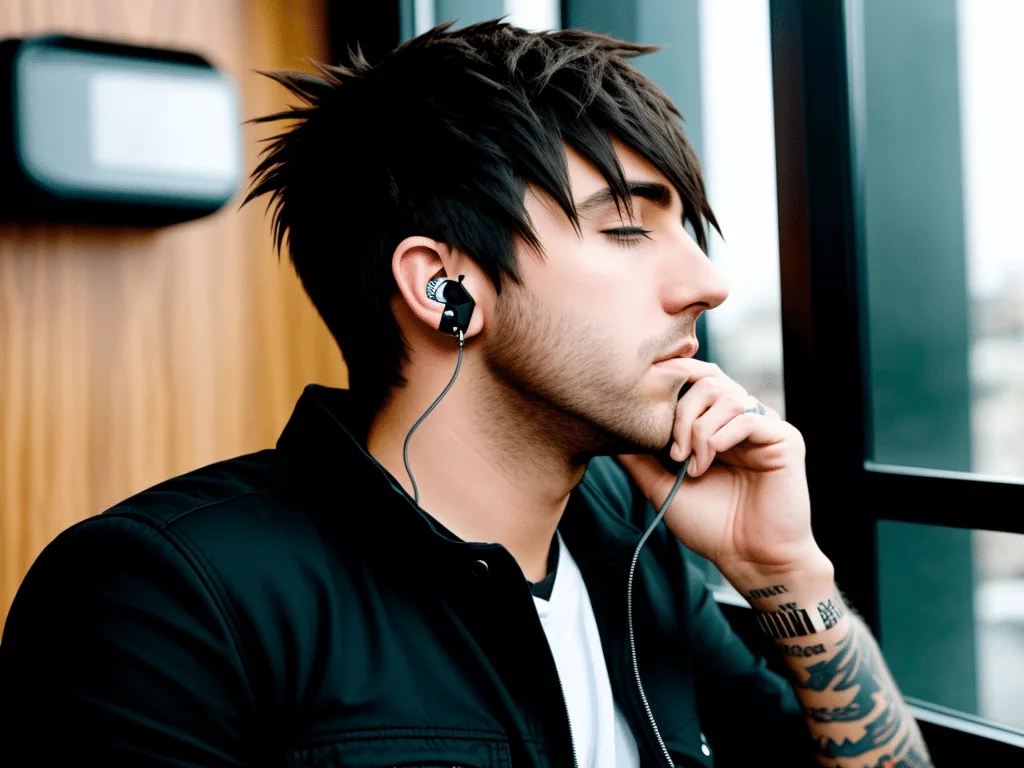 Unique Names For An Emo Playlist
If you're looking for unique emo playlist names, look no further. We've created a list of 100 unique names to inspire you when making your emo playlist.
You're sure to find something that suits your style, from cute and quirky to cool and creative.
Darkest Hour
Broken Hearts Club
Sad Songs Say So Much
Emotional Roller Coaster
Aching Soul
Emo-Tional Rescue
Unhappiness is an Option
Wounded Heart
Emo Music for Sad People
All the Sad Songs
Wallowing in Misery
Melancholy Madness
Emotionally Charged
Depressed and Defeated
Loneliness is Bliss
Mope Mode On
Emo Playlist for the Brokenhearted
Tears of Joy and Sorrows of Pain
Inadequacy Aspiration
Dispirited and Discouraged
Music to Make You Cry
Dark Clouds Gathering
Heavy Emotions
Sorrowful Sounds
Depressive Delights
Tears of Anguish
Grief-stricken Vibes
Feeling Blue
Specific Moody Moods
Misery Loves Company
Mourning Melodies
Sorrowful Strains
Slow and Low Notes
Heartbroken Harmony
Goodbye Cruel World Playlist
Gloomy Grooves
Mournful Melodies
Unhappy Tunes
Blue Moods
Creative Names For An Emo Playlist
This section provides 30+ creative names for an emo playlist.
From the lighthearted and fun to the dark and brooding, these names will inspire you for your next emo playlist.
"Dark and Stormy Nights"
"My Life as a Soap Opera"
"Weeping Willow"
"Sorrowful Symphony"
"Angst-Filled Melodies"
"The Wall of Emotions"
"Melancholy Medley"
"Broken Heart Blues"
"Revenge Fantasies"
"Unrequited Love Songs"
"Doomed Relationships"
"Tragic Trilogies"
"Despairful Divas"
"The Pain is Real"
"Transcending Agony"
"Grief's Greatest Hits"
"My Sad Life in a Song"
"Aching and Yearning"
"Tearful Tears of Joy"
"The Ballad of Broken Dreams"
"The Melodrama of Memories Lost"
"The Fading Echoes of Yesterday's Pain"
"The Unfortunate Reality"
24." An Ode to Loss"
"The Price of Love"
"A Desolate State of Mind"
"Sorrowful Reflections"
"Tales of Woe"
"Unrequited Love Story"
"Loneliness in a Crowded Room"
"Reasons to Live Another Day"
"Cold Comfort Songs"
Funny Names For An Emo Playlist
Whether you're a fan of My Chemical Romance, Fall Out Boy, or Paramore, an emo playlist is the perfect way to express your love for the genre.
But one of the best parts of creating a playlist is creating a creative and unique name.
Here are 20+ funny playlist names for emo music that will make you smile:
Don't Stop Believin' in Emo Music
Emotional Rollercoaster
Mosh Pits and Melancholy
Breakup Songs to Cry To
Let's Mope Together
Emos Are People Too
It's All About the Angst
The Dark Nights of Our Souls
Headbanging and Heartbreaking
The Saddest Songs in the World
All the Small Things That Make You Cry
Unrequited Love and Unrequited Hugs
I Wanna Be Alone Forever… And Other Lyrics
Welcome to My Emotional Turmoil
The Best of Emo Bands from A-Z
Emo Can Be Fun Too!
I Might Just Snap Any Minute Now…
Not All Tears Have to Be Sad Ones
We Can Mourn Together in Harmony
Unconditional Angst: A Collection of Emo Tracks
Hey, Hey, We're All Just Trying to Survive Here!
Don't Worry, Be Emo!
Just Because It's Sad Doesn't Mean It Can't Rock!
Put on Your Black Eyeliner and Dance!
Conclusion
It is not easy to come up with the perfect emo playlist moniker. Still, we hope that this list of names for an emo playlist has provided you with some great ideas.
Whether you are creating a new playlist or changing the name of your existing one, it is important to choose a name that speaks to you and reflects your music tastes.
Keep in mind that even if none of these pre-existing ideas work for you, there are many more tricks and tips on coming up with your own awesome emo playlist names!
Related Posts