With perhaps the most famous laugh of all time and ears that could give dumbo a run for his money, the Hyena is one of the absolute coolest African animals.
Hyenas are interestingly one of the few Feliformia carnivores (which means they are part of the cat family) while looking more like a dog.
Unlike most other members of the big cat, family Hyenas prefer to hunt and operate in groups and use their uniquely quirky laugh as a method of communicating.
It is no wonder that there is such a big desire to name these funny creatures – whether you have just picked up a brand new stuffed animal or are currently on Safari in Africa.
Hyenas have played a big part in African folklore and have been a huge part of the African Ecosystem for hundreds, if not thousands, of years.
They have even made it into modern western culture through mediums such as The Lion King, one of Disney's most popular fables.
Here are 175 super cool names for hyenas:
Best Hyena Names
Mutt
Pup – They may be felines but they still look pretty darn close to puppies when newborn.
Fox
Dingo – Dingoes and hyenas are very similar in a lot of ways such as pack mentality and hunting styles.
Lobo
Pooch
Spot – The spotted hyena is the most common
Brownie – The brown hyena is a subspecies of hyena that is found in Central Africa.
Crocuta – The Spotted Hyena Crocuta Crocuta is the quintessential laughing hyena that we would all know on sight, or sound, immediately.
Bongo – While many people think bongos originated in Africa they are actually of Cuban descent (but that doesn't mean it isn't still a great name for your hyena!)
Banjo
Muttsy – The female version of a mutt?
Cackle – After their Cackley laughter.
Roar – Hyenas do not roar they instead bark or laugh.
Solstice
Derek – Named after one of the main characters in the rebooted Teen Wolf series.
Avi
Frosty
Snow Cone – It gets pretty darn hot where they live they may appreciate a snow cone!
Spaghetti
Hooper
Beanie – Named after the hat. Why? Because don't you think hyenas would wear hats if they could?
Darren
Paris – Fun fact, less than 1% of Hyenas have ever been to Paris on holiday!
Eric
Otto – Otto is a male name that often means prosperity or wealth.
Pine Nut
Tofu – There are very few tofu-eating hyenas about – maybe you could start a trend?
Tommy
Bluey
Harley – Named after the infamous Harley Quinn and her two pet Hyenas.
Joker – Harley's boyfriend, and, a particularly great name for these giggling goofballs.
Bunny
Matty
Jeremy – Little known fact – Jeremy Clarkson can outdrive a hyena but he can't outrun them!
Aang
Ozai
Iroh – An always laughing and good-natured character from Avatar the Last Airbender.
Brock
Puffin
Speedy – Hyenas are pretty darn quick they can get up to 64 km/h on a good day!
Afrikaans – Named after the South African language.
Nelson
Fufu – Named after a delicious West African dough that has since made its way across the world.
Boba Fett – The feared Star Wars bounty hunter, most hyena species could give him a run for his money though!
Mahi
Crunch – A hyena's second favorite noise whilst eating.
Crinkle
Pretzel – A salty treat for sun-kissed hyena (don't really feed hyenas pretzels!)
He-He
Names For A Female Hyena
Willow
Ivy
Savannah – Perfect for a hyena hanging out in the African wilderness, don't you think?
Piper – A nice female name that also plays on the loud whining that hyenas make, kind of like bagpipes, don't you think?
Mayo
Baobab – Named after the famous African Baobab trees that are almost as wide as they are tall!
Vachellia – The incredible Vachellia Tortilis trees provide shade and sanctuary to the hyenas of the African Plains.
Maru
Arizona – Arizona would be a pretty good climate for the Hyena, they would probably be quite happy there.
Maisie
Cookie – A sweet name for a sweet girl.
Nicola – A name meaning victory.
Anna – Her name means grace – of Hebrew origin and most suitable for a dignified hyena, perhaps the pack leader (hyena packs are female-led)
Jemima – Named after Beatrix Potter Jemima Puddle Duck.
Anu – A Sumerian name meaning heavenly.
Names For A Male Hyena
Arthur – King of the round table.
Merlin – Wizard of Arthur's court.
Wally – Where's Wally?
Waldo – Who came first, Wally or Waldo?
Joe – "King" of comedy.
Jimmy – Named after Jimmy Carr and his iconic laugh.
Milo
Buddy – What better name for your new best friend than buddy?
Nestle
Winston
Kobe – Kobe Bryant – The Black Mamba.
Boomer
Gunner – A great name for these expert hunters.
Marshall
Echo – Named after the chorus of hyena howls and laughter.
Unisex Names For Hyenas
North – Made famous by Kim and Kanye
Honor
Lux – An illuminating choice of name.
Frankie – Could be short for Frank or Francesca.
Cleo
Sammie – Samuel, Sam, or Samantha
Jamie – Jamie is one of the most popular gender-neutral baby names of 2022
Robbie – Could be short for Rob or Robin
Noel – An especially Christmassy choice.
Casey – Watchful or vigilant. This is a huge aspect of being a pack animal like the hyena and is a great name for a particularly protective feline.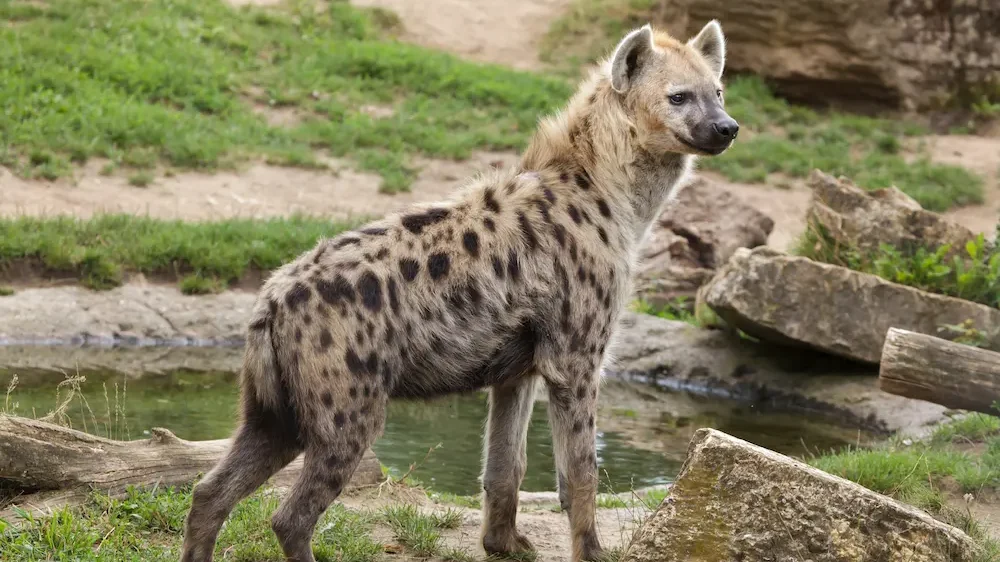 Cute Hyena Names
Honey – Sweet like honey.
Maple
Candy
Floofer – Only suitable for extra fluffy hyenas.
Huggle – You probably shouldn't cuddle a hyena, but we know you want to!
Bella – Meaning beautiful
Freya – A Norse Goddess as well as a cute name for a hyena.
Ada
Annie – Annie is a lovely name that means grace or favor.
Elise – Meaning a promise – you promising to love your hyena no matter what!
Good Names For Hyenas
Buena – Name meaning good.
Felix – Name meaning luck.
Goody – A bit on the nose!
Adelaide – Germanic name meaning noble and kind
Mercy – Mercy is kind, just, and fair – as you would expect.
Liam
Olivia
Elijah
Claus – Santa Claus is about as good as it gets.
Damon
Funny Names For Hyenas
Stripe – Because hyenas only have spots.
Pooch
Stinky – let's be honest they probably don't smell the best, even when domesticated.
Veggie – They are certainly not vegetarians.
Grouchy – For a grumpy old hyena this one would be perfect.
Giggles – This one needs no explanation -The Hyena laugh is pretty recognizable!
Hy-zilla – Godzilla but for hyenas.
Hyena Potter – Bonus points if your hyena has a lightning bolt scar.
Mango – Mangos are very common in Africa and are occasionally a part of the hyena's diet.
Elmo – Everyone's favorite character from Sesame Street
Cool Names For Hyenas
August – A nice autumnal name for a brown hyena.
Caesar
Gus
Goose – A top gun favorite.
Bomb
Chiller – For an especially cool hyena.
Dallas
Buck
Ashe
Karma – The mystic force of balance and justice.
Unique Names For Pet Hyenas
Grubbins – For a particularly messy hyena!
Rolo – Like the chocolate.
Oric
Flap – Because of their flappy ears.
Bumba – Central African God who vomited into the universe creating the sun.
Nana – A goddess representing motherhood (A good choice for a mother Hyena!).
Obata – A goddess of compassion and understanding.
Shango
Yemaya
Ogun – West African God of war.
Mythical Names For A Hyena
Bouda – Members of the Bouda tribe can supposedly transform into hyenas.
Werehyena – In Mansoa werehyenas are hunted before they can transform back into a person.
Cerberus – Guarded the underworld.
Mauthe – The spirit dog of Peel Castle.
Okuri-Inu – Demon Dog of Japan.
Cadejo – A spirit dog.
Tiangou – A flying dog who once ate the sun.
Geri – Norse wolf of mythology who accompanies Odin.
Freki – Norse wolf of mythology who accompanies Odin.
Anubis – Egyptian god of death
Famous Hyena Names In Movies
Nne – From the Lion Guard.
Madoa – From Lions of the Outlands.
Prince Nevarah – From Talespin.
Kamari – Keegan Michaels Hyena in the Lion King.
Wema – Hyena from the Lion Guard (Ideal for a young hyena).
Disney Hyena Names
Shenzi – From the Lion King.
Banzai – From the Lion King.
Ed – From the Lion King.
Azizi – From the new Lion King.
Basho – From the Lion King Screenplay.
Cheezi -From the Lion King return of the roar.
Chungu – From the Lion Guard.
Haya – From the Lion Guard (Perfect for a shy Hyena!).
Janja – The main villain from the Lion Guard.
Jasiri – Hyena from the lion guard who is well known for his spot.
Cartoon Hyena Names
Bud – Harley Quinn's Hyena.
Lou – Harley Quinn's Hyena.
Sydney – From Aladdin.
Tabaqui – From the Jungle Book 2.
Haida – A Hyena on Sanrio (anime).
Hardy Har Har – Partner in crime with Lippy the Lion.
Harry – Harry the hyena from Phineas and Ferb.
Zig – From Zig and Sharko.
Ogopa – A funny and quirky hyena in The Lion Guard.
Mjomba – An aardwolf hyena who lives in the pride lands in the Lion King.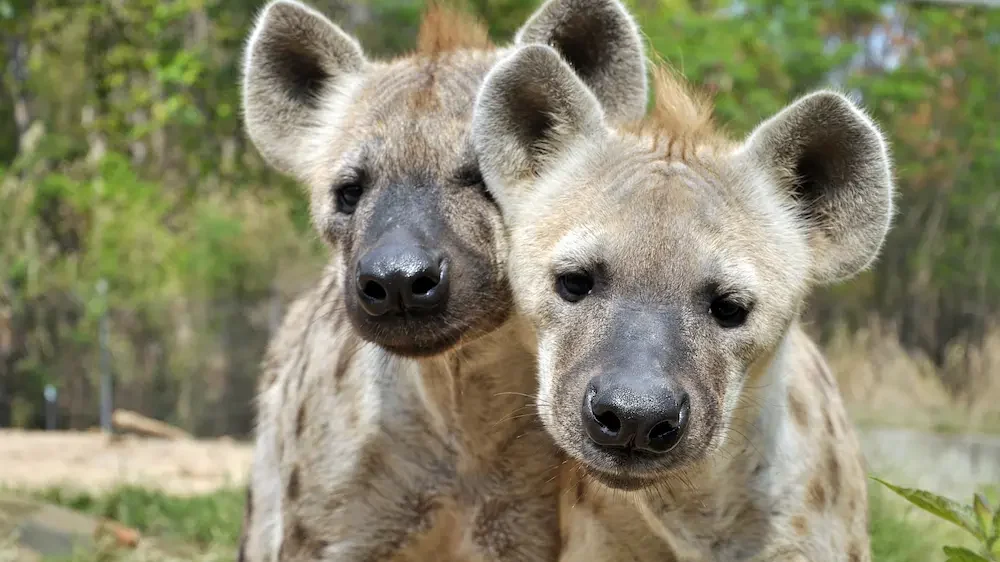 Name Inspiration
As you can probably tell a huge amount of the inspiration for these names comes from a blend of African culture and feline characteristics.
Hyenas are by nature smart and brave creatures.
They are very family oriented preferring to live in "clans" with as many as 80 hyenas living in one group.
They are witty and cunning which many of these names aim to reflect.
Help Choosing The Perfect Name
Hyena seems to have far more of a personality compared to many other big cats, except perhaps lions, as they operate in groups there is more opportunity to see those personal characteristics shine.
Maybe your hyena is shy and likes to avoid the bulk of the group and needs a name that reflects that.
Or, perhaps they are energetic and playful and deserve a bold and confident name.
Or, maybe, your hyena is a real goofball and spends far too much time performing that easily recognizable laughter and deserves a funny name to go along with their funny personality!
Conclusion
Hopefully, this article has helped you find the exact name for your furry little friend.
This list has close links to Africa and many of the stories surrounding the Hyena throughout their history, hopefully, that will help you find a name that you feel has a real connection to your hyena and that they (and you) can be proud of.
FAQs
what is the name of the hyena in lion king?
There are three main, named, Hyenas in the Lion King. They are named Shenzi, Banzai, and Ed.
Part of the reason these Hyenas are so popular and well known is that they are played by three amazing actors: Whoopi Goldberg, Cheech Marin, and Jim Cummings respectively.
In the new 2019 Lion King, the only hyena that made the cut is Shenzi who is now played by Florence Kasumba.
Another important Hyena in the new Lion King is Azizi played by Eric Andre.
what are Harley Quinn's hyenas' names?
Harley Quinn, the infamous Batman Villain, has two pet hyenas named Bud and Lou.
Her Hyenas were once inhabitants of Gotham Zoo but Harley decided they would be better off with her and she proceeded to break them out.
They were the first two members of her gang once she decided to go solo without the Joker and his other accomplices.
Related Posts