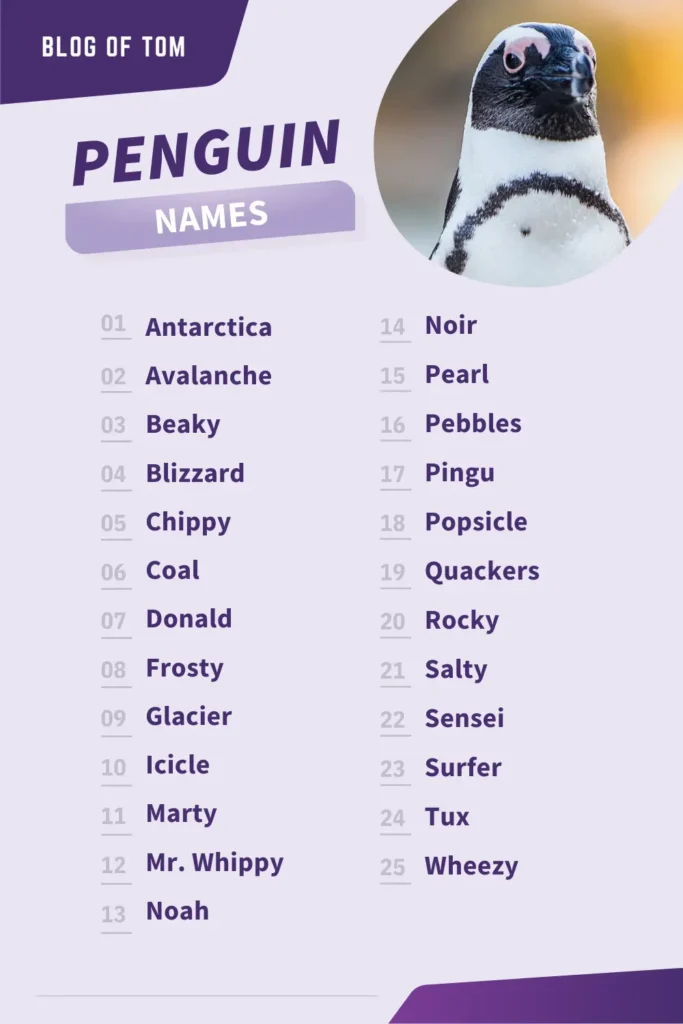 Do you have a new penguin at your zoo?
Or maybe you just got a new cuddly toy penguin!
Whatever the case, you need a name for your new penguin friend.
Here are over 200 perfect male and female names to choose from, ranging from cute and funny to cool and badass.
So whatever your naming style, there's sure to be a perfect name for your penguin pal.
Let's dive in.
Best Penguin Names
Pingu – How could it not be number one?
Antarctica
Arwin
Zack – Zack is a biblical name that means laughter. And after all, aren't penguins one of the funnier animals to watch jump around?
Cody
Carrie
Mosby
London – Did you know that London Tipton was chosen as a play on Paris Hilton, in the Suite Life of Zack and Cody?
Ashley
Maddie
Brenda
Song
Debbie – Funnily, Debbie literally means "the bee". D-Bee.
Ryan
Bailey
Hayden
Christian
Ewan – Ewan McGregor, who plays Obi-Wan Kenobi has a brother in the Royal Airforce whose call sign is "Obi-Two".
Anakin
Lucas
Toothy
Brainfreeze – There is nothing worse than gulping down a slushy drink on a hot day and having your brain explode with needles of pain because your drink is too cold. Why does this happen!?
Popper – Popper the penguin just rolls off the tongue, it's no wonder it's a good naming option.
Anna
Skander
Billiard
Barnie – Barnie is interestingly a German name and it means bravery. Barnie the Brave sounds pretty good for a somewhat lacking in shyness penguin.
Georgie
Tilda – Tilda is a German name that means Strength in battle. A good name for a warrior penguin. Or maybe a biker penguin. It's up to you.
Poulter
Kevin
Rusty
Vi
Beaver – Beavers are the Canadian cousins of penguins despite sharing no characteristics and being from a completely different genus, it just feels like it should be right, you know?
Chuck
Willard
Carol
April
Ronald
Tim
Geoffrey
Bernadette
Howard
Sheldon
Raj
Rupert – After the filming of Harry Potter was completed, Rupert Grint purchased an ice cream van and spent his free time giving out ice cream to people. This sounds like something a penguin would do, doesn't it?
Issacs
Gilderoy
Watson
Wolfgang
Chef
Tux
Names For Female Penguins
Looking for some awesome names for female penguins?
Here are some ideas to choose from:
Lisa
Janie
Marge – Marge, from Marjorie, which in turn comes from Margaret, is a medieval English name that means Pearl.
Lucy
Susan
Nellie
Leah
Holly – Holly is an old English name that means "like a dove" or refers to the Holly Tree. This is a great name for a penguin with a particular affection for all things Christmassy.
Jannice
Maggie
May
Misty – A good name for a penguin who likes to rise early and enjoy the early morning mist with a nice cup of coffee.
Vixen
Ellie
Peaches
Names For Male Penguins
Woody – Named after Woody the Woodpecker.
Chilly – Chilly Willy the penguin in Woody the Woodpecker.
Edmund
Aslan
Thomas – Thomas was one of the twelve apostles of Jesus, the name is of Hebrew origin.
Chris
Bryan
Glenn – Glen is a lovely name that means valley.
Joe
Lenny
Carl – Carl means "free man" and is an ancient Norse name that even belonged to many Swedish kings.
Moe
Seymour
Abe
Mr. Stevens – For a particularly dignified penguin.
Chilly Willy
Cody Maverick
Unisex Names For Pet Penguins
If you are in need of a name that can go either way, male or female, here are some unisex names that would be perfect for your pet penguin:
Jamie
Sam – Samuel or Samantha, it could be either.
Jay
Ray – Raymond or Rachel, you'll never know.
Toast – Toast is probably the most genderless name you could ask for. Just don't give it to a gluten-free penguin.
Waddles – Penguins don't waddle by necessity, they do it because they know it makes them look super cute.
Narnia
Artic
Milkshake
Cute Penguin Names
Here are some cute names for a penguin:
Pebbles
BamBam
Rocky
Kiwi – Which came first kiwi the bird or the kiwi the fruit?
Plumb
Jammy – Short for Jammy Dodger, an elite biscuit that penguins like to dunk in their tea.
Ginny
Selma
Patty
Marge
Good Names For Penguins
Butterscotch
Banner
Kick-Flip – Flipper might be a little too basic. But what about kick-flip? Who says penguins can't skateboard?
Ice-pop
Popsicle
Glacier
Avalanche
Aussie
Surfer
Flightless
Funny Names For A Penguin
Hopper
Glider
Chippy
Kuzco – For an emperor penguin, after the Emperor's New Groove.
Oreo
Zebra
Marty – Named after Marty the Zebra in Madagascar.
Otter – The penguins in Avatar the Last Airbender are Otter-Penguins, a penguin-otter hybrid.
Fish breath
Salty
Cool Names For Penguins
Chiller
Blitzle
Blizzard
Snow cone – Would an Arctic Snow cone business be the lowest startup cost business for a good "side hustle" for penguins looking to make a little more cash?
Frosty
Icicle
Mr. Whippy – Penguins will only order a Mr. Whippy if it comes with a flake. No sauce. They are quite particular about this.
Pipa
Coal – A good name for a penguin with a jet-black coal coat.
Two-Tone – Are all penguins black with a white tummy or white with a black back?
Unique Names For A Penguin
Bobo
Calypso – Calypso could be a reference to the ancient greek sea nymph who "imprisoned" Odysseus on her island in Homer's much-preferred Odyssey. Or, it could be a reference to the cheap ice pops. It's your choice.
Hula-Hoop
Tango-Ice-Blast – This seems like a good choice for an incredibly energetic and daredevil-Esque penguin who likes to live life on the edge.
Tropical Breeze
Zazu – From the Lion King.
Bluey
Beaky – This could be a nuanced link to Buckbeak, who went by beaky, in Harry Potter. Or could it be because penguins have beaks? Maybe.
Quackery
Donald Duck
Famous Penguin Names From Movies
Many people love penguins because of how they are often portrayed in popular media.
Here are some famous penguin monikers from movies that you could name your own pet after:
Irwin – Irwin the penguin was featured in Timon And Pumbaa.
Gloria Estefan – Gloria is a baby penguin in The Muppets.
Waiters – Penguin waiters served Mary Poppins and sang Jolly Holiday.
Peter – Peter is a brave penguin who desperately wants to impress Polly.
Polly – Polly is a shy penguin who is hounded by Peter.
Pearl – From Jake and the Never Land Pirates.
Percy – From Jake and the Never Land Pirates.
Cody – Cody Maverick from the film Surf's up.
Noah – The elder penguin in Happy Feet.
Norma – Norma is Mumble's mother in Happy Feet and is also in Happy Feet 2 (thankfully!)
Names Of Cartoon Penguins
Bambadee – The mascot for Club Penguin.
Billy bob – A famous Club Penguin Moderator.
Puck – Puck the penguin visits Bear in Bear and the Big Blue House.
Bowtie – Bowtie is Mirandos' pet penguin in Miles from Tomorrowland.
Sensei – Sensei is an old Master in Club Penguin who teaches Card-Jitsu.
Rookie – The penguin named Rookie is the Club Penguin Public Relations Officer.
Rockhopper – The Club Penguin Pirate club leader.
Pinguino – The leader of all the penguins in the Lion Guard animated movie series.
Prince – The prince penguin who ruled in Mickey Mouse adventures made three appearances.
Gary – Gary the Gadget Guy from Club Penguin helped penguins invent unique and interesting devices.
Disney Penguin Names
Wheezy – From Toy Story, Andy's mum tries to throw him out but the other toys rescue him.
Baby – Baby Penguin was a grumpy little penguin in Little Mermaid 2.
Pablo – From the film Cold Blooded Penguin.
Caballeros – The Group of penguins who like to swim and fish without Pablo.
Pip – From the Disney Series T.O.T.S
Mr. Jeepers – From Super Robot Monkey Team.
Skittles – From DuckTales.
Waddly – From the Disney Junior series Doc McStuffins.
Tootsie – Tootsie was Donald Duck's penguin who enjoys eating his pet tropical fish!
Summer – Summer the penguin was a minor character in the reboot of Muppet Babies.
Names For Emperor Penguins
Ferdinand – Emperor of Austria.
Montezuma – Ruler of the Aztec empire for 20 years.
Pedro – Emperor of Brazil
Anastasius – Byzantine emperor 1500 years ago!
Constantine – The last Byzantine emperor.
Jingdi – Emperor of the Han Dynasty.
Napoleon – Perhaps the most famous emperor of them all.
William – Emperor of Germany.
Charlemagne – Emperor of the Holy Roman Empire.
Nero – Roman Emperor for 14 years.
Penguin Names That Start With P
Pantomime – Penguins are notoriously bad pantomime goers. Largely because of their affinity to throw fish onto the stage.
Petunia
Parvati
Pooh or Pooh Bear – A penguin named after Winnie the Pooh seems like a good choice since they are both cuddly and adorable.
Piglet
Persephone – Persephone was the goddess of the underworld and the wife of Hades. When she visited Olympus she would bring the season for Spring with her.
Pringles
Pierre
Pritt-stick – When penguins do their arts and crafts and penguin pre-school they almost exclusively use Pritt-Stick as their gluestick of choice.
Parker
Paisley
Peyton – Peyton was once a popular English surname before being adopted as a first name, especially in America.
Patty
Pongo – Pongo, not to be confused with the Bongo, is a drum made entirely of snow that penguins miraculously invented to improve their campfire songs.
Parsley
Phineas
Perry
Paris
Patricio
Pierson
Name Inspiration
Penguins, while not unique to any one culture, have not as strong an impact on mythology and powerful creatures of lore partially because they are simply not scary.
Partially, because they tend to be very localized to certain areas of the globe.
That is why many of the naming inspirations have come from countries that penguins naturally inhabit such as Chile, Argentina, Australia, and of course – Antarctica.
I'm sure you will have noticed that many of the names have stemmed from cultural origins such as the penguin's unwavering connection to winter, Christmas, and the holidays – despite having large populations in countries without a reputation for snow!
Help Choosing The Perfect Name
Choosing the perfect name is not easy. When it comes to penguins, the task can be even harder.
Sure, you can go the traditional penguin route and name your new bird buddy something classic like "flipper".
But, what if your penguin prefers something a little more unique?
Something that really pops and is not going to be found anywhere else.
That's where this list truly shines whether you are looking for something with a little bit of pop-culture flair or are looking for a good name steeped in history, this list has got your back.
Here are a few tips to help you choose the best name for your new penguin friend:
Consider your penguin's personality – Is your penguin playful and fun-loving? Or is your penguin more reserved and regal? Naming your penguin something that reflects its personality will make it easier for you to connect with them.
Do some research – What is the origin of your penguin's species? Where do they come from? Naming your penguin something that pays homage to its origins is a great way to show them some love.
Have fun with it! – At the end of the day, the most important thing is that you and your penguin are happy with the name. So, don't take it too seriously, and have fun with it!
Conclusion
Hopefully, by now you have scoured what this list has to offer and have come up with a definitive name to rule all penguin monikers.
How hard can it be, there are only 200 to choose from?
If you are still struggling to find a name that you feel is just right, why don't you try looking into the history of the penguin a bit more? Who discovered them? Where has the penguin cropped up unwittingly throughout our history and made a significant impact?
Despite what you may think, Happy Feet was NOT the most culturally impactful event in all of human-penguin relations.
Good luck on your quest for the perfect penguin name.
FAQs
What are the penguins' names in Madagascar?
There are four iconic penguins in Madagascar who deservedly ended up with their own series!
There is the boss, Skipper, who is often using his binoculars.
As well as Skipper, we have Rico, Private, and Kowalski.
What is the penguin called in Happy Feet?
There are hundreds of adorable penguins in Happy Feet.
The protagonist and here of our story is Mumble, who is a tap dancing penguin who struggles to sing and elects to instead, you guessed it, Mumble.
What is the penguin's name in Toy Story?
Wheezy is the tired old penguin in Toy Story who Andy's mum tries to throw out with some of his other old and "unwanted" toys.
What is the penguin's name in Wallace and Gromit?
The evil penguin in Wallace and Gromit's "The Wrong Trousers" is called Feathers McGraw.
Related Posts