If you have somehow managed to convince a lovely, raucous, raccoon to move into your home you are likely looking for raccoon names right about now!
Raccoons, affectionally known as trash pandas, are some of the sweetest little devils you will ever meet.
Luckily for you, there is ample evidence that raccoons do make suitable house guests, with a little training. It is important that you understand the raccoon's social needs as well as its food needs before you really commit to being roomies.
If you are confident in your raccoon reining skills then, by all means, let's jump into the fun bit. Finding the right name! This article has over 180 good raccoon monikers to choose from offering good, cute, and funny naming ideas.
Let's dive in.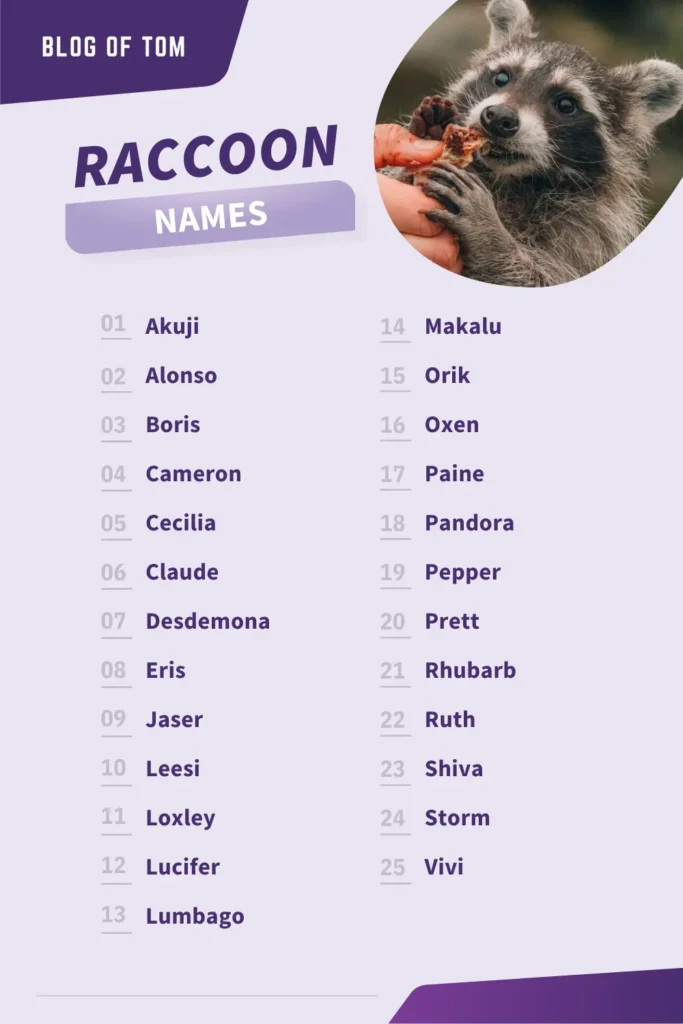 Best Raccoon Names
Pepper – By Barbara Leonard Reynolds, the lovely story of an adopted raccoon!
Rhys
Loxley
Oxen
Pyro – Meaning fire, from the greek word Pyr.
Weylin
Akuji
Jaser – A name meaning fearless.
Alonso
Eris
Rebel – Because all raccoons are little rebels at heart.
Blaise
Abhey
Binah
Tempest – Tempest like the storm. This is pretty accurate for what it is like when raccoons go through your outside garbage can.
Mala
Kaylus
Makalu – Nepalese mountain that is almost 28,000 feet high. Only three raccoons have ever attempted such an extreme climb.
Prett
Boris
Leesi – An African name that means bad or naughty woman. Perfect for a naughty little raccoon.
Desdemona
Kolohe
Cameron
Vivi – Vivi is a Latin name that means lively or alive. Raccoons are pretty darn lively, wouldn't you say?
Sujah
Aiden
Mort
Lucifer – A great name for a particularly menacing raccoon.
Pandora
Phobus
Keres – A greek name that means evil spirits. Good for a, not quite evil, raccoon.
Paine
Rogue
Striker
Shiva – Shiva is one of the most common remaining Sanskrit names and it means lucky and pure.
Storm
Samael
Ubel
Orik
Wolf
Alice
Briar
Cecilia
Ruth
Rhubarb
Rudega
Lumbago
Claude – A French name meaning strong-willed.
Claudia
Female Raccoon Names
Riley
Ryder -A name that means horsemen or rider. Can raccoons ride horses? Maybe?
Ryker
Rose – I think this name has something to do with flowers. Or flour? I can't remember.
Rosie
Rory – Named after Rory Gilmore. The objectively worst character in Gilmore girls.
Roberta
Rochette
Rochdale
Robetta – Means humanitarian and generous.
Robelle
Ricky – A good name for a guy, girl, or raccoon of any gender.
Reta – A Greek name that means shaken. It is also a common name in Germany and other Saxon languages.
Reeda
Rhiane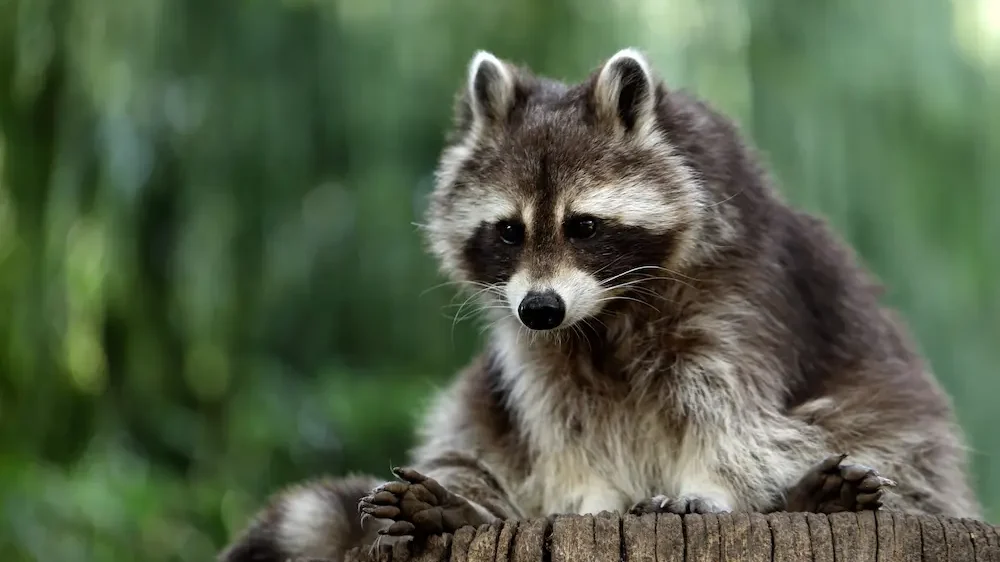 Male Raccoon Names
Riley
Ryan – Ryan means little king in Gaelic. Perfect for a raccoon.
Roman
Remi – A sweet name that means remedy or cure. As raccoons are the only known cure for sadness this seems like the perfect choice of name.
Reagan
Rory – Meaning red king in old Irish.
Richard
Remington
Reese – Meaning enthusiasm or fire. Maybe both. Warning! Enthusiasm for fire can be potentially dangerous. So, look out for that.
Randel
Ramone
Rodney
Renton – A lovely name that means the settlement of roe deer. Not super sure how that applies to raccoons but it sure sounds good.
Raoul
Royston – An old Yorkshire name. Raccoons would speak with a northern English accent if they could talk.
Names For A Baby Raccoon
Bubba – The name of a baby person.
Puppy – The name of a baby dog.
Chick – The name of a baby bird.
Squab – The name of a baby pigeon.
Kid – The name of a baby goat.
Kitten – The name of a cat.
Foal – The name of a baby horse.
Calf – The name of a baby cow.
Bunny – The name of a baby rabbit.
Cub – The name of a baby bear.
Unisex Names For Raccoons
River – The only bath raccoons can find.
Oakley – Would an oak tree make a good home for a raccoon?
Willow – Or would a willow tree be better?
Emit – Raccoons emit cuteness.
Gribble – Gribble grumbles raccoons cause trouble.
Spooky – Raccoons celebrate Halloween privately.
Ark – There were between 1-3 raccoons on Noah's Ark.
Apollo 11 – Raccoons helped put men on the moon.
Marathon – The Raccoon's favorite race.
Bicycle
Cute Raccoon Names
Honey – Because they are sweet like honey.
Ruffles – A great name for raccoons who like to ruffle around in the garbage.
Puffin – The raccoon's closest avian cousin.
Leaf-pile – The perfect resting place for a raccoon whos tired.
Cheeky – They are certainly cheeky, no doubt about it!
Mischief – How mischievous is too mischievous?
Naughty – They are naughty little creatures but they are cute, so who cares?
Crook – Sure raccoons may be a little crooked but it's worth it.
Teeny – Good for a baby raccoon.
Pawsome – All raccoons are awesome.
Good Names For Pet Raccoons
Anisa – An Arabic name meaning good-natured.
Buena – Spanish for good or excellent.
Goodwin
Bashir – An Arabic for the one who brings good news.
Evangel – A unisex name that means good news.
Kalman – A German name meaning good reputation.
Jawad – A boy's name meaning generous.
Naveed – A Persian name meaning good news.
Gwenda – A Welsh meaning the good witch.
Yuto – A Japanese name meaning gentle person.
Funny Raccoon Names
Batman – Raccoons kind of look like Batman, don't you think?
Garbage – A raccoon's favorite treat.
Trashcan – A raccoon's favorite place.
Dustbin – The British version of a raccoon's favorite place.
Fly-Tip – Racoons are well known for fly-tipping.
Thief – They're going to steal your heart.
Dustin – It almost sounds like a dustbin (if you aren't willing to lean all the way into calling your pet trash).
Tom Nook – The annoying capitalist raccoon from Animal Crossing.
Timmy – Tom Nook's son.
Tommy – Tom Nook's other son.
Cool Names For Raccoons
Veles – Slavic god of messengers and mischief.
Wisakedjak – Native American god of trouble.
Bandit – A good name for these little thieves.
Trash – From their nickname the trash panda.
Panda – From their nickname the trash panda.
Bonnie – From Bonnie and Clyde.
Clyde – From Clyde and Bonnie.
Connie – A mixup between Bonnie and Clyde.
Blyde – A mashup of Clyde and Bonnie.
Robin – Named after Robin Hood.
Unique Names For Pet Raccoons
Andromalius – The great earl of hell and thievery.
Hermes – The ancient Greek god of thieves.
Shax – An evil horse of thievery.
Anansi – West African god of trickery.
Elegua – West African god of thieves and crossroads.
Eris – Greek god of strife.
Kokopelli – Hopi god of fertility and mischeif.
Laverna – Roman god of cheats and liars.
Loki – The Norse trickster god.
Lugh – Celtic god of deception.
Famous Raccoon Names In Movies
Rascal – From the Disney movie "That Darn Raccoon".
Nut Job – Liam Neeson is known as the "raccoon" in the movie Nut Job.
Lifty – From the Happy Tree Friends.
Joey – From Dr. Dolittle 2 (if you are in need of more talking raccoon content).
RJ – From over the hedge (surprisingly played by Bruce Willis).
Walker – Walker Boone plays Bright Heart in Care Bears.
Sly – Named after Sly Cooper from the series of the same name.
Sparky – From Sparky and Mikaela.
Mikaela – From Sparky and Mikaela
Kassir – John Kassir plays Meeko in Pocahontas.
Disney Raccoon Names
Meeko – From Pocahontas (her animal sidekick and best friend).
Rocket – From Guardians of The Galaxy.
Rocky – From the Incredibles 2.
Ruddiger – The raccoon from the Tangled tv series.
Admiral Evar – The protagonist from Treasure Planet.
Pinch – The youngest raccoon in PB & J Otter.
Sammy – Sammy the raccoon from Country Bear Jamboree.
Wanda – From the series PB & J Otter.
Scootch – In the series PB & J Otter.
Tycoon – From the series Wuzzles.
Cartoon Raccoon Names
Bert – The main character in the cartoon series The Raccoons.
Ralph – From the series The Raccoons.
Cedric – From The Raccoons.
Schaeffer – From The Raccoons.
Broo – From The Raccoons.
Sophia Tutu – From The Raccoons.
Cyril Sneer – From The Raccoons.
Snag – From The Raccoons.
Bentley – From The Raccoons.
Lisa – From The Raccoons.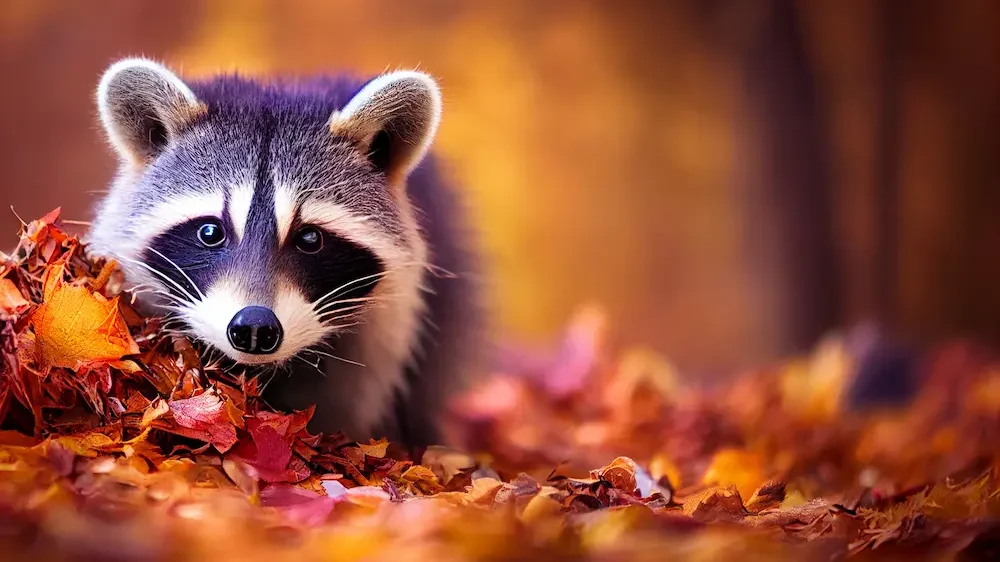 Name Inspiration
Many of the names in this are based around thievery and criminals, but with a cute twist.
The nickname trash panda is so aptly suited to raccoons that there is no good reason their personal names shouldn't follow suit.
Some of the other names in this list come from video games, cartoons, story books, and even a few dips into the mythology world.
Why wouldn't you want to name your raccoon after the god of trickery and thievery? As always, there has to be a link to what makes the raccoon so special, and in this case, it's their cute and naughty nature.
Help Choosing The Perfect Name
If you are in need of a little help finding the perfect name for your trash panda, you have come to the right place.
Finding the right name can be a pretty daunting task! You never want to pick any old name willy-nilly and there are so many darn names out there to choose from you are lucky if you ever get to the bottom of this seemingly endless task.
While this list has hopefully helped a little we have only scratched the surface of potential naming options.
If you are still struggling to put your finger on the right name try diving into your favorite childhood stories and cartoons, that is always a good source of cute and meaningful names.
Conclusion
Hopefully, you have got everything you need to go out there and pick the right name for your new raccoon.
Remember, there is no reason to rush. Being patient and waiting to find the perfect name for your new pet is well worth it.
If you are in need of a few more options feel free to check out the other great naming guides we have here at Blog Of Tom.
Good luck on your naming quest and remember, there is nothing wrong with calling your raccoon Ralph, he just might get laughed at when he visits the dog park for having such a basic name.
FAQs
What is the raccoon's name in Guardians of The Galaxy?
The raccoon in Guardians of The Galaxy is known as Rocket Raccoon in comic books or simply Rocket in the movies.
What is the name of the raccoon in Pocahontas?
Pocahontas's raccoon friend is called Meeko and he is known for being sly and mischievous.
What is the raccoon's name in over the hedge?
The raccoon, main character, and protagonist in over the hedge is called RJ and is played by none other than Bruce Willis.
Related Posts