Tired of searching for creative cabin names? Look no further! This collection offers over 280 unique options, ranging from funny and charming to creepy and delightful.
If you're in need of a name for your log cabin, ski cabin, or lake house – this list has something perfect just waiting for you.
So brew up some hot cocoa and let's dive into the wonderful world of cozy cabins.
Let's dive in!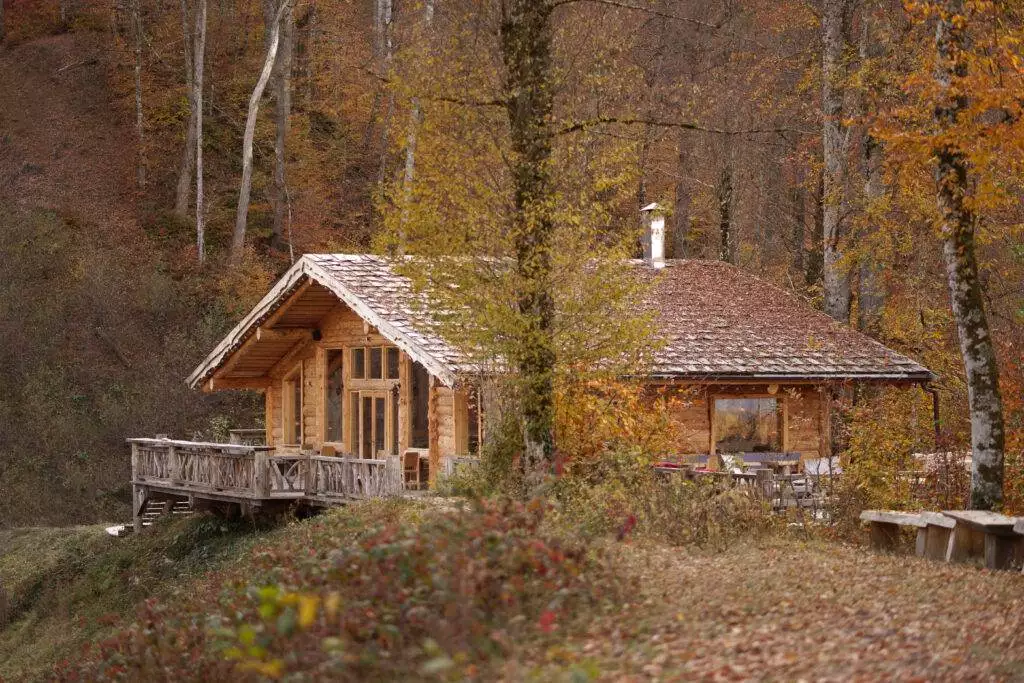 The Best Cabin Name Ideas
Are you searching for the perfect name to christen your cabin? We have collected some of the best suggestions out there.
Choosing the perfect name doesn't have to be hard when you have a list of awesome names ready for picking.
Simply pick and choose the one that speaks most to you. Here are some of our top picks:
The Hideaway
The Lost Paradise
Blue Haven
The Boathouse
The Chalet
Mountain View
Sea Breeze
Lakeside Sanctuary
Moonrise Cabin
The Retreat
Cabin in the Woods
The Tree House
Quiet Cove
The Lazy Nook
Cozy Corner
Sandy Shores
Sunrise Cabin
High Mountain Cabin
Pine Tree Cabin
Moonlight Cabin
Whispering Woods
Rocky Ridge
Mt. View Lodge
Rocky Mountain Cabin
The Log House
The Cottage
Mountain Lake Retreat
Sunrise Lodge
The Den
The Sanctuary
Log Cabin Paradise
Ponderosa Lodge
Lakeside Lodge
River Cabin
The Hideout
Cabin by the Sea
The Beach Shack
The Beach House
The Lake House
The Woodshed
The Stone House
The Bungalow
The Summer House
Riverview Lodge
Mountain Cabin
The Cabin in the Hollow
The Bungalow by the Sea
The Secret Hideaway
Snowy Mountain Retreat
The Mountain Cabin
Unique And Creative Cabin Name Ideas
Searching for a name that will bring joy to not only your family but also those visiting you? Then these names are perfect!
From paying tribute to a special relative of yours or just wanting something that'll have everyone laughing – here's our compilation of unique and one-of-a-kind names for a cabin.
Take a look and see what speaks most loudly to you!
The Lakeside Lodge – An awesome name for a vacation rental home near a lake
Whispering Woods
Pat's Cabin
Log Cabin of Love
Honeymoon Hideaway
Rocky Mountain Retreat
The Cabin at the End of the Road
Cozy Corner
Riverfront Refuge
Bear Pause Cottage
Moose Tracks cabin
The Lakeside Cottage
Sticks and Stones cabin
High Rise Haven
Mountain Bliss – Also makes for a great vacation home in the mountains
Lakefront Getaway
Grandma's Place
Dreamy Den
Quiet Cove
Lost in Paradise
The Bungalow on the Lake
Up River cabin
Sunrise Overlook
Happy Hideaway
Sweet Escape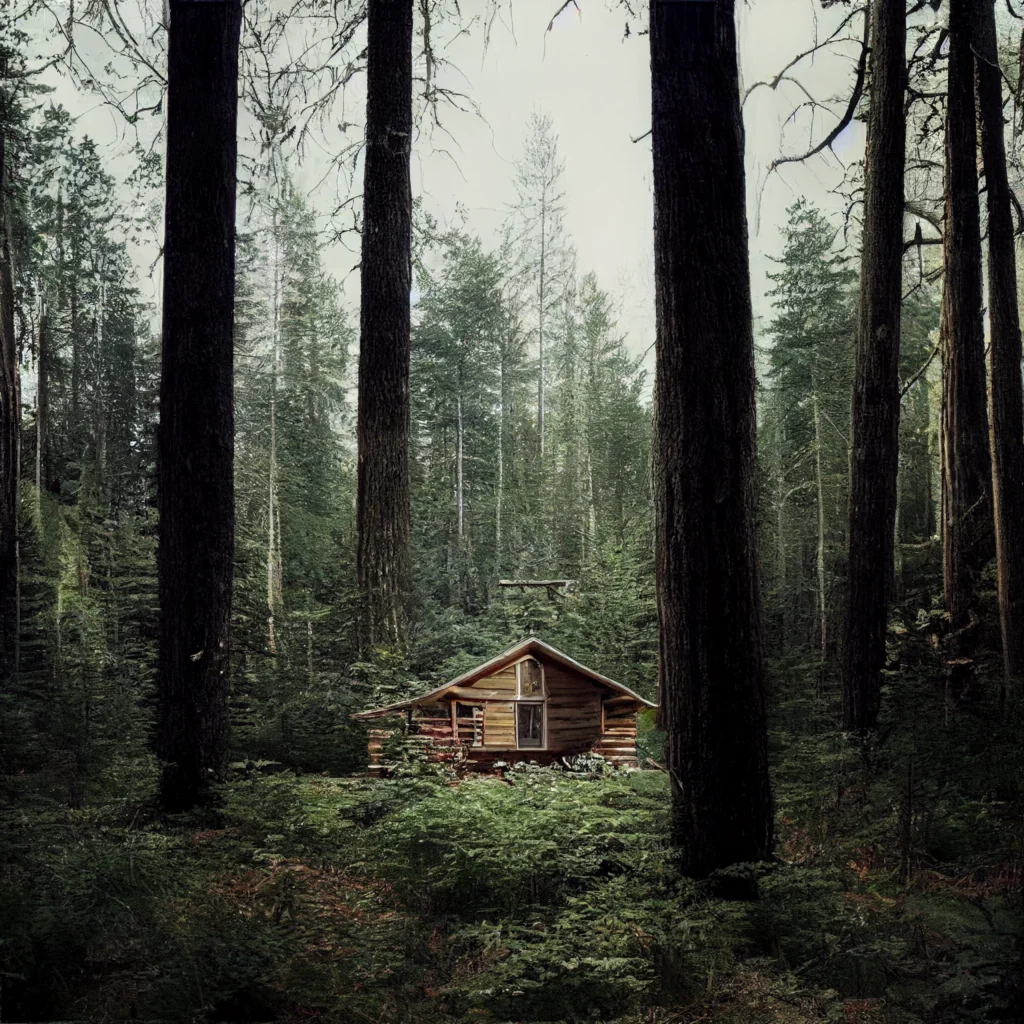 Creepy Names For A Cabin
Give your cabin a spine-tingling twist with one of these terrorizing titles!
These names are sure to send shivers down the spines of both you and your guests – making for an extra creepy experience.
The Hermit's Haven
The Witch's Roost
Shadow Hollow
Ghostwood Cabin
The House of Horrors
Terror Manor
Midnight Mansion
Ghoul Getaway
Spooky Shack
The Witching Well
Cryptic Chalet
The House of Dread
Shadow Hand cabin
Haunted Bayou cabin
Bloodwell cabin
Phantom Ranch cabin
Castle of Doom cabin
Graveyard Lodge cabin
Cemetery Escape cabin
Dungeon Den cabin
Funny Names For A Cabin
If you're searching for an amusing moniker to bestow on your cabin, why not add a little levity?
Here are some side-splitting ideas that will have your family and friends chuckling:
Cabin Fever
Cabin in the Woods
Cabin Campy
The Regal Bear
Log Jam
The All-Knighter
Shacks Ahoy
Knotty Pine Palace
Hootin' Holler
Moose on the Loose
Heaven's Hideaway
Campin' Ain't Easy
The Great Indoors
Home Sweet Log
Bear Bottom
Names For A Lake Cabin
If you're seeking something memorable, creative, and unique for your lake cabin moniker, look no further.
Here are a few options sure to bring joy to the atmosphere of your lakeside oasis:
Paradise Point
Waters Edge
Lakeside Hideaway
Cedar Sunrise
Sunset Serenity
Mountain Vista
Rocky Harbor
Summer Pines
Starlight Retreat
Barking Puffin
Blue Heron Cove
Piney Ridge
Clearwater Cove
Lake Dreams
Morning Mist
Fisherman's Haven
Breezy Knoll
Riverside Refuge
Log Cabin Inn
Lakeview Lodge
Names For A Log Cabin
For centuries, log cabins have been an intrinsic part of the American landscape and a cherished piece of our country's heritage.
If you own one, there is no better way to honor its ancestry than with a creative name that speaks to its storied past.
To help inspire your search for the perfect moniker for your cabin residence, here are 20+ innovative log cabin names:
West End Homestead
Big Timber Lodge
Mountain Haven
Pine Cone Place
Sugar Maple Cottage
Whispering Pines Cabin
Lake Creek Cabin
River Getaway
Bear Creek Hideaway
Mountain Vista Retreat
Hidden Cove
Arrowhead Lodge
Log Cabin Hideaway
Bear's Den
Redwood Retreat
Lakeside Lookout
Wilderness Retreat
Country Haven
Moose Creek Manor
Timber Lodge Inn
Silver Pines
Cedar Creek
Misty Meadow
Rustic Retreat
Names For A Ski Cabin
From cozy little escapes to large group adventures, ski cabins imbue an atmosphere of warmth and fun.
Let these 20+ imaginative names for your mountain retreat be the inspiration you need as you search for a perfect fit!
Chair Lift Valley
Chilly Chutes
Snowy Slopes
Backcountry Banter
Alpine Grove
Avalanche Show
Steeper Slalom
Powdery Peaks
Frosty Freeze
Glacial Glissade
Whiteout Woods
Cutting Corners
Flurry Fortune
Snow Day Sanctuary
Powder Paradise
Wilderness Ways
Windy Ridge
Falling Feather
Freezy Flakes
Icicle Valley
Snowy Summit
Awesome Aisles
Glider's Gulch
Mountain Majesty
Polar Plunge
Rocky Ridge
Crystal Chalet
Winter Wonderland
Icy Palace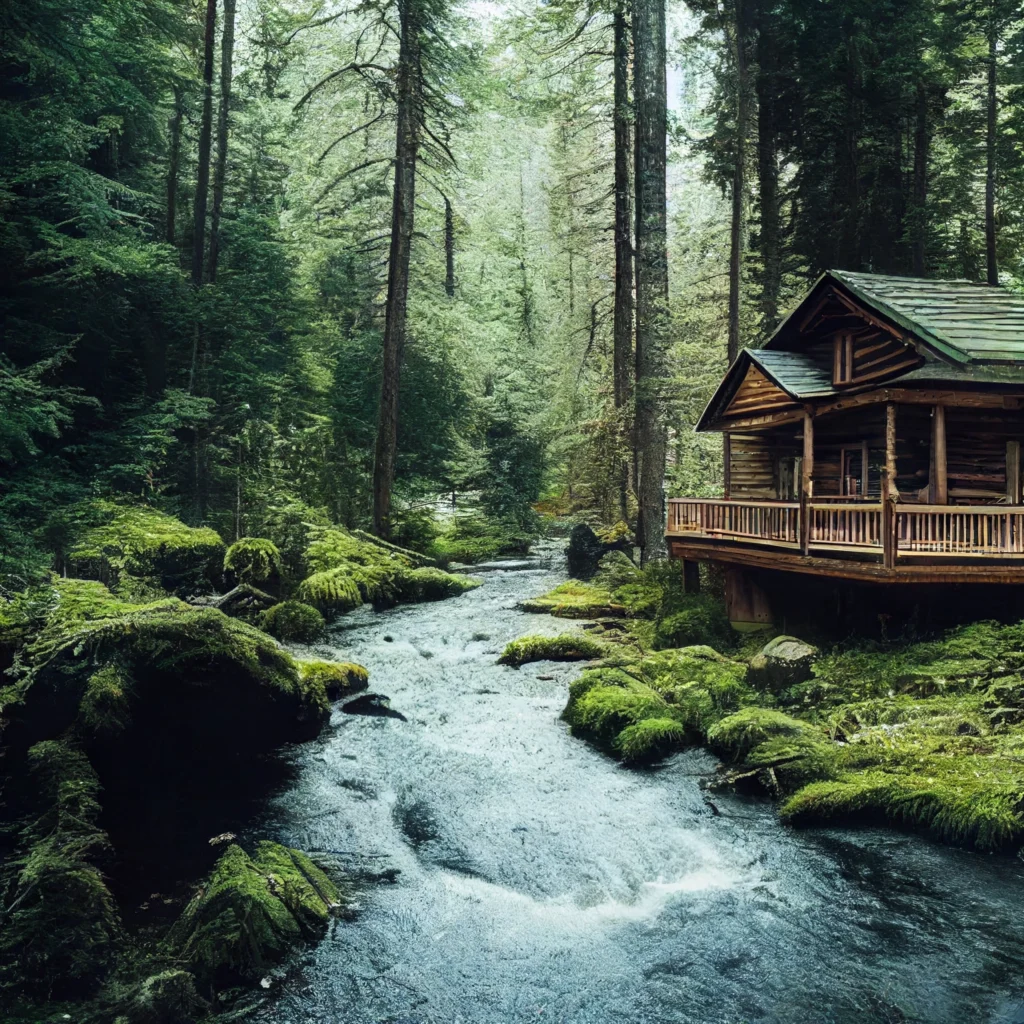 Nature-Themed Names For A Cabin
Are you seeking an imaginative, nature-inspired name for your cabin? If so, these 50+ names should offer the perfect nuance and finesse to your lakeside respite or forest refuge:
Bears' Hideaway
Lizard Lodge
Northern Lights Haven
Brookside Bungalow
The Wolf Den
Elderwood Hill
Foxfire Residence
Mountain Ridge Wayside
Meadow Meadow Meadow
Glacier Gateway
Seagulls Nest
Evening Breeze Cabin
Redwood Retreat
Wildflowers and Streams
Cloudland Oasis
Moonlit Meadow
Sunlit Sanctuary
Willow Windcroft
Dawn's Early Light
Great Pine Place
Wildwood Hideaway
Lakeview Mountain
Sunset Hillside
Hummingbird Retreat
Magnolia Cottage
Summerstar Cabin
Forest Bird Cabin
Pond View Paradise
Woodland Cottage
Moonbeam Haven
Silver fox Hideaway
Deerpath Den
Mountain Home
Stony Creek Cottage
Cresthaven Retreat
Sweetwood Hill
Evening Song Cabin
Rainwind Refuge
Meadow of the Trees
Sunflower Cottage
Evergreen Oaks
Loon Lake Residence
Spring Hollow Cabin
Willow Tree Cabin
Creek Side Cabin
Evergreen Retreat
High Mountain Retreat
Snowy Mountain Home
The Pines Cabin
Rainbow Ridge Lodge
Woodland Chalet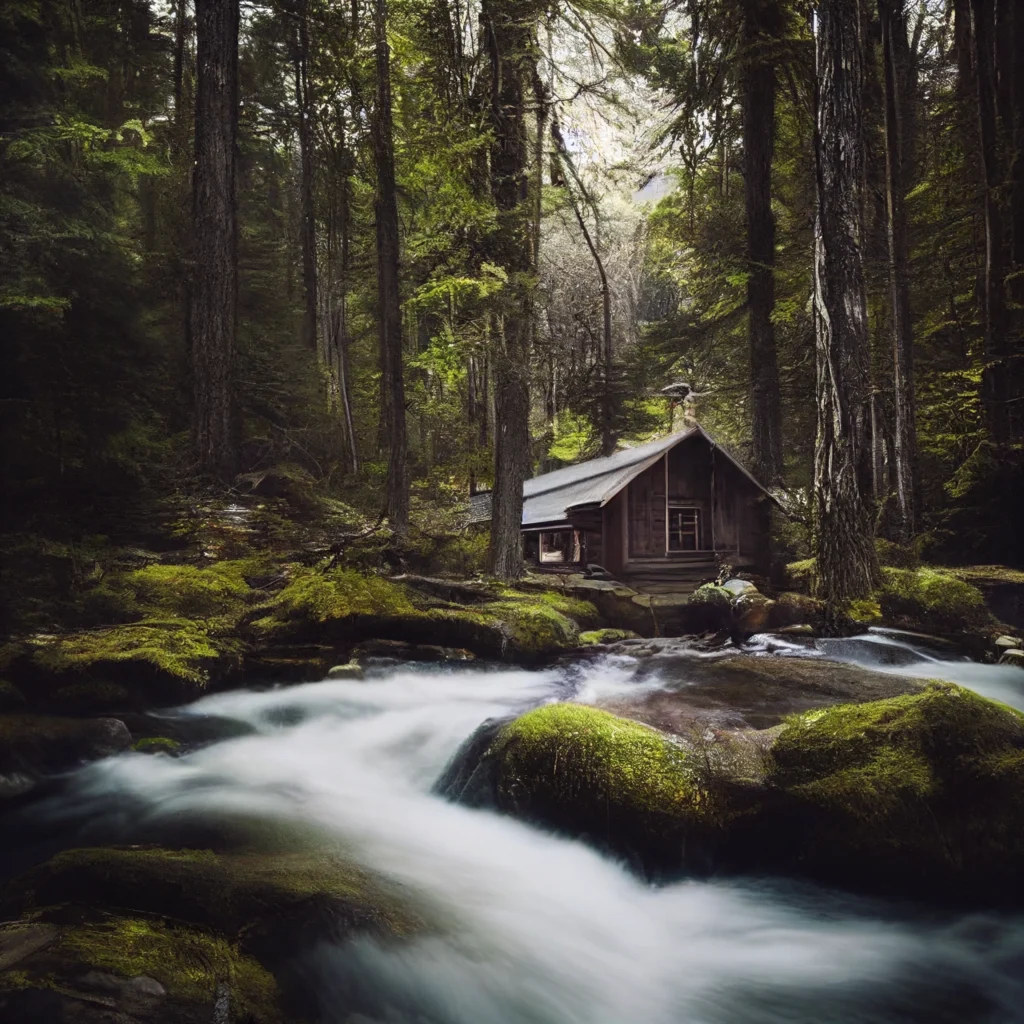 Names Based on Animals
If you're searching for something distinctive and original to name your cabin, then why not find inspiration from some of our furry companions?
We've compiled 50 incredible animal-inspired names for your cabin that are guaranteed to make it stand out from the rest.
Osprey's Nest
Badger Den
Fox Hollow
Bear Lodge
Kingfisher Cove
Hawk Hill
Deer Meadow
Salmon Run
Otter Pond
Eagle's Nest
Moose Ranch
King Cobra Crag
Wild Boar Hideaway
Porcupine Point
Beaver Breeze
Butterfly Ridge
Rabbit Rock
Lion's Lair
Giraffe Glade
Wolf Woods
Tiger Trail
Turtle Tower
Alligator Alley
Rhino Retreat
Cheetah Cottage
Elephant Eddy
Kangaroo Keep
Hippo Hole
Stoat Sanctuary
Raccoon Ridge
Falcon's Flight
Mole Mountain
Squirrel Summit
Penguin Peak
Puffin Park
Sheep Shack
Duck's Dell
Pelican Promenade
owl's Overlook
Skunk Saloon
Opossum Outpost
Hedgehog Haven
Raven Ridge
Coyote Cave
Bat Bungalow
Hawk's Hideout
Foxwood Forest
Badger's Bungalow
Bear's Bothy
Mountain Lion Cabin
Conclusion
With an abundance of creative name ideas for a cabin to choose from, you can find the perfect title for your cabin that is unique and special – be it something humorous or meaningful.
Further, enhance its uniqueness by exploring nature-based or animal-related names!
Once you've decided on a distinctive name, share it with those closest to you and begin creating unforgettable memories in your very own cabin.
If you're still struggling try picking individual words that stand out to you. You can always mix and match words to create a name of your own.
Related Posts