Choosing a name for your new pet can be tricky. It has to be perfect right? When you have a super cute little fluffball, like a pet guinea pig, you'll want to make sure the name matches their looks and their character.
We've compiled several lists of ideas for guinea pig names to give you some inspiration on what to call the newest addition to the family. If you want to get creative and come up with your own, always remember to keep the names personal. If a name reminds you of something happy, your guinea pig will always make you smile.
Our ultimate guide to names for your guinea pig will give you all the inspiration and sparks of creativity you need to pick the perfect name. We've compiled an epic list for all shapes, colors, sizes, and personalities of guinea pigs.
Remember to always have fun with your naming process and you're sure to find the perfect name!
Best Guinea Pig Names
In this list of the best names for your guinea pig, you'll find some of the most popular names.
Basically, anything related to your favorite food or typically adorable name will be perfect for your pet guinea pig!
Minty
Truffle
Hopper
Marshmallow
Seashell
Scurry
Sparkles
Jupiter
Milkshake
Patch
Treacle
Tweedie
Luna
Pepsi
Popcorn
Blossom
Cookie
Pancake
Porkchop
Pearly
Parsnip
Squeaky
Twinkle
Zippy
Lavender
Panda
Smudge
Babe
Honeypot
Midnight
Smokey
Fern
Zappy
Fudge
Porky
Silky
Parsley
Rex
Chunky
Bluebell
Nibbles
Fuzzball
Snowcone
Lightning
Scooter
Sylvester
Snowflake
Twinkie
Sparky
Mudcake
Girl Names For Guinea Pigs
Your little princess needs the perfect name to show off how cute and sassy your girl cavie really is.
These names for female guinea pigs will certainly get your brain working on what to call her. Again, think about anything that makes you smile, your female icons, close friends, or family and you won't go wrong.
Bunny
Felicity
Bettyboo
Venus
Melody
Donna
Bella
Ladybug
Dolly
Trixie
Fluffy
Queenie
Figleaf
Macey
Peggy Lee
Prudence
Kira
Dandelion
Rosebud
Wendy
Pouncy
Minty
Loveheart
Sia
Flora
Athena
Camilla
Tabitha
Nelly
Squish
Jemima
Maggie
Loretta
Delia
Shandy
Rhea
Kiki
Pippie
Lylah
Princess
Cherry Pie
Caroline
Pricilla
Molly
Petal
Lilly
Sprite
Minnie
Elle
Crystal
Victoria
Winnie
Pepper
Starlight
Binxy
Violet
Saturn
Opal
Pushkin
Monica
Cleopatra
Mylie
Petunia
Suzanna
Ella
Precious
Pansy
Poppyseed
Scarlet
Bubbles
Enya
Phoebe
Sophia
Iggy
Porscha
Francs
Esmeralda
Gaga
Sapphire
Coral
Florence
Wilma
Angle
Zara
Vanilla
Freya
Sally
Brie
Beatrix
Flower
Olive
Sahara
Mia
Savannah
Angle Cakes
Betty
Daphne
Binky
Lilly
Ivy
Florence
Marie
Giselle
Lottie
Giselle
Velvet
Ruby
Harriet
Genevieve
Faye
Blush
Rosie
Lizzie
Minnie
Holly
Buttercup
Cecilia
Lucy
Valerie
Willow
Polly
Flopsy
Rachel
Astrid
Tulip
Chica
Rosey
Lady
Petal
Orla
Floof
Pinkie
Mel B
Vera
Hattie
Ophelia
Squeaks
Zelda
Misty
Doris
Poppet
Gemma
Pixie
Raine
Sierra
Diamond
Apple
Kitty
Clementine
Sweetpea
Boy Names For Guinea Pigs
In general, you can have a lot of fun when naming your male guinea pig, but there are some absolutely priceless ones out there for boys.
If you like the look of any of these, you certainly would not be the first!
Russel
Porker
Tigger
Alvin
Fierce
Axell
Bob
Piper
Paparazzi
Benji
Alejandro
Commodore
Calvin
Tiger
Bartholomew
Dorito
Nitro
Shadow
Peter Rabbit
Crackle
Major
Trucker
Pollock
Obelix
Skye
Robin
Texas
Zion
Hopscotch
Donny
Shortbread
Choker
Pirate
Blue
Plumpy
Boulder
Delboy
Espresso
Thunder
Jojo
Tyson
Boris
Scout
Faldo
Scamp
Billy
Hugo
Blackjack
Sammy
Chuck
Smith
Steve
Wallace
Alexander
Max
Firecracker
William
Terrance
Tattoo
Jackson
Bigglesworth
Harry
Trevor
Captain
Pastry
Jack Sparrow
Crackling
Zachoria
Eugene
Wolf
Chandler
Archie
Ricepop
Butler
Joey
Tintin
Oatmeal
Peter
Sentinel
Ken
Mango
Spongebob
Sergeant
Socksy
Bingo
Firework
Piglet
Arthur
Beast
Able
Gerald
Rover
Blaze
Oscar
Stallion
Christopher
Terry
Matador
Tango
Hank
Kane
Butch
Micky
Astroid
Hector
Gandhi
Sinbad
Geoff
Bear
Lebron
Tan
Sherlock
Perry
Crispin
Bobby
Monster
Douglas
Spud
Mr Scrimbles
Trackster
Honkey Tonk
Dozer
Duke
Watson
Rory
Diesel
Tanker
Porkchop
Prince
Norbet
Alvin
Cricky
Jimmy
Winston
Boxer
Colonel
Tiramisu
Monty
Davey
Berty
Trunkster
Pickles
Biggles
Percy
Sully
Flamey
Bugsy
Flick
Xerox
Ollie
Cute Names For Guinea Pigs
There are some guinea pigs out there that are just too darn precious. It would be rude not to call them something equally as cute. After all, you have to remind them of just how special they are.
These names will have you saying "aww" out loud every time you lay eyes on your little bundle of cuteness.
Wirly
Sunflower
Hugsy
Nugget
Fuzzy
Dottie
Cupid
Cottontail
Patootie
Twitch
Sweetiepie
Popsicle
Gumdrop
Teddy
Kissy face
Snowfluff
Millie
Jellybean
Schnookums
Dazzle
Nutmeg
Fluffball
Lucky
Snoopy
Pompom
Hairball
Skittles
Dickie
Bean
Frills
Sunshine
Poodle
Chutchy Face
Jellytot
Snugs
Cuddles
Fifi
Tilly
Froufrou
Fuzzy Wuzzy
Trinket
Cutiepie
Cushy
Bumble
Love muffin
Chipmunk
Snickerdoodle
Muffin
Scrumptious
Piggles
Good Names For Your Pet Guinea Pig
There are some names out there that are only suitable for guinea pigs and nothing else. If you're looking for the perfect fit for any guinea pig, then we've got it for you, right here.
Turvey
Roley
Cranberry
Fiona
Ivy
Rona
Kyoto
Zizzi
Panda
Blondie
Wonton
Mousse
Crumpet
Chatter
Zen
Rodentia
Seringa
Davey Jones
Sicily
Astrid
Acron
Dizzie
Quarantina
Gadget
Peppercorn
Cruella
Ajax
Reed
Mookie
Cortado
Chomper
Friday
Mochiato
Tipsy
Tonner
Mocki
Monkey
Emerald
Destiny
Poley
Topsy
Dimsum
Blackbeard
Bucky
Dallas
Ziggy
Fuzzy
Chonkster
Munch
Boopie
Funny Names For Guinea Pigs
Having fun while choosing the perfect name for your guinea pig is essential. You'll be able to find a great name for your guinea pig no matter what your sense of humor is like.
Remember, if it's funny to you, that's all that matters!
Sherry
Squirt
Tornado
Sloth
King Pig
King Kong
Miss piggy
Wilbur
Animal
Merlin
Gorilla
Glider
Beyonce
Ratty
McEntire
Gumbo
Toupee
Amos
Hampton
Peanut
Precious
Hammy
Puma
Gunner
Goliath
Jasper
Waler
Grandpa
Whirlwind
Stocky
Godzilla
Prawn
Pigsby
Squeaker
Fuzzlement
Tumbleweed
Rumble
Goat
Veg Shredder
Snowpig
Studmuffin
Carnivore
Chubs
Madonna
Slowpoke
Rabbit
Dynamite
Blizzard
Love handle
Ozzy
Names For Boy and Girl Pair Guinea Pigs
If you're lucky enough to have a boy and a girl guinea pig, you're probably tempted to name them as a pair too, and we don't blame you!
Here are some ideas to get the cogs turning.
Mr. and Mrs. Guinea Pig
Basil and Sage
John and Yoko
Posh and Becks
Jesse and James
Cheryl and Dave
Mickey and Minnie
Henry and Catherine
Gin and Tonic
Lilo and Stitch
Bonnie and Clyde
Romeo and Juliet
Didi and Dexter
Jack and Jill
Hansel and Grettle
Names For Girl Pair Guinea Pigs
A pair of girl guinea pigs is probably one of the best combos as it makes for some of the cutest names.
Romy and Michele
Aly and AJ
Kendal and Kylie
Elsa and Anna
Betty and Wilma
Ladybird and Julie
Monica and Rachel
Baby and Sporty
Lorelei and Dorothy
Thelma and Louise
Tia and Tamera
Edi and Patsy
Mary Kate and Ashley
Mariah and Whitney
Venus and Serena
Names For Boy Pair Guinea Pigs
There are so many famous male duos that are perfect to name your pair of boy guinea pigs after.
These are some of our favorites to inspire you into making a perfect choice.
Tic and Tac
Batman and Robin
Nemo and Marlin
Simon and Garfunkle
Bill and Ben
Ronnie and Reggie
Woody and Buzz
Elvis and Presley
Homer and Bart
James and Dean
Fox and Hound
Bert and Ernie
Ant and Dec
Smee and Captain Hook
Freddie and Mercury
Badass Names For Guinea Pigs
So you think your guinea pig is a bit of a badass? You need to give them a name to match their rebellious demeanor.
Take a look through some of these as suggestions!
Notorious P-I-G
Gunnie
Lil Nibs
Prodigy
Neo
Anthony
Claws
Smasher
Shaka
Brutes
Tony Hawk
Compton
Trinity
Tyson Fury
Bronx
Sledge Hammer
Roy Keane
Genghis
Dr. Dre
Wayne Rooney
Floyd
Venom
G-Piggy
Shark
Calypso
Warrior
Rambo
Eminem
Dread
Caesar
Boris
Mannie
Rogue
Hunter
Piggy Smalls
Nemesis
Reaper
Raider
Anarchy
Ripper
Ragnar
Alpha
Ripley
Ice cube
Rocky
Chan
Tron
Lil Guinea
50 Cent
Scully
Gangster Names For Guinea Pigs
Is your guinea pig, fluffy on the outside, but actually a bit of a terror on the inside? Up your guinea pig's street cred with some of these gangster names.
Don Guinpigo
Godfather
Pablo
Dillinger
Scarface
Al Pacino
Narcos
Al Capone
Mobster
Don
Tupac
Bonanno
Bootlegger
El Patron
El Jeffe
Costello
El Padrino
Thugg Pig
Mafioso
Siegel
Rodney
Gotti
Don Corleone
Reggie
Stickemup
Cool Names For Guinea Pigs
These names will definitely make your guinea pig the coolest in the hutch!
Mercedes
Ranger
Zeus
Rayban
Mars
Chase
Geezy Peezy
Harvey
Spike
Gypsy
Robin
Tonks
Piggy Izelia
Terror
Skater
Jet
Archer
Goku
Gstar
Kawasaki
Hulk
Harley
Thor
Punisher
Zed
Bane
Predator
Drake
Blade
Zeke
Oddish
Pigeezy
Forks
Rebel
Joker
Stormzy
Scooter
Vadar
Bruiser
Phoenix
Diablo
Piccolo
Tanner
Jaws
Elon
Booster
Dragon
Lash
Missy
Loki
Unique Names For Guinea Pigs
If you want your guinea pig to stand out from the crowd or show off their unique personalities, you're going to want to give them a unique name.
It's always better to look to your personal taste when selecting a truly unique name.
Apollo
Scrabble
Abe
Power
Picasso
Stubby
Billie
Pikkety
Van Gogh
Maggie
Dusty
Abby
Chai
Milan
Pluto
Buttons
Sugarbear
Matrix
Avery
Merlin
Frazzle
Mozart
Nihao
Cigar
Rainbow
Stumpy
Bessie
Bailey
Obie
Indigo
Banksy
Leatherhead
Thumber
Namaste
Persia
Chives
Tobias
Voyager
Polkadot
Sunny
Batman
Poseidon
Dash
Yoga
Monalisa
Fizzball
Penny
Monstera
Croche
Dusky
Disney Guinea Pig Names
This list is one for the kids! There are heaps of delightful Disney characters whose names will match your guinea pig perfectly.
The kids will also love choosing a name with you!
Charming
GusGus
Ariel
Mowgli
John Smith
Cinderella
Goofy
Bambie
Olaf
Baloo
Simba
Mulan
Pascale
Bashful
Maui
Hairless Guinea Pig Names
Although not the furriest breeds of guinea pigs, hairless guinea pigs are equally as adorable. Have some fun naming a hairless guinea pig by drawing on its unique appearance.
Gilette
The Rock
Godiva
Baldo
Razor
Buzzcut
Nudel
Magic Mike
Shaggy
Sphinx
Clever Names For Your Pet Guinea Pig
If your guinea pig is a bit of a smartypants, you best give them a name to complement their superior brains.
Turing
Farenheit
Ford
Frankenstein
Newton
Einstein
Brightspark
Guineus
Lightbulb
Franklin
Christmas Names For Guinea Pigs
Naming your guinea pig after the most wonderful time of the year will keep you in the festive mood all year round!
Prancer
Pudding
Hosanna
Elf
Pinecone
Dasher
Comet
Mistletoe
Basting
Candy Cane
Stuffing
Eggnog
Roasty
Baulbaul
Christmas
Dancer
Tinsel
Taters
Bell
Rudolf
Mitzi
Blitzen
Carol
Noel
Gloria
Halloween Names For Guinea Pigs
Is there something a bit spooky about your guinea pig? They may be cut out for a Halloween-inspired name.
Zombie
Jackolantern
Tarot
Vamp
Spooky
Haunter
Buffy
Howler
Charm
Fangs
Malison
October
Gizmo
Ghoul
Bones
Werewolf
Treat
Pocus
Gremlin
Paige
Dracula
Sabrina
Gargoyle
Scary
Hex
Famous Names For Guinea Pigs
Some guinea pigs are simply destined for the hall of fame, so give them a name the world will remember.
Cleopatra
Princess Di
Shakespeare
King Henry
Hollywood
Oprah
Elvis
Miss Piggy
Lincoln
Hamlet
Names For Black And White Guinea Pigs
Naming your guinea pig after something that resembles their appearance is a great idea! If you have one that is black and white, then take a look at some of these great ideas.
Freesia
Dalmatian
Boots
Ebony
Orca
Chess
Oreo
Domino
Checkers
Zebby
Spots
Harlequin
Dice
Silhouette
Keys
Names For Brown And White Guinea Pigs
Is your guinea pig more toffee than vanilla or more vanilla than toffee? These names will surely spark some inspiration!
Spice
Cherrypop
Toffee
Moomoo
Honey
Rocky road
Topdeck
Cinnamon
Cappuccino
Mocha
Fawn
Giraffe
Latte
Rusty
Sable
Names For White And Gray Guinea Pigs
Just because they have a little grey doesn't mean they're boring! Let your guinea pig know how beautiful they are with some of these beautiful names for white and grey guinea pigs.
Misty
Smokey
Pixel
Sepia
Nimbus
Silver
Greyscale
Rhino
Granny
Gandalf
Gloomy
Cloud
Ellie
Ash
Pearly
Names For Black Guinea Pigs
Black guinea pigs are a favorite amongst guinea pig owners.
Onyx
Charcoal
Inky
Abyss
Raven
Emo
Leila
Pepsi
Ebony
Phantom
Danger
Licorice
Ninja
Shadow
Sooty
Electra
Panther
Carbon
Shade
Morticia
Nightshade
Galaxy
Iris
Charcky
Nero
Names For White Guinea Pigs
Got a little ball of snowy fluff on your hands? Take advantage of their all-white appearance with some of these names almost designed for white piggies.
Chrystal
Orchid
Alpine
Edelweiss
Vanilla Ice
Quartz
Alaska
Blanco
Polar
Winter
Chardonnay
Vail
Blanche
Casper
Creamy
Bride
Dove
Ghost
Buttermilk
Flossy
Elsa
Coconut
Harmony
Ivory
Tic Tac
Names For Brown Guinea Pigs
We all agree that brown guinea pigs are beautiful to look at. A fun name that emphasizes their chocolate features would be perfect.
Maple
Cocao
Brandy
Shiba
Caramel
Cumin
Cinnamon
Butterscotch
Chamomile
Tea
Hazel
Skippy
Brandy
Aero
Fudge
Chocolate
Coffee
Marmalade
Marigold
Gravy
Treacle
Whiskey
Cocopop
Tique
Nutella
Names For Gray Guinea Pigs
They may look like little old ladies but any guinea pig enthusiast knows that guinea pigs are bundles of energy!
Show your silver cotton ball some love with names like these.
Ugly Duckling
Granite
Mudpie
Cement
Smores
Mash
Jackal
Attenborough
Sheep
Pigeon
Stoney
Marble
Torrent
Moony
Waterfall
Puddle
Pepper Spice
Aspen
Smokey
Cloudy
Wellington
Moonpig
Slushy
Sandstone
Boulder
Names For Orange Guinea Pigs
Yep, guinea pigs can be blessed with ginger locks too! You can have fun with naming your orange guinea pigs.
Sunrise
Auburn
Sonali
Harry
Godwin
Jaffa
Gingersnap
Flame
Coral
Goldilocks
Fanta
Sunset
Coppertop
Garfield
Marmalade
Carnelian
Saffron
Red
Apricot
Tiger
Autumn
Mango
Honeysuckle
Ginger
Rosa
Food-Inspired Names For Guinea Pigs
You might think it's a common thing to simply name your guinea pig after some indulgent delicacy. Be creative and keep it personal! Think about some of the unusual foods you like, and see if it fits in with the name of your guinea pig!
We've added some out-of-the-box ideas here.
Bacon
Pattie
Macaroni
Tagine
Pancake
Mayo
Bonbon
Kimchi
Watercress
Linguini
Sriracha
Spring roll
Fig
Pumpkin
Waffles
Bayleaf
Snickers
Sushi
Teriyaki
Chips
Curry
Clove
Buttercream
Peaches
Wasabi
Italian Names For Guinea Pigs
The Italian language is so expressive and Italian names are no exception. With so many aspects of Italian culture to gain inspiration from, there are some great ideas for names.
Check out our list for some great Italian names.
Guiseppe
Macchiato
Orsett
Diva
Baroness
Leprotta
Luigi
Pupa
Tigre
Angela
Giovanni
Frescetta
Maria
Micetta
Galileo
Valentino
Bambina (for girls)
Stella
Donatello
Leonardo
Bambino
Principessa
Da Vinci
Bellezza
Coccolone
Spanish Names For Guinea Pigs
Think your newest family addition might be Spanish? Why shouldn't they be? Check out our list of Spanish names that will give any pet that European flare.
Francesca
Chicka
Valentin
Alberto
Juan
Cierra
Benita
Alanzo
Chiquita
Zoro
Javier
Nola
Rolanda
Jose'
Destina
Emilia
Flavia
Zurina
Francesco
Amigo
Carlos
Eva
Aquilina
Ramon
Selena
French Names For Guinea Pigs
If you're dreaming of Paris or just want your little critter to have a splash of je ne sais quoi, then going for a French name might be the right move for you!
Our list of French names provides the perfect element of French sass.
Chanel
Fabrice
Victor
Claude
Delphine
Odette
Pierre
Fleur
Céline
Leo
Monsieur
Miel
Lafayette
Sébastien
Maxime
Sinclaire
Elroy
Chou
Renoir
Suzette
Jolie
Anette
Jean-Luc
Quincy
Mone'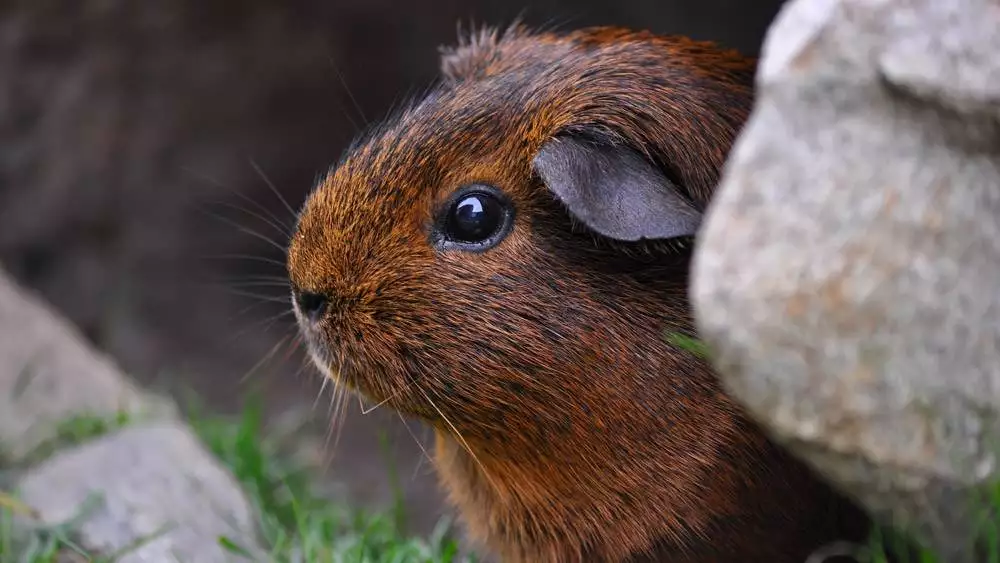 Pet Name Inspiration
When looking for inspiration for naming your guinea pigs, always remember to have fun and keep it personal. Having unique names is what makes them your very own lovable bundles of fluff.
Look to some of your favorite TV shows, your idols, favorite foods, snacks, hobbies… you name it! There are thousands of options for you to choose from. These aspects of your life will make it easy for you to find inspiration to name your new furry friend.
Another popular method of naming your guinea pig is to look at their appearance. There are loads of stunning names that will describe their color and form. Guinea pigs usually come in black, grey, and brown, so get creative with words that best describe the shade of guinea pig.
You can also have loads of fun if you happened to get a pair of guinea pigs. Think about your favorite duos from movies, music, or even family members. Make sure you ask permission if you go for the later one, though. You wouldn't want to upset Aunt Mildred!
Help Choosing The Right Name
Choosing the right name for your guinea pig is important. It's going to be around a long time and names help you associate personality with your pet. When you choose your guinea pig's name, it's best to wait until you've had it for a week or two.
Waiting before jumping into naming your guinea pig will give you a chance to observe their behaviors and become familiar with their looks. You may also pick up on unique quirks they have which will help you choose a name for them.
There may be something about them that makes you and your family laugh. This physical or behavioral characteristic may also help you decide on what to name your guineapig.
If you're lucky enough to have kids, then the chances are pretty high that they'll come up with some weird and wonderful name that will just stick. Don't discount what the little ones have to say. They often come up with genius ideas for pet names!
Conclusion
So as you can see, there are loads of options to go for when coming up with the perfect name for your new furry friend. When adopting a guinea pig, have fun, keep it personal and you're onto a winner! Naming your new pet is a lot of fun and when the right name clicks you'll have a friend for life!
Related Posts