A Hedgehog can make a whimsical, loveable, and adorable pet. It is important to realize that keeping a hedgehog as a pet requires great care as they have specific needs that are different from that of your conventional pet.
Even knowing whether your hedgehog is an African pygmy hedgehog, a long-eared hedgehog or the Indian long-eared hedgehog (the three species most commonly kept as pets) makes a difference in the environment and diet that your hedgehog needs. Once you have done your research, bought your hedgehog (from a responsible breeder), the next big step is what to name it!
Since it is still quite rare to own a hedgehog as a pet, we are not surrounded by loads of examples of names to call your hedgehog. Let's be honest, almost no one grew up imagining their future self owning a hedgehog and grappling with the dilemma of what to name it!
Let's get started!
Cute Hedgehog Names
We can all agree, hedgehogs are absolute cuties! That would be the first way that I would describe any hedgehogs that I have ever encountered.
So a cute name will always be suitable and may even make your hedgehog (somehow) even cuter than it already is! These are my favorite cute names:
Moody
Twinkles
Snuffle
Stubby
Dumpling
Potato
Hoggy
Tinker Bell
Pokey
Biscuit
Pudding
Huggie
Teacup
Pixie
Scuttle
Pudding
Nugget
Prickles
Peanut
Kiwi
Mooshie
Cocoa
Pepper
Bristly
Sparky
Zippy
Sweetpea
Hershey
Huffy
Pickles
Buttons
Almond
Marshmallow
Shaggy
Fudge
Cheeto
Wolfie
Pippie
Oreo
Periwinkle
Hedgy
Pine Cone
Tulip
Tatertot
Piper
Cuddles
Button
Bean
Beedle
Quill
Pincushion
Bagel
Truffles
Snuggles
Chewy
Nutmeg
Padfoot
Butterball
Skittles
Skippy
Female Hedgehog Names
Some hedgehogs are real ladies. Sophisticated and classy, she needs a name that lets everyone know that she is the queen of all she surveys.
Here are the best names for a female hedgehog:
Zoey
Merry
Sydney
Darcy
Dora
Pixie
Harley
Leslie
Pamela
Bonnie
Holly
Henrietta
Harriet
Dixie
Roxie
Haly
Cleopatra
Lana
Lexi
Crystal
Sadie
Olive
June
Mitzi
Lola
Scarlett
Callie
Goldie
Bonnie
Paris
Nina
Riley
Bellatrix
Duchess
April
Sofy
Gigi
Lily
Rosie
Hillary
Diva
Peppa
Ruby
Izzy
Maddie
Penelope
May
Peggy
Honey
Iggy
Bella
Maggy
Queenie
Hazel
Evie
Moxxi
Zara
Delilah
Meadow
Callie
Male Hedgehog Names
Boys will be boys, some hedgehogs are true gentlemen, others are little rapscallions!
Here are the best male names for all types of male hedgehogs.
Mulligan
Elton
Koby
Diego
Cornelius
Ralph
Boba
Otis
Stanley
Humphrey
Kingston
Jasper
Burt
Tibbs
Bruno
Mylo
Bodie
Atticus
Max
Manny
Paddington
Theo
Hamlet
Boris
Joe
Rocky
Hutch
Barry
Ernie
Cosmo
Houdini
Snoopy
Scully
Buddy
Frank Donald
Fido
Frodo
Keith
Moby
Walt
Rudy
Hank
Russell
Rio
Franklin
Ozzie
Elwood
Oscar
Reginald
Clooney
Murphy
Barney
Marti
Sid
Jasper
Felix
Oliver
Murphy
Archie
Peter
Punny / Funny Hedgehog Names
We all love a good pun or a funny name. It puts a smile on the face of everyone who hears it. A hilarious name will only add to the quirky personality of your hedgehog and tickle your funny bone every time you call him/her.
The list below consists of the ones that I found genuinely hilarious, along with the relevant source of the funny/punny name. Needless to say that if you do not get the pun, it is probably not the best choice of name for your hedgie (you both need to be in on the joke).
Here are my favorite funny/punny names of the countless out there:
Quilly Wonka – [ after Willy Wonka and the chocolate factory ]
Don Quillxote – [ Don Quixote – novel ]
Quill smith – [ Will Smith – actor ]
Mr. Mehoggie – [ after Mr Miyagi from the Karate Kid ]
Hanniquill Lecter – [ after Hannibal Lecter from the Silence of the Lamb ]
Hedgegar Allen Poke – [ Edgar Allan Poe – writer ]
Quileesi – [ after Khaleesi from A Game of Thrones ]
Amy Spinehouse – [ Amy Winehouse – Musician ]
Professor Quill – [ after Professor Quirrell from the Harry Potter series ]
Hogmione – [ after Hermoine from the Harry Potter series ]
Sir Hedgemund Hillary – [ Sir Edmund Hillary – explorer ]
David Hasslehog – [ David Haslehoff – actor ]
Quillma – [ after Wilma from the animated series The Flintstones ]
Ma-hog-any – [ Mahogany being a type of wood ]
Quilliam Shatner – [ William Shatner – actor ]
Hedgewig – [ after Harry's owl Hedwig from the Harry Potter series ]
Quillbert
Quilly Nelson – [ Willy Nelson – actor ]
Winston Churchquill – [ Winston Churchill – politician ]
Quilliam Spikespear – [ William Shakespeare – writer ]
Spike Lee – [ film director ]
Bruce Quillis – [ Bruce Willis – actor ]
Scarlett Johogson – [ Scarlett Johansson – actor ]
Prick Astley – [ Rick Astley – Musician ]
Optimus Spines – [ after Optimus Prime from the Transformers series ]
Pokeahontas – [ after Pocahontas ]
Quill Ferrell – [ Will Ferrell – Actor ]
Quillary Rodham Clinton – [ Hillary Rodham Clinton – politician ]
Hokey Pokey
Shaquill O'Neal – [ Shaquill O'Neal – basketball player ]
Hufflepuff – [ A House name from the Harry Potter series ]
Snoop Hoggy Hog – [ Snoop Doggy Dog – Musician ]
Cool And Badass Hedgehog Names
Some hedgehogs don't play by society's 'rules'. Some are daring risk-takers who live life to the fullest, others are just too cool to be bothered with the world around them.
Either way, a cool, badass hedgehog needs a cool, badass name. I would think twice before getting on the bad side of a hedgehog with one of the following names:
Brutus
Tex
Scout
Spartacus
Buzz
Rambo
Tango
Zeppelin
Vixen
Blade
Sonic
Megathorn
Buck
Comet
Diesel
Sonic
Dragon
Fang
Dante
Jinx
Chief
Ajax
Circe
Turbo
Punk
Venus
Trinity
Duke
Wizzy
Bane
Flash
Shadow
Champion
Onyx
Elektra
Scar
Rocky
Bruiser
Zorro
Gizmo
Tank
Grover
Skipper
Thorn
Vegas
Pablo
Spike
Jazz
Edge
Bandit
Dodger
Tito
Cactus
Chip
Splinter
Kiwi
Dre
Grizzly
Phoenix
Bolt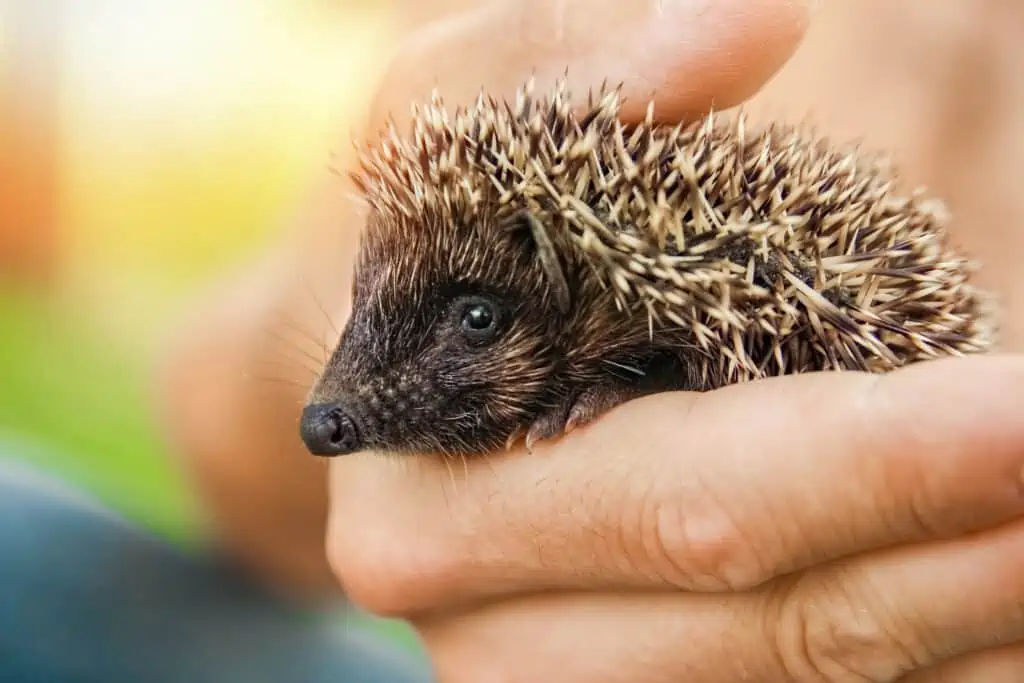 Disney Hedgehog Names
Disney names are extremely popular right now. Everyone has a favorite Disney character or one that they can relate to. Owning a hedgehog is like owning your own real-life Disney animal!
There are not many pets that are better suited to a classic Disney name than these little critters.
Here are the Disney names that work well for a hedgehog:
Calhoun – [ Wreck-It Ralph ]
Percival – [ The Rescuers Down Under ]
Simba – [ The Lion King ]
Stella – [ The Princess and the Frog ]
Hamish– [ Alice in Wonderland ]
Minnie – [ Classic Disney cartoons ]
Cleo – [ Pinocchio ]
Buzz – [ Toy Story ]
Pepper – [ Upside Down Magic ]
Achilles – [ The Hunchback of Notre Dame ]
Pearl – [ Finding Nemo ]
Flynn – [ Tangled ]
Willow – [ Pocahontas ]
Thumper – [ Bambi ]
Iago – [ Aladdin ]
Roo – [ Winnie the Pooh ]
Finn – [ Cars 2 ]
Lilo – [ Lilo ; Stitch ]
Baloo – [ The Jungle Book ]
Hercules – [ Hercules ]
Yzma – [ The Emperor's New Groove ]
Olaf – [ Frozen ]
Russell – [ Up ]
Kristoff – [ Frozen ]
Arlo – [ The Good Dinosaur ]
Mickey – [ Classic Disney cartoons ]
Winnie – [ Winnie the Pooh ]
Jafar – [ Aladdin ]
Woody – [ Toy Story ]
Ernesto – [ Coco ]
Sebastian – [ The Little Mermaid ]
Gus – [ Cinderella ]
Pluto – [ Classic Disney cartoons ]
Aurora – [ Sleeping Beauty ]
Albus – [ Amphibia ]
Moana – [ Moana ]
Goofy – [ Classic Disney cartoons ]
Vixey – [ The Fox and the Hound ]
Nemo – [ Finding Nemo ]
Jasmine – [ Aladdin ]
Arabella – [ Arabella ]
Belle – [ Beauty and the Beast ]
Tibbs – [ 101 Dalmatians ]
Hiro – [ Big Hero 6 ]
Hector – [ Coco ]
Marlon – [ Finding Nemo ]
Elsa – [ Frozen ]
Athena – [ Kim Possible ]
Louie -[ The Jungle Book ]
Arabella – [ Arabella ]
Stitch – [ Lilo ; Stitch ]
Esmerelda – [ The Hunchback of Notre Dame ]
Alice – [ Alice in Wonderland ]
Jasper – [ 101 Dalmatians ]
Gaston – [ Beauty and the Beast ]
Violet – [ The Incredibles ]
Wilbur [ The Rescuers Down Under ]
Stella – [The Princess and the Frog]
Ferdinand – [ Ferdinand ]
Coco – [ Coco ]
Roger – [ 101 Dalmatians ]
Robin – [ Robin Hood ]
Tuti – [ Amphibia ]
Sven – [ Frozen ]
Tiana – [ The Princess and the Frog ]
Albino Hedgehog Names
Albino hedgehogs are extremely rare. Approximately only one in every one hundred thousand hedgehogs have albinism.
If you are lucky enough to own a hedgehog with this unusual characteristic, then you have the added opportunity to name your hedgehog something incredibly awesome!
Here are the best names for an albino hedgehog:
Everest
Cirrus
Cool Whip
Milky
Eskimo
Chilly Quilly
Shadowfax
Blanco or Blanca
Icecube
Iceman
Starlight
Blanche
Misty
Aspen
Cumulus
Storm
Powder Puff
Vanilla
Sparky
Igloo
Blizzard
Mammoth
Gandalf
Casper
White Wizard
Mojito
Salty Hog
Ghost
Tofu
Ivory
Frosty
Lily
Flat white
Buffy
Luna
Moon
Boo
Angel
Marzipan
Neve
Tapioca
Crystal
Pale Rider
Yeti
FroYo
Great White
Diamond
Pearl
John Snow
Cloudy
Help Picking A Hedgehog Name
So how do you choose a name for your hedgehog? The best place to start is to get an idea of the hedgehog's appearance and personality, go through the lists below until you find one that clicks. When you find the right one for your hedgehog you'll just know
It is best to pick a name that works for your specific hedgehog. A name that is worthy of your hedgehog's unique qualities as a pet. Just like all pets, hedgehogs come in a huge variety of shapes, sizes, and personalities. Looking at these traits can help you decide upon the right name.
We all know how important it is to pick the correct name that best suits a pet, there almost feels as though there is more pressure to pick a great name for your hedgehogs as they are quite unusual and peculiar compared to the traditional house pet.
Having this awesome responsibility to pick the best name possible for your hedgehog can feel overwhelming at times. We hope this guide has helped give you some awesome inspiration.
If you need more ideas check out our other naming guides in the related section below!
Conclusion
There are endless possibilities when it comes to hedgehog names. Whatever you decide to name yours, your hedgehog will undoubtedly bring joy and happiness into your life.
Hedgehogs are nocturnal by nature so they may come across as grumpy during the day, but if you respect their sleeping schedule, they'll be your new best friend in no time. During the day, you'll most likely find them napping in strange places which is adorable and peaceful in its own right.
These traits may lead to you calling your hedgehog 'sleepy' or 'grumpy' which are surprisingly popular name choices amongst hedgehog owners.
One must remember that hedgehogs are more recently domesticated than other household pets so they are not as used to humans as your average cat or dog. This also means that they are more comfortable in their own space and are actually quite independent, but they still need a great amount of care with regard to their diet and environment in order to thrive.
If cared for properly and all their needs accounted for, they make truly wonderful pets. Hedgehogs have huge personalities so hopefully, you choose a name that fully encapsulates the essence of your precious little companion.
Related Posts