Looking for the perfect name for your gerbil? We've got you covered! In this blog post, we will be sharing some of our favorite gerbil names.
Whether you're looking for a cute name or a badass name, we've got you covered.
So, without further ado, let's get started!
Best Gerbil Names
Do you happen to be looking for some of the best names for gerbils out there? If so, you're in luck!
Here are some of our favorite picks:
Bandit
Beau
Biscuit
Bisquit
Boo Bear
Brownie
Buddy
Buster
Butters
Casper
Chester
Chipper
Chunks
Clover
Coco
Cookie
Daisy
Digit
Dixie
Elsa
Frodo
Fuzzy
Gidget
Ginger
Gizmo
Happy
Harley
Harry
Hopper
Jack
Jasper
Kiki
Klondike
Lancelot
Leia
Libby
Link
Lola
Lucy
Lulu
Marshmallow
Mickey
Mimsy
Nibbler
Oreo
Oscar
Paisley
Peanut
Pipkin
Pip Squeak
Pixie
Pluto
Rascal
Rowan
Sadie
Sawyer
Scout
Shadow
Simba
Sinbad
Skipper
Smoochie
Snickers
Snoopy
Sonic
Spooky
Starburst
Stitch
Stormy
Tango
Tequila
Tinker
Tinkerbell
Tito
Toffee
Trixie
Turbo
Twinkle
Vienna
Wally
Whiskers
Willa
Yoda
Ziggy
Names For Male Gerbils
If you're searching for names for a male gerbil, we've got you covered!
Here are some of our top recommendations for a single gerbil boy:
Abel
Al
Alfie
Alvin
Axel
Bandit
Bane
Barney
Basil
Beau
Benji
Bentley
Blade
Bogey
Bonnie
Brisby
Buck
Buddy
Butch
Calvin
Casper
Chandler
Charlie
Chester
Chewie
Chipper
Clint
Cooper
Crusher
Danger
Dante
Diesel
Dozer
Dutch
Fang
Felix
Ford
Frankie
Frisky
Gavin
Gomez
Grinder
Gunner
Gus
Hamlet
Harley
Harry
Hector
Henry
Herbie
Hershel
Hershey
Hunter
Jagger
Jasper
Jeeves
Jesse
Jett
Kane
King
Leo
Loki
Lucius
Mack
Maximus
Miles
Milo
Monty
Moritz
Murphy
Nash
Nitro
Odin
Olaf
Ollie
Otis
Ozwald
Paddington
Pete
Petey (or Peter)
Pipeline
Prince
Quinn
Racer
Rex
Rocco
Rocky
Rowdy
Sammy
Sampson
Sawyer
Scarface
Sherman
Smokey
Smudge
Sniper
Spades
Spitfire
Stryker
Tank
Thor
Tiny
Titan
Tracker
Turbo
Twist
Uzi
Vance
Venom
Viking
Widget
Wiley
Wolverine
Xander
Names For Female Gerbils
We've also got you covered if you're looking for names for a female gerbil.
Nothing says "girl power" like one of these feminine names for your pet girl gerbil:
Abby
Allie
Amber
Annie
Aria
Athena
Babe
Badger
Bandit
Bella
Betty
Bindi
Blaze
Blossom
Bonnie
Bridgette
Britney
Brooklyn
Bubbles
Buffy
Buttercup
Carmen
Cassidy
Chelsea
Cinnamon
Cleo
Clover
Coco
Daffodil
Daisy
Darling
Dixie
Dot
Dusty
Elsa
Ember
Emma
Fifi
Fiona
Foxxy
Ginger
Grace
Harper
Hazel
Heidi
Holly
India
Ivy
Jasmine
Jazz
Jessie
Jewel
Josie
Kayla
Khloe
Kodiak
Laurel
Layla
Lily
Lizzy
London
Lovely
Lucy
Maddie
Mandy
Maple
Maxie
Maxine
Mia
Millie
Mindy
Minnie
Misty
Molly
Nala
Nike
Nyx
Olive
Opal
Paisley
Paris
Pepper
Phoenix
Pinky
Piper
Pixie
Polly
Poppy
Princess
Quinn
Racer
Rebel
Red
Riley
Rose
Rosy
Ruby
Sadie
Sasha
Selena
Skye
Sonya
Star
Stella
Sydney
Tiger
Tinkerbell
Trixie
Violet
Willow
Winona
Xena
Zen
Cute Gerbil Names
We've compiled a list of some of the cutest names for your gerbil if you're searching for one.
Here are some of our favorites:
Almond
Angel
Baby
Basil
Birch
Biscuit
Bo
Boo
Boo Bear
Boots
Bubble
Buddy
Buttercup
Button
Candy
Cherry
Chipper
Cloud
Cookie
Cub
Cuddles
Cupcake
Delilah
Digger
Dixie
Dog
Flower
Freckles
Fudge
Gizmo
Graceful
Hazel
Hemy
Hiccup
Hinkley
Indie
Ivory
Jaz
Jingle
Jolly
Kermit
Kirby
Kiwi
Ladybug
Latte
Lemon
Lexus
Licorice
Macaroni
Mango
Maple
Marshmallow
Monkey
Muffin
Ned
Nettie
Olive
Oreo
Oscar
Otto
Panda
Peanut
Pepper
Pip
Poko
Precious
Pudding
Puddles
Pumpkin
Rainbow
Roxanne
Roxy
Rufus
Sidekick
Skipper
Skittles
Smalls
Snookie
Star
Sugar
Sugar Plum
Suki
Sweetie
Teddy bear
Thumper
Tigger
Timon
Tiny
Tortilla
Toto
Waffles
Weeny
Unisex Names For Gerbils
If gender-neutral names are your thing, consider the boy and girl unisex names below.
Our suggestions include unisex human names and other gender-neutral things:
Avery
Drew
Morgan
Noel
Parker
Reese
River
Rowan
Sawyer
Shiloh
Sloan
Good Names For Gerbils
Are you simply looking for a gerbil name that will get the job done? If yes, consider the names below.
We love food so enjoy our food-inspired names. However, don't restrict yourself. We have many other naming categories below.
Almond
Anchovie
Bacon
Basil
Bean
Biscuit
Brownie
Carrot
Cheeto
Chicklet
Chips
Cupcake
Eggo
Falafel
Fig
Fro Yo
Jalapeno
Lasanga
Meatball
Nacho
Noodle
Nugget
Nutella
Nuts
Peaches
Pepper
Queso
Quinoa
Sashimi
Swiss
Taco
Toastie
Tofu
Tortellini
Tortilla
Waffles
Badass Names For Gerbils
Own a badass gerbil? Or do you want a name that will make your hamster sound cool and fierce?
Check out some of these badass options:
Apache
Bandit
Bullet
Butch
Chopper
Diesel
Eagle
Excalibur
Gunner
Hawk
Jaguar
Leatherneck
Lionheart
Maximus
Mongoose
Ninja
Odin
Panther
Pirate
Rascal
Razor
Rebel
Robinhood
Rocky
Saber
Scorpion
Smasher
Spartan
Stryker
Terminator
Thor
Titan
Trojan
Triton
Viper
Warrior
Wasp
Wolverine
Names For Cool Pet Gerbils
Is your hamster one of the coolest small pets around?
Check out these names to give it some street cred.
Ace
Acer
Alaska
Annex
Bam-bam
Bandit
Beast
Butterfly
Cadet
Calypso
Cass
Chopper
Crazy eyes
Death wish
Diesel
Dragon
Duke
Elvis
Excalibur
Fangster
Gizmo (or Giz)
Grinder
Gucci
Gunner
Harley
Hawk
Heisenberg (or Heis for short)
Jace
Jax
Jedi
Jersey
Killer
Leatherneck
Lex
Lionheart Maximus (Max or Moose for short)
Mongoose
Murderface (or Murf for short)
Mystique
Ninja
Odin
Panther
Peirce
Phoenix
Porsche
Predator
Rascal
Ringo
Rocky
Rodeo
Ryder
Saber
Scorpion
Shredder (or Shreds for short)
Smasher Snappy (or Snapz for short)
Stryker (Stryk or Strike for short)
Terminator
Thrasher (or Thrash for short)
Triton
Venus
Veronica
Viking
Wasp
Wolf
Wyatt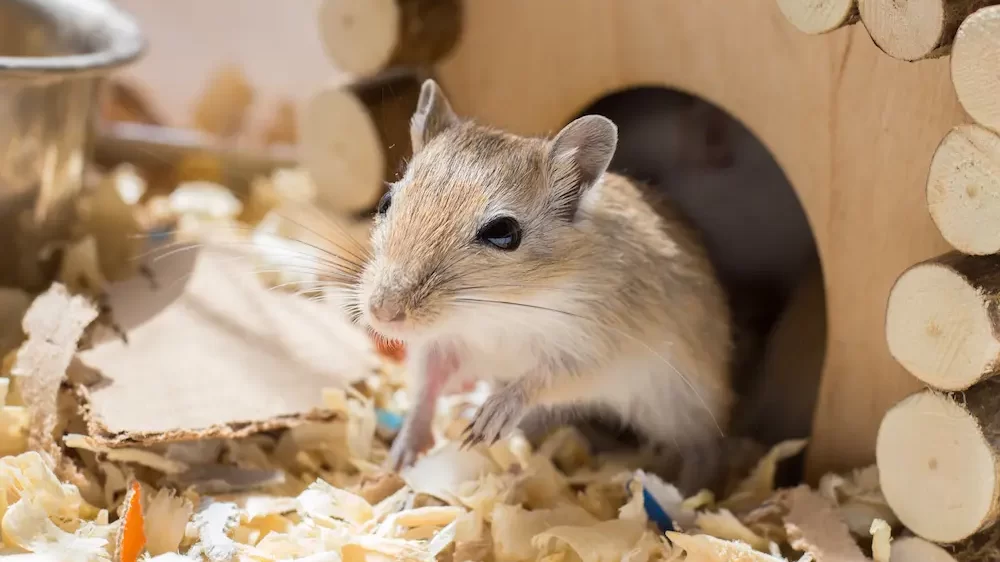 Unique Names For Gerbils
Some pet owners want unique names that people have barely heard of. If that's the case with you, we have some unique suggestions below.
Even if there are names that you've heard of below, you've probably never heard of a gerbil by that name.
Achbor
Asterix
Bazooka
Bijou
Bingo
Chico
Chipahua
Chunks
Curious George
Denizen
Dewdrop
Digger
Ebony
Ewok
Fidget
Grasshopper
Hinkley
Hopper
Houdini
Ivory
Jumper
Mr. Nibs
Nettie
Nibbles
Oberon
Oreo
Padfoot
Pester
Porcupine
Powder Puff
Sashi
Saska
Scamper
Scooter
Scratch
Skydive
Speedy
Squeaks
Tipper
Tucker
Whiskers
Zipper
Names For Baby Gerbils
If you get a baby gerbil that will be incredibly small and cuter than a grown gerbil, he/she should be given a name that represents their cuteness.
Name your gerbil after the cutest baby animal names below;
Bear
Bee
Bug
Bunny
Chick
Duckie
Lady Bug
Little Monkey
Love Bug
Scobie
Funny Names For A Gerbil
Need a funny gerbil name? Check out these options for a giggle.
Admiral Snuggles
Anonymouse
Athena
Babycakes
Beanie Weenie
Beaver
Beebo
Beefcakes
Bilbo
Biscuit Butt
Boba
Boomer the Destroyer
Bruiser
Buttons
Captain Cuddlesworth
Catnip
Chaos
Cheddar
Cheech
Cheeks Mcgee
Chong
Chuck E Cheese
Chuck Norris Jr.
Chumlee
Cupcake
Dapper Dan
David Seaman
Dingus
Dirk Digler
Dj Khaled
Donald Trump Jr.
Dorito
Earl the Pearl
Elmo
Everest
Frodo
Fuzzy Wuzzy
Garfield the Destroyer
Gerbilicious
Gerbler
Gizmo
Gizmo Mcgee
Goat
Gonzo
Groucho
Gus Gus
Hades
Hammy Potter
Hammy the Destroyer
Hercules
Hulk
Hurdle
Jerry
Julius Cheeser
Lemmiwinks
Lilo
Major
Napolean
Ninja
Pickles
Pinky
Pip Squeak
Scooby
Sexy Beast
Squeaker
Stuart Little
Tank
Teddy
The Brain
Venom
Vixen
Voldemort
Whiskers
Whittle
Yoda
Disney Gerbil Names
Many gerbils have been featured in Disney films and cartoons. Below is a list of popular gerbil or rodent characters that have been featured in Disney.
We've also included some famous Disney characters whose names you can use;
Cheech
Chong
Daphne
Drizella
Gretel
Hansel
Luigi
Mario
Pumba
Romeo
Scooby
Shaggy
Stimpy
Thelma
Timon
Tweedledee
Velma
Names For White Gerbils
Do you have a white gerbil as a pet? Check out these names for inspiration.
Alaska
Albino
Angel
Blizzard
Boo
Buttermilk
Casper
Chalky
Chica
Cloud
Cottonball
Cream Puff
Crystal
Daisy
Diamond
Egg
Frosty
Ghost
Glacier
Hedwig – name after snowy owl from Harry Potter
Iceberg
Ivory
Marshmallow
Mayo
Milky Way
Moony
Opal
Pearl
Powder
Sheep
Sneakers
Snowball
Snowdrop
Snowflake
Snowman
Snowy
Sugar
Names For Gray Gerbils
A grey gerbil can also be given a color representative name.
Our grey-inspired gerbil name suggestions are listed below;
Anchovy
Ash
Blade
Blue
Bluebeard
Bluebell
Blueberry
Bullet
Bunny
Cinders
Cobalt
Dime
Dolphin
Dove
Dumbo
Dusty
Earl Grey
Foxy
Gandalf the Grey
Gracie
Granite
Graphite
Graybeard
Grayson
Koala
Lavender
Misty
Murky
Nickel
Owl
Pebbles
Phantom
Raccoon
Rocky
Sapphire
Seal
Silver
Slate
Smokey
Squirrel
Steel
Sterling
Stormy
Wolfy
Names For Brown Gerbils
Brown gerbils are super cute, so why not choose a name that reflects their color?
Beaver
Biscuit
Bourbon
Brandy
Brown sugar
Bruno
Butterscotch
Caramel
Cedar
Chocolate
Cocoa
Cookie
Fudge
Grizzly
Hazel
Hershey
Honey
Latte
Mahogany
Mocha
Monkey
Moose
Muddy
Nutmeg
Oak
Oreo
Otter
Peanut
Peanut Butter
Sandy
Sausage
Scrumpy
Tawny
Toffee
Whiskey
Woody
Wookie
Names For Black Gerbils
It's time to get creative with your black gerbil's name, and why not go for something that reflects its hue?
Check out these awesome choices:
Aurora
Badger
Bengal
Blackout
Charcoal
Coal
Crow
Ebony
Jet
Licorice
Midnight
Onyx
Raven
Shadow
Smoky
Twilight
​​​​​​​Names For Mixed-Colored Gerbils
If you have a mixed-colored gerbil, these names might be perfect for them!
Aurora
Bella
Candy
Cinder
Dawn
Dusty
Fairy
Gemini
Harper
Jasper
Kendra
Luna
Mystique
Opal
Pixie
Quartz​​​​​​​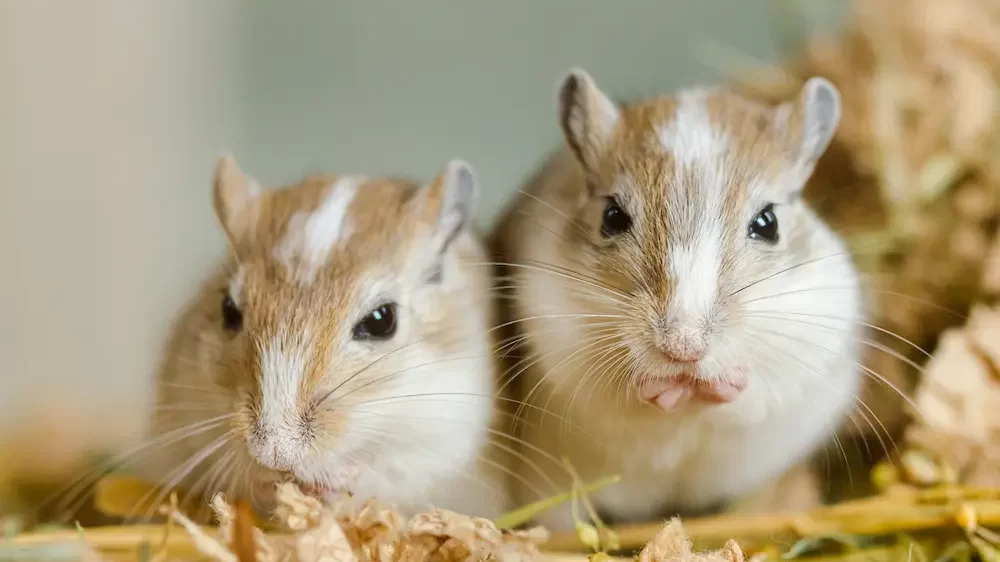 Names For Gerbil Pairs
Since gerbils are really small pets, you can afford to have more than one. Most people go for two. If you want your gerbil to have company and prefer to choose a male and female, we have some paired names below.
Our suggestions include some of the most popular pairs in popular culture, TV, film, and entertainment, in general. We've also added some iconic duos that aren't necessarily characters.
NB: You can use wordplay to create your own paired names from our suggestions below just in case you have a unique pair of pets i.e., two gerbils of the same gender. Alternatively, you can select a gender-neutral paired name.
Adam & Eve
Ben & Jerry
Ben & Jlo
Bert & Ernie
Bey & Jay
Burrow & Digger
Chip & Dale
Dusk & Dawn
Hansel & Gretal
Harry & Meg
Ice & Burns
Jekyll & Hyde
Jelly & Jam
Kanga & Roo
king and queen
Kit & Kat
Lemon & Lime
Mario & Luigi
Peanut & Butters
Pop & Tart
Rain & Shine
Salt & Pepper
Sugar & Spice
Tater & Tot
Thelma & Lousie
Timon & Pumba
Woody & Buzz
Names For Gerbil Boy Pairs
If you have recently adopted a pair of gerbil brothers, check out these names for inspiration.
Axel and Blaze
Bane and Batman
Brody and Bruce
Butch and Cassidy
Diesel and Duke
Gunner and Gizmo
Harley and Hoss
Jaxon and Jagger
Kai and Keoni
Names For Gerbil Girl Pairs
If you have recently adopted a pair of gerbil sisters, check out these names for inspiration.
Athena and Artemis
Bella and Bianca
Callie and Cali
Carmen and Carolina
Dakota and Dixie
Elle and Emmy
Harper and Hazel
Jade and Jewel
Kira and Kinsey
Lola and Luna
Names For A Boy And A Girl Sibling Gerbils
Boy and girl siblings are so adorable, so why not give them matching names?
Andy and Andrea
Charlie and Charlotte
Connor and Cora
Drew and Danielle
Emmett and Emily
Gus and Georgia
Hank and Hanna
Jaxon and Jenna
Gerbil Name Inspiration
Inspiration for names for your pet can come from anywhere from tv shows and movies to books and celebrities.
Here are a few ideas where you can find ideas for your gerbil's name:
Action movies: Commando, Rambo, Terminator, Star Wars
Adventure movies: Indiana Jones, Lara Croft
Cartoon characters: Bugs Bunny, Daffy Duck, Tweety Bird
Comic book heroes and villains: Batman, Joker, Catwoman
Authors: J.K. Rowling, J.R.R. Tolkien
Celebrities: David Beckham, Angelina Jolie, Justin Bieber
Mythological creatures: Cerberus, Minotaur, Pegasus
Flowers and plants: Lily, Rose, Poppy
Colors: Scarlet, Amber, Royal Blue
Words: Freedom, Lucky, Brave​​​​​​​
Help Choosing The Right Name
Here are some ideas to help with picking the perfect name:
1. Consider Your Pet's Personality And Character Traits
Do you want a name that reflects your pet's feisty personality? Or maybe something more mellow?
When thinking about names, consider what adjectives best describe your furry friend.
For example, if you have a gerbil who is always active and playful, you might want to choose a name like Thrasher or Triton. If your gerbil is more laid-back, a name like Cuddles or Biscuit might be more fitting.
Likewise, if you have a gerbil who is particularly brave and adventurous, a name like Thor or Xander might be perfect. If your gerbil is more timid, consider names like Fluffy or Marshmallow.
2. Name Them Something You Can Easily Say And Spell
It's important that you are able to say and spell your gerbil's name easily, especially when you're calling them from across the room.
Avoid long or difficult names that might be hard for you to remember or say correctly.
Short and simple names are best.
3. Avoid Human Names
While it might be tempting to name your gerbil after a family member or friend, it's best to avoid doing so.
Human names can often be confusing for small rodent pets and may lead to them being confused with other members of the household.
Gerbils are known for their intelligence, so why not choose a name that reflects their smarts?
4. Be Unique!
There are so many names to choose from, so why not be unique and select a name that no one else has?
This will help ensure that your gerbil stands out from the rest.
Be sure to ask your family and friends for their suggestions, too, to get as many ideas as possible.
When it comes time to choose, take your time and pick the perfect name for your furry friend.
5. Use A Name That Will Grow With Them
As your gerbil grows and changes, you'll want a name that can grow with them.
Choose a name that will be appropriate for all stages of their life.
For example, if you choose the name Max when your gerbil is small, but they end up growing into a large dog-sized gerbil, the name might not be as fitting anymore.
Consider a name that can be used at any stage of their life.
6. Make Sure The Name Is Appropriate For Their Breed Or Species
Not all names are suitable for all types of gerbils.
Be sure to choose a name that is appropriate for their breed or species.
For example, you might want to consider a name like Gizmo for a small Mongolian gerbil, but the name wouldn't be as fitting for a larger American gerbil.
Conclusion
Naming your pet gerbil can be a lot of fun, but it can also be difficult to choose the perfect name.
In the end, all that matters is that you and your gerbil love the name! So have fun with it and choose something that best represents your furry friend.
Hopefully, this guide has given you some ideas on some of the best names for your small friend. Good luck!​​​​​​​
Looking for more ideas? Check out a name generator or check out some of our names in the related section below!
Related Posts