So, it looks like you brought home your new pet hamster.
Right now, you must be filled with joy and happiness.
Hamsters make wonderful small pets and they require minimal maintenance.
Your hamster ball will need a small amount of room, their lodging necessities are insignificant, and it's loads of amusement to assemble them a little play region with all the stuff you buy from the pet store.
As you welcome your new family member, you have to give it a hamster name.
Every pet owner will agree to the fact that naming your pet is one of the most exciting duties of a pet owner.
You have to choose a name that not only you or your family but also the hamster likes.
This article is full of memorable and cute hamster names.
We are sure you will be able to get some inspiration and good hamster name ideas.
Let's dive in.
Most Popular Hamster Names
If you are looking for a great name for a hamster here are 100 popular names for naming your popular small hamster:
Ace
Bebe
Beefcakes
Bernie
Boots
Brown Sugar
Buba
Budweiser
Buttons
Cashmere
Chibi
Chubby Cheeks
Chumlee
Clyde
Comet
Cuddles
Dolly
Dorito
Dragon
Dude
Duffy
Earmuff
Ezzy
Felix
Foody
Frodo
Gabs
Ginger
Goldilocks
Gus
Hansel
Hunter
Ice
Issac
Ivory
Ivy
Izzy
Jane
Jazz
Jim
Joey
Jojo
Jumpy
Kalie
Ken
Keyboard
Kodiak
Koki
Leo
Lily
Little Buddy
Maggie
Magoo
Mario
Nosey
Oscar
Ozone
Pablo
Peaches
Penny
Platinum
Porky
Puff
Pumpkin
Quentin
Quincie
Rags
Rex
Riddle
Ripley
Rosie
Rusty
Sherlock
Silvy
Smokey
Snookums
Sphinx
Spike
Taz
Tinkerbell
Troubles
Tufty
Tut
Twinkles
Twitches
Ursa
Valentine
Vanilla
Venus
Wave
Weezy
Winnie
Xanadu
Yeller
Yellow
Yogi
Zelda
Zip
Zoey
Zola
Best Hamster Names
Albus
Alexander
Alfred
Amity
Angelina
Annie
Anthony
Bebe
Bella
Blondie
Bonita
Bounce
Button
Captain
Chester
Chili
Clover
Dainty
Damo
Deli
Diana
Dwarf
Dynamo
Emilia
Foo
Garcia
Gnome
Grace
Hope
Jerky
Juno
Kevin
Light
Lilo
Little
Midget
Mini
Minute
Mirabel
Oliver
Ryder
Sam
Samsa
Samson
Springer
Spruce
Tam
Tenor
Vlad
Wiggles
Boy Hamster Names
Have you brought a male hamster home?
You're in luck check out our list of hamster names for boys below:
Alexei
Alvaro
Andreas
Austin
Baldwin
Basil
Blaze
Bowie
Bronx
Brooklyn
Callum
Charleston
Cherokee
Colton
Cruz
Dallas
Denmark
Denzel
Didier
Django
Drake
Duncan
Easton
Eli
Elio
Franklin
Morpheus
Euan
Rockstar
Gatsby
Giles
Hamish
Harley
Hendrix
Houston
Hudson
Ilya
Jaeger
Jasper
Jax
Jayden
Wonky
Jericho
Joaquin
Justice
Kai
Kasper
Kody
Kristof
Kyle
Lamar
Lancaster
Lars
Lazarus
Lebron
Lennon
Leopold
Levi
Lincoln
Magnus
Maverick
Memphis
Milos
Misha
Moses
Neo
Niko
Nolan
Otis
Puma
Rancher
Raoul
Remi
Remington
Reno
Roman
Rory
Santiago
Sawyer
Seamus
Sebastian
Soren
Sven
Tahoe
Tennessee
Teo
Thibault
Thierry
Tripp
Tyler
Umberto
Vasili
Waldo
Westin
Wylie
York
Yosemite
Zane
Zephyr
Zeppelin
Zevi
Girl Hamster Names
Looking for a name for your princess fluff ball?
Here are some great choices for female hamsters:
Aina
Alabama
Ashy
Alessia
Americana
Amethyst
Angelou
Ariel
Arizona
Audrey
Augusta
Aurelia
Beatrice
Bellavia
Bianca
Calypso
Camden
Camilla
Cara
Carolina
Cassia
Castalia
Cecilia
Cheyenne
Clara
Clio
Constance
Cora
Cordelia
Dakota
Damiana
Electra
Esperanza
Esther
Evangeline
Everly
Farah
Faye
Flavia
Florentina
Florida
Frances
Gabriella
Geneva
Georgia
Gwyneth
Hannah
Helena
Hippolyta
Holiday
Indiana
Indigo
Jolene
Josephine
Junia
Kadence
Kandis
Kennedy
Kyna
Leticia
Livia
Louisiana
Marcia
Maya
Mia
Miranda
Monroe
Montana
Moriah
North
Octavia
Olivia
Ophelia
Paisley
Perdita
Phoebe
Portia
Priscilla
Raina
Rihanna
Rosalind
Ruth
Sabina
Sabrina
Sadie
Sakura
Sequoia
Serenity
Shevonne
Sierra
Sunday
Tallulah
Tatiana
Tiffany
Viola
Volumnia
Winona
Zarya
Zenovia
Zoe
Cute Hamster Names For Boys And Girls
All hamsters are charming, and that's true, so why not go for cute names that mirror that!
If you are perceptive, you could think of fascinating names that are interesting to your pet.
Customarily charming names have regularly been founded around food, for example, Choco, Vanilla, or milky, so that would be a decent start for your quest to find the best name.
We do believe that all adorable hamsters deserve cute names.
It is up to you to select one name that is easier to remember for you and your family and friends.
Below you will find a list of all boy hamster names and girl hamster names that you can choose for your sweet pet.
Acorn
Apple
Axe
Axel
Baloo
Bean
Bee
Bigwig
Canterbury
Coconut
Corn
Creek
Dale
Dandelion
Duke
Einstein
Fiver
Gold
Hampton
Hankey
Henry
Herman
Huck
Jace
Jojo
Lava
Lion
Lord
Lucky
Magma
Marmite
Mojo
Noodle
Oak
Oat
Olly
Peppermint
Potato
Rocky
Rollo
Salt
Scooter
Shaggy
Tango
Tealeaf
Toast
Toucan
Tsunami
Veggie
Yoshi
Alfalfa
Furby
Poopsie
Good Names For A Pet Hamster
Now for some good names for your pet fluff ball:
Abster
Avonlea
Bibbles
Bigon
Bilbo
Billabong
Boo Bear
Buckskin
Buckwheat
Buffy
Buster
Butter
Butterball
Cappuccino
Caramel
Chocolate Chip
Cinnabons
Desert
Domino
Doughnut
Dumpling
Ebi
Echo
Elvis
Emeril
Flick
Fritter
Fufu
Furball
Furry
Fussball
Fuzzball
Gem
Gigabyte
Giggles
Gin
Gingersnap
Guava
Gummie
Ham-ham
Jelly Bean
Karma
Kernel
Kitkat
Kiwi
Kobe
Kujo
Latte
Lovebug
Marble
Melonball
Mimi
Mini-Me
Mocha
Muffin
Muffles
Munchkin
Nemo
Nibbles
Niblet
Nugget
Odie
Orlando
Paws
Peewee
Pepe
Pepperoni
Perogy
Pooky
Popcorn
Poptart
Pouches
Powder
Ravioli
Ringo
Scrabble
Scruffy
Shrimp
Skippy
Sleepy
Small Fry
Snookums
Snowball
Snuggles
Sparky
Stitch
Sweety
Taco
Thimble
Tippy
Toffee
Tofu
Tot
Trixie
Turbo
Uni
Waffles
Wrinkles
Ziggy
Zippy
Funny Hamster Names
Here are some cute funny names for a hamster:
Baby
Beefcake
Big Mac
Bolt
Brutus
Burger Patty
Burrito
Captain Ham Sparrow
Cheeks
Cheeky
Cheese String
Cheesecake
Cheetos
Chewy
Chomper
Chubbs
Chubby
Chuckles
Chunky
Cinnabon
Cookie Crunch
Cookies n' Cream
Cotton Bud
Cowboy
Custard Cream
Doritos
Duracell
Fiddle
Fidget
Flufferson
Fluffy
Freckles
French Fry
Fur Ball
Giant
Gin and Tonic
Godzilla
Ham
Ham n' Cheese
Ham Sandwich
Ham Solo
Ham Toasty
Hamgelina Jolie
Hamilton
Hamlet
Hamley Quinn
Hammer Time
Hammy
Hammy Potter
Hammy Roosevelt
Hammy W. Bush
Hamsterdam
Hancock
Hank
Harrison Ford
Hellboy
Hermione
Hippo
Houdini
Hulk
Jack Hammer
LeBron Hames
License To Squeal
Madame Pomfluff
Maltesers
Marilyn Monroe
Marlon Brando
Mickey Mouse
Midnight
Minnie Mouse
Munchy
Nibble Machine
Nibbletron
Pip Squeak
Plucky
Poof
Pork Chop
Portobello
Potato Chips
Pretzel
Prince Hammy
Runner
Scabbers
Sir David Hamttenborough
Sir Nibblesworth
Sir Squeaks-A-Lot
Skittles
Snickerdoodle
Snickers
Softball
Sonic
Spice
Spots
Squeak
Squeal
Steak
Teddy
The Rock
Titan
Whiskers
Dwarf Hamster Names
Almond
Amuse-bouche
Ashley (Olsen)
Beethoven
Biscuit
Brownie – A great name for a brown hamster.
Bruno (Mars)
Cashew
Charlie (Chaplin)
Cherry
Chip
Clurichaun
Cookie
Danny (Devito)
Dolly (Parton)
Duende
Elf
Fairy
Genghis Khan
Gremlin
Hervé Villechaize
Imp
Knocker
Lady Gaga
Leprechaun
Lil Wayne
Mary-Kate (Olsen)
Myrmidon
Napoleon
Nibble
Nut
Olive
Peanut
Pepper
Peter (Dinklage)
Picasso
Pistachio
Pixie
Prince
Raisin
Shakira
Shirley Temple
Slider
Tapas
Tart
Tom Thumb
Toulouse L'Autrec
Truffle
Verne (Troyer)
Walnut
White Hamster Names
Here is a list of some white names for your fluff ball:
Abby
Abel
Andy
Billy
Boots
Buck
Buttercup
Chica
Eddy
Freddie
Hoover
Jazz
Jesse
Juniper
Maddie
Mario
Monty
Peter
Pip
Poppy
Absol
Alaska
Angel
Bear
Charlie
Cloudy
Cottonball
Cub
Daisy
Dopey
Fur-ball
Fuzz-ball
Marshmellow
Mew
Otto
Pearl
Seal
Skunky
Snow
Snow White
Snower
Snowflake
Snowy
Spunky
Stripe
Sugar
Sweetie
Togepi
Whitie
Winter
Black Hamster Names
Batman
Berry
Blackbeard
Blackfoot
Blackjack
Blake
Darth Vader
Dracula
Flint
Ghost Rider
Ichabod
Johnny Cash
Kylo Ren
Lord Voldemort
Nevermore
Anise
Berry
Blackberry
Blueberry
Bosco
Bourbon
Burnt
Butler
Caviar
Chocolate
Coca
Cocoa
Cocoa Puff
Coke
Cola
Dr. Pepper
Espresso
Forge
Fudge
Godiva
Grit
Guinness
Hershey
Kettle
Licorice
Mr. Pibb
Oreo
Pepper
Pepsi
Roast
Rum
Smelt
Smoke
Tux
Tuxedo
Grey Hamster Names
Anchovy
Ash
Ashton
Bubbles
Cinder
Cloudy
Daffy
Disco
Don Juan
Dusky
Earl Grey
Foggy
Foggy
Granite
Grayson
Grey Gatsby
Grey Poupon
Greyhound
Gumby
Hazy
Inky
King
London
Mercury
Misty
Moon
Mouse
Pebbles
Pedro
Pepper
Pewter
Rain
Shadow
Shady
Silver
Silverball
Silverbell
Silverfish
Silvertoes
Smoky
Smudge
Spirit
Sterling
Stony
Storm
Stormy
Sylvie
Tinsel
Twilight
Windy
Disney Hamster Names
Aladdin
Atta
Bellwether
Bing Bong
Boo
Bulda
Bunny
Chessur
Chicharron
Cleo
Colette
Daisy
Dash
Dinah
Donald
Duchess
Ducky
Earthworm
Elastigirl
Fagin
Faline
Figaro
Finnick
Flik
Flo
Georgette
Glowworm
Hades
Jasmine
Kala
Kerchak
Kida
Kristoff
Mana Imelda
Megara
Milo
Mittens
Mulan
Mushu
Nala
Pacha
Rafiki
Ramone
Remy
Rhino
Riley
Sulley
Thumper
Toulouse
Yzma
Cool Hamster Names
Now it's time for some cool names for your pet hamster:
Alfie
Allegra
Amnesty
Angus
Athlete
Belle
Bonnie
Caesar
Carter
Cindy
Colonel
Cubbies
Cubs
Dancer
Dino
Eddie
Farthing
Freddy
Gizmo
Glory
Hamza
Jog
Kit Kat
Lightning
Lilliput
Love
Marcus
Mark
Mason
Mickey
Nutella
Nutty
Ollie
Pam
Panda
Patches
Peter
Pickles
Pounce
Saunders
Sergeant
Snuffle
Speck
Spiral
Stubby
Sweet
Swift
Tinker
Tiny
Titch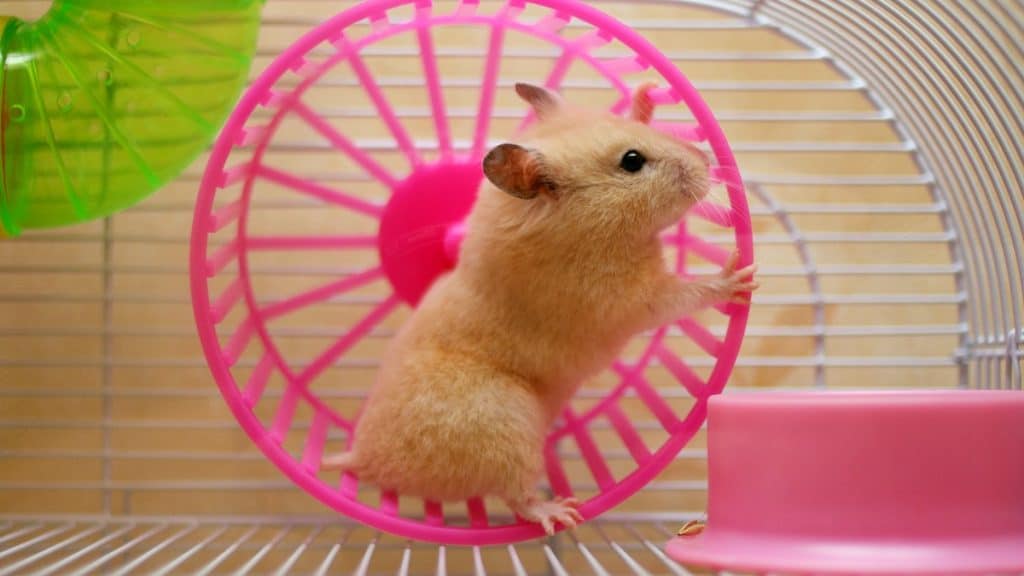 Unique Hamster Names
Here is our list of unique names for your pet hamster:
Alberich
Balin
Bashful
Bifur
Bilbo
Bo Peep
Bofur
Bombur
Doc
Dopey
Dori
Dwalin
Eitri
Ewok
Fievel
Fili
Flitwick
Frodo
Gazoo
Gimli
Gloin
Gollum
Grumpy
Happy
Hobbit
Kili
Little Bear
Meriadoc or Merry
Mini-Me
Oin
Oompa Loompa
Ori
Oz
Pee Wee
Peregrin or Pippin
Puck
Samwise
Sleepy
Smurf
Sneezy
Stuart
The Baby Yoda
Thorin
Thumbelina
Tinkerbell
Trumpkin
Tyrion
Witcher
Woody
Yarpen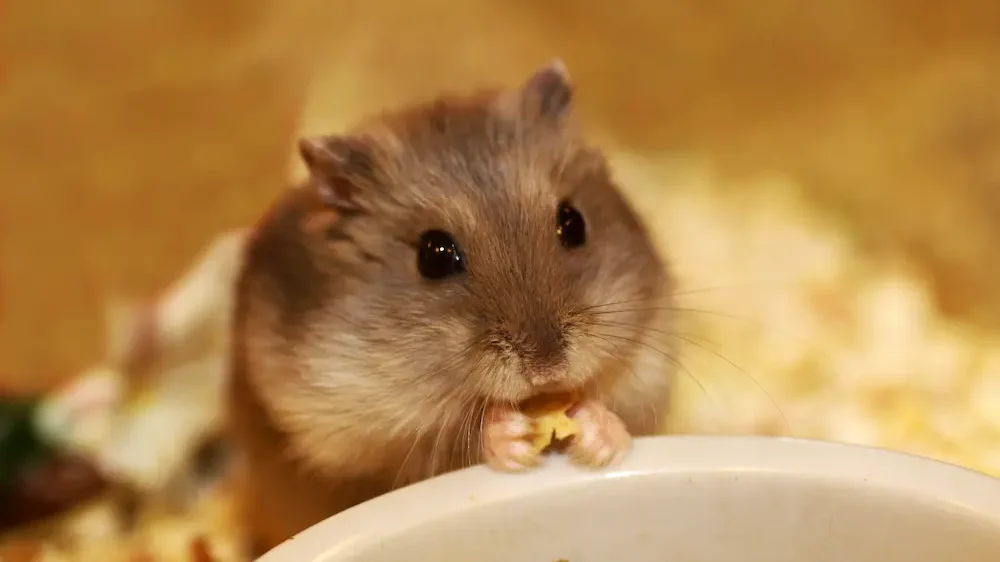 Hamster Name Inspiration
A decent hamster name is one that is anything but difficult to articulate.
Your hamster can perceive its name and even react by coming to you.
Hamsters are not enduring (typically, 2 to 3 years is the maximum).
However, this may be your kid's first pet and will be a lasting memory.
Hamster names can sometimes be easy to identify, while sometimes it can get a bit difficult.
You can take inspiration from various things like your pet hamster's characteristics or the color of your furry friend.
Sometimes you can also take inspiration from what hamsters eat.
When it comes to naming your hamsters, notable features like a Syrian hamster, a dwarf hamster, and a black and white hamster can give you a lot of inspiration.
Such kinds of hamsters are straightforward to name, and you will have a lot of choices.
If you do not want to go for the common names that everyone chooses for their hamsters, then you will need to take sticky notes and write names that are personalized to your life.
Such names are the best for your hamsters, and we believe your pet will love them.
Help Choosing The Right Name
Here are some tips to consider:
Choose a moniker thats easy to pronounce: Choose a name that is simple and easy to pronounce. This will make it easier for everyone in the household to call your hamster by its name.
Consider the hamster's personality: Just like people, hamsters have their own unique personalities. You might want to observe your new pet for a few days and pick a name based on its behavior or characteristics.
Short names: Hamsters can recognize and respond to their names if they are short and distinct. Long names can be confusing for them.
Avoid common words: Try not to choose a name that sounds like a command or a commonly used word. This might confuse your hamster when you're trying to get its attention.
Unique Names: You could think of a name that's unique and not typically used for pets. This will make your hamster stand out.
Theme-Based Names: You could select a name based on a particular theme you like such as characters from books, movies, or even scientists if you're into that!
Gender-appropriate names: If you know the gender of your hamster, you might want to consider a gender-specific name.
Names based on appearance: If your hamster has any distinct physical features, you might want to consider naming it after that. For example, 'Fluffy' for a very furry hamster.
Conclusion
So, after going through the whole list, which one did you like the most?
We are almost certain that you must have found the perfect name.
If you feel like something is missing, then try to give your pet hamster a personalized name, something that is very close to you.
Whatever the name we are sure that you have made a perfect choice.
You have now finished your first duty as a pet owner.
If you have selected a cute hamster name, then it is time for you to buy some accessories like a cage and toy for your hamster.
Make sure to get something your pet will love to play and spend time with.
Also, make sure that you clean their cage regularly and keep them in a clean area.
It is essential likewise to guarantee that your hamster is all around taken care of to ensure their satisfaction and long life in your family.
Need more ideas? Why not check out a hamster name generator!
Related Posts