We often don't notice how much the English language – and male and female names – depend on the two most popular vowels.
Those prospective parents considering names without an a or e have an uphill battle, especially with girl names, with a disproportionate amount of girl names ending with a.
We hope our ultimate guide of names without an a or e serves to eliminate frustration and give parents everywhere inspiration for that perfect name – without having to compromise with using a name that includes an a or an e.
Best Names Without A Or E
Christoph – This shortened version of Christopher puts a creative twist on a beloved classic.
Fox – This short and sweet name may be unconventional, but we can't deny its charm. Besides, who can forget Fox Mulder from The X-Files?
John
Trinity
Lily – This popular female name sounds just as sweet as its flower namesake.
Victor – A strong and popular name that means "conqueror." Viktor is an alternate spelling used in many European nations.
Kristin – The female version of "Christian."
Dillon
Kimmy – This female name is usually a nickname for "Kimberly."
Bill – Usually a nickname for William.
Iris – A lovely, feminine floral name that isn't overused.
Connor – A common name for boys in the United States.
Milly – This cute female name can stand on its own but is usually short for "Millicent."
Luz – This short and sweet female Latin American name means "light" in Spanish.
Joy – A simple, optimistic girl's name.
Duri – This Korean unisex name means "two."
Ruth – This classic name comes from the Old Testament and means "friend."
Jordyn – This is an alternate spelling of the unisex name "Jordan."
Lois – This classic female name hails from the Bible and means "desirable."
Tom
Roul – This Medieval French name means "wolf."
Colton – A classic name with a cowboy feel to it.
London – Named for the famous city in the United Kingdom, an alternate spelling for this female name is also Londyn.
Griffin
Yuki – This popular name means "snow" or "hope" in Japanese. While it is a unisex name, it's used much more often for baby girls than baby boys.
Tori – This female name is a nickname for Victoria.
Simon – This classic name hails from the New Testament.
Dominic
Kristoff – This alternate spelling of "Christoph" is also diminutive of Christopher and is typically used in Eastern Europe and in Scandinavian countries.
Nico – The Mediterranean version of Nicholas. An alternate spelling is "Niko."
Will
Boris
Rory – This female name is diminutive of Lorelai or Aurora. And who can forget the Rorys from The Gilmore Girls?
Orion – This strong name has a powerful namesake, Orion the Hunter, which is also a star constellation.
Brook – This common girl's name can also be spelled with an e at the end.
Julius
Philip
Tyrion – While this name has rocketed to popularity due to Game of Thrones, it is derived from an old Lebanese name meaning "rock."
Cruz – This unisex name means "cross" in Spanish and Portuguese.
Lori
Crow – This simple name is more often seen as a surname but can work as a first name as well.
Luis – The Spanish form of Louis.
Titus
Collins – Once only seen as a surname, Collins has gained popularity both as a boy name and a girl name in recent years.
Tyson
Corbin
Rudolph – This German name means "famous wolf." A common nickname for this name is Rudy.
Cyrus
Dmitri – A popular Russian male name.
Female Names Without A Or E
Lilith
Ivy
Cho – This Japanese name means "butterfly."
Brooklyn – This stylish name hails from the famous and artsy New York City borough.
Zuri – This Swahili name means "beautiful."
Brynn – This simple female name was virtually unheard of until recent years. In 2012, it reached its peak popularity as the 189th most popular American baby girl name.
Shiloh – Once only a boy name, Shiloh has gained popularity as a female name in the United States.
Poppy – A cheerful floral name.
Ivory
Sky
Lyric – A sweet and musical girl name.
Bristol – Another place name on our list, Bristol is named for the southwestern English city.
Holly – A festive name with an evergreen namesake.
Bonny – Scottish for beautiful, an alternate spelling for Bonnie.
Male Names Without A Or E
Wolf – This strong, monosyllabic name is often a shortened version of Wolfgang, but can stand on its own just as well.
Jon – Usually short for Jonathan, but it also works well by itself. Also a great baby name for those who love Game of Thrones.
Grigori – This Russian name is a version of Gregory.
Hiroto – This strong Japanese name means "great" and "commander."
Kingston – This regal-sounding name has gained popularity in recent years and has risen to the 112th most popular boy's name in the US.
Tylor – An uncommon spelling for the popular name "Tyler."
Zion – A heavenly Hebrew name that is a solid option as a baby boy name.
Colt – Could be a shortened version of Colton or could stand as its own name.
Louis
Ross – Both from Scottish and English origin, it is common to see this as both a first and last name.
Colin
Bodhi – This popular name has unclear meanings, but is believed to reference Buddhist Enlightenment.
Odin – What name is more powerful than that of a Norse god?
Colson – It's common to see this name as both a first name and a surname.
Russ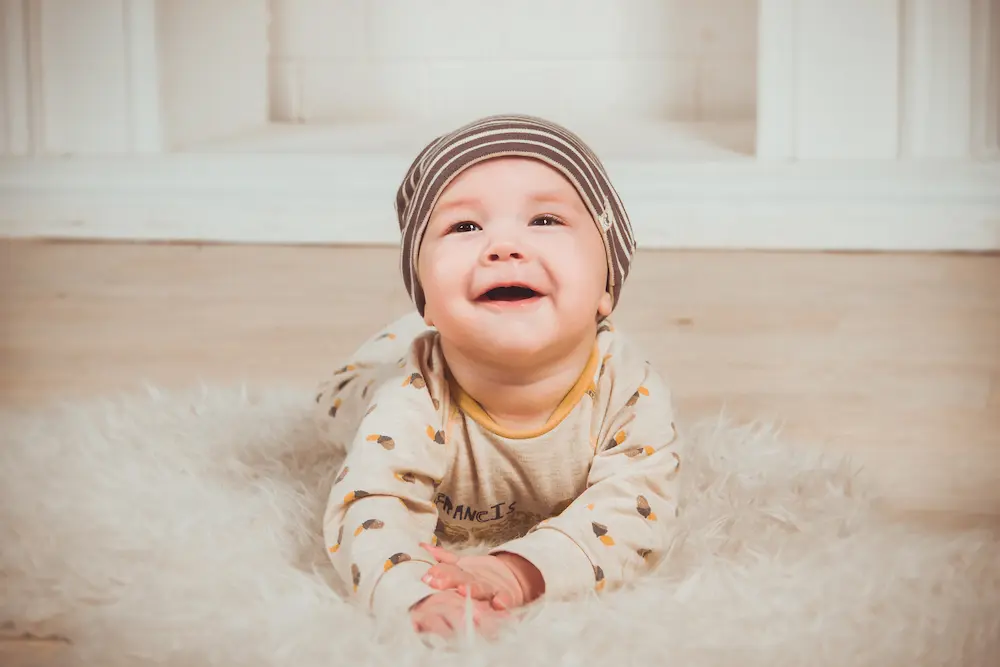 Name Inspiration
While it can be difficult to find a name that doesn't include an a or an e, you'll find that names from certain other cultures – such as Eastern Europe, Japan, and China – have many names that don't include these two popular vowels.
The names on our list include both popular names lifted from the top US baby name charts as well as some lesser-known names from different cultures.
For baby name inspiration, it is best to avoid passing trends, as the last thing you want is for your child's name – which will become a strong tenet of his or her identity – to eventually feel dated and cheap.
Several great sources include your family tree, nations from which your ancestors originated, or classic symbols that mean something to you personally.
Name meanings are also at your fingertips. If a name sounds good, look up its meaning to make sure it doesn't mean something distasteful or silly.
Help Choosing the Perfect Name
Choosing the perfect name for your child can feel like a Herculean task, even without such strict parameters as avoiding certain vowels.
When selecting the perfect name, it's important to think about what that name will reflect. If you're close to your culture, it makes sense to choose a name that has strong ties to your cultural origin.
Despite the sheer number of baby names to choose from, naming your child doesn't have to be difficult. Follow your gut and don't overthink it.
Conclusion
Whether you're perusing possible baby names or have an interest in etymology, we hope our ultimate guide for names without an a or an e has exactly what you are looking for.
Related Posts