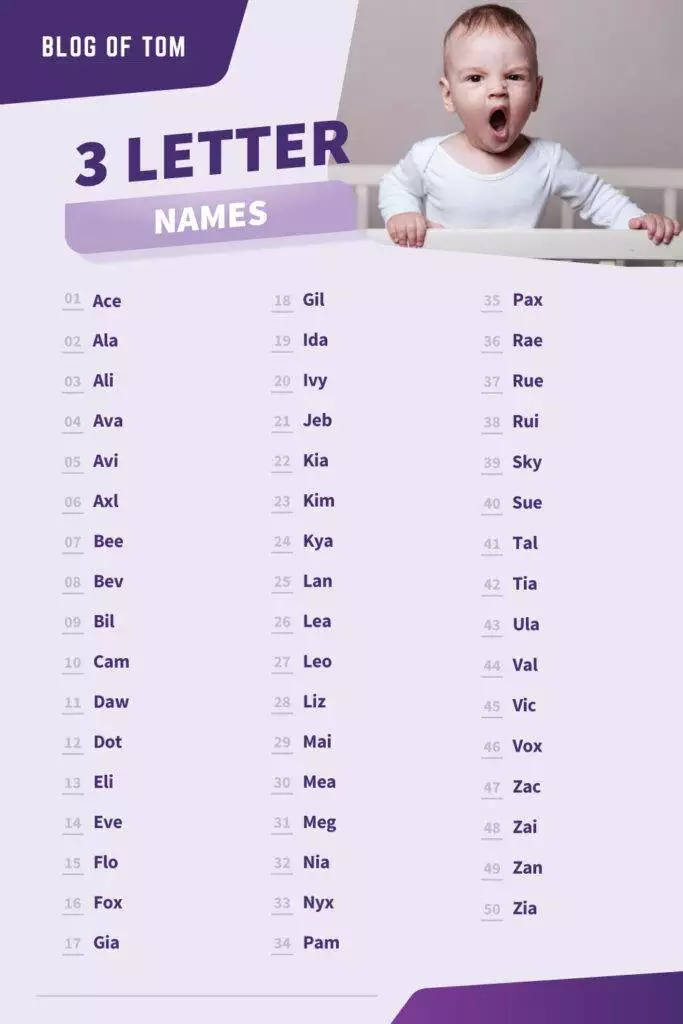 If you're looking for something short and sweet to call your new bundle of joy, then check out our list of the best 3 letter names for your baby.
Whether you are looking for boy or girl names, short middle name ideas, or names from a wide variety of cultural origins, we've got the perfect name for your little one.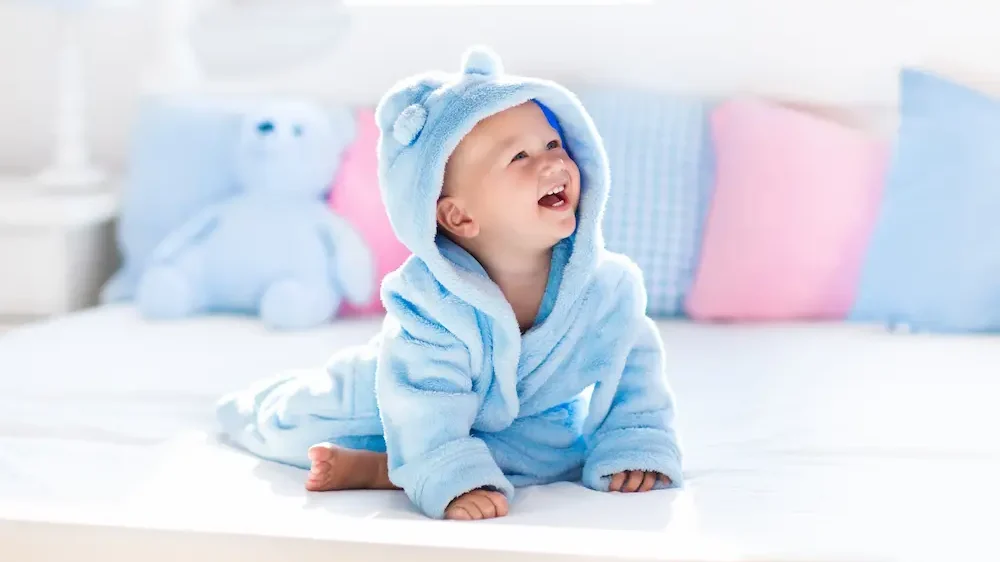 Best 3 Letter Names
We've compiled the best three-letter names for your baby below.
From the popular three-letter monikers to the unique ones, you are sure to find the absolute best name for your baby.
All these names will be very easy to pronounce!
Nyx – night
Kia – Christ-bearer
Kim
Mai – a great 3 letter option
Gia – God is gracious
Sue – lily
Vox – voice
Rue – herb
Ida – hardworking
Ivy – climbing vine plant
Axl – my father is peace
Fox
Leo – lion
Jeb
Cam
Eli – height
Bil
Zai
Zac
Avi – father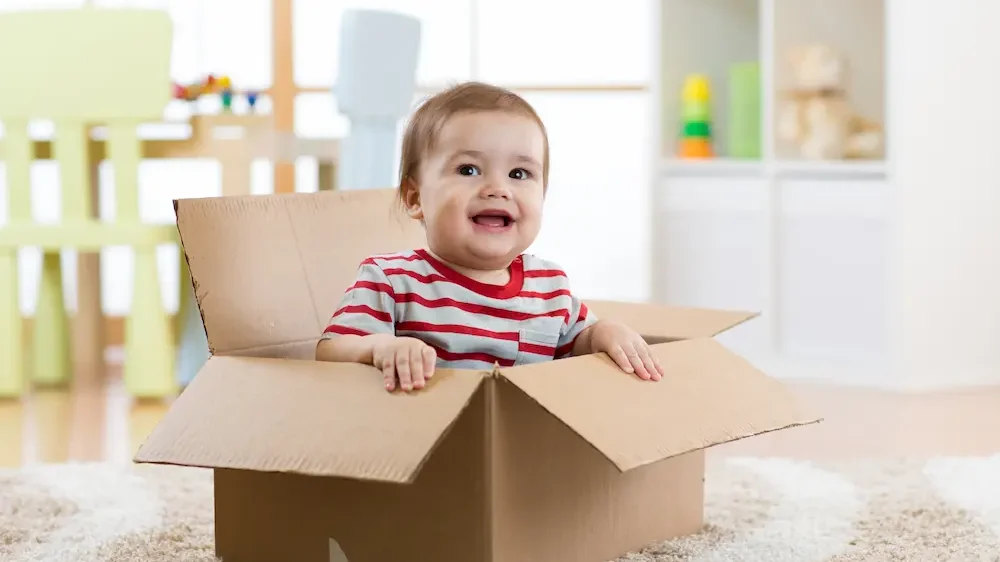 Good 3 Letter Baby Names
Pam – all honey
Mea – mine
Ali – exalted, noble
Bev – from the beaver stream
Flo
Sky
Liz – God is my oath
Meg – pearl
Kya
Dot – gift of God
Ula – jewel of the sea
Val
Zia – radiant
Nia – bright
Lea – weary
Eve – to live, to breathe
Tia – aunt
Lan – orchid flower
Rae
Daw – stars
Ava – like a bird
Tal – morning dew
Vic
Zan
Ala – praise, excellence
Gil – joy
Rui – famous ruler
Bee
Pax – peace
Ace – expert, one
May
Mai
Mae
Liz
Jay
Jax
Ina
Ida
Bea
Amy
Here we've listed some more 3 letter baby names.
This baby name list includes the short form of many popular longer names.
3 Letter Girl Names
If you are expecting a baby girl, this list of three-letter names is very short and sweet for your new little darling.
Ady – noble – pronounced ah-dee
Liv – shield, cover
Des
Ina
Amy – beloved
Eva – giver of life
Mia – bitter, of the sea
Cai – rejoice
Kat – pure
May – alternate spellings include Mae or Mei
Sol – sun
Kay – rejoice
Yue – moon
Mya – mine
Noa – movement
Joy – happiness
Zoe – life
Mae
Ann – merciful, gracious
Jem
Ria
Ana – merciful, gracious
Iva
Ada – happy, noble
Dia – day
Ani – very beautiful
Bea – blessed
Luz – light
Deb
Ali
Ari
Flo
Fay
Abi
Ana
Ala
Amy
Ann
Ash
Bev
Blu
Bri
Cam
Cas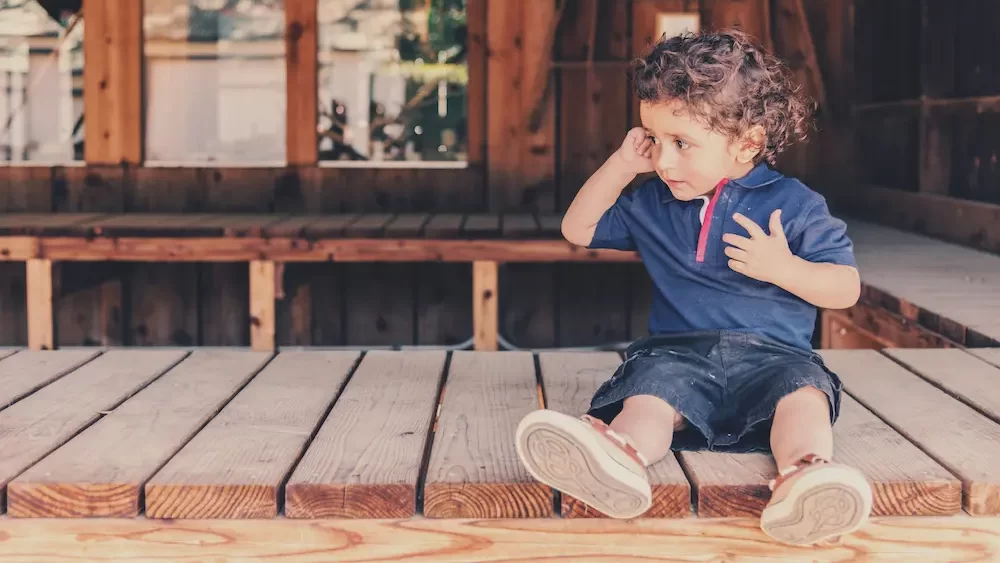 3 Letter Boy Names
This list of baby boy names with three letters will give you some awesome ideas for your little chap.
Whether he's a burly lad or a lithe little boy, one of these names is sure to fit his personality.
Huy – glorious
Zef
Koa – brave one, warrior
Anu
Yug
Alf – noble peace
Joe – God will increase
Ark
Keo
Abe – father of nations
Zak – God has remembered
Dax – leader
Pat – noble
Aja – propel, to drive
Dev
Gar
Zon
Raj
Bif
Ken – handsome
Han – A good name especially if you love Star Wars!
Nic
Jax
Ege
Paz – peace
Don – man, world leader
Del
Ben
Dru
Zhi – healing, wisdom
Max
Sam
Leo
Tom
Dan
Axl
Eli
Ace
Kai
Kal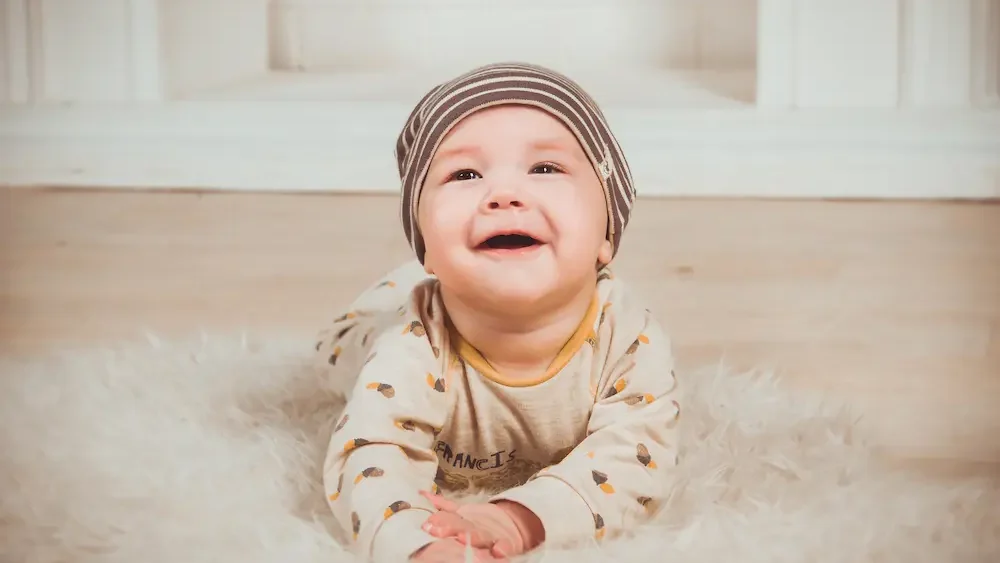 3 Letter Unisex Names
Short names have gained popularity in recent years and these options are great for boys or girls.
So if you want to be surprised by the sex of your baby but also want to be prepared with a name, check out these great gender-neutral names.
Ira – watchful
Bay
Jan – God is gracious
Mel
Del
Mac – son
Kit
Ren – lotus
Sal
Lou – famed warrior
Sam
Rey – king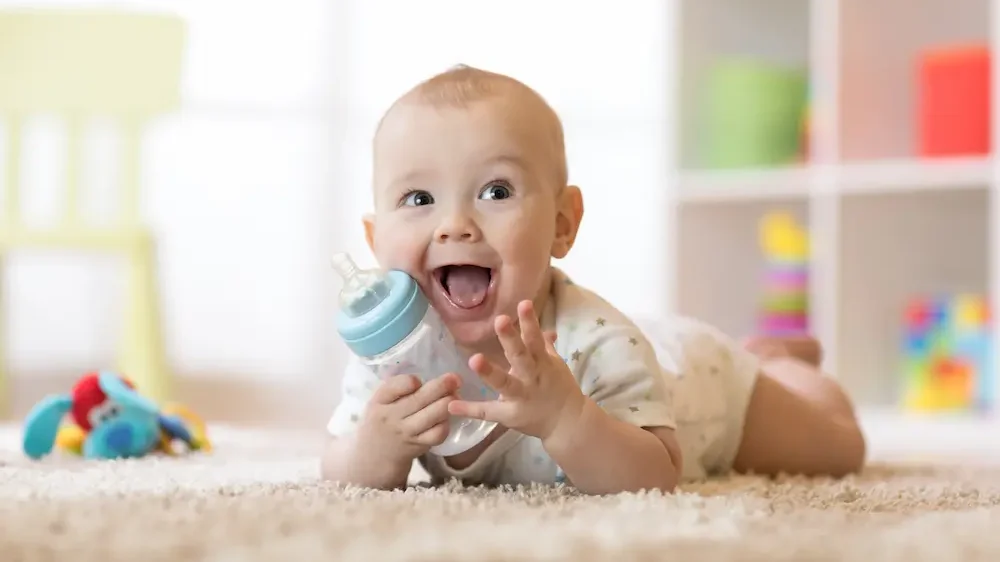 Cool Names That Have 3 Letters
Your baby's name doesn't have to be traditional or even one that everyone else is using.
Check out these totally cool and absolutely unique three-letter names for your baby.
Gin – silver
Jai – victory
Jay
Lad
Dre
Ash
Zev – wolf
Buz
Nox – night
Oak
Coy – still, quiet
Eza
Fil
Kip
Aya – bird
Jem
Roy – red
Rex – king
Ryu – dragon
Gus – great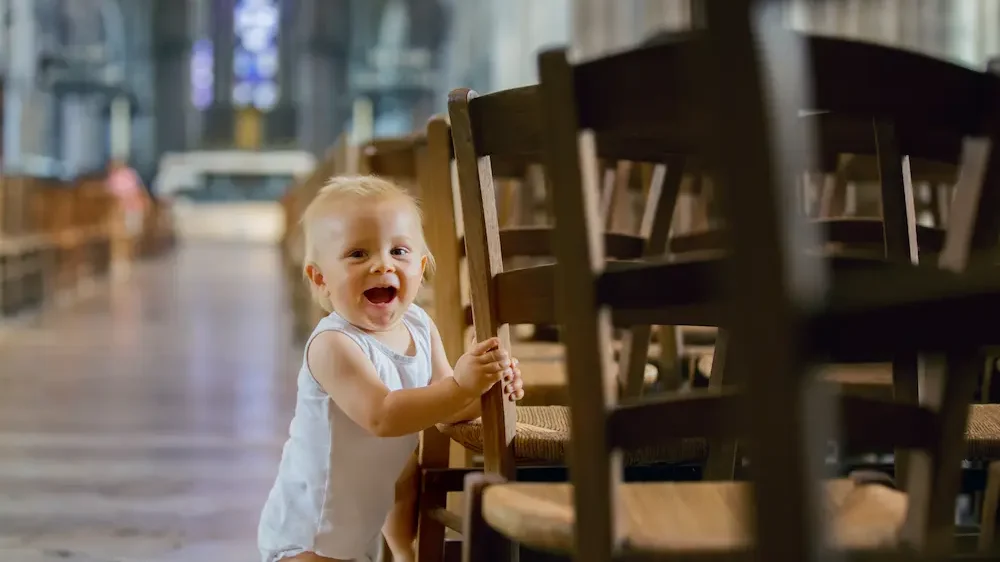 3 Letter Bible Names
There is no better inspiration for your baby's name than the best-selling book of all time.
This list of Bible names provides some beautiful short names, perfect for any child.
Ram
Hur
Nun
Lot
Gog
Dan
Asa
Noe
Zur
Ham
Ada
Pul
Eve
Eli
Gad
Job
Hen
3 Letter Japanese Names
Maybe your family has Japanese origins or perhaps you just enjoy and respect their culture.
Either way, these three-letter Japanese names are a beautiful homage to the island country.
Azu
Rai
Kai – victory, triumph
Jin
Eko
Noe
Nao – direct, straight
Umi
Ena
Koi
Cho
Yue
Hao
Kei
Aoi – hollyhock
Ren – lotus
Iyo
Mio – beautiful cherry blossom
Ran – orchid
Tai – extreme, very
Gai
Koa
Zen
Rin – severe, dignified, cold
Mao – genuine, real
Yua – bind with affection
Rio – white jasmine center
Dai – shines
Aki – clear, crystal
Yui – bind with gentleness
Kio
Uka
Mai – dance
Rie
3 Letter Chinese Names
Chinese culture is rife with some awesome short names that are perfect for any little boy or girl.
Check out the list we've put together of three-letter Chinese names.
Hua – illustrious, splendid
Shu – pure, charming, good, virtuous
Bai – pure, white
Hai – ocean, sea
Mei – sprout, bud
Lei – pile of stones
Xiu – beautiful, outstanding, luxuriant, elegant
Tao – large waves
Fen – aroma, fragrance, perfume
Kai
Yin – money, silver
Yun
Wei – pomp, power
Xue – snow
Hui – wise, intelligent
Lin – forest
Jin
Yan – gorgeous, beautiful
Jia – auspicious, good, beautiful
Guo – country
Shi – era, time, season
Bao – jewel, rare, treasure, precious
Kun – female, earth
Qiu – autumn
Lan – elegant orchid
3 Letter Korean Names
These short Korean names are perfect for any baby especially if your family hails from an East Asian country.
Choose one of the following names below for your little one's new name.
Min – clever, quick, sharp
Dae
Hae
Soo
Cho – butterfly
Jae – ability, talent
Han
Jum
Joo
Goo
Hye – intelligent, bright
Hee
Bin
Won
Hyo
Doh
Eui
Hwa
Jin – metal, gold, money
Woo
Eun – mercy, kindness, charity
Jee
Kyu
Hoe
Hei
Tae
Nam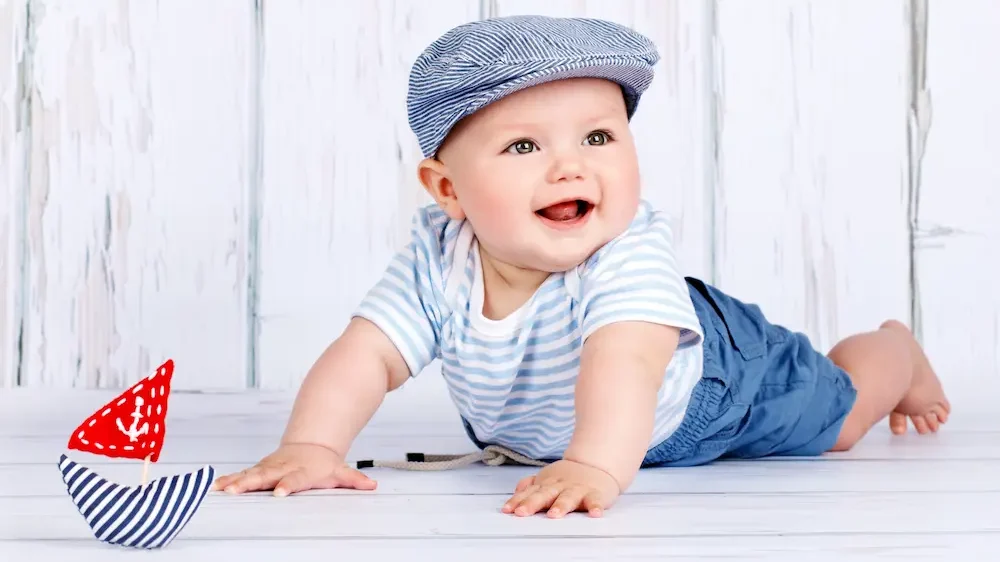 3 Letter French Names
The following names of French origin are a beautiful reflection of the romantic language from which they stem.
You'll find just the right name for your little boy or girl below.
Pol
Vic
Bri
Ted
Yvo
Pat – noble
Lou – famed warrior
Rik
Zoa
Ivo – yew
Ree
Roi – shepherd
Evo
Hue – lily flower
Gen – spring
Jaq
Ray – counsel protection
Vik
Lio
Sam
Ugo – spirit, mind
Gui
Gil – joy
Ric
Tom – A shortened form of Thomas
Den
Ren – lotus
Gye
Roy – red
Zoe – life
Lev – heart
Rey – king
Eve – to live, to breathe
Sue – lily
Nic
Clo
Lee – field
Ryk
Seb
Art – bear
Orv
Gai
Gab
Luc
Leo – lion
Lui
Yve
Hew
Bas – revered
Lew – famed warrior
Val
Ruy
Guy
Are
Lyo
3 Letter Hebrew Names
These names of Hebrew origin provide the perfect homage to an ancient culture.
Whether your family can trace their heritage back to the Hebrews or you simply admire their beliefs and way of life, one of these is bound to fit your baby.
Ari – eagle
Guy – warrior
Paz – peace
Sal – princess
Deb – bee
Yem – life
Bat – ploughman
Uri – God is my light
Rae – doe
Jan – gift from God
Tab – brilliant
Mae – bitter
Nan – grace
Oma – commanding
Ana – grace
Els – devoted to God
Zeb – portion of the Lord
Ian – gift from God
Lea – bringer of good news
Ham – hot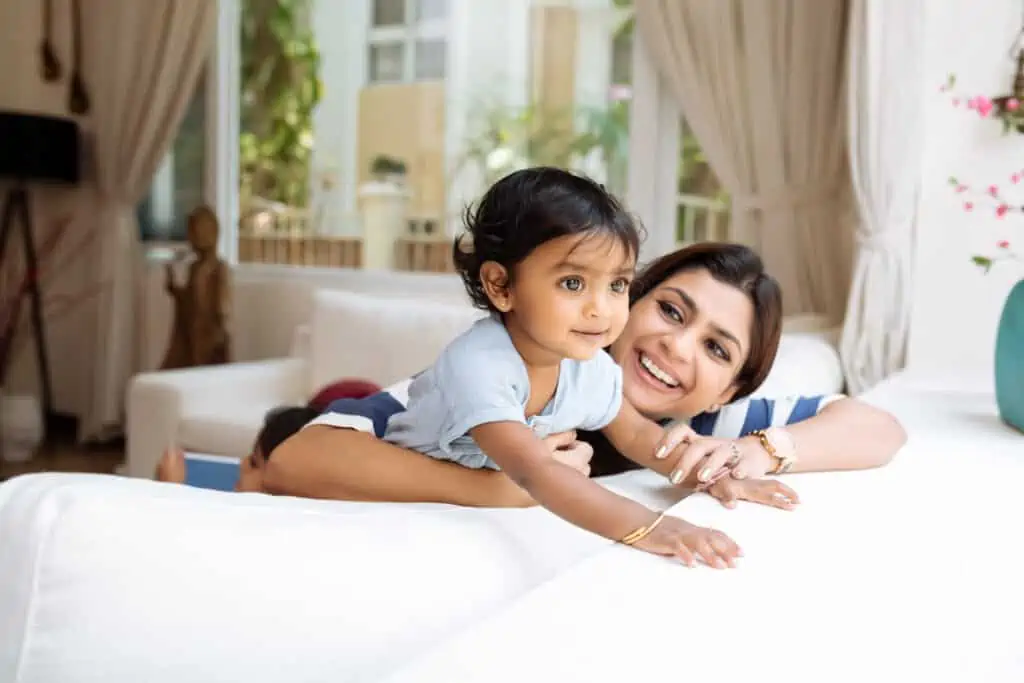 3 Letter Indian Names
Perhaps you want to name your baby something a little more exotic.
Check out these exquisite names of Indian origin from a colorful culture full of life.
Das – slave
Vac – well spoken
Uja – grow
Taj – crown
Sur – sharp nosed
Aja – goat
Bhu – earth
Bha – star
Div – evil spirit
Adi
3 Letter Arabic Names
Perhaps you want to draw from a list of names of Arabic origin.
If so, you're in luck because we've provided you with some fantastic Arabic names below.
Ala – superior
Now – light
Nur – light
Ali – excellent
Oma – commanding
Bab – foreign
Ara – embellishing
Zia – sweat
3 Letter Asian Names
Asian cultures have beautiful names that are typically short and sweet so we've compiled a comprehensive list of perfect three-letter Asian names for your little one.
Mia – bitter, of the sea
Ryu – dragon
Gin
Yuu – superiority, excellence, gentleness
Kei – intelligent
Isa
Kon
Miu – beautiful feather
Hei
Ban
Rui – famous ruler
Yei
Kei – white, sandy
Oto
Edo
Eru
Ian – God is gracious
Ami – second beautiful
Moe – sprout, bud
Uta – song
Ben
Eri – drawing
Iro
Kyo – unite
Sui
Oki – ocean centered
Ito
Gou
Ume – Japanese apricot
Jio
Kou
Sho – glide, soar
3 Letter Middle Names
Perhaps you want a long first name but a short and sweet middle name for your child.
We've got you covered with the best three-letter middle names for your baby.
Lee – field
Ray – counsel protection
Zvi – deer
Vic
Bry
Ean – God is gracious
Lal
Ata – gift, present
Pio
Tim
Stu
Max – greatest
Adi
Lex
Ali – exalted, noble
Bix
Zed – God is righteousness
Bob
Idi
Art – bear
Guy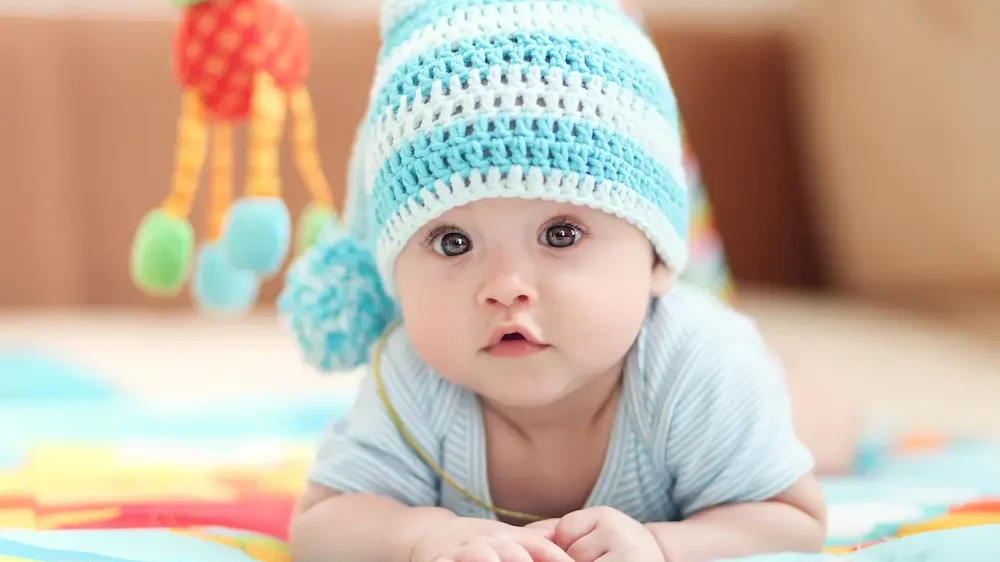 3 Letter Last Names
Short last names are actually very common and can be accompanied by long or short first names.
Below is a list of three-letter last names and their origins to sate your curiosity.
Cox – English
Pei – Chinese
Key – Irish
Rog – Polish
Aue – German
Gal – Hungarian
Roy – English, French
Fux – German
Pan – Provencal
Rao – Italian
Rey – Spanish, Catalan, English, French
Mas – Low German, Dutch
Abe – Japanese
Day – English
Hou – Chinese
Pan – Chinese
Eld – Swedish
Abt – German
Tot – Hungarian
Xie – Chinese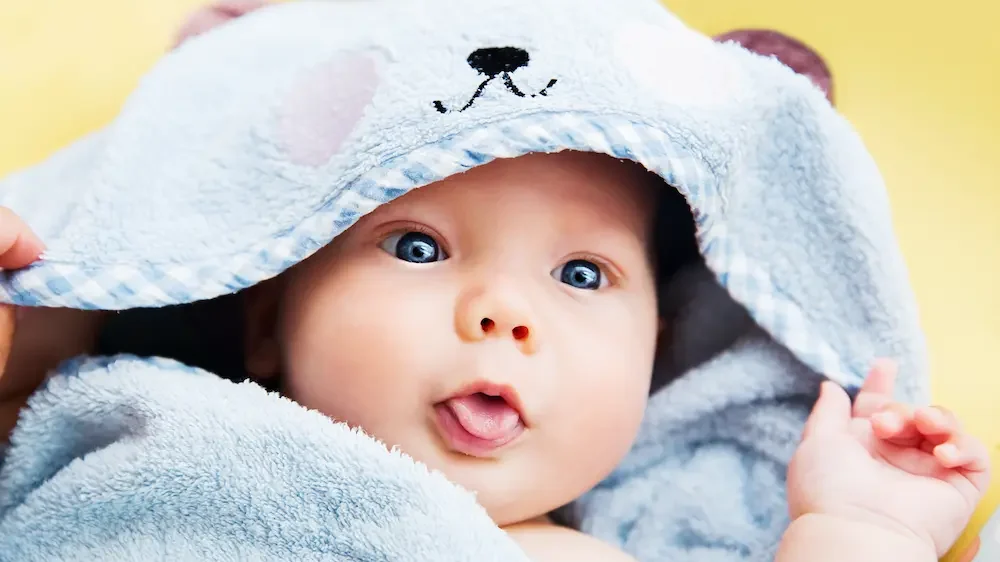 Baby Name Inspiration
If you are looking for inspiration on what to name your baby and none of the names above seem to work for you, try looking up three-letter baby names from these other cultures:
Spanish origin
German origin
African origin
Latin origin
Greek origin
Scandinavian origin
Draw inspiration from pop culture, your favorite piece of literature, or a family member who meant the world to you.
Help Choosing The Right Name
Whatever name you choose for your new darling baby, you can't go wrong with a sweet three-letter name.
If you are having trouble deciding, bounce ideas off of your partner or a close friend. Try out different names with your last name to see if they flow.
Sometimes first names that end with the same sound as the end of the last name don't quite sound right and sometimes, they fit perfectly.
Whatever you choose, you'll make the right decision for your child.
Conclusion
Whether your baby is a boy or a girl, short names are a great choice.
There are many different cultures to find three-letter names from Arabic to Asian to Hebrew.
All of these options are wonderful but only one will be the perfect fit for your baby.
Related Posts
FAQs
What are some three letter names?
There are a lot of three letter names to choose from! Some popular options for both boys and girls include Leo, Eve, Ann, Ivy, and Sue. Other unique options for girls include Bay, Fia, Liv, and Sky, while boys can choose from names like Kai, Max, and Sam.
What are the best 3 letters names
The best three letter names are subjective and depend on personal preference. Some popular options for boys include Leo, Eli, and Max, while girls can choose from names like Eve, Ann, and Ivy. Other unique options for both genders include Kit, Lou, and Taj.
What are some girl 3 letter names?
There are many three letter names for girls to choose from! Some classic options include Ann, Eve, Ada, Ida, Fay, Kay, and May. Other unique options include Bay, Bee, Fia, Kit, Liv, Lou, Paz, Poe, Sky, Taj, Una, and Zen.
What are some 3 letter boy names?
There are many three letter names for boys to choose from! Some popular options include Leo, Eli, Kai, Max, and Sam. Other unique options include Ace, Ash, Jax, Jet, and Rex.