Ravens are beautiful creatures and make great pets or companions in works of fiction. They have a rich mythology and folklore surrounding them, and their names reflect that.
If you're looking for ideas for naming your pet raven or your next fictional raven, look no further! These are some of the most interesting raven names out there.
Enjoy!
The names listed below are some of the best names for ravens. While some may be a little wonky for a human, they might make a great nickname.
Best Raven Names
Aldram – (German) "old raven"
Atramentous – (British) "to blacken" or "black ink"
Ava – (Latin) "bird"
Báyaḳ – (Native American/Quileute) "raven"
Belasko – (Basque) "raven"
Beltrán – (Spanish form of Old High German) "bright raven"
Bertram – (German) "bright, famous raven"
Bertok – (Hungarian form of Old High German) "bright raven"
Bituminous – (French/Latin) "resembling asphalt"
Branwenn – (Welsh) "fair raven"
Broin – (Celtic) "raven"
Byrd – (American) "bird"
Chantey – (Latin) "song with a boisterous chorus"
Chogan – (Native American/Algonquin) "blackbird"
Corby – (British/French) "dark as a raven" or "raven-haired"
Crawford – (English) "ford of the crows"
Demi – (Greek) "half"
Draven – (American) "of the raven;" main character from the movie, "The Crow"
Ebon – (Old French) "dark black;" referring to the hardwood of the tree for musical instruments
Fiachra – (German) "hunt" or "raven"
Gaagii – (Native American/Navajo) "raven"
Ganhada – (Native American/Tsimshian) "raven" or "clever one"
Gull – (Celtic) "seagull"
Harbinger – (American/Old German) ravens are notorious omens of death and doom
Hosa – (Native American/Arapaho) "little raven"
Hraban – (German) "raven"
Hrafn – (Norse ; Iceland) "raven"
Ingram – (Scandinavian) "raven of peace; raven of Anglia"
Jet – (Anglo-French) "deep glossy black"
Joceran – (German/Old Saxon) "great raven"
Kanga – (Native American) "a raven"
Kanīsah al-Ghurāb – (Arabic) "Church of the Raven"
Karšiptar – (Persian/Zoroastrianism) "black-winged"
Kaw – (American/European) the sound a raven makes
Korbin – (Latin) "raven-haired"
Merletta – (Old English) "blackbird"
Nesta – (American) "bird nests"
Oreb – (Biblical) "a raven"
Rambaud – (German) "bold raven"
Rambert – (German) "raven" and "bright"
Rang – (British) "raven"
Ranulf – (German) "raven wolf"
Raven – (Old Norse/Old English) "raven"
Ravenna – (Italian) "raven the bird"
Regenfrithu – (British) "peaceful raven"
Renwyk – (Teutonic) "raven's nest"
Waldron – (German) "mighty raven"
Wolfram – (German) "wolf raven"
Yéil – (Native American/Tlingit) "raven"
Zippora – (Yiddish) "bird"
Names For Female Ravens
Feminine names for ravens convey a certain meaning while portraying an ambiance of the fairer sex.
Bertrina (American) "bright raven"
Fay (Irish) "raven"
Gwylan (Welsh) "seagull"
Jaee (English) "raven"
Mavis (English) "song thrush"
Names For Male Ravens
When you want to project that masculine machismo, only a male raven name will do.
Alex (Greek) "defending men"
Bertrand (German) "bright raven"
Conspiracy (English) the collective noun for a group of ravens
Kangee (Native American/Lakota Sioux) "black raven"
Unisex Names For Ravens
Sometimes a genderless name will be best for a baby or pet raven. But for a good exploration, etymology dictionaries have plentitudes of interesting information.
Beltran (Spanish) "bright raven"
Engelram (Old Norman German) "Engel's raven"
Robyn (German) "bright fame"
Roxbury (British) "raven's fortress"
Treachery (English) the collective noun for a group of ravens
Cute Names For A Raven
When you want something adorable, consider any one of these cute raven monikers below.
Gertie (German) "strong spear"
Hula (Hawaiian) "gourd"
Merla (Old English) "blackbird" – This is a very sweet-sounding moniker!
Ronne (German) "raven"
Usoa (American) "dove"
Good Names For A Raven
For solid nomenclature, the ones below are descent for ravens or people. Most of these are classic, foreign names from centuries-long gone.
Corbeau (French origin) "raven"
Cormac (Irish) "raven" or "wheel;" and mac means "son"
Merle (French) "blackbird"
Outram (Teutonic) "wealthy raven"
Ramsay (British) "Raven's Island"
Funny Names For Ravens
Certainly, humorous and comedic overtones of the person or creature in front of you require a name to fit.
Birdie (English) "bird genus"
Bobo (French) "stammering"
Brainard (English) "courageous raven"
Gannet (German) "goose"
Badass Names For A Raven
When you have a natural-born fighter on your hands, you want a tough and badass name. Many of these are very old words that refer to a raven.
Berahthraben (Old High German) "bright raven"
Brangwen (Welsh) "fair raven"
Brannon (English) "raven"
Cadfan (Welsh) "battle raven"
Corbinian (Latin) "crow, raven"
Guntram (German) "war raven"
Manu (Polynesian) "night bird"
Úlfhrafn (Icelandic) "wolf raven"
Cool Raven Names
All the names mentioned thus far are pretty cool, but the ones listed here are even better.
Bartram (Scandinavian) "bright raven"
Branley (English) "raven meadow"
Corvin (Latin) "raven"
Rabanus (Latin) "raven"
Ranfield (British) "raven's field"
Swift (Greek) "footless"
Unique Names For Ravens
The names for ravens below are unusual to use, but still interesting and beautiful nonetheless.
Bramwell (English) "raven well"
Brangwy (Welsh origin) "fair raven"
Fechin (Irish) "raven"
Shahaf (Hebrew) "seagull"
Tori (Latin) "bird"
Famous Raven Names
The names below are for famous ravens in movies, literature, and other components of pop culture.
Alfred Hitchcock (British) famous movie director of "The Birds;" featuring ravens and crows
Bram (Scottish) "raven;" consider author Bram Stoker's, "Dracula"
Damien (American) from the movie franchise "The Omen"
Edgar Allen Poe (American) famous author of "The Raven"
Grip (British) famous author Charles Dickens had three pet ravens throughout his life, all named "Grip."
Jimmy the Raven (American) famous raven appearing in over 1,000 movies from the 1930s to the 1950s such as "It's a Wonderful Life" and "You Can't Take It with You."
Lenore (American) character from Edgar Allen Poe's, "The Raven"
Sparrow (American) " type of bird;" Jack Sparrow from "Pirates of The Caribbean"
Writing Desk (British) from the riddle in Lewis Carroll's, "Alice in Wonderland;" why is a raven like a writing desk?
Raven Names in Mythology
Ravens are such an ancient creature on the earth and span so many different areas, people have developed whole mythologies around them.
From the ancient Celts and Greeks to Christianity, Judaism, and Native American belief structures, raven is king.
Angel of Death (worldwide) a general figure throughout the ancient world and Abrahamic religions who collects and guides dead souls to the afterlife
Apollo (Greek/Roman) ravens were messengers sent from the Greek and Roman God of Light and Truth as harbingers of doom and destruction
Morrigan/Morrigu (Celtic) Ancient Goddess of war and magic who appears accompanied by a host of ravens or shapeshifts into a raven
Odin (Norse) Great God of the entire Nordic pantheon intrinsically connected to ravens
Bran (Welsh) "raven;" Bran the Blessed was the son of the god Llyr
Branwen (Welsh) bra "raven" and Gwen "fair" or "fair raven"
Byrne (Irish) "descendant of Bran"
Fiachra (Irish/Gaelic) "raven" or "swan;" child of Lyr transformed into a swan for 900 years
Huginn (Norse) "thought;" one of Odin's messenger ravens
Llyr (Welsh) "Raven God;" father of Bran
Medb (Celtic) another form of the Morrigu; perhaps a raven form
Muninn (Norse) "memory;" one of Odin's messenger ravens
Queen Maeve (Celtic/Britannic) a raven-like aspect of the Morrigan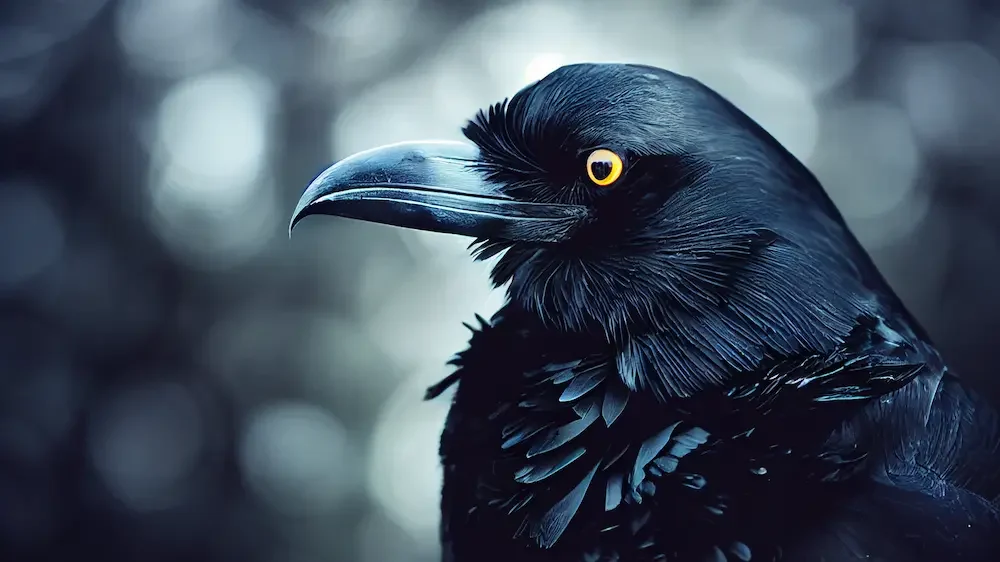 Pet Name Inspiration
Needing ideas on where to look for name ideas? Here are a few places you can look for inspiration for a beautiful black bird.
Famous children of royalty, celebrities, and politicians
Mythology and folklore from around the world
Names of other mythological creatures, such as dragons or unicorns
The names of mythical places; Mount Olympus, Eva Peron, etc. (from literature, movies, or pop culture)
A site with various names, such as blogoftom.com
Raven in Pop Culture
If you are looking for pop culture examples of ravens or want ideas on where to look, here are a few places.
Films
Literature
Television
Music
Help Choosing The Perfect Name
1. Picking A Name That Has Personal Meaning
Pick a name that has personal meaning to you. It doesn't have to be anything big, but it should hold some significance. This will make your raven feel more personal and make you feel more connected with it.
2. Considering Your Pet's Personality
Another good idea is to consider your pet's personality and choose a name that fits their personality. Make the name an expression of who they are or how you see them, such as "Angel" if they have a gentle and loving personality.
3. Choosing A Name That Is Easy To Say
It's always a good idea to choose a name that is easy to say. Names that are difficult to pronounce can make training your new pet harder, especially if you plan on using word commands with them.
4. Avoiding Common Names
Avoid common names, such as "Spot" or "Fluffy." These are usually given to multiple animals and might lead to some confusion when it comes time to call your new pet over for dinner.
5. Avoiding Names With Negative Meanings
Also, avoid names that might be considered negative or bad or that imply something you do not want, such as "Evil."
6. Getting Inspiration From Others
Lastly, get inspiration from others! Names are a very personal choice and there are thousands of different choices you can make. You can get ideas from books, movies, TV shows, or even other people in your life. Ask friends and family members for suggestions and don't be afraid to try something new!
Conclusion
Choosing a name for your raven can be a difficult task. You want to pick something that is meaningful to you, fits with your pet's personality, and is easy to say. You also want to avoid common names and names with negative meanings.
If you are struggling to come up with a name on your own, get inspiration from others! There are thousands of different names to choose from and you can find inspiration from books, movies, TV shows, or even other people in your life.
Related Posts