When it comes to naming your home, there are endless possibilities.
But if you're looking for a name that's both unique and has a bit of Spanish flair, we've got just the list for you.
Below are 21 Spanish house names, perfect for any home (especially those with a Spanish theme).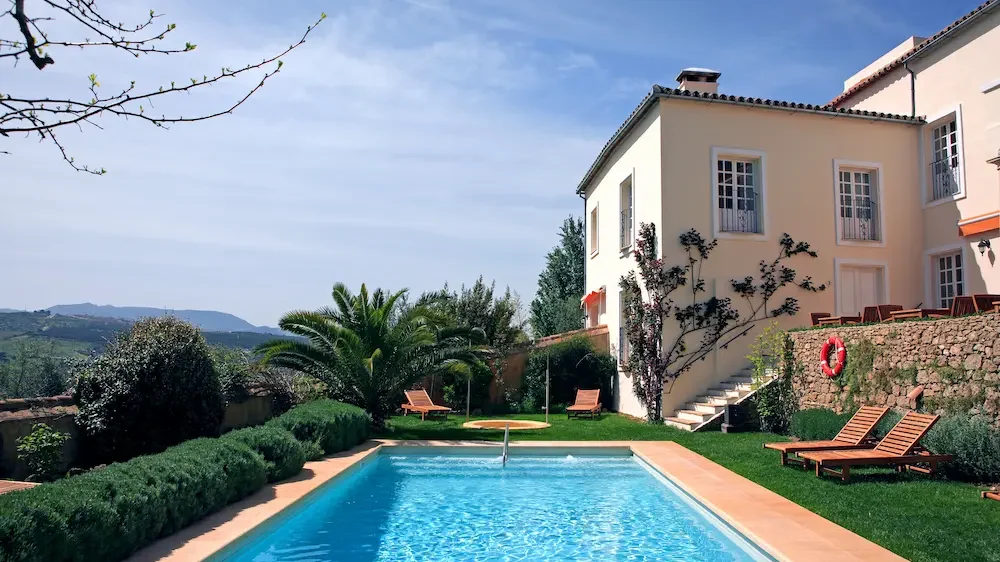 Spanish House Names
1. La Casa Blanca – The White House
2. El Palacio – The Palace
3. La Mansión – The mansion
4. El Castillo – The castle
5. La Villa – The villa
6. El Hogar – The home
7. La Residencia – The residence
8. El Edificio – The building
9. La Casa De Campo – The country house
10. La Hacienda – The estate
11. El Rancho – The ranch
12. El Pueblo – The village
13. Casa de Los Colores – This name translates to "House of Colors" and is a great suggestion for those looking to represent a home full of life, joy, and positivity. The name also calls to mind the beauty of Spain's vibrant culture, which includes colorful festivals, unique art forms, and delicious regional cuisines.
14. Casa Del Sol – This Spanish house name connotes a place of warmth and comfort, signifying the wonderfully pleasant feeling one gets when visiting Spain. For this reason, it is an excellent option for those looking for a vacation home in the country or for owners that want to always remind themselves of the fun they had during their trips there.
15. La Casona – directly translating from its Spanish roots as "big house" – is ideal for large families or even those with multiple generations living together under one roof. It's also perfect for people who are proud of their heritage and want to display it through their choice of house name.
16. El Palacio de las Estrellas – meaning "Palace of Stars" – is not only beautiful but also quite fitting if you live at the shoreline or near any body of water given that stars can be seen reflecting off its placid surface on clear nights.
17. La Residencia del Mar – Another great option for those near coastal regions is La Residencia del Mar: "Residence by the Sea" in English; it brings to mind peaceful images of waves crashing against rocks and sunsets melting into the distant horizon line viewed from your property's front doorsteps.
18. El Refugio de la Montaña – Translating roughly into "Mountain Refuge", this house name is perfect if you reside in mountainous areas such as Andalusia where picturesque landscapes can be found all around you each time you step outside your front door!
19. El Paraiso de los Viñedos – meaning "Vineyard Paradise" in English – would give visitors an immediate impression upon hearing it that wine tasting will soon follow once they enter your property's gates!
20. La Mansion de la Luna – With its translation being "Moon Mansion" La Mansion de la Luna signifies both mystery and beauty all at once; perfect if you own a home situated atop rolling hills away from city lights so you get unobstructed views over night skies illuminated with thousands upon thousands of stars!
21. Las Torres del Olvido – Directly translated into "Towers of Oblivion" Las Torres del Olvido could be seen as both foreboding and mysterious; a great fit if your house lies atop an ancient craggy cliff face overlooking sweeping vistas!
22. La Casa de la Playa – If you live near the beach or just love the ocean, consider naming your home "La Casa de la Playa." This name translates to "beach house" and perfectly encapsulates the carefree vibe of living by the water. Just make sure you don't live too far from the beach, or this name will lose its meaning!
23. Casa Bonita – One of our all-time favorite Spanish house names is "Casa Bonita." This name means "beautiful house," in English words, which is perfect if you're proud of your home's appearance. Plus, it's a great way to show off your creative side. If people ask about the meaning of your house name, be prepared to give them a tour!
24. Casa de Los Sueños – This one means "house of dreams." It's perfect if you're looking for something romantic and dreamy. Plus, it's sure to inspire sweet dreams in everyone who sleeps under its roof!
25. Casa del Árbol – This means "tree house." It's perfect for homes that are surrounded by nature. Plus, it has a whimsical feel that is sure to put a smile on your face!
26. Casa de Los Angeles – "Cosa de Los Angeles" means "house of angels."
27. La Cocina de mi – This one is special, la cocina de mi translates to "My Kitchen". It is perfect for those of us who love cooking and spend so much time in the kitchen making delicious meals for our families and friends. Plus, it has a special meaning that resonates with everyone—who doesn't feel comforted by their own kitchen? It's the perfect way to show off your pride in your culinary skills! and is a great reminder that the kitchen is where memories are made.
There are so many wonderful Spanish words and phrases that make beautiful names for homes.
No matter what type of home you have, there's a perfect Spanish name out there for it.
Related Posts