Looking for a unique name for your new pet spider? Check out our list of fun, cute and cool spider names!
Whether you're looking for a name that's sweet and girly or edgy and tough, we've got something for everyone.
So take a look and find the perfect name for your new spider friend!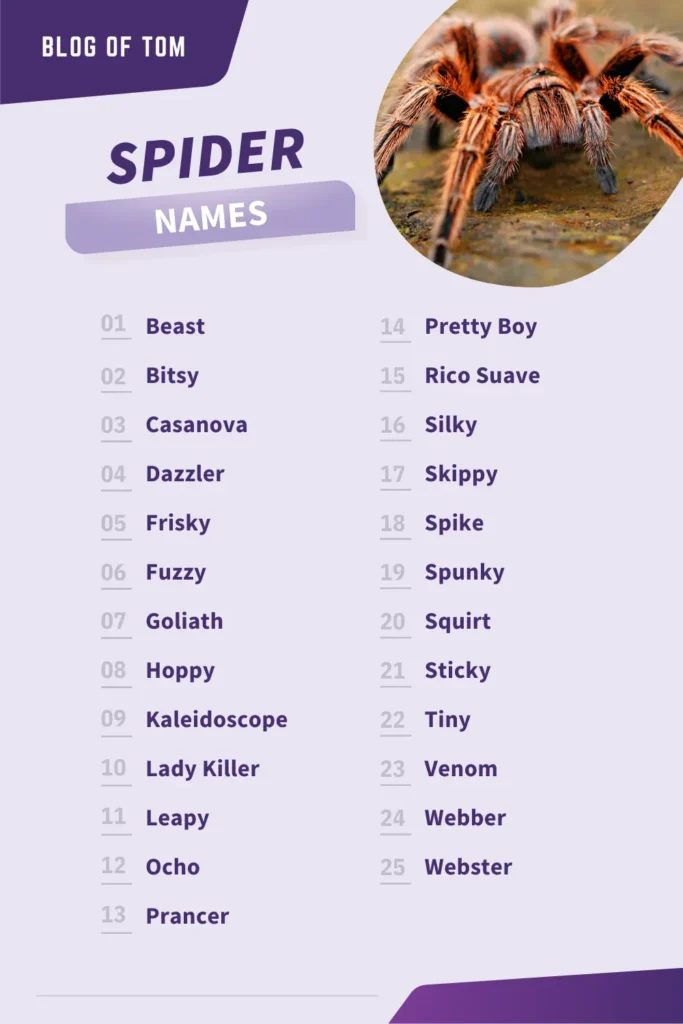 Best Spider Names
Here is a list of the top fifty names for a pet spider to consider:
Webster
Venom
Fang
Sticky
Spins
Squirt
Tiny
Ocho
Goliath
Fuzzy
Furball
Beast
Smalls
Silky
Bitty Betty
Spike
Itsy
Webber
Ginormo
Bitsy
Playboy
Star
Peacock
Rico Suave
Don Juan
Kaleidoscope
Leapy
Bella
Busy
Prancer
Frisky
Lothario
Lady Killer
Magneto
Dazzler
Casanova
Pretty Boy
Hot Stuff
Bonny
Stunner
Hoppy
Spunky
Skippy
Rainbow
Springer
Doll
Handsome
Foxy
Leggy
Hunk
Names For A Female Spider
Did you know that the female tarantula can live as long as 25 years in captivity? They are also larger, sturdier, and have more colors than males.
They house their eggs in silk sacs and devote their lives to their children. Spiders make excellent mothers, and some species will die shortly after laying their eggs. Talk about devotion.
Here are twenty-five names for the new little girl in your life.
Nixie
Miss Spider
Pippa
Ana
Nellie
Maddie
Tammy
Pepper
Charlotte
Miss Fangs
La Princess
Silky
Hellen
Betsy
Missy
Stella
Pearl
Rose
Lady
Mavis
Barb
Lisa
Madam Ocho
Sadie
Luna
Names For A Male Spider
Did you know that the male black widow will come to the web of the female to mate, and afterwards she kills him and then devours his body? Yikes!
The males will force-feed themselves to her! Even if she decides he isn't to her liking, he will continue to place himself near her mouth until she eventually consumes him.
Here are twenty-five super cool names for those little dude spiders.
Mr. Fang
Harry
Butch
Flash
Carlton
Ringo
Ultra
Beau
Thomas
Markus
Doc
Breaker
Eight Ball
Charles
Bart
Chad
Murphy
Marv
Mack
Lyle
Clive
Milo
Britt
Steve
James
Baby Spider Names
Did you know that the wolf spider will carry her spiderlings on her back for over a week after they are born? The babies can hop off for a quick drink but then go right back to the safety of mom.
When mom lays her eggs, there can be up to one thousand. She protects her eggs by making them a soft, silk bed with a silk blanket!
She then wraps her eggs in more silk and puts them somewhere safe until her babies are born.
Here are twenty-five adorable 8-legged friend names for the little guys (and gals).
Curly
Brownie
Spidey
Spiny
Twinkle
Debbie
Sunny
Blackie
Cheryl
Spinda
Thelma
Pennie
Ember
Barb
Dezzie
Snowy
Sprite
Mitzy
Cherry
Harry Acromantula
Blossom
Waffle
Stripey
Muffet
Parker Peter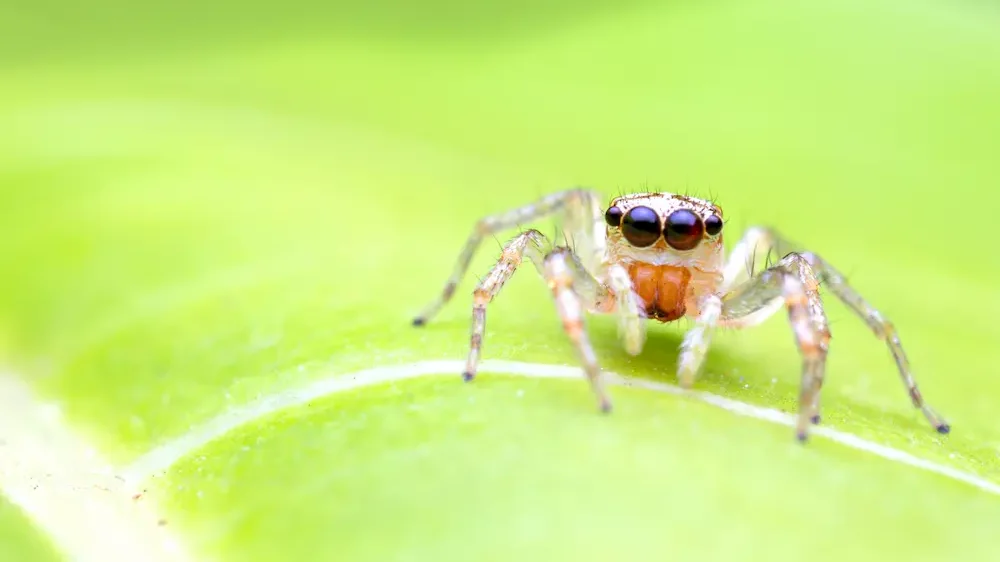 Unisex Spider Names
It's not exactly easy to tell if a spider is a boy or a girl, and for some of us, it really doesn't matter.
Here are twenty-five unisex names for a spider that is sure to fit.
Ultra
Dagger
Breakneck
Lightening
Brisky
Flash
Arrow
Supersonic
Whirlwind
Sprite
Snappy
zippy
Chase
Sporty
Jet
Bolt
Blitz
Rapido
Turbo
Fury
Swifty
Bullet
Speedy
Nimble
Crash
Wolf Spider Names
They must call them wolf spiders because they look like miniature wolves. They have long grey and brown hair. These guys can grow up to three inches. But despite their bigger size, they are fairly shy spiders.
But in the wild, they have an interesting way of hunting. Wolf spiders don't weave webs. They instead chase their food down in the same way wolf does. The one difference is that wolf spiders are lone spiders and do not travel in packs.
Here are some naming ideas:
Moose
Muddy
Dusky
Silver
Tater
Mocha
Java
Luna
Cookie
Bash
Maple
Honey
Steele
Slate
Pewter
Walnut
Beaver
Pearl
Pepper
Rhino
Brownie
Wolfie
Doggo
Howler
Minky
Crawler
Sienna
Chestnut
Russet
Smokey
Ash
Sooty
Stella
Stoney
Coy
Mouse
Peanut
Stone
Cinnamon
Sandy
Umber
Shadow
Lady Grey
Kahlua
Sheepy
Timmy
Khaki
Chary
Buffy
Ghostie
Cute Spider Names
There is a small percentage of the population that thinks spiders are cute. I digress!
Here are twenty-five names for those particularly cute little spiders.
Pumpkin
Walnut
Sticky
Munchkin
Fuzzy
Spunky
Spins
Tiny
Minnie
Furball
Boo
Smalls
Muddy
Daisy
Itsy
Sprite
Bash
Muppet
Bitsy
Peanut
Squirt
Honey
Chip
Mouse
Spy-Guy
Good Spider Names
I'm not sure what makes a spider good or bad, but here we are! Charlotte from Charlotte's Web was an exceptionally good spider, so I'm going to stick to that.
Here are twenty-five names for good spiders.
Screech
Lacy
Bright
Zorro
Ember
Blossom
Snowy
Cherry
Hunter
Phantom
Blue
Otto
Raven
Woof
Tinkerbelle
Chester
Sonic
Sprite
Muffet
Fuzzy Wuzzy
Terrence
Vanilla
Spindra
Webster
Jumper
Funny Names For A Pet Spider
There are those spider monikers (as well as all pet names) out there that just make us smile. Thankfully, our pet spiders will never know that we may be laughing at their expense.
Here are twenty-five funny names for your 8 legged friend.
Hunter
Ms. Webs
Fuzzy Wuzzy
Cuddles
Daddy Long Legs
Arachnophobia
Icky
Hairy
Itsy Bitsy
Spinner
Sticky
Eighty-Eight
Webster
Mr. Webs
Lucifer
Venom Machine
Spindle
Curly
Ocho
Crawl
Miss Muffet
Webs
Widow
Spidey
Spiderman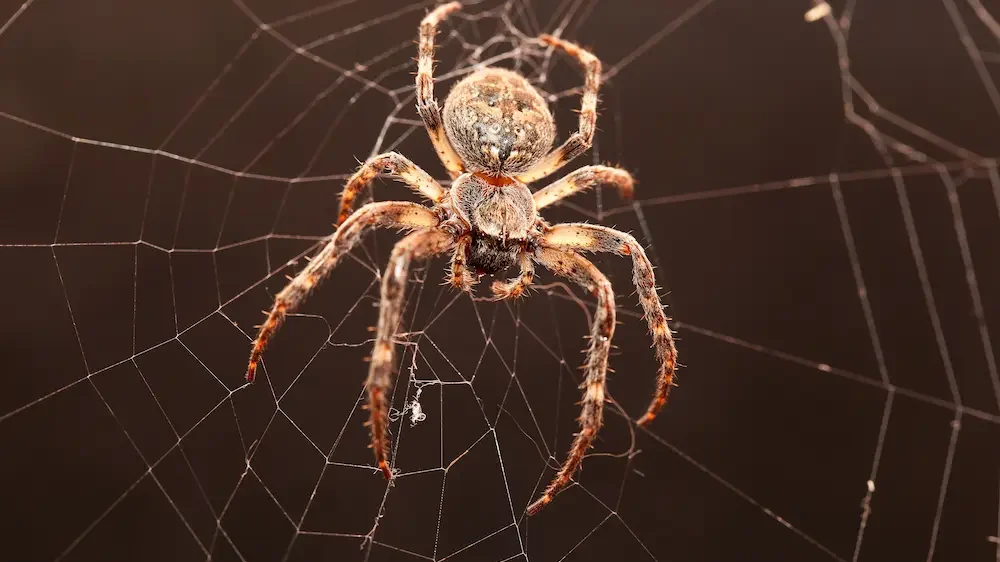 Cool Spider Names
Picture the James Dean of spiders, if you will. That cool, low-key dude that makes all the others swoon. If only we could put a leather jacket and sunglasses on them.
Here are twenty-five names for that super cool spider.
Thunder
Bullet
Maverick
Casper
Slate
Shadow
Lady Grey
Cash
Ocho
Pirate
Retro
Jet
Silver
Stone
Turbo
Gray
Flint
Lightening
Hunk
Platinum
Phantom
Stunner
Magneto
Foxy
Chase
Badass Names For Spiders
Maybe you want your spider to have a bit of an edge. If you are looking to show off that badass side to your 8-legged friend, then you've come to the right place. Can you just picture a spider with tattoos riding a motorcycle?
Here are twenty-five badass names.
Scar
Ghost
Death
Black Widow
Tank
Wolf
Ginormo
Creep
Trigger
Murder
Bomber
Dagger
Contessa
Fang
Beast
Goliath
Aragog
Crusher
Poison
Scar
Monster
Lady Killer
Spike
Boomer
Venom
Unique Names For A Pet Spider
You've already got a unique pet if you have a spider, so why not give it a unique name? Your friends may think you to be a bit odd if you own a spider, so freak them out even more with a really strange name.
Here is twenty-five unique arachnid names.
Avocado
Nimble
Anansi
Zip
Boris – Boris the Spider is a song originally created by the bass guitarist John Entwistle of The Who.
Buzzy
Rapido
Charlie
Zuri
Spritz
Dart
Breakneck
Springer
Mochi
Sprite
Kamaji
Foxy
Bruno
River
Madam Octa
Redford
Shelob
Magnet
Sticky
Leapy
Erio – A shortened name of two species of Costa Rican spiders (Eriophora fuliginea and Eriophora ravilla.)
Famous Spider Names
Unbelievably, the spider has made the rounds when it comes to television and songs. So why not chose a famous name?
Here are twenty famous arachnid names:
Araxxi – Runescape 3
Lolth – Dungeons ; Dragons
Jorogumo – Japanese Folklore
Gohma – Legend of Zelda
Rosie – A Bug's Life
Peter Parker – Spiderman
Miss Spider – James and the Giant Peach
Anansi – African folklore
Araxxor – Runescape 3
Kumonga – Son of Godzilla
Arianwen – The Snow Spider
Boris – Boris the Spider (The Who)
Arachne – Greek Mythology
Lucas – Lucas the Spider
Ungoliant – Lord of the Rings
Shelob – Lord of the Rings
Charlotte – Charlotte's Web
Aragog – Harry Potter
Aranea – Dungeons ; Dragons
Muffet – Undertale
Disney Spider Names
Disney sure has made some great films, and there were more spiders in their film than I realized!
Here are fifteen Disney arachnid names.
Maitika – Disney tarantula spider from Jungle 2 Jungle
Clementine the Spider – giant spider from Legend of the Three Caballeros
Itsy Bitsy Spider – baby spider from The 7D
Manny – spider from Disney's Lilo ; Stitch
Arachnid – giant spider in Disney's Aladdin in Nasira's Revenge
Spider-Ham or Peter Porker – the counterpart to Spider-Man
Unkbuut – giant man-eating spiders from Disney's Aladdin
Pepito – poisonous spider from The Bug Hunt
Gorantula – half tarantula, half gorilla from Disney's The Wuzzles
Harry – a creepy crawly from Jake and the Never Land Pirates
Lou – a spider from Chip 'n Dale Rescue Rangers
Anansi – Disney spider from Gargoyles
Spider-Gwen (Ghost-Spider) – Spider-Woman from Ultimate Spider-Man
Itsy – spider from Disney's Goldie ; Bear
Darlene – a spider who can take human form from Gravity Falls
Cartoon Spider Names
Spiders have certainly made their way not only into movies but cartoons.
Here are ten cartoon arachnid names.
Charlotte
Lucas
Spiderman
Rosie
Muffet
Jeff the Spider
Miss Spider
Shadow
Itsy Bitsy
Little Spider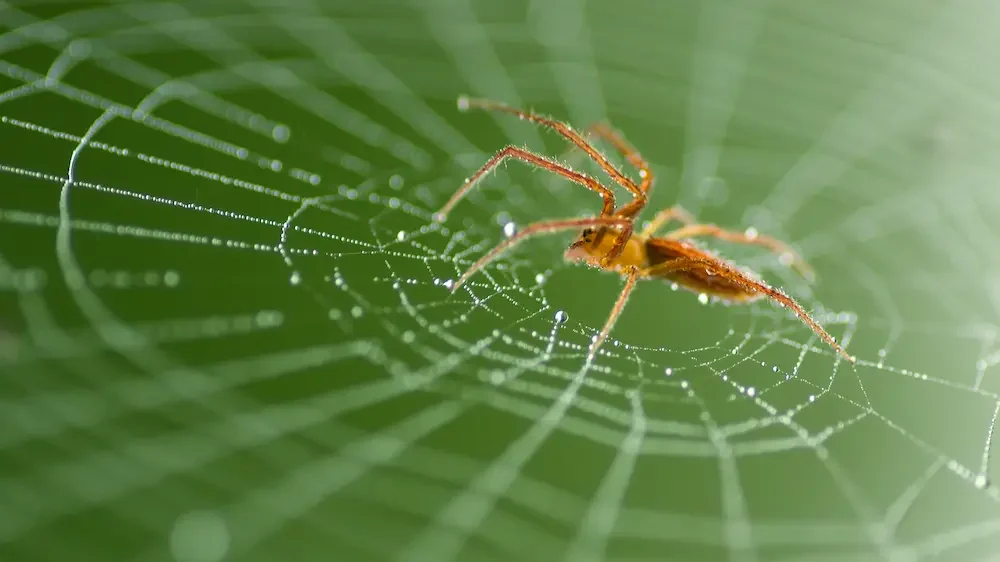 Fantasy Spider Names
For those of us looking to name our spiders after fantasy characters, look no further.
Here are twenty-five fantasy arachnid names:
Carmelia
Kira
Cosmo
Marley
Laser
Emily
Franky
Piper
Fluffy
Blue
Alice
Charlie
Fuzzy
Fido
Goldie
Mile
Jazz
Giggle
Lacy
Shinning
Chum
Loki
Goombah
Madonna Prada
Boris
Names For A Black Spider
While most spiders have some black to a degree, not all of them do.
Here are fifteen names for your all-black spider:
Shade
Bolt
Twilight
Dusk
Funnel
Nocturne
Nightshade – A great name for a pet tarantula.
Mist/Misty
Shady
Storm/Stormy
Cloud
Eclipse
Shadow
Fog/Foggy
Thunder
Jumping Spider Names
Jumping Spiders are one of the coolest species of spiders. When they are hunting, they make extremely agile movements and jump several times their body weight.
Jumping spiders have a hydraulic system where they can alter the pressure in their legs, giving them the springing motion to jump.
Here are twenty-five names for your jumping spider.
Dazzler
Lothario
Star
Prancer
Springer
Kaleidoscope
Leggy
Hoppy
Rainbow
Magneto
Don Juan
Bonny
Casanova
Skippy
Playboy
Foxy
Spunky
Rico Suave
Doll
Bella
Handsome
Busy
Peacock
Pretty Boy
Stunner
Russian Names For A Spider
Does your spider sport a warm hat and hand warmers? Or does she have some Russian royalty in her?
Here are fifteen Russian arachnid names.
Boris
Svetlana
Sacha
Katya
Oksana
Irina
Anastasia
Sergei
Viktor
Mikhail Natasha
Demetrius
Annika
Nikolai
Alexei
Dimitri
German Names For A Spider
Do you have German heritage, and do you want to bring some of that into consideration when your name your spider?
Here are twenty German arachnid names.
Wilhelm
Hamburg
Berlin
Essen
Dusseldorf
Franz
Bonn
Munich
Mahler
Johann
Alsace
Baden
Bach
Berlin
Cologne
Gottlieb
Beethoven
Ludwig
Wolfgang
Rhine
Latin Names For Spiders
Looking for a little Lain flare for your spider's name? Perhaps your spider is a little saucy?
Here are twenty-five Latin arachnid names.
Terence
Portia
Imogene
Deanna
Fidel
Nero
Drusilla
Annabel
Reva
Nerva
Horatius
Mabel
Basil
Victor
Ursula
Benedict
Laved
Sidra
Rex
Dominic
Fidelia
Alta
Flavia
Florentius
Lena
Japanese Names For A Spider
Maybe you are looking for a name for your spider that has a touch of Asia in it.
Here are fifteen Japanese arachnid names.
Akira
Amaya
Asa
Eshima
Anzu
Ayano
Asuka
Emica
Emi
Arisu
Azumi
Eri
Eiko
Akito
Etsu
Names For A Big Spider
Maybe your spider is especially large. Did you know that the trap door spider is one of the biggest species of spiders?
If you have a big spider, here are twenty ideas for big arachnids.
Diablo
Elektra
Domino
Hulk
Dagger
Wolverine
Apocalypse
Big Bertha
Cyclone
Beast
Thanos
Gamora
Groot
Juggernaut
Bella Donna
Bucky
Rogue
Zatanna
Pantha
Colossus
Names For A Small Spider
Let's say your pet spider is a teeny tiny little darling.
Here are twenty names for those small spiders in your life.
Poppy
Ivy
Toby
Apple
Daisy
Button
Peanut
Jett
Pixie
Willow
Kai
Fiona
Loki
Coco
Betsy
Bean
Roo
Dash
Rocket
Marshmallow
Spooky Spider Names
Just in time for Halloween, here is a wonderful list of spooky and scary spider monikers.
Here is twenty-five spooky arachnid names.
Boo
Zombie
Twilight
Binx
Tarot
Blade
Spirit
Ghost
Count
Lucifer
Broomstick
Moon
Spook
Boogey
Casper
Fang
Mummy
Jack
Trick
Moonlight
Bones
October
Gremlin
Cauldron
O'lantern
Evil Names For A Pet Spider
Maybe you are a Halloween fan that celebrates all year round. Are you looking for an evil name for your spider?
Here are twenty-five evil arachnid names:
Haldren
Freddy
Poe
Luna
Elphaba
Gomez
Pugsley
Norman
Jason
Blair
Carrie
Harry
Daphne
Mary
Hallie
Fester
Sabrina
Igor
Glinda
Hazel
Hal
Dexter
Wednesday
Michael
Damion
Inspiration for Your Spider Name
Whether you are naming a pet spider or a pet cat, the number one thing is to have fun with it. There are no rules when it comes to naming a pet.
You can use the personality of your pet, their looks, or just something that you've always wanted to name a pet.
So, no matter what type of spider you have, this list of arachnid names should help.
Related Posts
FAQs
What is the Name of the Spider in Charlotte's Web?
Charlotte's Web is a beloved children's book written by E.B. White. In the book, we meet Wilbur, the pig, and his unlikely best friend, a spider. Simply a common barn spider, her name is Charlotte A. Caviticus.
Charlotte is a delightful character who sticks by Wilbur's side and helps to save his life by writing some amazing words in her beautiful web of wonder.
What is the Name of the Spider in Home Alone?
The Christmas classic Home Alone not only tells us the story of Kevin McAllister, but we also meet his brother's tarantula, Axl. I would say Axl was one popular pet spider!
Axl is a Chilean Rose Tarantula, a species that is pretty docile and can make an excellent pet. Kevin uses Axl to his advantage to help scare off the would-be burglars.
What is the Name of the Spider in Lord of the Rings?
The spider/demon hybrid in Lord of the Rings is called Shelob. And she is all spider, with her many eyes and spindly legs. Not only can Shelob bite her prey, but she can also crush them to death.
We can assume by now that Shelob is one huge spider! And we know she was not a simple little grass spider!
What is the Name of the Spider in Harry Potter?
Hagrid's pet spider, if you will, was named Aragog. He hatched from an egg and was cared for by Hagrid. Unfortunately, our friend Aragog developed a taste for humans!
Hagrid was spared, but Harry and Ron had to run from Aragog's children, who tried to eat them!
Conclusion
Anytime we get a new pet, it's always fun to think of a good name for them. And whether it's a spider, a dog, a cat, or a pet monkey, there are so many interesting and fun names to think about.
This article has given everything from male and female names for spiders to those strictly having to do with Halloween.
Related Posts