Business owners need to get more creative these days to avoid stealing existing trademarks. That's why we've compiled this guide to cute business names, including catchy business name ideas, creative business name ideas, crafty cute name ideas, small business cute name ideas, and more.
These business name generator names feature favorable word structures, rhythmic sounds, and easy-to-spell and pronounce words for social media brands.
Now, let's get into the lists!
Best Cute Business Names
If your target audience is young, girly, or simply a group of customers that loves cute things, you want a cute business name.
You may want to represent your business with one of the following cute and easy-to-remember names.
These cute business names are more generalized and can apply to a variety of different types of businesses.
Whether you offer a product, service, or locale, these names and variations of them can do the trick.
The Perfection Connection
Cuteness Crossing
Cutie Pies
Charming and Cute
Classy and Cute
Real Cute
Thrifty Cute
Tres Cute
Tres Chic – a French type of cute
The Chic Boutique
ABC 123
The Fun Factory
Cheeky Chic
Darling DIY
Cute ; Co.
The Cute Room
Blossoms
Just Because
Daisies
In Cahoots
Perfectly Cute
Absolutely Darling
Darling, Inc.
Itty Bitty Business
Center Chic
Girly Cute Business Names
You can use words or phrases related to girls and femininity to create a strong brand for a cute business. These names rely on "girl"-oriented words and lots of alliteration to make catchy word phrases.
What's more, is that the following girly business name ideas translate well to social media handles. And they're super easy to remember compared to other business names.
Girly World
Chic Chicks
Girls Zone
Girly Couture
Girls, Girls, Girls
Girls, etc.
The Business Chicks
The Girly Factory
Girls, Inc.
Glamour Girls
The Girly Place
The Girly Shop
All Things Girls
Girls At Work
Girl Nova
Posh Girl
The Girly Girl
Girls to the Front
Hey, Girl
Glitter and Girls
Unique Cute Business Names
If you're wondering, how will people notice my business? Then you need to find a unique name. As you start your business, look for names that are eye-catching and set you apart from competitors, such as the ones below.
These names make businesses appear as though they have something that other businesses do not. They're also slightly mysterious, which has an alluring factor for potential customers.
Sweet, Inc.
Dollop of Daisy
A Little Bit of Everything
Drop On In
That Special Something
Outside the Box
Not Your Mother's
Especially You
Off The Beaten Path
Quirky Things
Pixie Parlour
Just 'Cause
Novel Notions
Something Different
Something New
The One and Only
Extra-Ordinaries
The Cute Factor
The Bestest Yet
Conveniently Cute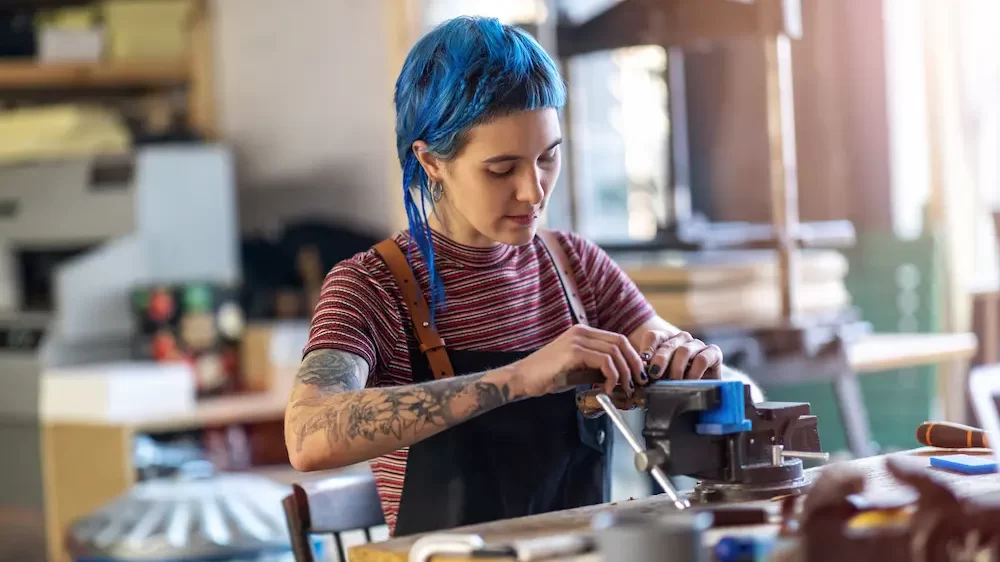 Cute Girly Business Names For Crafts
Crafters and artisans need their own style of business name ideas, especially when it comes to feminine craft businesses. Keywords like "glitter", "yarn", "crafts", "creations", and more are great for attracting the target crafter audience.
The following list highlights the cutest business names that arts and crafts businesses can adopt to create a solid brand identity.
Craft'n'Cute
Cut with Cuteness
She's Got the Crafts
She's Got the Yarn
She's Got the Glitter
Glitter and Girls
The Craftess
Femme Craft
Her Favorite Crafts
Crafty Creations
Girly Creations, Inc.
The Art Girls
Craft as a Button – variation of "cute as a button" saying
The She Shed
The Itsy Bitsy Craft Store
Pile o' Crafts
All That Glitters – references "all that glitters isn't gold"
Hello Darling Crafts 'n' More
Inspired by Girls
The Creativity Station
Cute Small Business Names
Small businesses deserve their own category of name possibilities. If you want to make your small business sound cute, you need a name that is youthful, endearing, attractive, and charming to your customers.
As an added bonus, these names can help you to draw in a niche clientele as you grow your business.
The Little Nook
From Scratch – for a fledgling cute business
That Startup Place
Started From The Bottom – for a startup cute business
Itty Bitty Biz
The Treehouse
The Dollhouse
Adorbs!
A Slice of Life
The Cozy Corner
The Dainty Den
Charmed
A Little Bit of Home
Dear Me!
Cuteness in a Cup
Two Girls, Inc. – for a business run by two sisters
Two Girls ; Co. – for a business run by two girls
Our Little Shop
Perfection Plaza
The Girly Lodge
The Giggly Nook – because what's cuter than giggles?
Workin' Girls
The Girly Hut
Girls 'r' Us
As She Likes It – a variation of Shakespeare's "As You Like It"
Cute Business Names For Females
There are also plenty of feminine and female-oriented business names to choose from. Drawing inspiration from powerful goddesses in Greek mythology and other powerful female figures, these names will target a female audience on social media and other advertisement formats.
Take a look at the following business name ideas for businesses that are run by or specifically for females.
Girl Power, Inc.
Wonder Women – references the female superhero
The Female Factor – like "The X Factor"
Flower Power ; Co. – a cutesy female empowerment name
Operation Female Empowerment
Powered by Woman
Holistic Woman
Completely Femme – a business that is all things feminine
Wonderful Woman
Empowering Girls – a business to empower younger girls
Future Female – references "the future is female"
Who Runs The World? – references a Beyonce song that answers "girls"
Girl Success
The Leading Ladies
Girlboss, Inc. – a company for strong businesswomen
Lady Boss – a strong woman in business
Woman's World
Femme, Femme, Femme! – meaning feminine, feminine, feminine!
FemiNova – combines "feminine" and "nova" (new)
The Pink Ladies – references the girl group in the movie Grease
Athena's House – references the Greek goddess of war, handicraft, and reason
House of Aphrodite – references the Greek goddess of beauty and love
Hera's Hut – references the Greek goddess of marriage, family, and women
Goddess Glam – an empowering women's business name
Goddess on Earth – great for girl power businesses
Cute Brand Names
A brand name can be more difficult to create than a company title. Brand names need to be catchy, easy to read, and recognizable.
These brand names are 100% cute and targeted toward the cute-loving crowd. As an added bonus, they're short and to the point, which is essential when it comes to creating brand logos and other images.
Glam.0
Cute Inc.
Bubbles Inc.
Little Bits
Adorbs World
The Cute Hut
Pure Delight
Basic Delights
Small Treasures
Adore Me
Adorable You
Sweet as Pie
Dearly Loved – variation of "dearly beloved" saying
Sweet Stuff
Cutesy Cat
Cute Co.
Enchant Me
Endear Me
A Chance of Cute – variation of "cloudy with a chance of ___"
Darling Dear
Cute Catchy Business Names
Catchy business names rely on the use of wordplay, such as idioms, rhymes, and alliteration. Once you have a saying you like the sound of, you can combine it with an aspect of your business to create a unique and catchy, cute business name.
What's great about a catchy business name is that people are going to remember it and maybe even make a comment to their friends about the name itself. That's like free advertising right there!
Dearly Yearly – a rhyming cute name
Once Upon a Store – variation of "once upon a time"
Better Off Dressed – a silly cute name
Femme is Forever – variation of "diamonds are forever"
The Cat's Meow – saying that means someone who is extra special
Happy Wife, Happy Life – a popular, rhyming saying
Beat Around the Brush – variation of "beat around the bush"
It Takes Two to Cute – variation of "it takes two to tango"
Cute on a Stick – similar to "hotdog on a stick"
Blue Moons – for a unique business, similar to "once in a blue moon"
Dearly Ever After – variation of "happily ever after"
When Cuties Fly – variation of "when pigs fly"
Sit Back and Chillax – variation of "sit back and relax"
Cute Got Your Tongue – variation of "cat got your tongue?"
Cute's Out of the Bag – variation of "cat's out of the bag"
Raining Cutes and Dogs – variation of "it's raining cats and dogs"
Apple of Her Eye – variation of "you're the apple of my eye"
She's All That – a movie reference and common girly saying
Cherry on Top – variation of "pretty please with a cherry on top"
Button-Cute – variation of "cute as a button"
Cute Creative Business Names
If you have a creative business – whether it's for visual art, artisan goods, performance art, or some other creative venture – the business name needs to be creative, too.
The names below combine words related to "creative" with cute and creative concepts, clever sayings, and more.
Cutesy Creations
The Cutest Creation
Creatively You
Dearly Created – a variation of "dearly beloved" phrase
Creative World
Drawn by You
A Vision of Cute
Invented by You
Invented by Her
Her Greatest Invention
Imagine That – a catchy saying
Imagine This – a catchy saying
Picture This – a catchy saying
Clever Girl
Inspiration Inc.
Drawn to Life
Purely Imagined
Create as a Button – play on the "cute as a button" phrase
Make It Cute
Create-o-rama
Company Name Naming Tips
A good company name goes a long way in drawing in clientele, especially if the name hits your target audience correctly.
You want to consider aspects like uniqueness, readability, easy pronunciation, catchiness, and more.
These will set your business name apart from your competitors and make it easier for customers to find you and stick with you.
1. Keep It Original
One of the worst things you can do when naming your business is to copy (intentionally or accidentally) another business name.
You especially don't want to get into the territory of having a name similar to a big corporation, as you run the risk of lawsuits.
Instead, try to create a name that reflects your personal business vision. Do lots of research to ensure that your name isn't too similar to the names of other local businesses or bigger companies around the world.
Doing so will help you to avoid thought theft and plagiarism. In the end, your business will be more likely to get noticed by customers, and people will value your unique, creative vision.
2. Make It Easy to Read
You don't want a business name that's hard to read. Chances are, the time people spend glancing at your billboards and other advertisements will be short or limited.
This means that in those few moments reading your company name, the person needs to be able to actually see what the name is and remember it. In your business name, stick with words that are short, simple, and recognizable at a glance.
You might also want to limit how many words you put in the company name. Having more than 4 or 5 is going to make it significantly harder and more expensive to create social media handles, advertisements, and other materials.
You might even consider testing out potential names on a friend or family member. Have them glance at a mock-up advertisement and see if they find it easy to read the business name and remember it afterward.
3. Make It Easy to Pronounce
This factor really goes hand in hand with readability. If your perfect business name is easy to read, it's probably also going to be easy for customers to pronounce.
This is important because word of mouth still makes a difference in how people perceive a business or company. When people tell their friends and family about your business, they should be able to pronounce it easily so that the next person knows how to find you too.
Sometimes it helps to use one-syllable words or rhyming phrases in your business name. You can still make the name creative and unique without using complex words or phrases.
4. Make The Name Catchy And Easy To Remember
Some of the most memorable businesses are those that value a funny or catchy name. It's going to be easier for a customer to remember a name like Cute, Cute, Cute! than it will be for them to remember a name like "Woodworth Sisters Crafts and Supplies".
A lot of times, people will turn to popular phrases such as idioms to create business names. For example, you can do a play on words with "Cute as a Button" to create a cute and creative business name.
You can also rely on rhyming words (i.e. The Cute Suit). And alliteration – multiple words that start with the same letter – is useful in creating a catchy business or company name.
Furthermore, when you use alliteration and other wordplays like acronyms, you can create more unique and inventive business logos with the starting letters of the words in your name.
Conclusion
We hope you liked the above ideas for cute business names. Whether you have a small, fledgling business, or you are trying to rebrand your company, these cute and girly names can help to set you apart from competitor businesses.
Be sure to refer to the above naming ideas if you're short on options.
And when it comes to setting up a domain with your new business name, try out a domain checker tool online so that you can find a personalized URL for your business website. Sites like GoDaddy can help you in this department.
Last but not least, be sure to follow our tips on uniqueness, catchiness, readability, etc. when finding the perfect cute name for your business.
Related Posts