One of the best ways to attract customers to a new business or brand is by coming up with a unique and strong business name.
This will make your company stand out amongst the rest and help market your great brand, making it a go-to choice for many.
Coming up with great business name options can be a little tricky, so we compiled a list of over 1000 company names for you to consider using or referencing to help make your own, along with great tips and tools to personalize your company's title.
Let's dive in.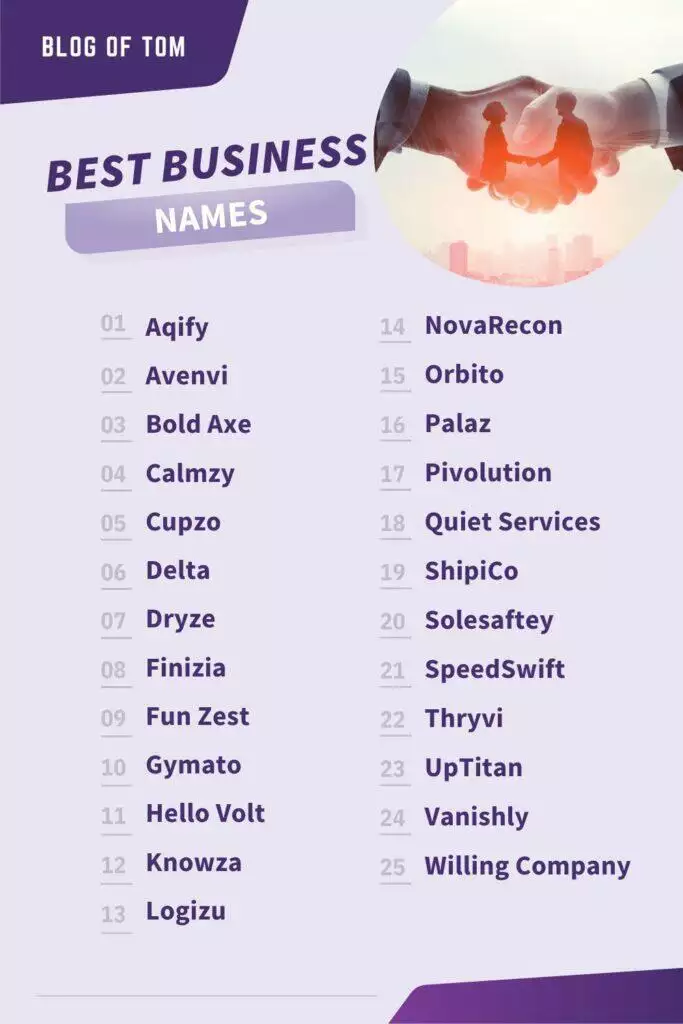 Best Business Names
If you are looking for a great business name that can really make your company stand out amongst the competition, here is a great list of 20 professional and reputable good company names.
FifthUp
VOXPort
Vanishly
Aqify
Finizia
Orbito
UpTitan
NovaRecon
SpeedSwift
ShipiCo
Dryze
Cupzo
Calmzy
Logizu
Avenvi
Gymato
Thryvi
Hello Volt (A great example of company name)
Bold Axe
Fun Zest
Easygoing Advisors
Solesaftey
Quiet Services
Willing Company
Pivolution
Small Business Name Ideas
If you own a small business, having a bold, strong name can help the company really stand out.
Here are some great small business brand name ideas to help market your small business products and services.
Light Asset
Plain Strategies
Smartsoft
Clickwell
Here4you
Get Crafty
Captivative Creations Inc.
Sweet Endevors
Just Us
Crafty Conversations
Compelling Convo
Cool And Crafty
Icy Cool
Obsessed Opportunities
Icy Nicey
Icy Expressions
Get Crafty
All the Power
KravKing
Fearless advisors
Prominant Kind
Kindish
CovertQ
Strong Insight
Proffesional Pulse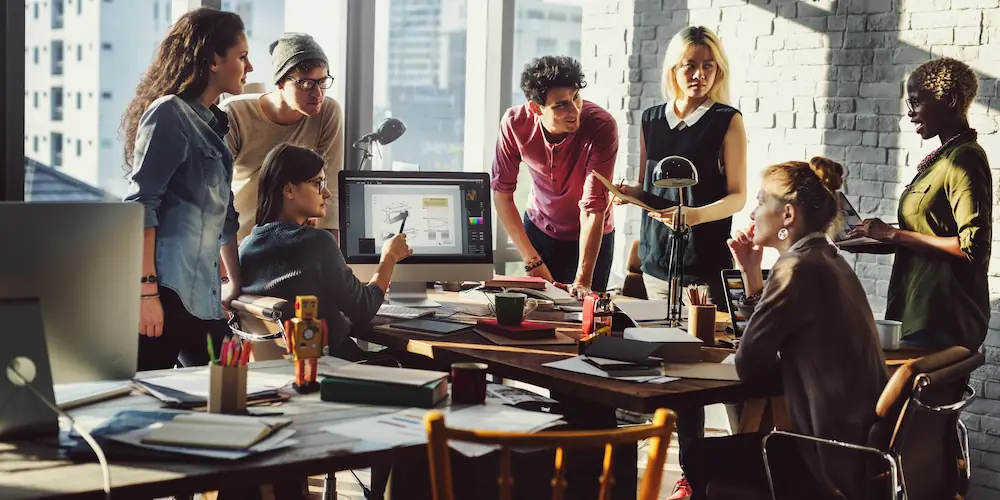 Medium Size Business Ideas
Are you looking for something a little more professional with a medium-sized business with a lot of reputable clients?
Here are some amazing ideas to set yourself apart from your competitors.
BrightQ
Winning Services
FastEx
Majestic Consultants
Young Consulting
Willing Company
Educational Money
Mature Advisor
Youthful Capital
Open Associates
Brandingo
Classic Strategic
Dainty Consulting
Resolute LLC
Specific Advisory
Resolute Advisor
Fierce Fund
Self-sufficient Securities
Traditional Advisers
Skillful Street
Ingenious Portfolio
Vintage Global
GlassGlobe
Sporadic Truth
Trust LLC
Large Business Name Ideas
When you are naming a large business, you want everyone who hears it to think successful, impressive, and reputable.
Here is a list of good name options for large businesses.
Ventura
Sphere
Avantex
Quanterra
Starnext
Igneous Inc
Fringe Inc
Meridian Technologies
WonderWall
Silversure
Mystrix
Prosperity World
Reader Station
Power Pros
Embrayce
Platform City
ChrysalisSpectro
CounterClock
Reality City
Names Pixel
Hiphonic
NewHatch
AriesPlayce
Proton
Business Arena
Corporation Name Ideas
Do you run a large corporation and looking for a name that will show how important, strong, and capable you are?
Here is a list of twenty-five fantastic corporation names you should consider.
Namcog
PowerPros
Ecopad
Finance Fortitude
Borderless Insurance
Telecomm Corp
Herald Corp
Four Rivers International
Innova Marketing
SpaceTech
Infinite Group
Solarnet
PURE
TechCon
Techtrack
Viking Service
Velocity Way
Netbuilders
Coderquest
Netfilerz
Formonix
Branding
Cloudrevel
Seekingon
QuickHost
Cute Names For A Business
Many people who own small businesses, companies that make or sell food items, or companies having to do with children prefer cute and creative business names.
These are a great way to attract customers and grab the attention of your target customers.
The Fairytale'S Beginning
The Whisperer
Pick Slick
For The Thrill
Feel Electric
Roll Up
Slick Services
Hot Takes
Let'S Roll
Will Thrill
Pen And Paper
Breeze Blows
Electric Essence
Whisper Willow
Thrill Of The Chase
Gone A Rye
Pita Piper
Just Roll With It
The Booze Hound
The Upper Crust
Cake Walk
The Pie Chart
I Loaf You
Get Sconed
Life Of Pie
unique company names list
Never overuse other people's ideas; create a name and brand that is unique and never before seen or heard.
When the same word is frequently seen in companies of the same theme, it gets a little old, and a lot of times hard to distinguish the difference between them all.
Find below great unique business names that make you different from the rest.
The Time Teller
The Loyal Follower
The Phantom And The Fairy
Band Of Flowers
Fish Out Of Water
The Test Of Time
Organized Inc
Unbiased Partners
Cool Collective
Agreeable Inc
The Collective
Autumn Winds
Winter Winds
Sumptuous Partners
What A Catch
Fleeting Foxes
PuzzleLink
Strong Nutritious
Think
Founder
OctoFlyte
Palaz
Business Quest
Delta
Knowza
Catchy Business Name List
Another way to make your name a top search online and something everyone will remember is by making it catchy.
A catchy business name idea can come in the form of rhyming words, play-on-words, strong and modern terms or phrases, etc.
GouGou
Fresh Foam
Fiddlesticks
RandomRhyme
SuperGrant
GeezGomo
Pink Page
TECH Fat
Overfeel
Unicrain
Rockhera
Starlist
SilentSure
Cloudline Solutions
Computer Geek 911
Zoropie
Cosmic Computer
Crown Computers
Dazzy Doll
Interlaced
Tech 2 U
Jellyvision
LightSurf
Dark Energy
Script
Cool Company Names
If you are looking for a name that makes your business sound cool, you want to utilize words that are "out of this world" Words like space, tech, rebel, Gen, Delta, are all great options when creating a title for your brand that will stick in the minds of potential clients.
You can also use shortened phrases or verses from popular songs, brand name lines, art projects, etc.
Check our coolest new company name list:
ArtSpayce
Names Mainstay
Spec
Fixswift IT Solutions
Dispatch Tech
Bigfoot Communications
Dell Wyse
Green Hills Software
Ameritech Computer Services
NextGen
Byte Knight Technology or ByteKnight Tech
New Horizons Learning Group
Arrow Computer
Manframe Systems
Global Technology
Bright Star Technology
Laine (Lane)
Selection
Endless Technology Solutions
Leading Edge Group
Delta
Innovative Network Solutions
Just Right
Generic Technology
Golden Gate Computing
Marketing Company Name Ideas
When you are naming a marketing company, you want to use words that tell what your company does.
This will include things like media, marketing, Ads, etc.
Agency Metrics
NetBeez, LLC
NextGrip marketing
Subtle Feet Media
Maverick Media
Dream Casters Marketing
Tech Work
Tik Talk Marketing
AMP Marketing
We are the future
Magical Marketing
PlayBig Design
Straight Talker
Plan Z
Traffic Ad Agency
Brown Box Branding
Trippin Media
Mad Buddy marketing
The Garrigan Lyman Group
Web Media Power
Blue Fountain Media
Marketing Soul
SnapCrowd
Marketing Eye
Buzz Shift
Media Company Name Ideas
Are you naming a media company that you just started up?
Use words that will bring to light exactly what your services are by using words from art, marketing, advertising, etc.
Here are some great media company name examples:
Liberty Media
Media Blasters
Searchmello
Media Cybernetics Inc.
Glam Media
Federated Media
Century Media Records
Fusionary Media
New Deal Digital
Directions Media
Horizon Media
BIZ1 Media
Compass Point Media
Digitalfusion
Devise Clique Inc.
Brand Recognition Co
The Creation
Demand Media Inc.
Go Media
Charter Media
Exploring Social Media
Free Spirit Media
Insight Space
SEO Organizer
DigiEngage
Consulting Company Name Ideas
Consulting companies are going to have more professional and straightforward names to make them look authoritative and powerful.
AdviseYou
Consulting Innovators
Advisery
ConsulteX
ConsultAway
Discussdo
ConsultGenics
EpicSense
Fulcrum Worldwide
Asknetic
Consultants For Hire
AskHut
Corona Business Consulting
MaxMaster Business Consulting
Consulting Brothers
Consultingpads
Maverick Management
Epic Consulting
Discusslance
AskX
Consulting Company
FusionBuzz Business Consulting
Virgon
Creative Consulting
WestElite
Technology Company Name Ideas
Technology companies are much easier to name and can have really fun, creative, and unique titles.
Trace Technology
Cryptical Software
thinkMove
Radioactive Applications
Digital Decoder
Tech Solutions
Next Information Systems
OmniSoft Technologies
Hashtag Web Consultants
Smart Tech Support
Micro Madness
Brain Boost
TriTech International
Bluelight Suites Software
Macro Mobile Solutions
thinkTrail
Total Tech
Thrive Technology
Brain Balance
Tech Theory
ThinkBiz Better
Tech Cargo
PC Testers
IT Analysts
Hardware Point
Security Company Name Ideas
When naming a security company, you want to use words with power and force, like elite, security, and protection.
A security company needs words that will make people feel safe.
Elite Force
Eager Security
Wall To Wall Security
Blockade Security
Security Solution
Sirens of Security
Human Wall
Awesome Protection
Sure Security
Storm Guard
Closed Door Policy
The Sec Man
Alliance Security
Mr. Protection
Closed Fist Security
Four Walls Security
No Entry
Executive Protector
Spring Safe
Always Secure
Quality Control
Bite Back Security
Secure
Security Plus
Atlas Security Services
Lucky Business Names List
If you are looking for a lucky name for your business, then you have come to the right place!
Here are 25 lucky names that will help you to bring good fortune to your business:


Fortune Frontier
Prosper Peak
Serendipity Solutions
Golden Grains
Lucky Latitude
Charm Chasers
Destiny Dynamics
Euphoria Enterprises
Fortune Foundry
Chance Champs
Destiny Driven
Prosperity Pinnacle
Blessing Bearings
Opulence Outlet
Favored Futures
Wealth Waves
Serendipity Systems
Success Spectrum
Lucky Ladder
Chance Chain
Prosperity Portal
Euphoria Elements
Glee Gateway
Fortune Footsteps
Destiny Designs
Best Company Name Naming Tips
Some important things to consider when creating a great name for your business are what are people going to remember, how does the title make you sound, and does it relate to your company?
1. Name Generators
A good tool to use when creating a perfect new business name is a generator. While this might now always provide you with the final decision, it can help you begin combining and mixing words to develop a final outcome that suits you.
There are a lot of company name generators online that you can use for free. Just plug in a few keywords that relate to your business and what you want people to know, then let the generator do its work.
A lot of generators will not pop out great names for the more "serious" or "corporate" names but can be utilized as a creative tool to get the juices flowing or can be used to come up with some interesting and unique options for the more casual titles.
Some names you will see with a generator includes:
Talentedit
SmartRoar
Prosharp
Laughingbar
CutenCreative
CakesNstuff
SimplyQt
FastFacts
Zsnap
Failing that try a domain generator such as GoDaddy's domain name generator for brainstorming potential names for your online store. You'll find which domains are currently available in no time too.
2. Use Rhyming Words
Another great tip is to create a name people will have a hard time forgetting, and quite often, this is going to be in the form of rhyming.
Taking two like-sounding words will create a business title that will stick in your future customer's heads, making it the first thing that pops up when they need a service you provide.
Some business name suggestions that rhyme includes:
PrimeTyme
GreatXape
FineLne
Bread Head
ReflectTech
BoomRoom
WizzBiz
CrapesExapes
When brainstorming creative business name ideas, it's important to consider multi-word combinations that are not only catchy but are also relevant to your business. Remember to check with the trademark office to ensure that your chosen name isn't already in use.
3. Make Customers Feel Safe
When you are trying to find the best business name to grab the attention of as many people as possible, come up with some options that include safe words that will make your targeted audience feel like they can trust you.
Just having a safe word in the name will give people a good feeling.
SecurelyU
SafeSpace
Secure Cure
Skyhigh Security
Safety Stay
QltyControl
SafeZone
Sytematic security
4. Look At Names Of Successful Companies
Take some time and carefully look at companies that are doing well and dissect their brand's name to see how it suits them.
You will be absolutely amazed at the creativity a lot of teams come up with to incorporate a lot of information into one or two words.
Your name is the face of your brand so you want it to speak volumes.
Take a look at some of the big brands out there and how each one of them came up with their name; this will help you find a way to create your own.
Examples of big names and how they got there:
Skype: The title for Skype was a process; they started with the name "sky peer to peer", but that seemed too long, so it was shortened to Skyper, and finally settled with Skype.
Hotmail: While it might seem that Hotmail was called this to make their email server sound attractive, it was actually designed to have the HTML lettering incorporated into the name,
Reebok: Reebok is a different way of spelling the word Rhebok, meaning African antelope. They used a dictionary from another country to find a name that suited their business.
5. Ask A Friend Or Potential Customers
Choosing a business name can be made much easier with the help of friends or potential customers.
Before making any final decisions, you should always ask for opinions, especially when you are torn on multiple ideas.
Getting help from family and friends is a great way to decide which way to go. However, going straight to the source and asking those who can be brutally honest with you is going to give you a better idea of what will work and what won't.
6. Create A Name That Is Easy To Remember And Pronounce
There are a lot of companies that choose names that people have a hard time saying, which can be very bad for business.
Not many customers want to talk about a business to others when they can't say the name without sounding silly. Word of mouth is still one of the most useful marketing tools, and having a name customers can't pronounce will stop them from talking about it.
7. Do They Work With Social Media Handles?
When you start an online business, you want to make sure that your name is easy to use when transferring to a social media handle. This is going to make your specific product much easier to find when people are looking for information online.
A good way to make your company stand out is by utilizing SEO techniques and incorporating a business name that will be easy to add to discussions, forums, and social media pages.
8. Easy To Spell
Just like we mentioned how important it was to have a name that is easy to pronounce, you also want to find something that is easy to spell. A lot of play-on-word options might sound awesome, but they can make it hard to spell.
This will lead to lost business when people go looking online for your company, and they don't know how to spell it properly to get the information.
When considering how to spell your business, you also want to stray away from long-drawn-out names. One or two words are plenty; going further will complicate things, and your brand won't sound as interesting.
9. Make Your Name Tell A Story
Come up with a name that makes it personal, touching, and have it tell a story about how you got to where you are and how your company came to be.
FAQs
Let's dive into some great questions frequently asked by companies looking for the perfect name for their brand.
What Are Good Business Names?
A good business name is one that is brandable, one that will make your name stand out above the rest and that looks and feels reliable, safe, and respectable.
You also want to ensure that your business name is easy to read and understand so you don't have people guessing what your products and services are.
A good business name should steer clear of abbreviations. Abbreviating a company name is a go-to for many start-up businesses but can be problematic for them because many people may have a hard time making sense of what those letters stand for.
You want a name that will showcase your products and services, not have people guessing.
How Do I Get A Catchy Business Name?
There are many things you can do to create a catchy business name that will stick in the minds of customers and make you hard to forget.
First, Like mentioned above, you can use a free online business name generator that will take all of your keywords and mix and match them to create something fun, unique, and different from the rest.
Second, you can try finding strong keywords and then altering the spelling in order to make it original. This is a great way to make your company look different, modern, and recognizable.
What Are Attractive Business Names?
Attractive business names are going to be the ones that you get from combining words that make your product stand out above the competition, whether it's King, steel, giant, titan, etc. These words are going to bring customers to you because they make you sound important.
Attractive business names are also going to include modern, sleek, and "attractive" words in them, including things like pretty, fab, confident, etc. Use words that make people feel good.
Ideas for attractive business names include:
PrettyNPink
FabFavorites
KingScreening
TechTitan
SteelCorp
LadyBoutique
Conclusion
Once you have done all the homework and you have found a name that suits you, your business, and your future customers, you are ready to begin marketing your brand.
Before putting anything out in the open, you should always reference a domain checker at websites like Godaddy. This is going to ensure your awesome name is available.
If you are still struggling, you could always try a high quality brand name generator to help come up with additional ideas!
Related Posts