Goats have everything there is to look for in a pet. A pet goat is intelligent, friendly, inquisitive, cute, and more. Unlike some pets, goats will also respond to their names when called for milking and feeding, among other interesting activities. Pet goats are also playful, which is precisely what most pet owners are looking for.
But how do you get started finding the best goat names?
Well, we understand the challenges involved with naming pets which is precisely why we've put up this goat naming guide for you.
You can find the perfect goat moniker depending on many factors from gender to cuteness, color, goat breeds, etc.
Find the best name for baby goats, female goats, male goats, cute goats, and more in the lists below!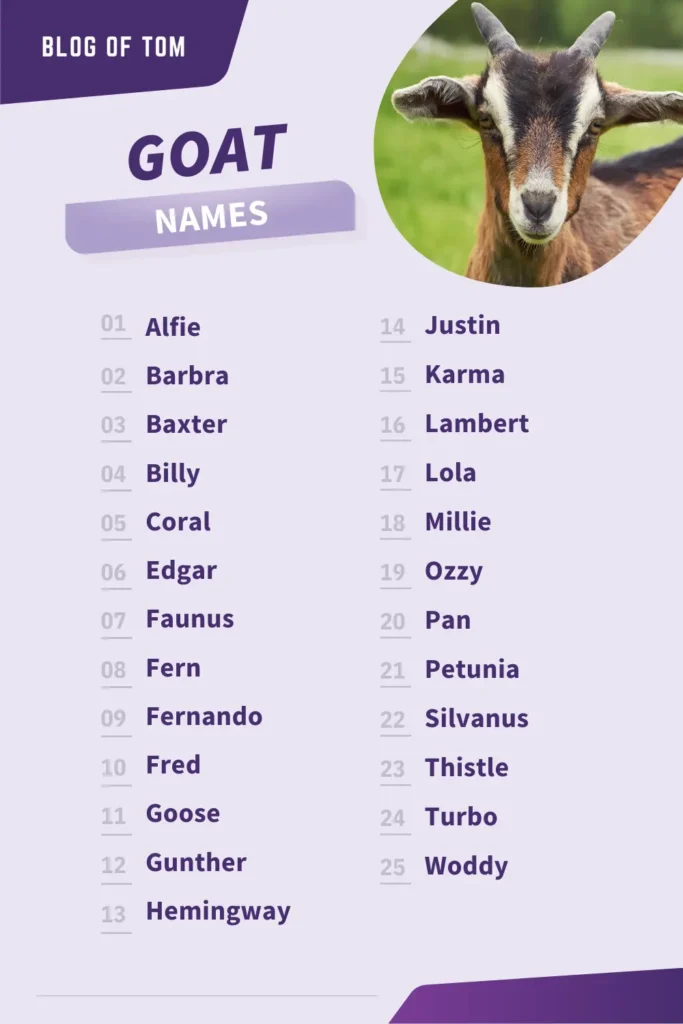 Best Goat Names
Pet goat owners have had some naming preferences over the years. Those are the names you will find below.
If you care to know which names are regarded as the best or most popular today, see the names included below;
Agni
Alfie
Angus
Ansel
Artemis
Babe
Barbra
Baxter
Billy
Black Coffee
Candie
Capri-Horn
Caprica Six
Charlie
Chase
Chopper
Cimbeline
Clay Henry – renowned for beer drinking
Cloudy
Cora
Coral
Dave
Delancey
Dew Drop
Diego
Dionysus
Duncan
Edgar
Fan-yin
Faunus
Ferdinand
Fern
Fernando
Festus
Finn
Fred
G.O.A.T.
Gordon or Gordie
Gemma
Gideon
Gigi
Goat Boy
Goat Home
Goat-a-bunga
Goose
Gunther
Gretchen
Hammerhead
Happy Meal
Hay Girl
Hemingway
Hoof N Holler
Horn of Plenty
Horton
Jalapeno
Jax
Jenni
Justin Baaaah-ber
Kahuna
Karma
Lambert
Lawson – famous Anarchy crew goat
Little GTO
Loki
Lola
Lorax
Majesty
Marina
Marvin
Maverick
Mellie
Millie
Minnie
Mona
Mojo
Nanko – Abraham Lincoln's goat
Nanny
Nia
Not Kid-din'
On the Lamb
Opie
Ozzy
Pan
Pedro
Persimmon
Petal
Petunia
Pippa
Pippi Lamb Stocking
Poppy
Pound Cake
Rambling Goat
Rawhide
Rico
Rigatoni
Rorie
Shofar
Silvanus
Stanley (Stan)
Storm's A Comin'
Straight No Chaser
Sundance Kid
Sweet Pea
Sybaaala
Tater
The Hoofmaster
Thistle
Toby
Tori
Tulip
Turbo
Twist and Bleat
Whitaker
Winchester
Woddy
Wooly
Yang Ching
Cloudy with a chance of hay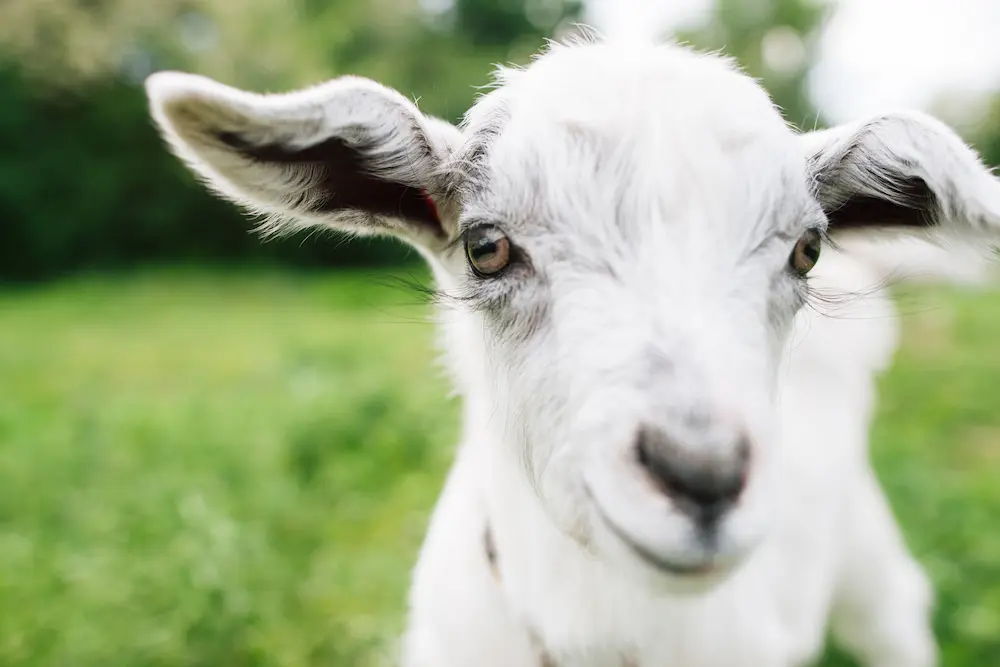 Names For Girl Goats
For gender-specific names (i.e., if you have a female goat), consider the names below;
Aaliyah
Abby
Abigail
Ada
Adaline
Adalynn
Addilyn
Adelaide
Adeline
Adley
Adrianna
Aisha
Alaina
Alana
Alani
Alanna
Alayah
Aleah
Aleena
Alejandra
Alessandra
Alexa
Alexandra
Alexandria
Alexia
Alexis
Alice
Alicia
Alina
Alison
Alivia
Aliyah
Allie
Allyson
Alyssa
Amanda
Amber
Amelia
Amina
Amira
Amy
Anastasia
Anaya
Andrea
Angel
Angela
Angelica
Angelina
Anika
Aniyah
Anna
Annabella
Annabelle
Annalise
Anne
Annie
April
Arabella
Aria
Ariana
Arianna
Ariel
Ariella
Arielle
Ariyah
Arya
Ashley
Aspen
Athena
Aubree
Aubrey
Aubrie
Audrey
Aurora
Ava
Avah
Averie
Avianna
Azalea
Bailee
Bailey
Bella
Bethany
Bianca
Blair
Blake
Blakely
Braelyn
Brianna
Briella
Bristol
Brooklyn
Brooklynn
Brylee
Brynn
Cadence
Cali
Callie
Cameron
Camila
Camilla
Camille
Carmen
Carolina
Caroline
Carter
Cassidy
Catalina
Catherine
Cecelia
Cecil
Cecilia
Celeste
Celine
Charlee
Charleigh
Charley
Charli
Charlie
Charlotte
Chelsea
Cheyenne
Chloe
Christina
Claire
Clara
Colette
Cora
Coraline
Dahlia
Daleyza
Dallas
Daniela
Danielle
Daphne
Dayana
Delaney
Delilah
Destiny
Diana
Dolly
Doris
Eden
Edith
Elaina
Elaine
Eleanor
Elena
Elianna
Elisa
Elizabeth
Ella
Elle
Elliana
Ellie
Elliott
Eloise
Elsie
Ember
Emelia
Emely
Emerson
Emersyn
Emery
Emilia
Emily
Emma
Emmalyn
Erin
Esme
Esmeralda
Esther
Eva
Evangeline
Eve
Evelyn
Evelynn
Everleigh
Evie
Faith
Fatima
Felicity
Fernanda
Finley
Fiona
Flower
Frances
Francesca
Freya
Gabriela
Gabriella
Gabrielle
Genesis
Genevieve
Georgia
Gia
Giselle
Gloria
Grace
Gracelyn
Gracelynn
Gracie
Gwendolyn
Hadley
Hailey
Haley
Hallie
Hanna
Hannah
Harley
Harlow
Harmony
Hattie
Haven
Hayden
Hazel
Heaven
Heidi
Helen
Helena
Henley
Holly
Hope
Irene
Iris
Isabel
Isabelle
Itzel
Ivanna
Ivy
Izabella
Jacqueline
Jada
Jade
Jane
Janelle
Janiyah
Jasmine
Jayda
Jayleen
Jazmin
Jazmine
Jenna
Jennifer
Jessica
Jillian
Jimena
Joanna
Jocelyn
Johanna
Jolene
Jordan
Josephine
Josie
Journee
Journey
Joy
Julia
Julianna
Julie
Juliet
Juliette
June
Juniper
Justice
Kaia
Kaitlyn
Kalani
Kali
Kaliyah
Kara
Karen
Karina
Karla
Karsyn
Kassidy
Kate
Katelyn
Katherine
Kathryn
Katie
Kaydence
Kayla
Kelly
Kelsey
Kendall
Kendra
Kennedi
Kennedy
Khloe
Kiara
Kinsley
Kora
Kyla
Kyleigh
Kynlee
Kyra
Lacey
Lainey
Lana
Laura
Laurel
Lauren
Lauryn
Layla
Leah
Leia
Leighton
Leila
Leilani
Lena
Lennon
Leona
Lexi
Lia
Liberty
Lila
Lilah
Lilian
Liliana
Lilith
Lillian
Lilliana
Lily
Logan
Lola
London
Londyn
Lorelai
Lorelei
Lucia
Lucille
Lucy
Luna
Lydia
Lyla
Lyric
Mabel
Maci
Macie
Mackenzie
Macy
Maddison
Madeleine
Madeline
Madelyn
Madilyn
Madilynn
Maggie
Magnolia
Maisie
Makayla
Makenna
Makenzie
Malaysia
Malia
Mallory
Margaret
Margot
Maria
Mariah
Mariam
Mariana
Marilyn
Marlee
Marley
Mary
Maryam
Matilda
Maya
Mckenna
Mckinley
Megan
Melanie
Melany
Melissa
Melody
Meredith
Mia
Michaela
Mikayla
Mila
Millie
Mira
Miracle
Miranda
Miriam
Molly
Morgan
Mya
Myla
Myra
Nadia
Naomi
Natalia
Natalie
Nevaeh
Nia
Nina
Noelle
Norah
Nova
Nyla
Nylah
Oakley
Olive
Olivia
Ophelia
Paige
Paisley
Parker
Payton
Peanut
Penelope
Petunia
Peyton
Phoebe
Phoenix
Piper
Presley
Priscilla
Quinn
Rachel
Raegan
Raven
Reagan
Rebecca
Reese
Regina
Remi
Remington
Renata
Riley
River
Rory
Rosalie
Rose
Rosemary
Rowan
Royalty
Ruby
Ruth
Rylee
Sabrina
Sadie
Sage
Samantha
Samara
Sapphire
Sara
Sarah
Sasha
Savanna
Savannah
Sawyer
Saylor
Scarlet
Selah
Selene
Serena
Serenity
Shannon
Shelby
Shelly T. Turtle
Shiloh
Sienna
Sierra
Skye
Skyla
Skylar
Skyler
Sloane
Sofia
Sophia
Sophie
Stella
Stephanie
Summer
Susan
Sydney
Sylvia
Tahlia
Talia
Tammy
Tania
Tara
Tatianna
Tatum
Taya
Taylor
Teagan
Tess
Tessa
Thea
Theresa
Tia
Tiffany
Timber
Tina
Toni
Tonya
Treasure
Tricia
Trinity
Truffle
Tyra
Valentina
Valeria
Valerie
Vanessa
Venus
Vera
Veronica
Victoria
Violet
Virginia
Vivian
Vivienne
Willa
Willow
Winter
Wren
Yaretzi
Zara
Zariah
Zoe
Zoey
Zuri
Names For Boy Goats
If you end up with a male goat and want his name to represent his gender perfectly or unique gender-based characteristics, we have some great naming ideas below;
Angus
Archie
Arthur
Barry
Bartholomew
Baxter
Beau
Bubba
Buckley
Buford
Calvin
Chester
Cleveland
Colonel
Cornelius
Danny Boy
Dodger
Duncan
Edgar
Einstein
Elmer
Finn
Fitz
Floyd
Frances
Gary
Gideon
Gilbert
Goatie
Gordie
Grover
Hank
Herbert
Homer
Huckleberry
Jasper
Jethro
Joey
Joker
Leonard
Miguel
Milo
Oliver
Ozzy
Peabody
Pedro
Pheonix
Pogo
Ralph
Ray
Rocco
Roger
Rupert
Sammie
Scruff
Shorty
Smalls
Tobias
Toby
Turbo
Woddy
Unisex Names For Pet Goats
If you have twin goats (a boy and girl or both female/male goats) and you wish to give them unisex names, you can consider the name combinations below;
Caramel and Toffee
Checkers and Chess
Chocolate Chip and Cookie Dough
Dash and Bash
Five and Dime
Flip and Flop
Ham and Eggs
Itchy and Scratchy
Ketchup and Mustard
Kibbles and Bits
Lemon and Lime
Peanut and Butter
Ping and Pong
Salt and Pepper
Scratch and Dent
Ying and Yang
Zipper and Velcro
Zucchini and Squash
Cute Goat Names
Goats can be very adorable pets that make you happy every time you see and play with them. A baby goat can be incredibly cute.
Here are some names to consider to match your goat's cute look and personality. There are some name suggestions that combine cuteness and fun;
Alfalfa
Ande
Atlas
Baaaah-nald Trump
Binky
Briar
Brownie
Buckwheat
Button
Candi
Cappuccino
Carrot Top
Chief Bogo
Cinnamon
Clara Belle
Cupcake
Cutie Patootie
Dalai Lamb-a
Denali
Diedre
Everest
Feta
Goat-topia
Goaty Cake
Gypsy Goat Lee
Jerky
Kabob
Lambkins
Lil Bo Peep
Little Flower
Lucky Charm
Marie Antoinette
Mocha
Molasses
Natural Blonde
Niblet
Noah
Nugget
Nutella
Nutmeg
Nuts N Bolts
Piccolo
Pinky
Pippin
Rosebud
Sage
Seirra
Snow White
Spark Plug
Sparky
Sprocket
Sugar
Summit
Surefoot
Taffy
Tapioca
Theodore
Tilly
Tom Thumb
Twinkle Star
Walnut
What the Bleat
Woolly Mammoth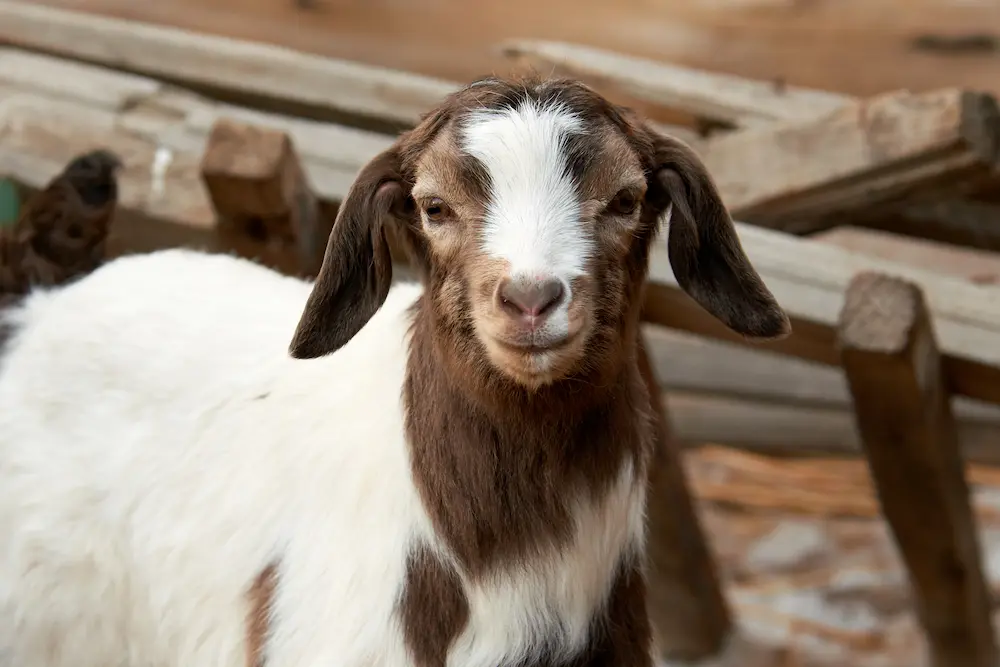 Good Names For Goats
Pet goats can be named based on factors like size, color, looks, and more.
Here are some good/satisfactory goat monikers to consider when you just want a pet name;
Acorn
Alaska
Alberta
Alfalfa
Almond
Alpine
Alps
Altitude
Ande
Ansel
Atlas
Baby Red
Bach
Bivouac
Blue Mist
Blue Sky
Boo
Bo Peep
Boulder
Brownie
Bumper
Butternut
Butterscotch
Canyon
Caramel
Cascade
Clifford
Climber
Clover
Cocoa
Colorado
Cookie
Cosmo
Cricket
Denali
Diamond
Dike
Donut
Emerald
Everest
Festus
Freckle
Geronimo
Giggles
Glazier
Gus
Heinz
Hershey
Hoofer
Juniper
Knoll
Ledge
Lilac
Matterhorn
Meadow
Misty
Mojo
Montana
Mounty
Olive
Ombré
Opal
Paisley
Peak
Pearl
Pecan
Peppermint Patty
Periwinkle
Petal
Piccolo
Pickles
Pinecone
Pinnacle
Popcorn
Pudding
Pumpkin
Radish
Raven
Ridge
Rocky
Ruby
Saddle
Sapphire
Sierra
Speckles
Spook
Spot
Sprinkles
Sprout
Stepper
Summit
Sunny
Surefoot
Swifty
Tater
Thorn
Thunder
Tourmaline
Vanilla
Violet
Waffles
Funny Goat Names (Including Puns)
Having a pet should be a fun experience. After a long workday, you need to go home to a funny goat with a befitting name.
The suggestions below match their colorful personalities and bouncy antics as well as what a pet goat can bring out in an owner;
Adam Lamb-ert
Amadeus Goat-zart
Apple a Day
Auto Baaahn
BAAA-tman
Baaaba Fett
Baaa Humbug
Baaatman
Bell Wether
Billy
Billy Come Lately
Billy the Kid
Blackie
Blade Hoofer
Blooper
Bob
Buckwheat
Butt
Butt Heads
Capricorn
Captain Hoof
Checkers
Chonky
Cow Poke
Cupcake
Curry
Dave
Driving Miss Daisy
Eeyore
Farmer John
Feta
Flank
Funky Winker-bleat
Goatee
Goatella
Goaten
Goatesque
Goats and Soda
Goatsucker
Goatya
Goatye
Goaty McGoatface
Goatzilla
Great Goatsby
Halle BAAA-rry
Halle Baaarry
Harry Baaaah-tter
Hill Billy
Hoofin It
Hoof Raiser
Hot Stuff
Houdini
James Van Der Bleat
Jerky
Juniper
Just Kidding Around
Kebob
Kevin
Kid
Larry, Curly,
Merriwether
Milking Day
Milkman
Milkshake
Milky Way
Murphy's Law
My Grain
Nanny Go Lightly
Nibbles
Nosebleat
NoseBleat
Nugget
Oat-is
Patches
Peaches
Peanut
Pickles
Pippi
Pokey
Punkin
Satyr
Scape Goat
Selena Goat-mez
Skippy
Snowball
Socks n Shooos
Sparky
Sunny
The Goat Father
The Incredible Hoof
Tin Can
Tinker Baaaahll
Tippy
Vincent Van Goat
Warm Milk
Wether or Not
What the Bleat
Whiskers
Zygoat
Badass Name For A Goat
Does your goat have a badass look or personality?
If he/she is tough, intimidating, and uncompromising in looks and/or attitude, you can select a matching badass name below;
Apollo
Bam-Bam
Bandit
Bark
Beast
Blaze
Boris
Brutus
Caesar
Checotah
Chomper
Colonel
Commander
Duke
G.I. Jane
Goatzilla
Houdini
Hugo
Hulk
Legend
Mack
Major
Nikita
Noah
Orion
Pan
Perseus
Phoenix
Prue
Ram Bo
Ramses
Ranger Rick
Ripley
Rodeo
Rowdy
Sarge
Satyr
Spunky
Tarzan
Thunder
Tyrone
Zeus
Zorg
Cool Names For Goats
Goats can have a cool personality and/or look.
Here are some cool names for your goat to consider based on unique attributes or naming after cool personalities;
Abigail (Abby)
Aegipan
Aesop
Annie Goat-ley
Bach
Charisma
Cherry
Diana
Elsie
Ewe Turn
Glory Ann
Go-Goat Dancer
Goat Gone Wild
Good Wether
Got Your Goat
Graze-aholic
Heidi
Horns R Us
Jonesy
Junie Bee
Kid Gloves
Kid Rock
Little Fern
Magda
Marduk
Marley
Morrie
Oliver
Pedro
Petti-goat Junction
Renata
Rhubarb
Sonnet
Stella
Sun Shower
The Mad Nanny
Tiger Lily
Tuff Enuf
Winston
Unique Names For Pet Goats
You can choose a foreign name translated to mean goat.
Some notable foreign examples that are incredibly unique and popular include;
Bode – means goat in Portuguese
Bok – means goat in Dutch
Cabra – means goat in cabra
Cabra – means goat in Catalan
Capra – means goat in Italian
Capra – means goat in Romanian
Capra – measns goat in Corsican
Chevre – means goat in French
Dhi – means goat in Albanian
Gabhar – means goat in Irish
Gafr – means goat in Welsh
Ged – means goat in Danish
Geess – means goat in Luxembourgish
Geitur – means goat in Icelandic
Geit – means goat in Dutch
Geit – means goat in Norwegian
Get – means goat in Swedish
Gida – means goat in Greek
Gobhar – means goat in Scots Gaelic
Jarac – means goat in Croatian
Kaza – means goat in Latvian
Kecske – means goat in Hungarian
Kits – means goat in Estonian
Koati – means goat in New Zealand
Koza – means goat in Bosnian
Koza – means goat in Macedonia
Koza – means goat in Polish
Koza – means goat in Serbian, Slovenian, Slovak, and Ukranian
Kozel – means goat in Russian
Mbuzi – means goat in Swahili
Ozka – means goat in Lithuanian
Puc – means goat in Irish
Taish – means goat in Hebrew
Vuohi – means goat in Finnish
Ziege – means goat in German
Black And White Goat Monikers
Is your goat black and white in color?
If yes, we have names ideal for black and white goats that are either male or female;
Ace
Almond Joy
Badger
Bandit
Beans
Bear
Bellatrix
Bessie (cow)
Boots
Bunny
Cece
Charlie
Checkers
Chess
Chester
Chevron
Chocolate Chip
Clarity
Coco
Coda or Koda
Cookie
Cricket
Cupcake
Diamond
Dice
Domino
Donut
Dot
Dottie
Elvis
Eve
Felix
Flyer
Freckles
Frosting
Gingham
Grayscale
Harlequin
Harley
Houndstooth
Lemur
Lucky
Luna
Macaron
Maggie
Magpie
Marble
Max
Merle
Midnight
Milkshake
Millie
Milo
Mittens
Monochrome
Motley
Orca
Oreo
Panda
Patch
Penguin
Pepe (Le Pew)
Peppa
Pepper
Pinstripe
Puffin
Quinn
Raccoon
Roscoe
Skunky
Sky
Snoopy
Spot
Sprinkles
Star
Stella
Stripes
Sundae
Sushi
Swirl
Sylvester
Truffles
Tuxedo
Zara
Zebra
Zig Zag
Names For A Black Goat
If your goat is entirely black, you may be tempted to use his color as a basis for naming him or her. If that's the case, consider these names;
Black Knight
Dark
Licorice
Midnight
Night
Shadow
Smokey
Stormy
Names For A White Goat
A white pet goat can also be named based on color entirely. Consider the following white goat moniker suggestions;
Cloud
Cream
Daisy
Milk
Milky White
The Milky Way
Snow
Snow White
Snowball
Snowflake
Snowy
Names For A Brown Goat
If your goat is brown in color, call him/her any of the names below;
Amber
Brownie
Caramel
Cinnamon
Cocoa
Coffee
Latte
Mocha
Sandy
Toffee
Disney Goat Names And Famous Goat Monikers
Disney films and characters can be used as inspiration for naming your goat pet.
Here are some good names to consider;
Ashley
Billy Goat Gruff
Buddy McBilly
Clueless Morgan – name of Muppet Treasure Island
Elly Mae
Gompers
Gompers – a name from Gravity Falls
Granny
Grover – name from Percy Jackson & The Olympians
Gruff – a name from 3 Billy Goats Gruff
Gunter the Goat
Jed
Jethro
Lupe – name from Ferdinand
Mammy
Melanie
Miss Jane
Mr. Drysdale
Mr. Tumnus – The Chronicles of Narnia
Philoctetes – a name from Hercules
Pleasant Goat – a name from Pleasant Goat & Big Big Wolf
Prissy
Rhett
Scarlett
Soothsayer – name from Kung Fu Panda
Monikers For Goat Twins
If you have two pet goats, you can consider goat twin names over conventional naming.
Here are good examples of twin names to consider for your goat based on a variety of factors ranging from color to character, wordplay, and more;
Caramel & Toffee
Checkers & Chess
Chocolate Chip & Cookie Dough
Dash & Bash
Five & Dime
Flip & Flop
Ham & Eggs
Itchy & Scratchy
Ketchup & Mustard
Kibbles & Bits
Lemon & Lime
Peanut & Butter
Ping & Pong
Salt & Pepper
Scratch & Dent
Shoes & Socks
Zipper & Velcro
Zucchini & Squash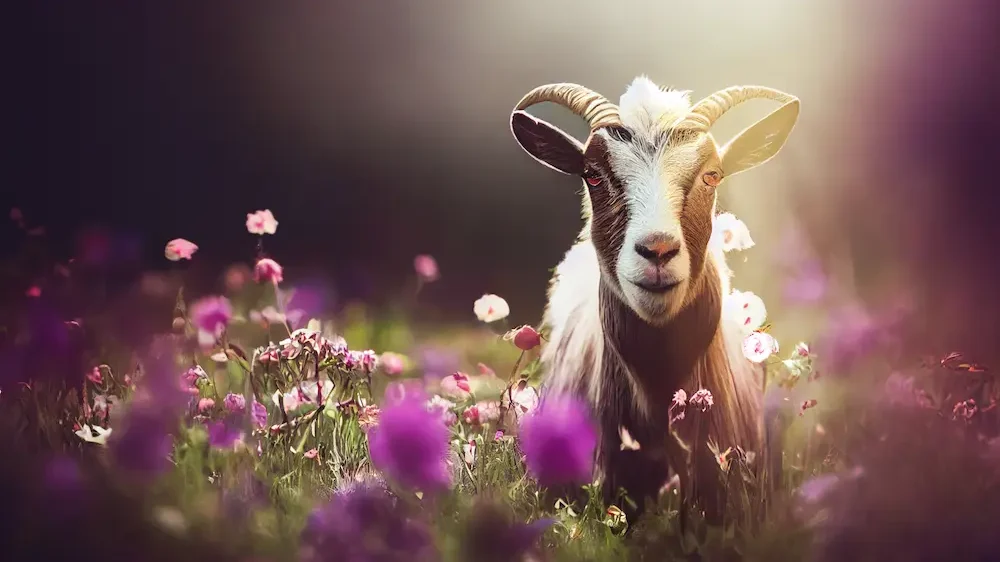 Flower Monikers For Goats
You can name your goat pet after a flower or plant.
Below are some good flower or plant names to consider;
Acacia
Acantha
Aciano
Aconite
Alcea
Alchemilla
Allium
Allysa (Allysum)
Aloe
Alyssum
Amaranthus
Amaryllis
Anemone
Angelica
Angelonia
Anne – Queen Anne's Lace
Ant – Anthurium
Artemisia
Aster
Astilbe
Aubrieta
Azalea
Baby – Baby's Breath
Baccara
Bacopa
Ballota
Beauty
Begonia
Bergamot
Bergenia
Billbergia
Bletilla
Bloom
Blossom
Bluebell
Bluebonnet
Borage
Bouvardia
Briar
Bud
Buttercup
Calendula
Calla
Camellia
Cane
Canna
Cardinal
Carnation
Caspia
Celosia
Chicory
Chrysanthemum
Clematis
Cleome
Clover
Comfrey
Coral
Cosmos
Crocus
Cynthia
Daffodil
Daffy
Dahlia
Daisy
Dandelion
Daphne
Decumaria
Delphinium
Diabolo
Dianella
Diascia
Disa
Dusty
Echium
Elder
Eremurus
Fern
Fleur
Flora
Florian
Forsythia
Freesia
Fuchsia
Gardenia
Garland
Gaura
Gazania
Geranium
Gerbera
Ginger
Gladiolus
Guzmania
Hawthorn
Heather
Hebe
Helenium
Heliotrope
Hellebore
Hermione
Hibi
Hibiscus
Hock – Black Hollyhock
Holly
Honey – Honeysuckle
Honeysuckle
Hosta
Hyacinth
Hydrangea
Hyssop
Impatiens
Indigo
Irene
Iris
Ivy
Ixia
Ixora
Jasmine
Juniper
Kalmia
Laelia
Lantana
Lavatera
Lavender
Leilani
Lewesia
Lilac
Lily
Linaria
Lobelia
Lotus
Lunaria
Lupine
Magnolia
Mallow
Malva
Mandevilla
Marguerite
Mari – Marigold
Marigold
Matthiola
Meadow
Mimosa
Mirabilis
Molly – Molly Sanderson Viola
Moraea
Myrtle
Narcissus
Nemesia
Nemophila
Nolana
Odessa
Oleander
Oliver
Orchid
Oxalis
Pansy
Penny
Pentas
Peony
Periwinkle
Perrie – Perriwinkle
Petal
Petunia
Phlox
Pine
Poinsettia
Poppy
Posey
Posy
Primrose
Primula
Quince
Ren
Rhodes
Rosa
Rosalind
Rose
Rosemary
Rue
Sage
Salvia
Scarlet
Scilla
Senna
Shasta
Snowdrop
Statice
Steph (Stephanotis)
Sunflower
Sunny
Susan
Sweet Pea
Tansy
Thistle
Torenia
Trillium
Tulip
Verbena
Veronica
Vinca
Viola
Violet
Watson (Watsonia)
Wedelia
Widow
William – Sweet William
Wisteria
Yarrow
Yucca
Zenobia
Zinnia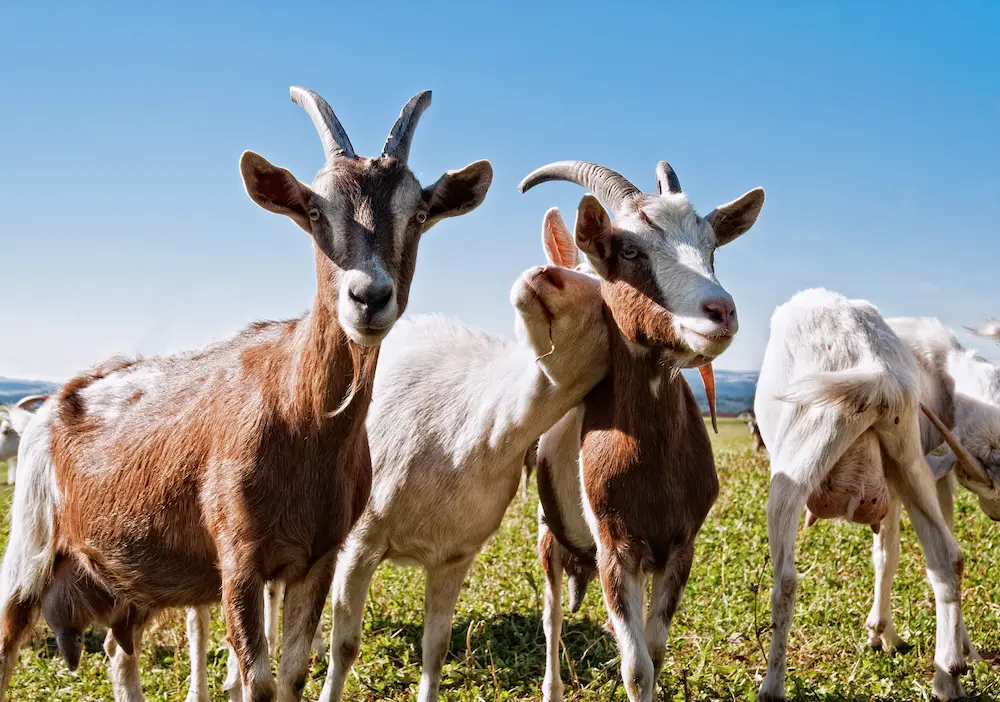 Conclusion
The above names encompass any pet goat category imaginable. Whether you are naming baby goats, pygmy goats, Nigerian dwarf goats, female goats, male goats, funny goats, or any other category, you can't miss a suitable name above.
This naming guide can also act as inspiration for naming other farm animals.
If you love goats and wish to acquire one as a dairy producer for your family or a few as pets, we've made the naming process incredibly easy for you.
However, you may fail to get a suitable goat moniker above. If that's the case, use the above information for inspiration Naming great pets can be a challenge.
With the above naming categories in mind, you are bound to find some inspiration.
You can ask friends and family for some suggestions Naming can also be aided by observation. You can get ideas by simply observing your goat in action His/her preferences, unique attributes, favorite food, color, etc., can be a source of inspiration.
You could also go online. There are useful naming resources like blogoftom that can help you get a good name or inspiration.
Whichever name/s you end up with, test it and ensure it works perfectly. A good name shouldn't just be based on a pet owner's personal preferences; Your pet should respond favorably.
Family members should also like the name. It's also advisable to choose a name that best describes the personality of your pet.
Related Posts