Even if you're a cat or dog person, you may want a unique pet to keep. A pig can be a great addition to your family.
Pigs are depicted as dirty animals. However, this isn't entirely the case. Like other pets, pigs can be trained to maintain cleanliness.
Now that a pet pig isn't so far-fetched, we can turn our attention to pig names. What should you call your pet pig? Pet naming can be based on many things, from the type of pig in question to their color, mannerisms, physical attributes, and more.
For instance, you may want a funny name, a name fit for a male pig, a name for a female pig, and more! We have all those name suggestions below.
Let's dive in.
Best Pig Names
For the best of the best pet names used for pigs, we've compiled multiple names for you.
These include names that pet pig owners love the most, famous pet pig monikers, and more!
Blaster
Bonnet
Celery
Chewbacon
Chuck
Digger
Freddy
GG Bond
Goliath
Gub Gub
Hawk
Hempton
Hogwash
Hoof
King Neptune
Kubota
Little Mouth
Melody
Miss Piggy
Pancetta
Percy Porker
Porky Pig
Puddle
Pumba
Samson
Sparkles
Stinker
Oink
Babe
Trotters
The best names are obviously relative. If you feel you haven't gotten a great name above, consider other naming categories below.
Names For Female Pigs
Assuming you have a female pig pet (sow), there are some names that are more ideal for her. For instance, female pigs are usually heavier than their male counterparts for the first year of their lives.
However, male pigs take over in weight and body length. If you wish to name your sow by its physical feminine attributes or other feminine traits, consider our suggestions below;
Abby – cute feminine name
Addison
Annie Sue – cute name for a girl pig. Name from The Muppet Show
Athena
Ava Gabor
Bailey
Ballerina
Bea
Bella
Betty
Blanche
Blossom
Blush
Bonnet
Bonnie
Callie
Cally
Caroline
Cinderella
Coral
Daisy
Damsel
Darling
Delilah
Diva
Dolly
Dorothy
Duchess
Ellie
Eloise
Ema
Emma
Florence
Gala
GG Bond Gwendoline
Hans
Harper
Hazel
Honey
Hydrangea
Jewel
Jolene
Kiera
Koma
Kubota
Lassie
Lavender
Lola
Louise
Lulu
Mademoiselle
Mae
Magenta
Maggie
Maple
May
Maybelle
Melody
Midbus
Miss Piggy
Molly
Nora
Nutmeg
Olivia
Paisley
Pansy Pig
Peaches
Pearl
Peggy
Pepper Pig
Percy Porker
Petunia
Petunia Pig
Piggy The Pig
Piglet
Pignite
Pinky Piper
Plum
Poppy
Porky Pig
Princess
Rosita
Sandy
Sasha
Savannah
Scarlette
She Nom
Sophie
Sparkles
Stella
Tinker Bell
Violet
Names For Male Pigs
If you pet a boar or small male pig, you need some masculine names. They could be male names popular among humans, masculine names with different meanings, or other considerations.
We've compiled some great names for your boy pig to consider:
Acorn
Albert
Avacado
Bandit
Barley
Barnaby
Bart
Brutus
Bubba
Buddy
Buttons
Buzz
Charlie
Chester
Chubbs
Clarence
Clover
Clyde
Cookie
Corky
Daddy Pig
Dewey
Dexter
Digger
Dixon
Doug
Dudley
Eddie
Erwin
Frankie
Gizmo
Goliath
Gryllus
Gus
Hagrid
Hamm
Hank
Hawk
Hector
Hercules
Herman
Hogzilla
Homer
Hoover
Huck
Hugo
Iggy
Jake
Jodie
Joey
Larry
Laster
Leonardo
Lester
Marshall
Martimer
Martin
Maude
Max
Mercy Watson
Mickey
Mortimer
Mugsy
Noelle
Nooch
Norman
Oliver
Orville
Oswald
Otis
Paxton
Peanut
Pigeons
Piggie Smalls
Piggy Boss
Pignite
Pinto Bean
Popcorn
Poppleton
Positive Pig
Puddle
Ralph
Rex
Rocky
Rooter
Rustler
Sam Pig
Samson
Scouter
Sebastian
Shakespeare
Snowball
Snuffles
Sonny
Sprout
Squealer
Squiggles
Theo
Toffuti
Toot
Toot & Puddle
Tracker
Waldo
Wally
Willow
Wrinkles
Ziggy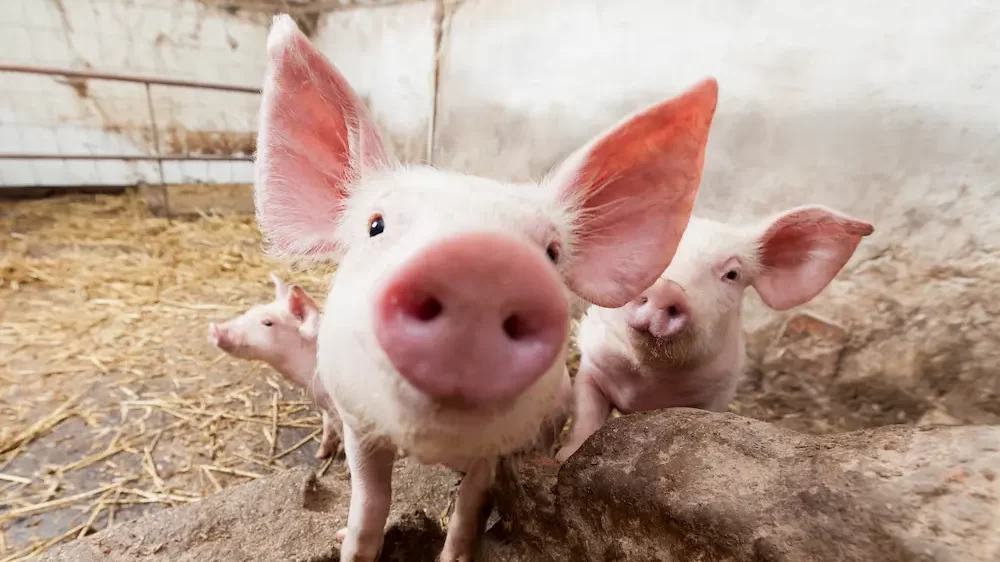 Unisex Names for Pigs
What if you want a gender-neutral name for your pet pig? What should you call him/her?
Ace
Brown
Chunkie
Coco
Cookie
Dirty
Foodie
Joy
Moody
Puffy
Snort
Cute Names for Pigs
Assuming you pet a piglet that is small and incredibly cute? What should you call him/her? What about an adult pig that's also cute or adorable in physical characteristics or traits?
We have some cute names for your pet pig for your consideration below.
They include names of cute things, names representing cute, adorable human names, and more!
Abby
Adeline
Ajna
Athena
Ballerina
Bella
Blossom
Blush
Bonnet
Bonnie
Buddy
Buttercream
Butterscotch
Callie
Charlie
Charlotte
Checkers
Cinderella
Clover
Cocoa
Coral
Cuddles
Cupcake
Daisy
Dani
Darling
Delilah
Diva
Dolly
Domino
Doodle
Dorothy
Dottie
Duchess
Ellie
Emma
Evie
Florence
Franca
Fred
Fudgie
Gertrude
Gilly
Ginger
Guinness
Gwendoline
Gwenivere
Happy
Harper
Harry
Hazel
Hermione
Hobbit
Holly
Honey
Hope
Jewel
Josie
Kiera
Lassie
Lavender
Leonardo
Lily
Lola
Lottie
Lovebug
Lucky
Lucy
Lulu
Mabel
Madeline
Magenta
Maggie
Maisie
Maple
May
Melody
Millie
Mimzy
Minion
Molly
Muffin
Nutmeg
Oats
Odin
Olivia
Oreo
Page
Panda
Pasley
Peaches
Pearl
Peggy
Penelope
Peppa
Periwinkle
Petunia
Phoebe
Pickles
Pinky
Pinto
Pixie
Poly
Popcorn
Poppy
Princess
Pumpkin
Ranger
Rey
Rosie
Ruby
Runt
Sadie
Sandy
Savannah
Scooter
Snickerdoodle
Snort
Squeaks
Squiggle
Star
Sugar
Sweetie
Sweet Pie
Tinker Bell
Tootsie
Trixie
Truffle
Violet
Winnie
Zoe
Names For A Baby Pig
Piglets have unique characteristics and traits. Besides being playful, they exhibit other notable traits like diligence, loyalty, and understanding. Piglets are also sociable from a young age.
We have some great baby names for your consideration below;
Ammo
Babe
Baby
Banana
Bear
Bell
Betty Lou
Bite Size
Boo
Borsti
Bubbles
Butter
Button
Buttons
Chaw
Cincinnati Dancing Pig
Cinnamon
Clarence
Cookie
Cucumber
Cuddles
Daisy
Dancer
Dopey
Doppy
Erwin
Evie
Ewok
Firecracker
Fudge
Gilly
Gimli
Gizmo
Gordi
Grape
Grunt and Punt
Half-pint
Hammy
Happy
Hazel
Hector
Hobbit
Hogzilla
Holy
Huck
Iggy
Jambon
Jiggles
Jolly
Kiddo
Kosher
Ladybug
Lemon
Lily
Lil' Ham
Little Cory
Little One
Lola
Lollipop
Lucky
Makoto
Marble
Mickey
Milkshake
Millie
Mimzy
Mini Meat
Minion
Minjon
Minnie
Mouse
Muffin
Munchkin
Nago
Nano
Nugget
Oats
Oink
Pad Pork
Pancake
Panda
Pasley
Peanut
Pea spot
Pebble
Pebbles
Peppa
Petal
Pigby
Piggley Winks
Piggy
Piglet
Pigma Dengar
Pigsqueak
Pinky
Pinky & Perky
Pint
Piper
Pixie
Poly
Poppy
Prince
Professor Chops
Puddles
Rey
Rooter
Rosebud
Runt
Sadie
Sausage
Scout
Shorty
Shrimp
Slim
Small Fry
Smally
Smurf
Snook
Snort
Snout
Snowball
Sonny
Spot
Squeaky
Teacup
Teddy
Theo
Thimble
Thumbelina
Tiny
Toadstool
Tomato
Toodle
Toodles
Tootsie
Tower
Tweety
Willow
Ziggy
Zoe
Good Names for Pigs
A pet name can be simple and satisfactory. Below are good names you can call your pet pig regardless of their gender or other differences.
Abraham
Amelia
Babe
Bubba
Buttercup
Charlie
Charlotte
Chubby
Curly
Dixie
Ella
Esther
Mabel
Mervis
Miss Piggy
Mitzi
Mr. Porky
Old Major
Olivia
Ollie
Penny
Piggly Wiggly
Piglet
Piper
Porkchop
Pumbaa
Sooey
Truffle
Waddles
Wilbur
Clever Names For Your Pig
Pigs are clever pets that will learn their names and exhibit intelligence in many other ways.
If your pig's intelligence surpasses all other traits and characteristics, you can consider the few clever names below.
Able
Brainy
Einstein
Math
Nicola
One
Sneaky
Wise
Funny Names For Pet Pigs
Piglets can exhibit funny behavior. Adult pigs can also be cheeky in their playfulness.
If your pet pig has funny behaviors or you prefer funny pig names, you can call him any of the names below;
Abra-ham Lincoln
Albert Einswine
Amy Swinehouse
Anduille
Arnold Porzenegger
Ava Gaboar
Bacon
Baconator
Banty Raids
Barbie Q Sandwich
Betty Lou
Big Belly Nelly
Bratwurst
Bubba
Bubble
Buttercup
Chewbacon
Chicharrones
Chops
Chorizo
Chris P Bacon
Chuck
Colonel Bacon
Corn Chips
Cornfed
Crispy
Curly
Dirty
Donald Rump
Elvis Pigsley
Fat Blaster
Frankenswine
Frank Furter
Frankfurter
George
Good Chop
Gordy the Pig
Gossiper
Ham
Hambone
Hamburger
Hamhock
Hamlet
Hamm
Hammelton
Hammertime
Ham Solo
Hamton
Handmade Piglet
Harry Porker
Hempton
Hermione Hamhock
Hickory
Hogsmeade
Hogwart
Hogwarts
Hogwash
Hogzilla
Hoof Pollard
Jennifer Lopig
Jerky
Jimi Hamdrix
Jimmy Dean
Kevin Bacon
Kissing George
Kosher
Lindsay Loham
Little Packer
Loud Mouth
Mesquite
Miss Piggy
Mr. Piggy
Mudpie
Napoleon
Oinker
Oinkers
Oinkie
Oscar Meyer
Pancetta
Penelope
Peppa Pig
Peppermint Pig
Peter Porkchop
Petty Pig
Pigasso
Piggie Smalls
Piggles
Piggly Wiggly
Piggy Azalea
Pig Hoof
Piglet
Pig Mac
Pig Newton
Pig Pen
Pigsqueak
Pigtails
Pjork
Pliglet
Plopper
Poppleton
Pork 'N Beans
Porkahontas
Porkalot
Porkchop
Porkeypine
Porkster
Porky
Pua
Pumbaa
Quohog
Roommate
Sam the Ham
Sausage
Scrapple
Shane Dawson
Short Rib
Sir Francis Bacon
Sizzle
Skillet
Slim
Slop
Smokey
Snoop Hoggie Hog
Snortin Norton
Snowball
Sooey
Spam
Spekkie Big
Spider Pig
Squealer
Squiggly Flatwater
Stink
Stinker
Tommy Hilpigger
Toucan Sam
Trashcan
Uncle Pig
Vegan's Nightmare
Waddles
Webber
Whistler
Wilbur
Wonder Wart-Hog
Cool Names for Pigs
Pigs have cool mannerisms. They are also cool pets since not everyone has a pig for a pet.
Here are some great cool pig pets to consider;
Amazon
Ammo
Axelle
Beast
Blackjack
Boar
Boomer
Captain
Carter
Cerberus
Clover
Commander
Crusher
Diesel
Echo
Elvis
Ever
Franky
Gadget
Gauntlet
General
Graphite
Guinness
Harley
Hybrid
Jagger
Jax
Legend
Legion
Levi
Lex
Loki
Lux
Machete
Marley
Maximus
Mortar
Nixie
Odin
Paul
Pentagon
Presley
Racer
Ranger
Reaper
Ryder
Shank
Skinhead
Smokey
Sniper
Storm
Stormy
Tank
Warthog
Whisky
Unique Names For Pigs
Some pet names are really common and somewhat boring. If you crave uniqueness, we've compiled some great suggestions below based on pig food and other unique inspirations;
Bacon
Bomber
Bones
Bourbon
Carrington
Cash
Chewbacon
Chunk
Clarence
Easton
Fleetwood
Frankfurter
Goliath
Graphite
Griphook
Ham (not to be confused with Hamm)
Hamlet
Harley
Hellion
Hercules
Hermione Hamhock
Jimmy Dean
Kevin Bacon
King Hog
King Piggy
Kosher
Luca
Lucy
Matrona
Mortar
Mr. or Ms. Snorts
Newton
Pickles
Pink Floyd
Ponda
Porkchop
Porky
Reaver
Redbot
Ripley
Rocky
Rogue
Samson
Sausage
Serpica
Shadow
Shark
Shear
Sir Oinks
Slim
Smokey
Sparky
Squeaky
Toucan Sam
Trapper
Trigger
Whisker
Cartoon Pig Names
If you love pigs and love cartoons or your kid/kids love cartoons, you can consider a cartoon name for your pet.
Many pigs have graced our screens over the decades. Here are popular cartoon featured names from the animated cartoon series Pokémon.
Emboar – name after mega-fire Pokémon pig
Grumpig – a name from Pokémon. Evolves from Spoink
Momoswine – An evolution of the cute pig Pokémon Swinub
Mankey – a name from pig monkey Pokémon
Pignite – a name from fire pig Pokémon
Swinhub – a name from swine Pokémon
Primeape – a name from pig Monkey Pokémon
Spoink – a name of a pig Pokémon
Swinhub – a name from dual-type ice Pokémon
Famous Pig Names Including Names of Disney Pigs
Pigs have also been featured in movies and TV. We've listed some famous favorite pig characters for your consideration including names of Disney pigs and more below;
Abigail – Pig from the movie Ham What Was
Arnold Ziffel – Pig from the TV sitcom Green Acres
Babe – Cute pig from the movie Pig in the City
Empress of Blandings – pig from P.G. Wodehouse's books
Gordy the Pig – Mai character in the movie
Gub Gub – Pig from Doctor Dolittle'
Hamm – Pig from Toy Story movie
Hen Wen – Pig from The Black Cauldron movie
Hogzilla – Real-life pig renowned for being approximately 8 feet and weighing 800 pounds.
Max – Famous pot belly pig belonging to George Clooney
Miss Piggy– Pig from the Muppet Show
Monokuru Boo – Pig from Japan resembling Hello Kitty
Napoleon – Pig from Animal Farm
Noelle – Real pot-bellied pig from Designing Woman comedy
Olivia – Charming pig from the animated TV series Olivia
Peter Porkchop – a lovely character from DC universe
Petunia Pig – Pig from the TV series Merrie Melodies'
Piglet – Popular pig from Winnie the Pooh
Plopper – Pig from the Simpsons Movie
Poppleton – Pig from Cynthia Rylant's children's book
Porky – Pig from Bugs Bunny
Puddle – Pig from the TV series Toot and Puddle
Slim – Pig character from Slim TV series
Squealer – Pig from Animal Farm
Toot – Famous pig from TV series & Book illustrations by Hollie Hobbie
Wilbur – Adorable piglet name from Charlotte's Web
Names For Black Pigs
If your pet pig is black, he/she needs a "black" name. Look at our few suggestions below;
Bear
Black
Dark
Coal
Dust
Guinness
Midnight
Nova
Olive
Opal
Scout
Names For Pink Pigs
If your pig is pink, call him any of the "pink names" below;
Azalea
Ballerina
Blush
Champagne
Dusty
Fuchsia
Magenta
Mauve
Mountbatten
Peachy
Quince
Rosewood
Rouge
Thulian
Help Choosing the Perfect Name
We've listed hundreds of names perfect for your pig to choose from. If you still need inspiration, you can name your pig by following some tips. For instance, every pet is unique in some way. You can consider your pig's unique trait or physical attribute for naming inspiration.
You can consider other factors like famous names, suggestions from family members, and wordplay. You can also corrupt a popular pet name to create a brand-new name. Pet names can also be created by translating popular names into other languages.
These considerations may not work for you. You may also lack time to implement them. If that's the case, consider naming resource blogoftom designed to make naming easy.
Conclusion
There you have it all the names you could ever need for your pet pig. Whether he/she is cute and funny, or you want to name them after a character in George Orwell's book, you have ample suggestions to choose from.
If you don't call your pig "Elvis Pigsley" or any of the other names above, you can use blogoftom for additional pet naming inspiration and other naming needs.
FAQs
What's the pig's name from Toy Story?
Hamm.
What is the pig's name in Moana?
Pua – meaning nose in Swahili.
What's the pig's name in charlotte's web?
Wilbur.
What is Peppa pig's brother's name?
George.
What are the three little pigs' names?
Fifer, Fiddler, and Practical.
What is the Looney Tunes Pig's name?
Porky.
What was the pig in Winnie the Pooh called?
Piglet.
Related Posts