When naming your handyman business, you want to communicate speed, efficiency, reliability, and quality in your name.
Home repair is usually costly, and customers want to choose a company they can trust to do a high-quality job.
Handyman services encompass construction, renovation, plumbing, carpentry, joinery work, various odd jobs, and other areas of home maintenance. But you only have one chance to make a first impression.
Help your business start out on the right foot by choosing a name that's clear about the services you include.
Successful business owners know how important social media is in advertising, and have names that are simple, to the point, and easy to remember.
Handyman business name generators are a great place to start, but we've also included some of our top picks for handyman business name ideas in our comprehensive list.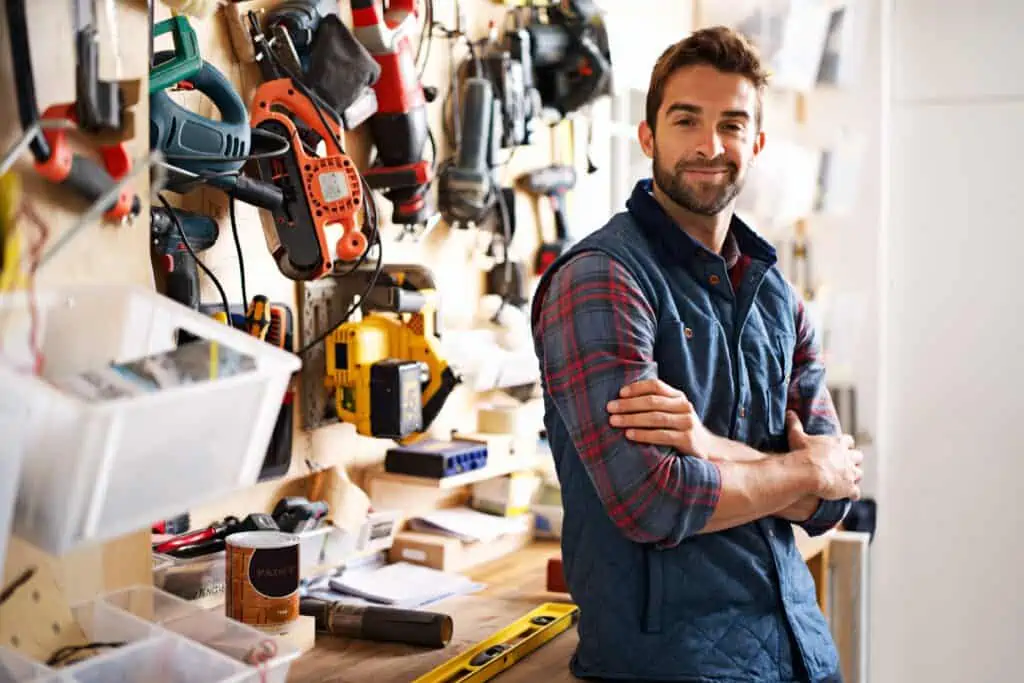 Best Handyman Business Names
Help your business stand out with these awesome names:
Hank's Handyman Services – Any "H" name would work well with this alliterative business name.
A to Z Handyman Services
The Neighborhood Handyman
Problem Solved Home Repair
In a Jiffy Home Repair – This name implies quick and efficient home repairs.
Wooden It Be Lovely – A great name for a handyman business specializing in woodworks and joinery repair.
A Cut Above Woodworkers
Pain in the Glass Window Repairs – A catchy name with which to start a handyman business that specializes in windows!
Grate Expectations Fireplace Repair
Floors for Thought
Flat Boy Skim Plastering Services
Professor Fix-It Handyman Services – A great name for a handyman company that also specializes in-home appliance repair.
A Guy, A Toolbox, and A Truck – This straightforward business name is a great choice for its simplicity and clear disassociation of large, impersonal companies. It has a small-town vibe that will resonate with customers.
Applied Appliance Repair
Jack of All Trades Home Repair
Home Sweet Home Repairs – A catchy name that drives home the sentiment that there's no place like home.
You Break It We Fix It Appliance Repair
Robin Wood – A play on the iconic "Robin Hood" and his legacy, a good association for a handyman as they provide the heroic deeds of home repair.
Handy by Moonlight – Great for a business offering after-hours and emergency repair services.
Four Seasons Handyman Services – With different seasons come different weather hazards, all of which can cause damage that needs repairing.
The Odd Job Guy
The Snappy Handyman – Implies speed and efficiency.
The Hippy Handyman – Extra points for having tie-dye uniforms!
The Traveling Workshop
Wicked Windows – This name employs alliteration while also highlighting the specialty of its services.
The Friendly Handyman
No Job 2 Odd Home Repair
The Nifty Fixer
Grease Monkey Handyman Services
Weekend Handyman – A great name that drives home the point that you'll be there for your customers regardless of the day of the week. After all, things don't just break on weekdays!
The Window Wizards – Another alliterative name specializing in window repair and installation.
Jack's Joinery – This business name could work well with any "J" name.
The Handy Pocket Home Repair
Ace Home Repair
24/7 Handyman Services – This name communicates readiness around the clock.
Man 4 the Job Handyman Services
Handyman 911 – A perfect option if you offer after-hours emergency handyman services.
Heavenly Stairways
Wood that I Could
Color Me Timbers – A catchy name reminiscent of pirates, a great option for a business specializing in house painting.
Crafty Joiners
Benched In Joinery
ReNew Construction and Renovation
New Life Renovation and Construction
Floorboards to Lightbulbs Home Repair – And everything in between!
Dreamy Door Repair
After Hours Handyman Services – Drives home the point that your handyman services will be there when your customers need them.
Mr. Handy Home Repair
Superior Craftsman
Handy Work LLC
Home Improve Services Ltd
Unique Names For Handyman Businesses
Hercules Handyman Services – This excellent name implies that no repair is too difficult for your handymen!
Broken Toe Construction – This self-deprecating business name hints at one of the common hazards of physical labor.
Big Daddy's Handyman Services
Tri-County Home Repair
Brick by Brick Construction ; Home Repair – Implies quality, care, and reliability.
Hometown Handyman
Home Grown Handyman
In a Pinch Home Repair
Hammer ; Wrench Handyman Services
Jack's Trades Home Repair – A play on the phrase "Jack of all trades," implies versatility.
Ace Tips Services
Ade's Handy Service
All American Handyman
All Around Maintenance
All Black Handyman
All Rounders
Anywhere Repairs
As Is Handyman
Better than Good Handymen
Big Daddy Handyman
Casa Handyman Service
Centre Point Handyman Services
Craftsmen of Quality
Damage Control Commandos
DIY Rescue Squad
DoxFix
Dr. House
Elite Repairs
Find a Fix
Fix it
Fix It, People
Found & Fixed
Get It Done Guys
Hammer Time Services
Handy Dandy Solutions
Handy Helpers
Handymantastic
HandyPro Services
Happy Hands Carpentry Inc.
Heroic Handyman
Home Doctor
HomeFix Solutions
Home Improvement Heroes
Home Task Masters
House Doctors
Jack of all Trades
Jack of All Trades Service Center
Master Maintenance
Mr. Fix-It
Mr. Fix All
Mr. Fix It
Paintbrush Masters
Plumber's Pal
Power Driver Helpers
Premium Repairs
Professional Touch
ProMen Company
Ready to Repair
RescueRepair
Screwdriving Specialists
Silver Bullet Handyman
The Drill Doctors
The Handy Gentleman
The Handy Monkey
The Nailers
The Quick Fix
The Trusty Handyman
Toolbox Heroes
Toolbox Pros
Tool Brothers Hardware
Tool Time Pros
Wrench Warriors
Catchy Handyman Business Name Ideas
Do you have a business idea but are unsure what name will help grow your business?
These catchy ideas will help stick in people's minds:
HomeWorks Remodeling and Home Repair
All Around Repairs
The Discount Handyman – Implies rates lower than the competitors.
The Traveling Toolbox Handyman Services
The Thrifty Fixer – Implies versatility and resourcefulness.
360 Home Repair – An all-encompassing name that communicates the wide range of home repairs your business can perform.
Nomadic Home Repair
11th Hour Jobs – The customers know who will come to their aide, even at the last minute.
Blue Collar Carpentry – This name has a "salt of the earth" feel that resonates with working and middle-class Americans.
Home Trends Renovation
Good Names For Your Handyman Business
All American Handyman
Appliance Doctors
Honey Do Home Repair
Sir Fix-a-Lot Handyman Services
As Needed Home Repair
The Deck Doctor – A great name for home repair specializing in repairing decks, patios, or joinery of any kind.
Anytime Services
New Tool Collective – Nothing's nicer than a shiny new tool!
Handy ; Hired Handyman Services – This name communicates the popularity of your business.
Hardware Connection Home Repair
Classy Names for A Handyman Business
The Handy Connection
The Handy Gentleman
Five Star Handyman Services
Top Shelf Home Repair – Not only does this name imply quality with the phrase "top shelf," but there's some clever wordplay at work as home repair includes fixing shelves.
First Rate Handyman
Quality Home Repair
Not Your Average Handyman
Gold Medal Home Repair – What better way to tell your customers you're the best in the business than with this name?
Superior Handyman Services
Handyman Solutions
Cute Names For Your Handyman Business
The Happy Handyman – Cute and alliterative.
Oh My Handyman!
Eye Candy Handyman
Happy Accidents Home Repair – You'll be even happier when the repair is done!
Fixed In Five Repair – This is a great business name for odd jobs and other quick fixes, but not for more intensive jobs like construction or renovation.
Family Man Handyman Services
Build-A-Dream Construction and Renovation – After all, there's no place like home. Wouldn't anyone want to live in the home of their dreams?
Handy Helpers Handyman Services
Helping Hands Home Repair
Your Handyman Friend
Clever Names For A Perfect Handyman Business
Squeaky Door Home Repair – Even better if your business offers more than door repair!
One Call Handyman – Implies convenience for the customer.
In the Dust Handyman Services – Let customers leave their home repair worries in the dust when using your business!
Handy Hercules – A strong name that implies no job is too difficult.
Best 4 Less Home Repair – If replacing the word "for" with the number 4 puts you off, you can easily spell it out. This is an ideal choice for businesses that beat the prices of their competitors.
Budget Bros Handyman Services – A great name for a business that beats the prices of its competitors.
One ; Done Handyman Services
Handyman Heroes
The Heroic Handyman – Since handymen are everyday heroes in a very real sense, it's good to acknowledge this when naming your business.
A + Home Repair – Since A+ is the highest grade, it's a good thing to associate your business with perfection and satisfaction. After all, you wouldn't want your business to be named "C – Home Repair."
Cool Names For A Handyman Business
Ace of Spades Handyman Services – The Ace of Spades is the highest-ranking playing card, so having this name implies you're the best in the business!
Bulldog Builders – A great name for a company specializing in renovations and repairs.
American Muscle Handyman Services – Implies strength, American ingenuity, and patriotism. What's not to love about this stars-and-stripes moniker?
Get It Done Home Repair
National Handyman Services – A somewhat generic name, it implies expertise and a wide-ranging customer base.
Knights Remodeling – Knights are associated with loyalty, chivalry, strength, and honor – all the right qualities for your handyman business.
Tried N' True Handyman Services – A name that implies quality and customer satisfaction.
Man ; Wrench Home Repair – Straightforward and easy to remember, this is an excellent choice for a home repair business name. It even works for a female-run home repair business by changing it to "Woman ; Wrench Home Repair."
The Steadfast Handyman – This name implies that no matter how tough the job is, your handymen won't quit until the job is finished.
Iron Will Home Repair – Problems are stubborn, but your business is even more stubborn! A great association for your home repair service.
Funny Names For A Handyman Business
Screw It Handyman Services – Direct and a little naughty, this name is as funny as it is easy to remember.
The Trusty Wrench
License to Drill – A blatant reference to the phrase "License to Kill," a strong business name that implies quality and grit.
Don't Call me Handy Andy – Rhyming is always a useful device in making your business name memorable.
The Handyman Can – This is a cute name that recalls the song "The Candyman Can" from the classic 1971 Gene Wilder family film, Willy Wonka and the Chocolate Factory.
Shit Happens Plumbers – A bold and straightforward name for plumbing repair.
B. Handy Handyman Services
Handy Manny – Rhyming is always a good way for customers to remember your business's name.
Come Hell or High Water Home Repair – This is an excellent name that employs the classic phrase, "come hell or high water." With a name like this, your customers better believe that your handyman business will be there for them no matter the circumstances!
Nailed It! Handyman Services
Names For A Female Handyman Business
Two Gals and a Wrench – Cute, clear, and a little quirky, this name has a small-town vibe that will resonate with local customers.
The Handy Woman – This direct name leaves no doubt on the services rendered.
Home She-pair Services – This name includes a play on the word "repair" by making it clear about being a female-run business.
Her Hammer Home Repair – Alliterative and clear about being a female-run business, this is an excellent name for your female-led home repair business.
Rosie the Riveter Appliance Repair – A catchy, alliterative name that pays homage to one of the greatest and most memorable female icons in American history.
That's What She Fixed – Funny and a little naughty, this name plays on the popular phrase issued after off-color jokes, "that's what she said."
The Uptown Handywoman – This name has a touch of class.
The Capable Handywoman – Having a word like "capable" in the name of your business communicates quality and competence – both of which are vital in home repair!
Belle's Building Repair – "Belle" means "beautiful" in French, so this name scores extra points for aestheticism.
The Repair Ladies
Company Name Naming Tips
Simple is better when naming your business. Keep your business name easy to spell, pronounce, and remember – though sometimes alternate spellings can be used if they are memorable.
Make sure the name reflects your business. While a name may be clever, if it doesn't apply to your services, it won't be good for business and it won't connect with your target audience.
Choose a name that stands out from the crowd.
Pick a name that's easy to pronounce and remember.
Conduct a thorough Internet search to verify that the name is still available.
Don't rush – sometimes it can be difficult to come up with the right business name. But the wait is usually worth it.
Conclusion
There is a lot to consider when starting a business, especially one as necessary and labor-intensive as handyman services.
Find the perfect name through our ultimate guide, or use one of the many free online tools such as a business name generator or branding agency.
Related Posts