Colored fish look great in aquariums. They make the perfect pet fish because of their distinct color which doesn't go unnoticed.
If you want an aquarium or fish jar that your family, friends, and visitors can't get their eyes off, get a purple pet fish.
However, you'll have to think of a good name shortly after. The first question everyone asks about a pet is usually their name. If you're here to get some good purple fish names, look no further.
We have prepared the ultimate purple fish naming guide below. Our suggestions touch on factors like gender, color, the uniqueness of the fish as well as personality.
Let's dive in.
Best Purple Fish Names
The best name for a purple fish will touch on its color and personality. Combining their purple color and distinct character is an excellent place to start.
In fact, most purple pet fish owners name their pet fish this way.
Here are some of the best most popular names for purple fish to consider;
Barney – named after the popular purple children's TV series character Barney
Grape – named after purple grapes
Eggplant – named after purple eggplant
Jaws – name ideal for a tough purple fish
Lilac – named after a purple lilac flower
Lavender – named after the lavender flower with purple and hints of blue color
Orchid – named after purple orchids
Plum – name ideal for purple fish with hints of red
Female Purple Fish Names
If you're looking for a name specifically for a female purple fish, here are some great names to consider;
Aiza – meaning noble in Arabic
Ann Wolfe – name ideal for a tough female purple fish. Named after a female boxer
Daisy – named after the daisy flower
Devina – female name meaning divine
Eve – means life in Hebrew
Fleur – means flower in French
Indira – means beauty
Iris – means rainbow. Ideal female purple fish name with other rainbow colors
Lila – named after the Arabic word for "night"
Luna – named after the Roman goddess of the moon
Orchid – means orchid flower in Greek
Pearl – means precious in Latin
Violet – named after the popular purple color
Male Purple Fish Names
You can name a male purple fish based on masculine names of regular people, famous actors, etc.
Bruce Lee – named after popular martial arts star
Caspian – named after Caspian Sea
Conor – named after UFC champion
Floyd – named after famous boxer
Hulk – named after famous wrestler
Kai – name meaning ocean
Mike Tyson – name after famous boxer
Oliver – name means peace. Ideal for a peaceful male purple fish
Prince – named after an American musician who often wore purple clothing
Vince – means conqueror in Latin. Ideal for a purple male fish with similar character traits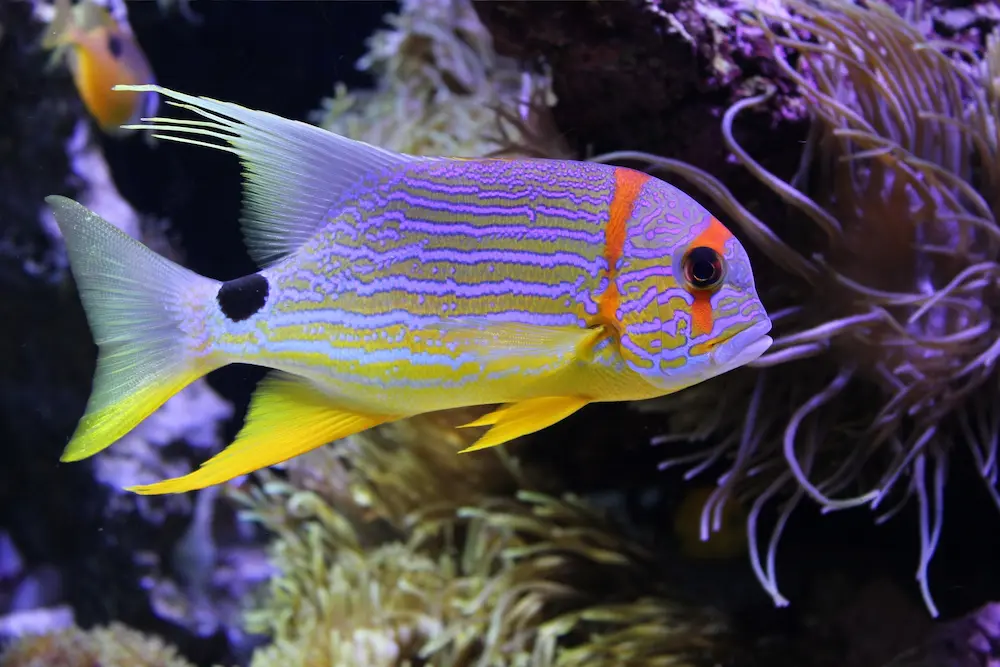 Unique Purple Fish Names
If you don't wish to pick a popular purple fish name, you can go for some unique suggestions below that apply to both male and female purple fish;
Amethyst – named after a quartz variety
Beet – a name from purple beets
Boysenberry – Unique name instead of berry
Ditto – name ideal for a light purple to pinkish fish
Ekans – unique name after pink Poison-type Pokémon
Magenta – unique name for a purple fish with unique color hues (purplish, reddish or mauvish).
Mewtwo – another color-inspired Pokémon name
Mulberry – named after mulberry
Periwinkle – name after the purple periwinkle plant flower
Purples – wordplay for the word purple
Raisin – named after purplish raisins
Sangria – named after a purplish alcoholic drink
Starmie – name after another purple Pokémon character
Thanos – name after purple supervillain Thanos. Ideal name for a fish with a matching character
Cute Purple Fish Names
A purple fish can be lovely or loveable based on its physical attributes or behavior. What should you call your cute purple fish?
Angel
Apple
Bubu
Caramel
Cherry
Cake
Coco
Flower
Gigi
Kiki
Lily
Lottie
Lulu
Marley
Nala
Nice
Pancakes
Pansy
Pumpkin
Rosy
Sugar
Zuzu
Help Choosing The Right Name
How do you select the best names for your purple fish? Well, if you are lucky enough to find a name you like above, you don't have to go through this section.
For additional awesome fish naming ideas, consider the following;
1. Think
This is an obvious but commonly overlooked tip when looking to name a pet. Every pet owner has something they want in a pet name. It could be something unique, something representative, a funny name, an exotic name, a cool fish name, etc. You could also want a simple name. Before you pick a name, think about what your wants are, if you have any. Do you have pet names you dislike? Think about such things for a moment to get inspiration.
What's more, you can think about your fish's unique appearance while considering factors like color. Think about what you see when you look at your fish swimming and choose a name that brings out their character.
2. Seek Assistance
You shouldn't leave your pet naming process to yourself if you can get help from a friend, family member, etc.
There are also resources like the internet with many useful naming tools you can use. Besides turning to search engines like Google, you can go to highly specialized pet naming resources like blogoftom for inspiration.
3. Don't Overlook Wordplay
You can make common names unique by adding your own twist. For instance, instead of choosing names like Nemo and Fin that are incredibly common, you can add a title i.e., Nemo the Great or Mrs. Fin.
Adding your own twist can make a common boring name unique and fun.
4. Test The Name
Once you have a few names, don't be overly excited until you test the names and they feel right.
What do your friends or family members think of the name? Does your purple fish seem to respond to the name?
Asking yourself these questions will give you the clarity you need to settle on a name.
Conclusion
Naming your purple fish can be challenging. Unless you are really creative and have overflowing pet names waiting, you need some names or inspiration from a naming guide.
Luckily, if you don't have a name already from the above examples, you are bound to be inspired to find a name or use valuable naming resources like blogoftom for inspiration.
Related Posts