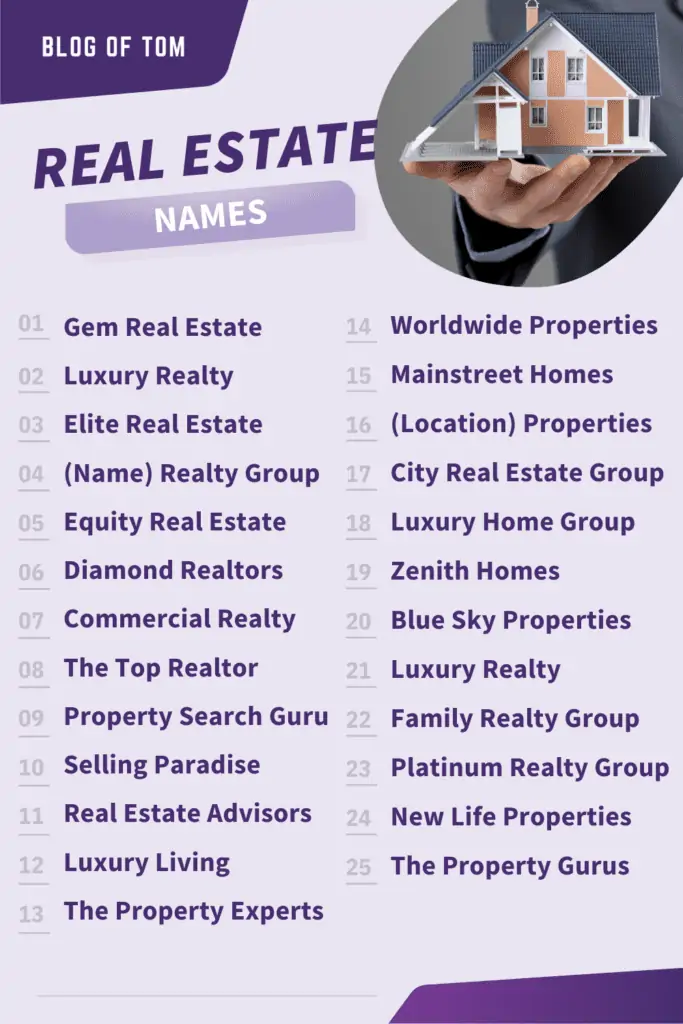 Gone are the days when you could get away with naming your real estate company by your own name.
They are still around, but the competitive nature of the industry means that real estate branding is a big thing.
On this page, we want to share with you some awesome real estate names.
If you run a realty company, then you should be able to find one or two awesome names here that you can use.
Let's dive in.
Best Real Estate Business Names
Let's kick off with the best real estate business names. These business name ideas can work for things other than a real estate business too!
As you go through this estate company names suggestion list, note how all of the best names will have some sort of indicator that the company is luxurious, or perhaps a larger business. This can help to convey a feeling of trust.
Gem Real Estate
Luxury Realty
Elite Real Estate
(Name) Realty Group
Equity Real Estate
(Location Name) Realty Group
Diamond Realtors
The Commercial Realty Group
The Top Realtor
Property Search Guru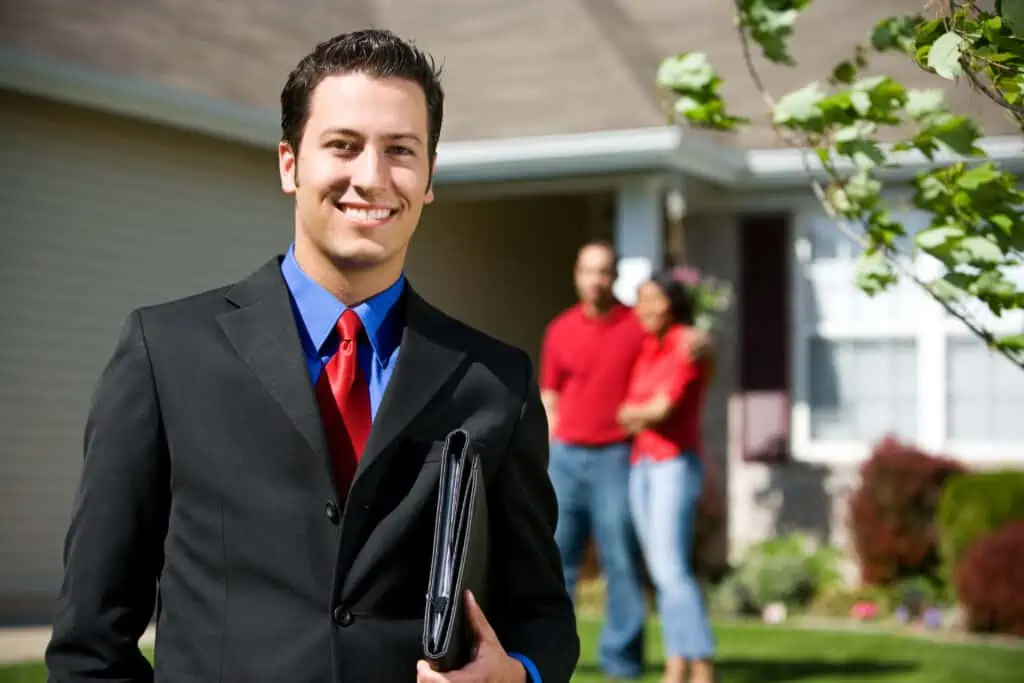 Good Real Estate Names
Didn't find a name that caught your attention in the previous 10? That's completely fine.
Budding real estate agents may enjoy these good real estate property company names. These names almost made our top 10, but not quite! Still good.
These names are a bit more experimental. This is where we break away from the norms of making your company seem the greatest. Basically, these estate company name ideas are much more creative.
Real Estate 4 U
Sun ; Sand Real Estate
Mountain Real Estate
Beachfront Real Estate
Selling Paradise
Real Estate Advisors
Luxury Living
The Property Experts
Worldwide Properties
Mainstreet Homes
(Location) Properties
City Real Estate Group
Luxury Home Group
Zenith Homes
Blue Sky Properties
Luxury Realty
The Family Realty Group
The Platinum Realty Group
New Life Properties
The Property Gurus
Cute Real Estate Names
Finding the perfect home for somebody is all about forging close ties with them. You become their friend.
In this case, cute names may work. You can come up with some creative real estate marketing when you pair these cute names with some great logos.
Home Sweet Home
Friendly Realtors
Beautiful Home Realty Group
Your New Home
(Your First Name) Real Estate
Family Homes
Your New Life Homes
A Fresh Start Properties
Forever Home Realty
Meadow Homes
Maple Tree Homes
City Living Properties
The Home Geniuses
Cool Real Estate Names
Finding a cool name for your property group can be tough. However, it may be worth it if you want an awesome social media presence.
Cool names are all about attracting people to a business in an industry that is traditionally uncool. Make it feel awesome to work with your real estate company.
Wolf Properties – any 'scary' animal can work here. Think of one common in the area where you live.
Property Rockstars
Sky High Properties
The Property Genies
Property Magic
The Property Collective
Quick Move Properties
The Property Experts
Bear ; Bull Realtors
Hard Rock Realty – is great if you live in a very mountainous area.
The Progressive Property Group
Easygoing Realty
Mr. (Your Name) Realty – this is cool because it bucks the trend of using just your last name. It is more personal.
Purposeful Property
Clever Realty
Trendy Real Estate Names
Trendy names are all about seeming incredibly cool. To some extent, it dies in with the previous section.
The trendy estate business ideas that we discuss here are going to be awesome for those that want their business name to be hip and modern. These names are really going to stand out in a crowded real estate marketplace.
Ultra-Modern Living
The New Modern Home
Post-Modern Living
Progressive Properties
Green Properties
Beyond Modern Realty
21st Century Homes
Modern Sensibilities Realty
Progressive Living
Modern Condo Realty
Future Properties
Soaring Properties
Big Foot Properties
The Property Nation
Impact Properties
Gravity Real Estate
Bond Properties
King ; Castle Property and Real Estate
BANK Properties
Ever Hill Properties
Unique Real Estate Names
Coming up with unique names is tough. This is because you can bet your bottom dollar that as soon as we share ideas here, it won't be unique anymore.
This section isn't so much sharing names that have never been used at all. It is more of a list of ideas that you may not have heard before. Names for a real estate company that you may not find in your local area already.
Ultra Realty
Sunny Side Properties
Property Buddies
Big and Beautiful Homes
Candle Wick Properties
Your New Home
Home For Life
Glamorous Life Properties
The Retreat Realtors
Oasis Real Estate
Property Emporium
Think Properties
Firelight Properties
Escape Realtors
Match Properties
Affordable Properties
PLT Properties – PLT stands for 'pretty little things'.
Property Heroes
The Home ; Condo Finders
Green Forest Residential and Commercial Realtors
Dazzling Properties
Catchy Real Estate Company Names
Catchy names are also tough to come up with. After all, you need to come up with a highly brandable name that will stick in somebody's mind.
All of the names that you find in this section are incredibly catchy. They are names that will stick in your head and, perhaps most awesomely, can make for some great real estate logos.
Aztec Real Estate
Racer Real Estate
Impulse Properties
Hilltop Properties
Practical Properties
Scope Property
Property King
Property Queen
Action Properties
Gold Properties
Sunstar Real Estate
Empower Realtors
Nomad Properties
Reach Realtors
Advantage Real Estate
Realty Warriors
Vision Realty
FirstPlace Realty
Connected Realtors
Instant Home
Simple Real Estate Names
Simple names won't be too dissimilar from the previous section. We are going to keep things short and catchy. We want names that will stick in the minds of people that see them.
We are going to keep these simple names to just one word. You can add 'Properties', 'Real Estate', or 'Realty' to the end if you want.
If you want to generate your own simple names, then consider what is popular in your area e.g. a type of bird, flower, or monument.
Bluebell
Bluebird
New Realty
Cheerful Properties
Rapid
Potential Properties
Royal
Winning
Peaceful Properties
Traditional
Retail Realty – for commercial real estate companies.
Relaxed Realty
Clocktower Properties
Alluring Properties
Blissful Estates
Urban Properties
Market Hoppers
Creative Real Estate Names
Next up, we have creative names.
These will tie, a little, into the unique real estate names list. However, we figured that we didn't give you enough names there, so we want to throw a few more ideas at you.
Add your town or city name in front of these to make them unique to your area.
Brick Lane Realty
Picket Fence Realty
Relaxing Homes
Lifestyle Properties
owl Properties
Urban Nest Properties
Nest Properties
Farm Realty – for realty companies located in large areas of farmland and the like.
Lakeside Properties
Good Fortune Properties
Realistic Properties
Alpha Properties
Sound Properties
Mountainside Real Estate
Think
Your Dream Home
Heavenly Properties
London Properties – even when not in London, English town and city names work very well.
Heritage Homes
Circle Homes
Ideal Homes
The Property Bay
Unique Properties
Fancy Real Estate Names
If you sell properties on the higher end of the price spectrum, then you may want to choose property names that try to convey that.
These creative real estate names work when you have expensive properties being sold. However, to build up trust, you may sometimes just want to stick with your name.
Adding 'Estates' or 'Estate' to a name works very well for properties here.
Red Carpet Real Estate
King Estates
Castle Estates
American Realty Brokers
Beachfront Properties
Professional Homes
Mansion Homes
Mall Commercial
Exclusive Property
Queen Estates
Angel Properties
All American Estates
Big Home Properties
ISM Real Estate – some of the largest companies in the world use three letters before 'real estate'. Replace them here.
Wise Properties
Top Properties
Property Investment Realtors
Funny Real Estate Names
A catch real estate company name can be funny. However, since this is a business where you are likely to be generating thousands of dollars on a transaction, you don't want to be too funny.
Choosing a name that is funny can be difficult. As mentioned, being too funny means that people won't take you seriously. Not funny enough, and you have a bland name.
Hopefully, these funny names will help get the creative juices flowing in you.
Just Property – says exactly what your company does.
Just Commercial
Just Residential
Home Sweet Homes
Lock ; Key
Hearth and Home
Property Sisters – works for sisters that run companies. A play on Property Brothers, a popular reality TV show.
Carpe Diem – tell people to seize the day and buy your properties.
New Key Properties
Movin' On Up
The Property Pedallers
Chasing Rainbows
Around The Block
The Property Avengers
Marvel Properties – screams that you are superhero property finders.
Not So Cheap Realty – for companies that deal with larger and more expensive homes.
We Close Quick Properties – implies you get the deal done fast.
Properties 4 U
Deal Done Quick Realty
Real Estate Naming Tips
Whether you are looking for a residential or commercial real estate name, you have plenty of ideas on this page. But, how did we come up with these names?
We want to wrap up by giving you a few real estate naming tips for your real estate team. This way, you can start coming up with your own ideas.
1. Use a Business Names Generator
One of the best tips that we can give you is to use a business name generator.
You don't have to use the names that an estate company name generator gives you, but it should get those creative juices flowing.
A generator will ask you to tap in a few names that you like. It will then give you ideas based on that name. Perfect if you know what image you want your business to convey, but aren't sure how to put those words together.
2. What Does Your Company Offer?
We know that your business is offering real estate, but what type of real estate?
A business that deals in commercial real estate will need something completely different from a company that specializes in residential real estate.
If you are helping people to find family homes, then you will want your real estate team to have a much homelier and more friendly feel than a company that sells luxurious properties.
Think about the location of the properties too. For example, you probably wouldn't call your company 'beachfront realty" if you only sell properties in the city.
When you have a name, think about whether it conveys the message that you want to convey. If it doesn't, it isn't a good name for you.
3. Keep It Simple
Any name that you have needs to be easy to remember.
There are a lot of realty companies out there. Branding is going to be a big ´part of your job, and you need to ensure that people remember your business name. If they don't, they won't come to you for their real estate needs.
Ideally, you should only ever have a maximum of 2 words before 'Realty' or 'Real Estate'. However, you can justify having it a little bit longer if the words go well together e.g. Home Sweet Home, or We Close Quick.
4. Check Local and National Businesses
Before you use a name, always check local and national businesses. You don't want to be stepping on other people's toes.
If your name is similar to a national business, then you may make it work for you if you add your place name to it (just make sure that it isn't a trademarked name).
If it is a local business that your choice is similar to, then choose another name. It will just get confusing for customers.
Conclusion
We hope that you have enjoyed this list of real estate names.
We are very much aware that some of these names may be taken by the time you read this page. However, you can always check a domain name tool such as GoDaddy to see whether your selected business name is available.
Remember, if it is taken, you may be able to add the location name to the business, although only do that if you cannot think of anything else and absolutely insist on using that unique name.
Related Posts