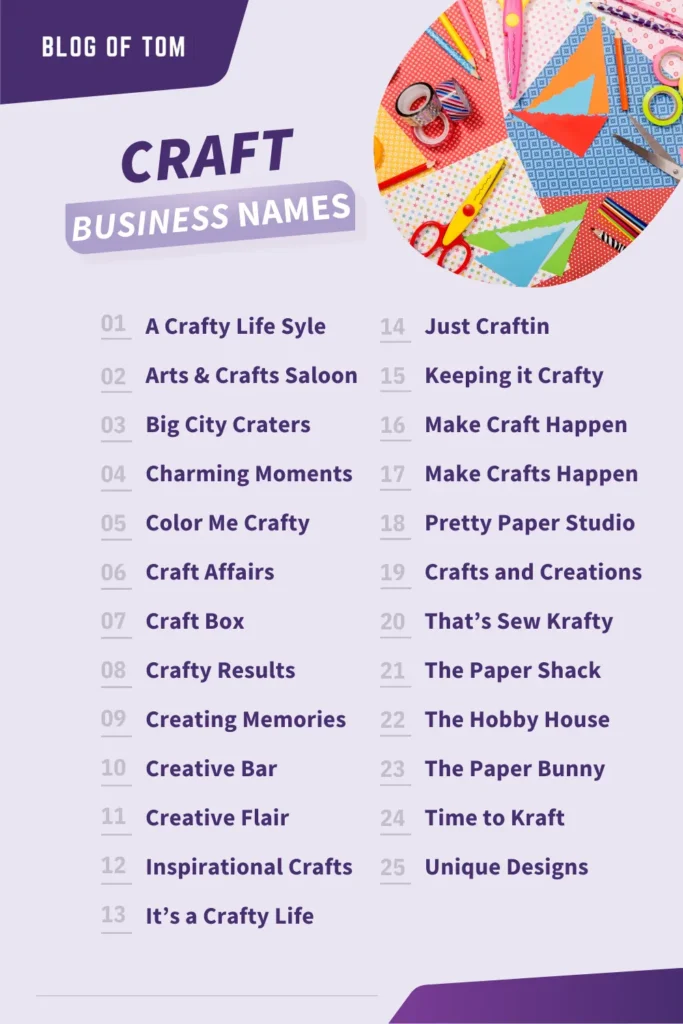 Coming up with an amazing craft business name is one of the hardest parts of starting up a company.
It is not just about coming up with something to put on your storefront sign or business page, but something that will explain to people what you are all about and pull them in.
It is hard to imagine coming up with a name using only a few words could be so tough, but the struggle is real and can be the difference between success and an epic flop.
If you own a craft business or in have one in the works, we have a great list of names for you to consider when putting together your company cards; plus a few great tips and tricks to help you through the process at the end.
Let's dive in.
Naming a company is a lot more than just picking some interesting words and slapping them together on your Esty page or small business shop. This is a job that requires critical thinking, creativity, and a whole lot of patience.
The name of your brand is the first thing anyone ever sees so it has to really stand out, be memorable, and make a huge statement.
In the list below, you will find some great real-world craft business names that will hopefully inspire you while coming up with your very own.
Best Craft Business Name Ideas
Color Me Crafty
Stitch Paradise
The Hobby House
Inspirational Crafts
Creating Memories
Daily Grind
Dream Designs
Craft Box
Pretty Paper Studio
Charming Moments
Creative Bar
That's Sew Krafty
Crafty Results
Make Craft Happen
Hand Painted Fun
The Amazing Paper Shack
Unique Designs
Time to Kraft
Big City Craters
Better Krafts
It's a Crafty Life
Craft Affairs
Craft Maniacs
Creative Flair
The Paper Bunny
Heavenly Crafts
A Crafty Life Syle
Just Craftin
Make Crafts Happen
Subtle Crafts and Creations
Keeping it Crafty
Arts and Crafts Saloon
Beads and Baubles
Bling It On
Creative Jewels
Custom Creations
DIY Diva
Elegant Embellishments
Express Yourself
Fancy Fashions
Glitzy Goodies
Handcrafted Heaven
Hip and Trendy Designs
Indulge in Your Creativity
Jazzy Jewelry
Keep It Unique
Make It Your Own
Oh So Pretty Accessories
One of a Kind Creations
Passion for Fashion
Polished Pearls
Raw Materials
Refreshingly Original
Rustic Chic
Simply Stunning
Snazztastic Accessories
Sparkle and Shine
Crafting can be a cute and fun activity for friends and family to enjoy together. To create a successful crafting business, you want to embrace the cuteness and give it a name that shows how fun your shop can be.
Using words that are family-friendly and easy to remember is a great way to draw in potential customers looking for something to do with those they enjoy spending time with.
Below is a list of great ideas for cute craft business names you should consider using when naming your craft store.
Cute Names for A Craft Business
Knot Your Average Store
The Knitter
Craftify
Craft-tastic
Cute Crafts
Craft Studio
Bows n' Things
The Krazy Kreative Klutter Co.
Lil Handmade Shop
Crazy Crafts
Crafty Creations
Little Stitches
Patchwork Paradise
Little Stitches
Crafts Galore
Maid to Craft
Sewing Bee
Craft Royalty
Buttoned Up
Craft Critters
Craft Code Co.
Stitched ; Sewn
Stuck Together
Let's Get Crafty
Dainty ; Delicate
Buttons, Beads ; Beyond
Colorful Crafts
Inspired Imagination
Buckets o' Beads
Creation Station
The Craft Connection
Crafty Collection
Making Magic
Classic Crafts and Company
Crafty Inc
The Craft Class
Little Ceramics
Crafty Company
DIY Divas
The Creative Crafters
Artsy and Craftsy
Handmade Haven
Indie Craft
Made with Love
Crafting with Care
Uniquely Yours Creations
Simply Homemade Crafts
A Little Bit of This, A Little Bit of That
One of a Kind Creations
Everything Handmade
Made with Heart and Hands
Just for Fun Crafts
Arts and Crafts Galore!
Create with Love
Homemade Happiness
crafting chicks
Sew Cute
The Crafting Corner
DIY Designers
HANDMADE ONLY
The Homemade Collection
Crafting For Fun
One way to draw in new customers to your up-and-coming craft company is by uniquely advertising your unique craft business.
The same ole, same ole, works just fine, but making sure your company stands out is even better.
Using Unique names by switching up the spelling or even just turning one letter backward can offer your brand that little something that really sells.
Below is a great list of unique art and craft company names that can change the way you do business.
Unique Craft Business Name Ideas
Clothosio Crafts
Craftally
Craftinaire Inc
Craft Force Once
The Great Escape Craftroom
Crafbitt
Hodge Podge Lodge
Craftily
Craftooler
Craft-thatch
Fabricitti
Tight Squeeze LLC.
Locks and patchwork Inc.
Studio 9ten
Susy Q's Crochet
The Daily Grind
The Art Box
Sunset Candles
Soul Gems
The Creative Crafter
Craft House and Lodge
The Basket Cache
Stonegate Candle Creations
That's Sew Crafty!
Ribbon World
Bling Designs
Time Travel Creations
A Piece of My Heart
All in the Family
Assemble
Be Crafty
Bits + Pieces
Bling it on
Born to Craft
Bundle of Joy
Craft a Little Happiness
Craft Away
Craft Comes to Life
Crafted with Love
Crafting Happiness
Create + Cultivate
Create your own story
Designs by you
Different Strokes for Different Folks
Do it Yourself!
Doodlebug Crafts
Embellishments Galore
Everything Handmade
Handmades Tale
Everything Nice and Crafty
Express Yourself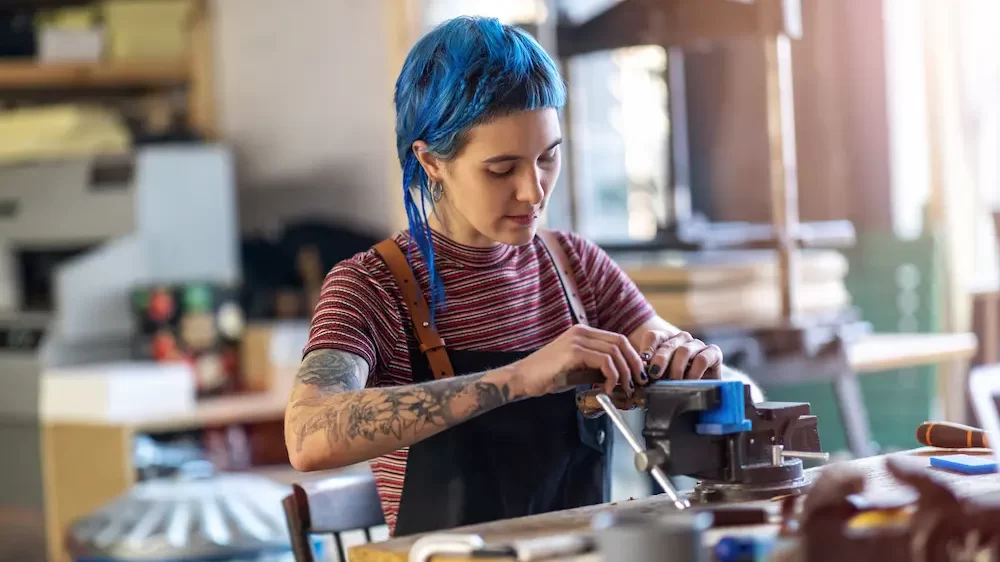 Consider using Puns or Rhyming words when creating a catchy and memorable craft business name.
This is a popular way to get customers to not only visit your store but makes it easy for them to remember your name.
Below is a list of names ideal for businesses in the craft industry, that will help you make your mark.
Catchy And Memorable Craft Business Names
Palette Productions
Get Crafty
Your Stitch Fix
Get Glued
Glue For You
Beaded Bright Before You
Beaded Beauty
Beadazzled Department
Diy Doctor
Dedicated Diy
DIY Darlings
Dare To DIY
Crafty Diy
Craft Corner
Act-On Crafts
Craft Creations
Rumored
Knotty Knitters
The Lavander Heart
Little House of Crafts
The Lovely Ladies Knitting Club
Scattered
The Second Time Around
To be successful, you have to be "cool". You can achieve a cool business name by searching social media, blog articles, and even other craft companies to see what names or words sell, then find a great way to incorporate these words into your own brand.
Here is a list of good craft business names that can help you target the right audience and draw them to your company's front door.
Cool Sounding Names for A Craft Business
Artisan's Oasis Inc.
Threaded Needle
Connect Crafts Co.
Near to My Art
The Crafty Cottage
The Sewing Basket Boutique
Epic Master Crafty
Karma Art ; Graphics
Just Poppin Crafty
Just Crafting Studio
Hobbycraft Corners
The Fabric Wagon
Woodland Craft Supplies Co.
Learning to Paint in the Hills
The Paint Shop
Colour Me Crazy
Silver Spinning ; Weaving Supplies
Quick Design "n" Craft
Slay All Day Crafting Studio
Ribbons N More Store
Spotlight Creations
The Sewing Room
SewProCrafts Inc
In a Stitch
Craft Managers Pro
Scrapbook Cottage
Hobbysew
Wire Crafts
Crafthouse Studios
Craft USA
Crafty Messes
Daily Creations
Care to Flair
Cast off Collective
Handmade Essentials Hut
Sew It Happens
Sterling Crafts
Draft to Craft
Feel "n" Inspired
Pink Pecan Crafts
Bazaar Bizarre
Rustic Rose
The Gilded Lily
Juniper & Journi
Gypsy Market
The Mercantile
Huckleberry Hill
The Olde Curiosity Shoppe
Willow Bend Trading Company
Fireside Forge
Mountain Mist Mercantile
Sweetwater Creek Soapworks
The Bluebonnet Boheme
The Trading Post
Bramble & Briar
Clover & Shamrock
Thistle & Fern
Foundry Fair
Maple Run Emporium
Cottage Lane Crafts
The Rusty Nail
Crossroads Trading Company
Old World Marketplace
Twice as Nice Treasures
Third Time's the Charm
What better way to advertise your crafting brand than by using a creative and crafty name?
Creative names can come from literally anywhere; use a family member's name, a specific type of craft, or a play on words to come up with a knockout business name that will grab the right target audience's attention.
Below is a long list of creative names you should consider utilizing when branding your creative craft business.
Creative Names for A Craft Business
Ace of Craft
I- Kandy Kreations
Craftin' It
Castle Krafts
The Craft Code
Ever-Creative
Getting Crafty With it
Signs of the Seasons
Christmas Crafts Year Round
Creating Choas With Art
The Summer Craft Company
Bliss Weavers
Twisted
Artiztic
New Age Craftation
Anything Goes
Art Angles
Clip n' Snip
Dream Nation
Game Day Designs
NOOB Designs
Fair ; Square
Crafter's Choice
The Oblique Imperative
Creative Explosions
Craftie Inc.
Creative Expressions
Crafty Inc.
Artist ; Craftsman Supply
Hobby Lobby
Act On Crafts
Craft ; Commerce
House Of Krafts
JOANN Fabric and Crafts
Craft Towns
Groovy Town Creations
Krafty Kids Club
Frame Worz
Cross Country Craft
Handy Hands And Helpers
Inspirations Crafts
ART Imports
Fabrics and Crafts
Angel Crafter
Ceramics and Professional Designs
FineCraft Collections
Crafterina
Don't be boring when naming your new company. Come up with something clever and not done already.
You can always find inspiration from other businesses by taking the names you like and giving them your own spin.
Below is a list of clever names you can use to create your brand or mix and match a few to come up with a successful catchy craft business name.
Clever Names for A Craft Business
Craft Alive
Stuck Together
Get Crafty
Breath Of Joy
Just Breath and Craft
Create Crafty
Green Thumb It
Crafty Coyote
The Bay Creations
ACE Amazing Artisan Treats
Butterfly Creations
Paper Owls Inc.
Crafty Fox
Scrapbookers Dream
Craft Gallary
The Knoted Noodle
Crafty Vibes Space
Natural Crafts
Art FORM
Craftmossphere
Craft Artisan Design Co.
Fruits N Crafts
Craft-Tastic Creations
Sweet Creations
Block Art Materials
Making Masterpieces
Teen Crafts and Designs
Destiny Designs
Dollar Designs
Dainty Designs
Knot Your average Craft Store
Color Me Crafty
Keeping in Krafty
Quirky names are so much fun to work with. You can truly bring a smile to your customer's face simply by creating a name that stands out from the crowd in an odd and quirky way.
Mix in some words that don't necessarily make sense to the subject, while still being able to get the point across.
Take a look at this list of quirky craft business names and see if any could assist you throughout your start-up adventure.
Quirky Names for A Crafty Business
The Crazy Purple Patch
Color Glitter Glam
Master of Makeup
Hearts and Crafts
The Crafty Cow
Craft Mania
Knitters for Life
The Craft Emporium
Cleaver Cuts
Committed to Crafting
The Crafty Penguin
Kraft N Grow
The Little Craft Corner
Craftateria
Craft Bags
Traquil Crafting
The Kraft Kitchen
Kraft Kanopy
The Happy Craft Wagon
Weird and Wonderful Crafts
Yarn Place
The Lost Yard
Quilt Your Life Away
Scrapbooking 4 Fun
You Cut me Up
Ruffled Up Paper
Roll Up and Shop
Just Moustache it!
Wrong Way Crafts
Sock It 2 Me
Knitted with love
Funny Bee Craft
Crafty Friends Designs
Craft Cuts
Knit-a-Long
The Angry Artist
Doodling Craft
The Craft Party
Fuzzy Wuzzy Crafts and Creations
Just Sitting and Knitting
Sewers Gonna Sew
New Mature Crafts
Whip-stitch
What better way to capture customers' attention than by putting a smile on their faces.
If you can make someone giggle just by seeing your sign, you won't have any trouble getting them to walk through your doors.
Below is a variety of craft business name ideas that are fun and can help lead you to your big break.
Funny Names for A Craft Business
The Tinker Tree
The Mad Crafter
Happy Strings ; Things
The Coloring Table
BeadDazzle
Wicked Simple
Crafty Folks
Glitter Galore
A Touch of Glass
Simple Scissors
Generations Creations and Crafts
Craft box Play
Cool Calm ; Crafty
Hobby Station Creation
Crafthouse Studios
Kreative Klutter
Just a Pinch
Image Craft
Pretty Paper Studio
This Old Palette
Beautiful Little Things
Miss Piggies Paintings
Lone Star Charm
Vast Varieties
Witch Craft Warehouse
Forbidden Creations
In a Pinch
Craft In Forces
Fuzzy Wuzzy Creations
Craft Vibes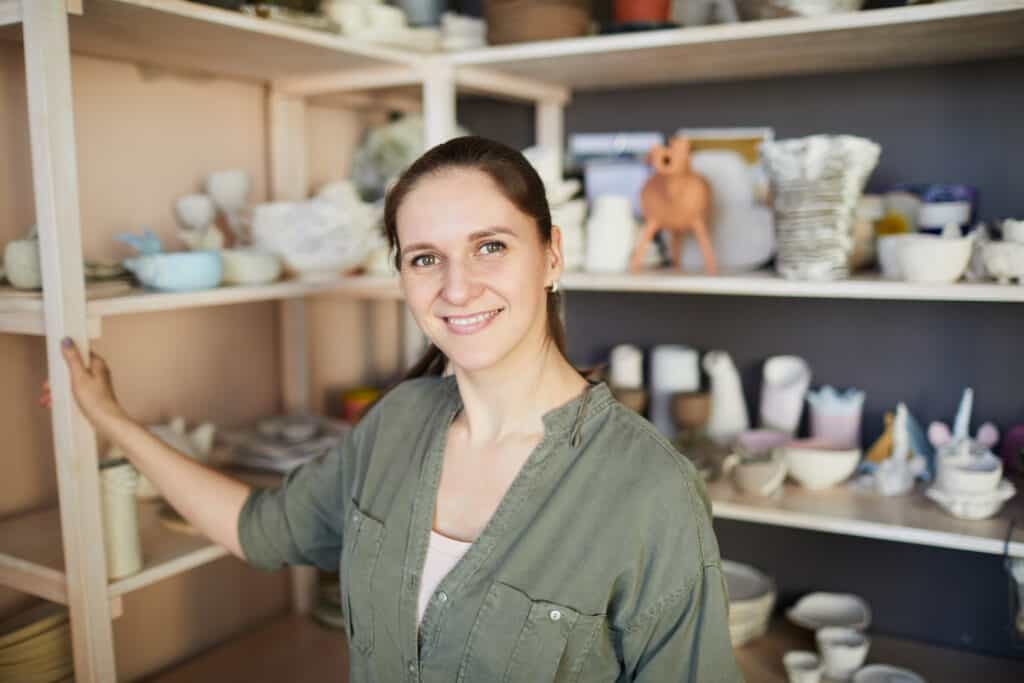 Anything handmade deserves a special amount of attention since these pieces come from the heart.
So, when you are selling a brand that creates crafts made by hand, utilizes how sentimental and special these items are.
Reach out to the public letting them know you sell one-of-a-kind crafts or offer a one-of-a-kind service by applying it to your company name; below is a list of names that do just that.
Handmade Craft Business Name Ideas
DIY Art Dr
DIY Darlings
Dare To DIY
Little Hippie Kraftz
Hobby Hunters
Arts And Yarn
Artisan Alley Co
Craft Castles
Hobby Hut
Craft Central Inc
Ecstatic Arts N Crafts
Craftastic
Tricky Talents
Crazy Cozy Hobbies
Kookie Krafting
Craft 'N' Go
Crafty Cart
Hot Handicrafts
Art Abroad
Dedicated Diy
Craft Devotions
Craft Week With Me
Can U Craft
Craft Station Nation
Crafty Minds
Craft Makers INC
Beautiful Canvas Co.
Craft Solutions
Craft Hobby
Crafted By hand
Craft Factory
You and Me Crafts
Be Younique
Crafting Life On Paper
Craft Breweries
Craft Wise
Artisan's Edge
The Maker's Collective
Handcrafted Expressions
The Creative Workshop
The Artist's Studio
Fine Crafts by Design
Artisan Workshops
Crafting Traditions
The Creative Connection
Hands on Creations
Uniquely Yours Crafters
Finely Crafted Treasures
The Crafting Connection
Artistic Endeavors
Creative Crafting Corner
Crafting with Style
Handmade Expressions by Design
The Crafting Barn
Country Cottage Crafts
Rustic Elegance
Homemade Happiness
Busy Hands
Sweet Simplicity
One of a Kind
A Piece of the Past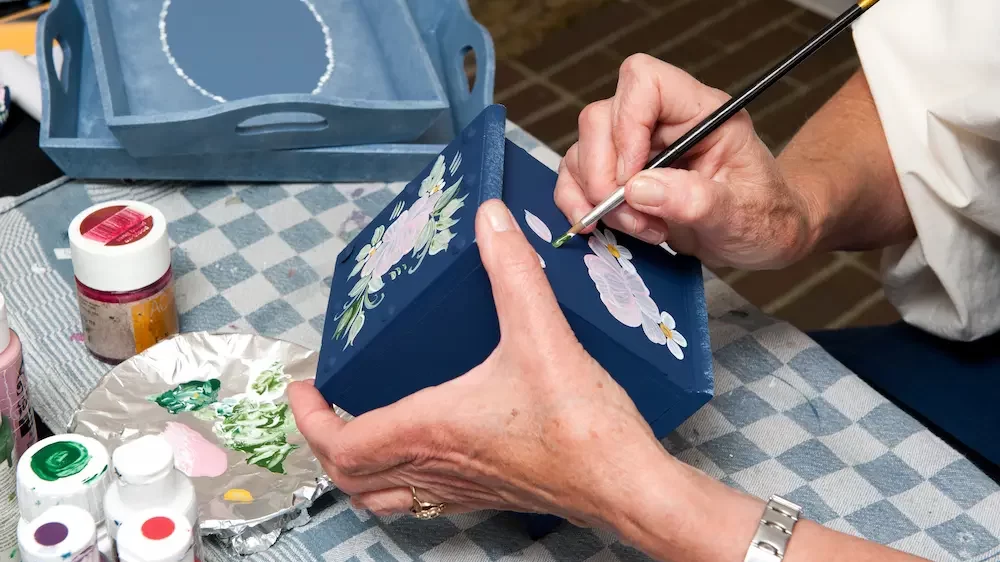 Company Name Naming Tips
Choosing the best company name for your brand isn't an easy task. You want to appeal to as many people as possible in just a few words to your target market.
If you are trying to come up with the best name ever for your new craft business, here are a few tips that have worked for many other entrepreneurs.
1. Short and Sweet
Keep your name short, sweet, and simple. Not only is a long business name hard to fit on a business card but can also be difficult to remember.
You shouldn't use more than 1-4 words (with the most popular option being 2). A good lesson here is that less is more.
2. Be Positive
No one wants to shop somewhere they get a negative vibe from, keep your name pleasant; something that gives customers a positive feeling.
You also want to stray away from explicit words or innuendos that are tasteless and not family oriented. Unless you are specifically trying to attract a rough crowd, keep things positive and upbeat, and avoid anything that can be offensive.
3. Be Creative
Have some fun with your brand and use words that rhyme, puns, or alliterations of common words and phrases. This is a popular way to name a company because people will never forget a creative name that is fun to say.
You can also have a little fun with the color and text style, making it really stand out on your social media sites and business cards.
4. Stay Relevant
If your craft business is named "the Purple Heart" no one will know what you sell and customers who might otherwise shop with you will pass right on by.
Always try to include some word or way to let the customers know what types of items or services you are selling, this will help market your brand and will make your name pop up in an internet search.
In the crafting niche try using words like art, handmade, crafty, etc. This is sure to explain exactly what you provide.
5. Be Unique
Just because one company is successful using a simplistic name or something that sounds catchy, doesn't mean it is the best. So often generic terms are overused or one good name is altered in a million different ways.
Everyone is unique, and since you do own a crafting company, you are creative enough to come up with your own successful business name.
6. Keep Things Simple
If your business name is difficult to say or spell, chances are customers will move on to something they can remember and or type into their phone or laptop.
If you want a variety of visitors bringing traffic to your shops or websites, you always want to make sure your name is simple enough to look for.
7. Don't Copy
Always avoid trademark names, people can be very touchy about their brand's name being used for someone else's profit and lawsuits do happen.
You can easily check domain names online to ensure your idea is available. There are so many ways to make an amazing business name, there is never a good excuse to claim someone else's idea as your own.
8. Use Powerful Words
Demand the attention of your customers and use powerful, evocative words to attract attention. The stronger the words are in your name the more confident, respectable, and reliable you sound.
Conclusion
It doesn't have to be overly complicated to come up with a successful craft business name. There are many tools and resources available to you that can help make the task much easier than you might think.
If you are struggling to create a unique name for your up-and-coming crafting company, you can always utilize websites such as GoDaddy. These domain sites are also great ways to ensure your name is available to buy when starting a craft business, ensuring it is yours and yours alone.
You could also check out a craft business name generator for more inspiration.
Related Posts